Sophisticated Wallpaper Illusion Ideas To Upgrade Room Decoration
Believe it or not, wallpaper dramatically changes room design. Using optical illusion wallpaper is the way to upgrade your room design without makes overwhelm. Furthermore, this visual trick will not make the room look monotonous. Otherwise, the room looks larger and sophisticated. Take a look at these wallpaper illusion ideas for further explanation;
Wallpaper Fairy Tale
Kid's playroom looks incredible by using optical illusion wallpaper fairy tale. Let you kids feel like in a fairy world with all the magic. Furthermore, this room will trigger their creativity to get beyond imagination. Just feel free to use it at kid's bedroom as well.
Natural Mural
If you love nature, this green wallpaper will be fit to your room decoration. Nature illusion brings your mind to relax. Though it is not a real forest, but looks eye-grabbing as wallpaper that dramatically peace and cozy. Seems like seeing a real waterfall.
Wallpaper Drawing
Get more spirit every day by seeing this incredible doodle wallpaper. It seems like someone draws unidentified picture, but looks artistic. Moreover, you are free to add poetry or other line words to this wallpaper design.
Optical Illusion Wallpaper Gold
Gold sheen and black shading create amazing illusion. They are like separate from the wall. With blue wall color, this room looks sharp. Furthermore, adding industrial furniture add a touch of vintage style without make this room clutter.
Wallpaper Pier Illusion
Imagine you are at this toilet with wonderful wallpaper. This room shows realistic print of pathway going to the sea. However, no need more lighting to get beach atmosphere. Moreover, it gives you a great illusion. The room looks more natural and eye catching.
Faux Library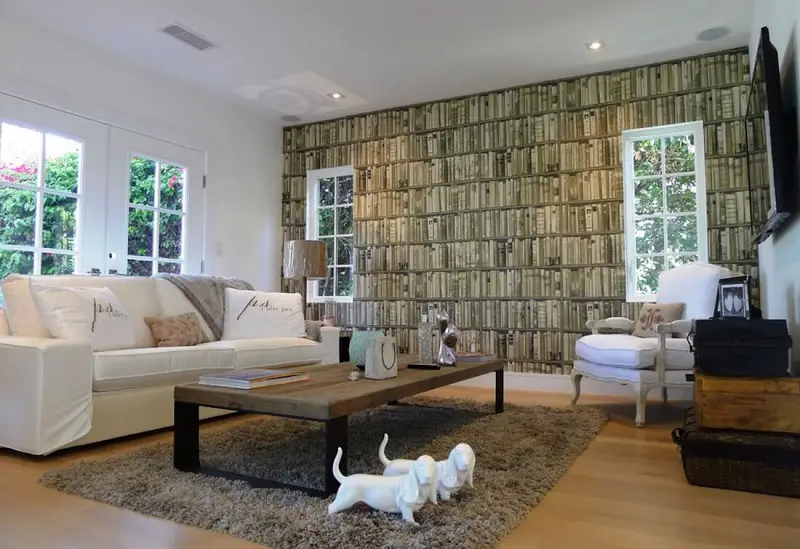 Buying hundreds book to fill your wall needs more time. Use faux library wallpaper to illustrate those books. The room looks classic and artistic with book illusion on the wall. Further, pay attention to the light, avoid sharp lighting.
Geometric Illusion
For modern room design, this geometric illusion comes with sophisticated look. Pay attention to the geometric pattern on the drawing. It seems like the wall consist of some logs. Furthermore, this room seems larger than its real size as well.
Hexa Cube 3D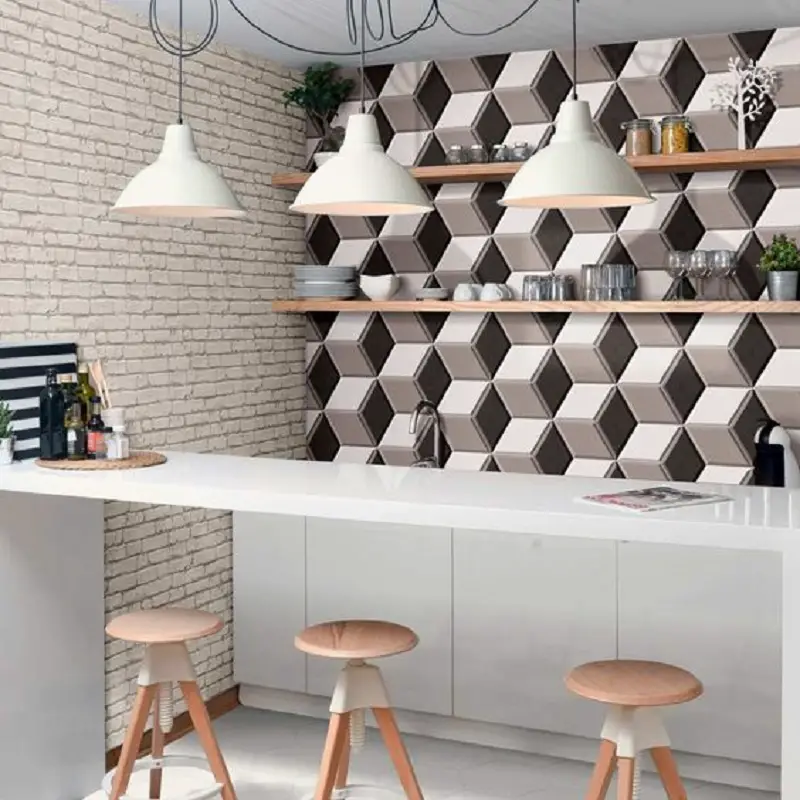 Hexa cube 3D wallpaper stand alone with its character. This bar looks more inviting. Just add shelf to keep your glass. However, pay attention to get simple lighting for more exciting atmosphere. Let your colleague and friend enjoy their time here.