When Christmas has passed, it's time for you to come back to the winter atmosphere decorations. You can set aside your Christmas tree that can be used for the next Christmas celebration. Talking about back to the winter decoration, you can use the snowy effect decorations for your home. Well, of course, it could be applied to any part of your home.

Not to make your home be seen as too much, we do recommend you to leave your Christmas decoration in a small part. For example, you can have a small Christmas tree ornament for your table centerpiece decoration. Then, making your Santa ornament stay will also be proper as long as you don't have it in such a big one. Additionally, if you love the festive Christmas lighting in your yard, then you can still have it for sure so that your winter home environment won't be seen as gloomy.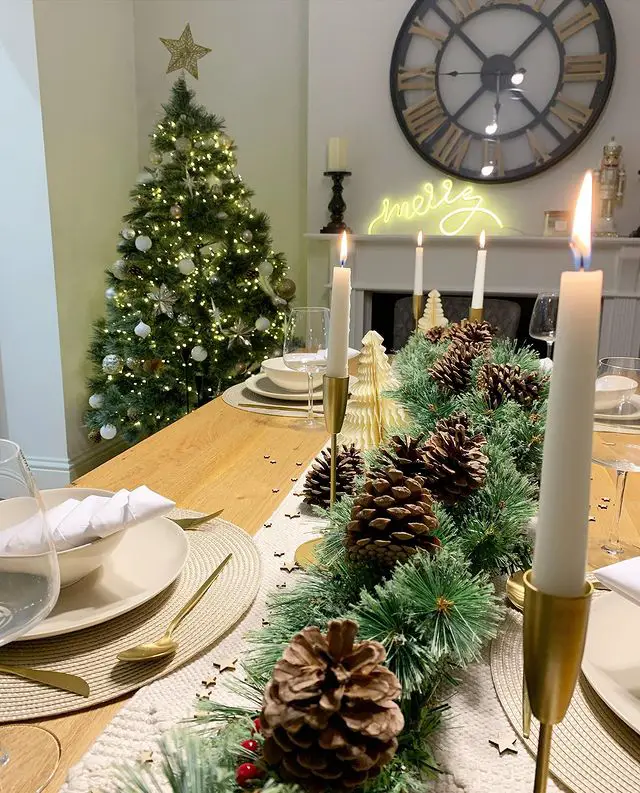 The combination of pinecones and evergreens which are combined into a centerpiece decoration is ready to welcome the winter theme after Christmas in the dining room decoration with a farmhouse theme. You can combine them into one part with a neat and orderly arrangement. Before applying this centerpiece decoration, you can coat the wooden dining table first with a table runner made of knitted fabric in a neutral color. Candlesticks with a large number of these are additional lighting that makes the room feel warmer. Here you can use candlesticks of the same size so that they look quite symmetrical and are free to apply on the dining table in a neat and orderly arrangement. Pinecones and Evergreen Centerpiece from @plymouthhomebyaisling
The winter after Christmas can be applied directly to hallway decor with neutral touches that you can try easily and practically. What you can consider using in this room is a console table that can be used to display several important ornaments such as deer ornaments, green plants and candlesticks as lighting ideas that can make the atmosphere in the room feel warmer. This green plant can be found easily in the backyard garden. Choose and use a vase with a modern look that has a beautiful and elegant striped texture. The white and brown that dominate this hallway decor can blend perfectly and seem neutral. Winter Hallway Ideas from @ourhome_lauradaisy
The farmhouse theme that dominates this winter living room features simple decorations that you can perfect with a touch of evergreen that can be placed in several different areas. Don't let the wooden coffee table in this room look plain and empty, because now you can decorate it with a DIY reclaimed wood box that can be filled with some ornaments that match this winter theme. For example, you can fill it with two candlesticks, greenery and a candleholder candle that can be moved to any area according to the room's decoration needs. The white linen sofa combined with patterned throw pillows makes the sitting area feel warmer and more comfortable. Use this room together with your family at home. Farmhouse Style Winter Living Room from @drycreekfarmhouse
Don't let your windowsill decorations look boring. You can dress it up again with simple DIY winter decorations that you can make whatever you have in mind. Here you can frame the glass window with an evergreen garland that is quite large and long. Make this garland design yourself using evergreen faux material so it doesn't rot and doesn't wilt easily when used all winter long. Here you can also combine it with several DIY villages and Christmas trees which are perfected with lighting so that it looks more magical and ready to be made as the focal point of the room at night. One of the advantages of using this window sill decoration is that it can be seen from outside the room so that your neighbors can see it directly. Magical Winter Windowsill from @achristmasguide
This fireplace mantle made of reclaimed wood will look even more inviting when you redecorate it with a snowy garland completed with some hanging stockings. Just use stockings of the same color and size to make it look more elegant and neutral. To make this evergreen garland look snowy, you can add a sprinkling of white powder on top so that it has a final look that is perfect for the winter after Christmas. Apart from being an interior room that can make the room temperature feel warmer, this fireplace is also a new focal point that never fails when used this year. Tassel chandeliers can be hung in this room to give an instant bohemian touch. Winter Fireplace for After Christmas from @boho.by.deco
The two mirrors that are hung on the wall in the vanity area can be perfected with evergreen accents to emphasize the winter after Christmas theme. This evergreen can be turned into a garland ornament that can be applied directly on a mirror frame made of wood. Just choose and use a mirror with a round shape of the same size and hang it symmetrically on the wall. A small Christmas tree can be placed on the countertop as a decoration that emphasizes this winter theme. Wall scones lamps can be applied above mirrors as a lighting idea that can be used when the atmosphere in the room looks darker. Evergreen Touch Bathroom Decoration from @cozy_mode_co
The village and Christmas tree lighting, which are placed simultaneously on the console table, create a dramatic impression of room lighting. Just place this village lighting on a wooden slice tray so that it can be easily moved at any time according to the lighting needs of the room. Little Christmas trees can be perfected with string lights with orange lighting which can make the atmosphere inside feel more dramatic and warm. Usually this console table can be placed in the entryway and hallway area so that anyone who visits your home can see it. Just try this lighting easily and inexpensively. Dramatic Winter Lighting Ideas from @res.do.primeiro.andar
The kitchen with Christmas decorations before can be redecorated with a touch of early winter by using a hanging wreath with a touch of greenery. Just hang the mini wreath in the backsplash tile area that is still empty so it will be an additional ornament that is easy to make yourself. Apart from that, the floating shelves can also be put to good use by placing several mini Christmas trees which are enhanced with white string lights. Napkins with winter patterns can also be applied in this kitchen easily and lively. Perfect this winter kitchen decoration for after Christmas with proper lighting such as using globe lamps in the corner of the room. Neutral Color for Winter Kitchen Ideas from @therebarhome
White is a suitable color choice to welcome winter this year with joy. Just apply this color to a dining room with the use of a dining table, dining chairs and centerpiece decorations which are dominated by this neutral color. The use of this color is also ready to make the room look more neutral and open, you can try it now with a modern or contemporary theme. The use of snowy pinecones in combination with deer ornaments will work well together to be used as a sight that can be seen by family or guests who visit your home. The use of transparent glass windows allows you to be able to see the outdoor scenery freely. Snowy Themed Winter Dining Room from @luizayem
Don't just focus on using winter ornaments. For now, you can cover the linen sofa with a faux fur blanket with a choice of pink which will look quite contrasting with the sofa you are using. This faux fur throw blanket makes your body feel warmer and ready to make your sitting surface more comfortable to use all day long. Throw pillows and warm rugs are also additional accessories that you will never fail to try. Chandeliers with orange lighting are the proper lighting that you can choose right now. Faux Fur Throw Blanket Ideas from @abode_decorating

Among the nicest traditions to start in your family is that of making a few new Christmas ornaments every year. The church decorations may be up only two or three days before Christmas, and should you need to place your own touch then, it is going to be cutting too close. Christmas is about sharing and caring.

As stated by the ad, it was also ideal for decorating windows. If you're looking for ideas about how to decorate after christmas then have come the correct place below winter decorating inspire. You have the choice of purchasing artificial wreaths that can be found in the current market or you may make one from fresh leaves at home.
Below, you will discover a massive selection of photos and ideas to select from. Using writing styles like calligraphy is one particular example which works and looks really excellent.

No matter in which you put the wreath, avoid adding lots of accessories or ornaments which will wind up making it appear gaudy. You can be a bit creative and implement your own ideas and suggestions to decorate wreaths. Twisting the ribbon may also add a fairly very good effect to the getup.

Throughout the planet, Christmas is among the most well known holidays. There are various ski resorts and mountain lodges to go to. The guests understand that you are intent on throwing a terrific party! If you are experiencing a more elegant wedding, then you're able to offer your wedding guests a modest floral arrangement. To assist you on this one, below are some cake tips for your fantasy winter wedding.

As you are aiming for a winter vacation, ensure you're well equipped for low temperatures. From this, you will be in a position to get the ideal winter vacation spot suiting your requirements. Before you finalize your vacation destination, you may want to determine the length of time your vacation will be.
(Visited 75 times, 1 visits today)
Tags:
Winter Decoration
Last modified: November 18, 2022