8 Affordable Floor Lamp Ideas That Will Brighten Your Room
Hanging lamp may give you little idea, but you can try more for floor lamp. With minimum budget you can create your own floor lamp that will brighten up your room. This way even helps you to have unique floor lamp design that will not be found any other places.
Tripod Floor Lamp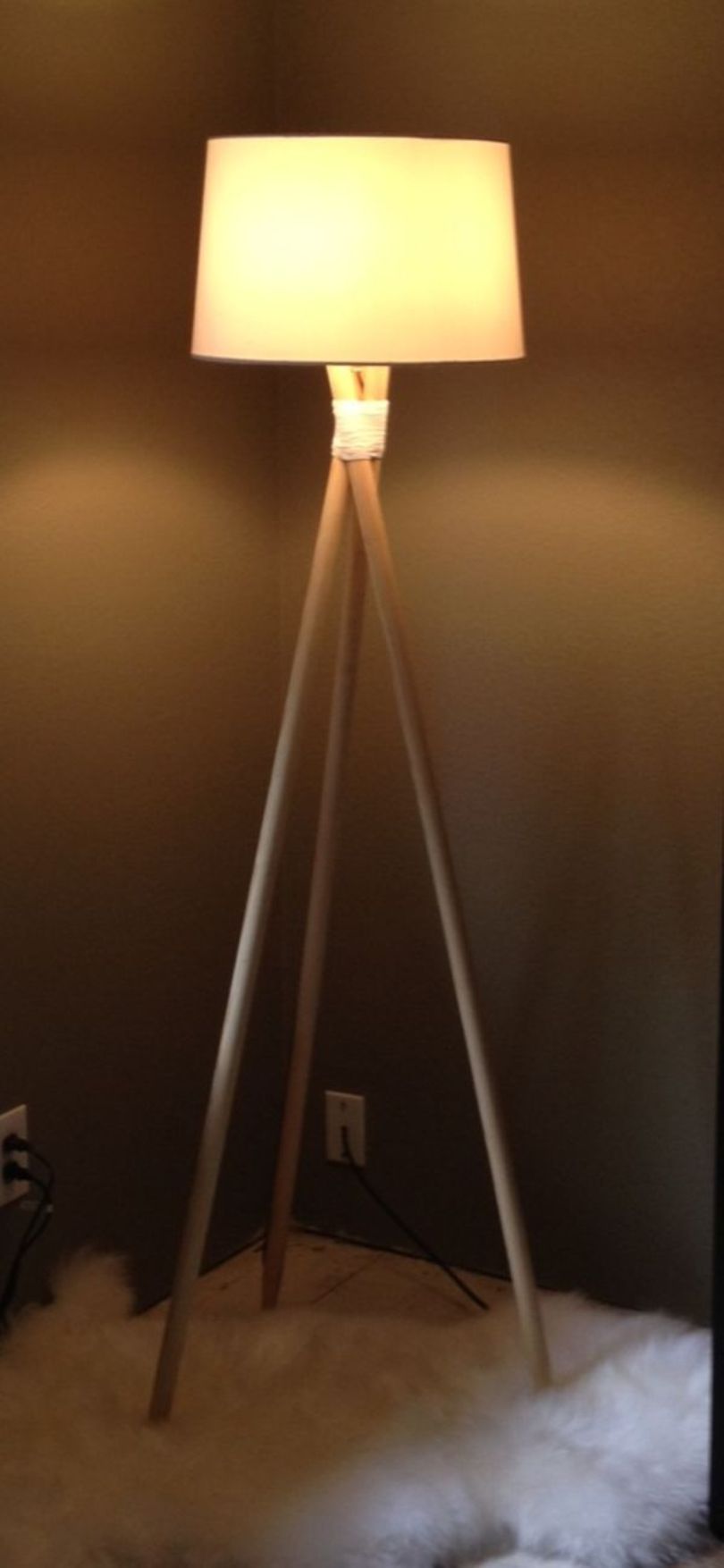 Tripod floor lamp made from three wood rods. Even a DIY newbie can create this super easy floor lamp in minutes. However, you have to make sure that you tie it strongly and make three wood rods in balance. So, it will not fall down someday.
Convert a Music Tripod into a Lamp
This affordable floor lamp looks rustic. You just have to prepare an unused music tripod and cut the top or sheet music holder. After that, insert the power cable into the hollow shaft. Put the lampshade at the top of it.
DIY Mod Lamp In Room
By using pendant cord set, you can create your won modern floor lamp that will brighten up your room. Hang the lamp at the center of those tripods and let it shine at night. Furthermore, you are free to paint the pendant cord set.
Floor Lamp Pipes
When you have many unused pipes at your warehouse, it will be awesome to use them as floor lamp. Here, you don't have to spend more money to get this unique floor lamp design. Moreover, this floor lamp adds a touch of industrial atmosphere to your room.
Industrial Lamp Look
If you want to add dramatic impact to your room design that look so rustic, choose to use this industrial lamp. It made from an old tomato cage that added with lamp at the center of it. Feel free to paint the cage, but let with its natural color will add vintage accent to your house.
Vertical Books Storage Lamp Floor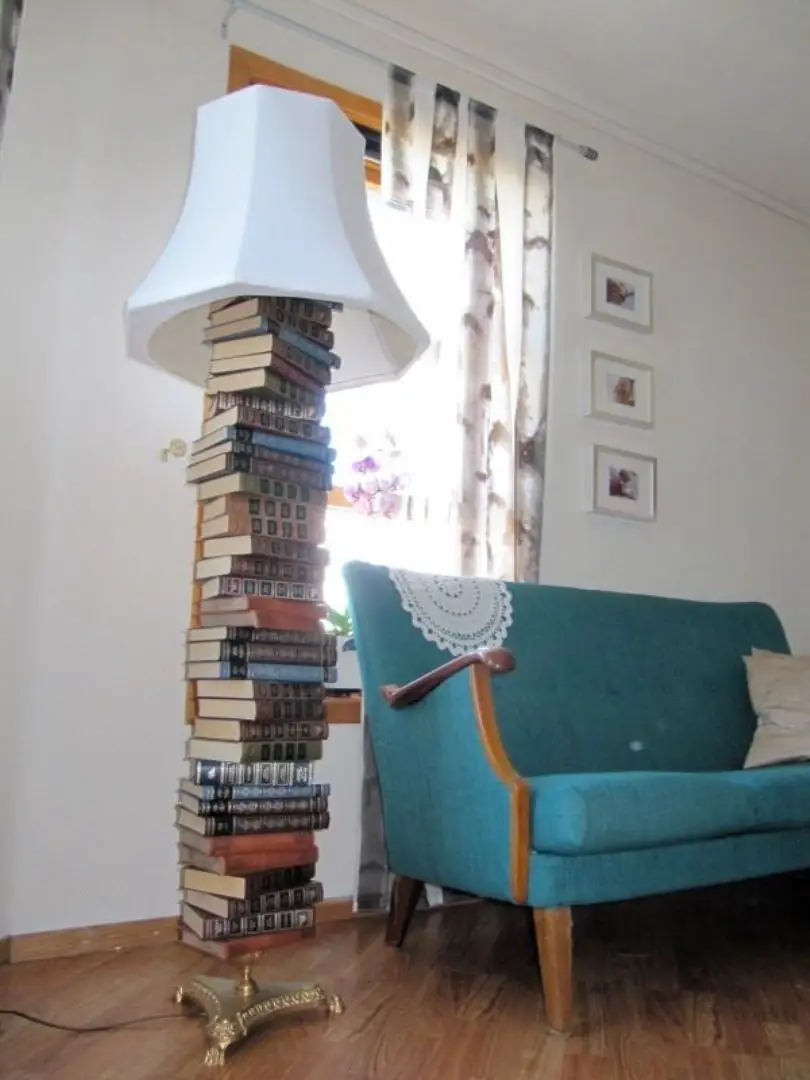 Some old books may have other function to upgrade your room decoration. Here, the owner of this house tries to use old books as lamp floor that look vintage and eye-catching. However, you need to drill holes through each of them.
Pink Painted Floor Lamp Rectangular Base
For your little girl bedroom, you can apply this pink painted floor lamp with rectangular base. Moreover, the rectangular base can function as storage to keep her books as well. You just have to fix the baluster using glue at the table top.
Fallen Branch Floor Lamp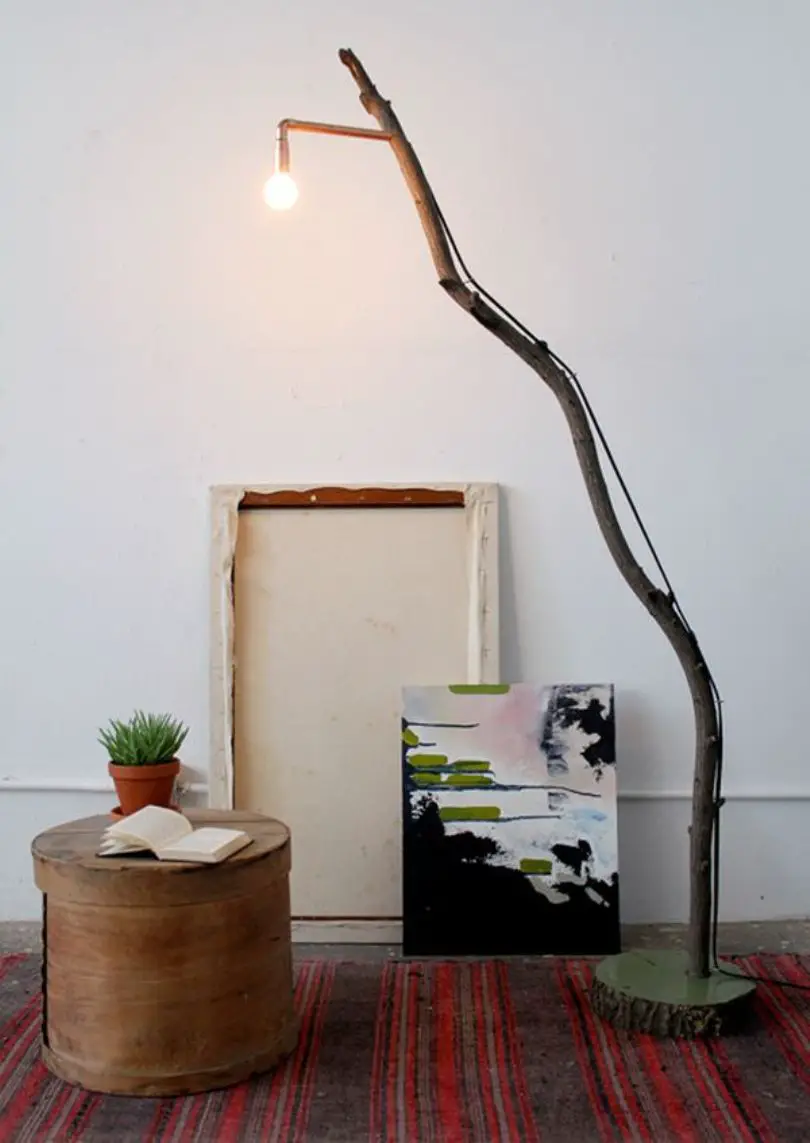 This extraordinary idea comes to make your bedroom looks awesome more than others. Only by using fallen branch form tree, you can create this unique floor lamp with minimum budget. Further, it appears vintage and attractive.