8 Trendy Wall Planter Ideas That Will Give You Small Garden Even at Small Space
For you who live in a small apartment, having a garden may be just in a dream. However, you can try to apply hanging wall planter. It doesn't require large space, but can make your room looks awesome. Moreover, the plants that are used as hanging garden are low maintenance just like herbs, succulents, or cactus. Let's see stylish wall planter ideas as follow;
Chalkboard Wall Planter
Whether for outdoor or indoor garden, this chalkboard wall planter makes the house fresher. Feel free to plant herbs or succulent that is low maintenance. The frame that is made from chalkboard let you write simple message as well.
Reclaimed Wood Wall Planter
Get simple and charm decoration by applying this reclaimed wood wall planter. You can use it for hanging planter or just put on the table. With decorative frame, this planter also gives you more aesthetic value for your room.
Minimalist Wall Mounted Planter
The wood shape is like a ring with a pot on it. This minimalist wall mounted planter is design to beautify room decoration. However, choose green plant that grow well will little maintenance. It will better if you plant herbs.
Plant Pod Wall Hanger
When you love a modern room decoration, applying this plant pod wall hanger may make your design more interesting. Moreover, this pod can be one of the focal interests of your room. It looks cute and chic to be placed as wall hanging planter.
Leather Wood Wall Hanging Planter
Made of porcelain, wood and leather, these pocket planters looks more than just charming. Hang them on the wall anywhere at your house. Just make sure you keep it well, because it will be broken if fall down.
Ceramic Wallscape Planters
Make your best gallery wall by using these ceramic planters. With different size, your garden wall will look more sophisticated. Furthermore, you can choose the colors to combine with your wall color design.
Wall Mounted Cactus Planter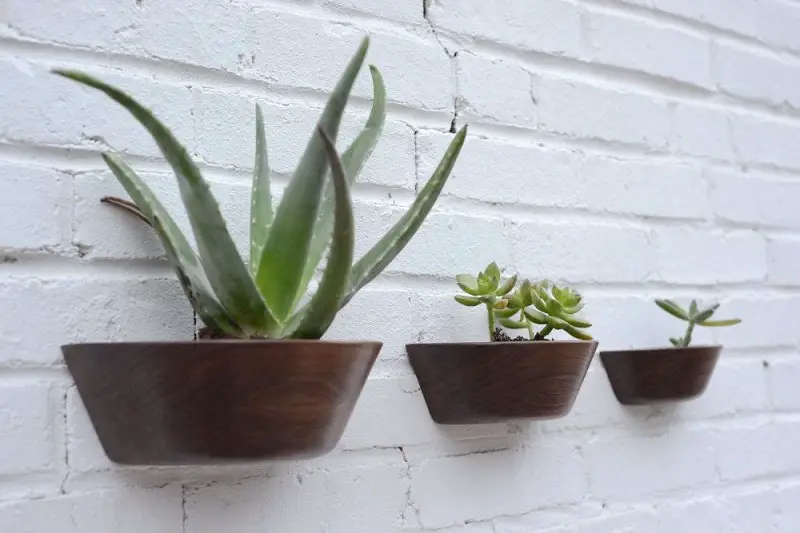 Cactus looks simple and elegant as wall planter. Moreover, this plant is low maintenance that no needs to be watered every day. It is up to you, whether you want to use this cactus planter indoor or outdoor.
Pyramid Wall Planter
Bring the atmosphere of modern mid century into your house by using pyramid wall planter. There are different sizes of planter that will upgrade the wall decoration. Even, this planter looks awesome for office hanging wall planter as well.