A living room can be regarded as a social space at home, in which you welcome the guests or even mingle with your family. Accordingly, it is necessary to create a more welcoming and warmer impression for your living room atmosphere. So, here are some awe-spiring DIY decoration ideas for updating your living room mood.
Install a Light Fixture to Enhance the Ambiance
For those trying to make the living room seem more inviting and cozier, installing a light fixture would be a smart idea. Most importantly, you can make it from your old light fixture. It is just that you need to recoat its paint or maybe give it some beautiful ornaments too.
Installing a rattan chandelier by painting it blue will give it a new look. You can apply it on the kitchen island to complete the decoration. Blue rattan chandelier from home-designing.
A black painted pendant light will look newer and more modern, you can hang it on two different sides with a distance that is not too far away. Black painted pendant light from home-designing.
Painting an old chandelier will make your home decor look attractive. You can choose black for the impression of industrial lighting in your living room. Old chandelier from home-designing
To make a modern living room design look stunning, you can add a rattan chandelier that has been repainted for a fresh look. Add contemporary style lamps to complement the lighting in the room. Rattan chandelier from home-designing.
Choose a pendant lamp with a unique shape to give your living room a different impression, use an old lamp, and add some accessories for a fun look. Pendant lamp with accessories from home-designing.
Let your rustic living room in gray and tie long cylindrical lamps on the ceiling for a dazzling look. The white lampshade from the lamp will be the focal point in your living room. White long cylindrical lamp from home-designing.
Set Floating Wooden Bookshelves as Nice Focal Point
Are you into an eclectic design style? If so, never hesitate to do some fun with your decoration plan. For instance, you can build floating wooden bookshelves as your next DIY decoration project for the living room. Not only refresh the room mood, but it also exists to help you to showcase your book collection more artistically.
Bookshelves arranged vertically make artistic views in the living room that can provide a refreshing atmosphere of the room. Vertically bookshelves from hgtv.
Hanging white bookshelves with a touch of gold will make your home decor even more attractive. In this way, it will be easier for you to present your book collection neatly. Hanging white bookshelves from hgtv.
Take advantage of empty wall space in your living room to hang a minimalist bookshelf that is made of wooden material. Hang the bookshelves in parallel so they look neater. Hanging bookshelves from hgtv.
Placing hanging bookshelves above the TV will make a different look in your living room. This way it will make your living room tidier and minimalist. Hanging bookshelf above TV from homedesignlover.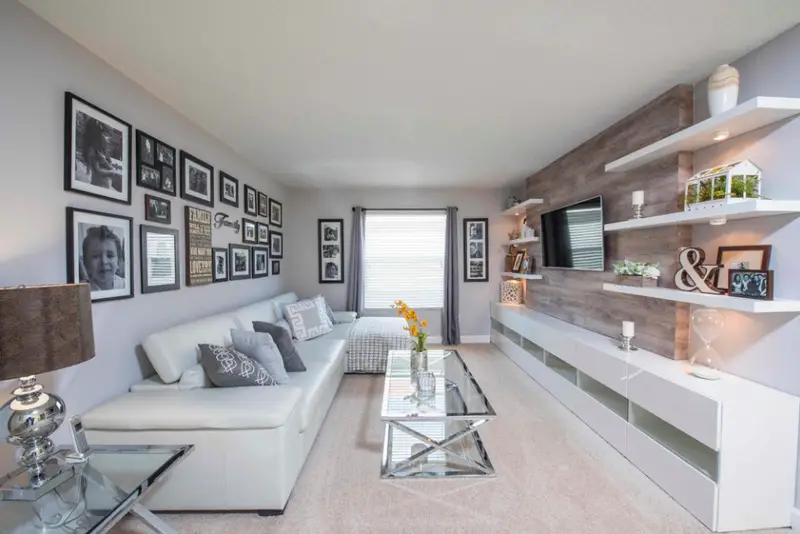 Add a driftwood bookcase as your next DIY decor project for your living room. Not only refreshing the atmosphere of the room but also here to help you display a collection of books. DIY bookcase from homedesignlover.
The eclectic living room design with the addition of open bookcases will make a different look in the room. This method will help you present several book collections neatly. Electric living room from homedesignlover.
Use DIY Abstract Painting as Beautiful Accent
Though you are not a pro painter, it does not mean that you cannot create the awesome one. As for that reason, let's follow some easy DIY painting guides which flaunt beautiful abstract painting as their main theme. For sure, this kind of paint can instantly boost your living room ambiance as well as become a beautiful accent.
You can hang a DIY abstract painting above the fireplaces in your living room. With this painting, you will get a more beautiful room design. DIY abstract painting from photos.hgtv.
Create beauty in your living room by utilizing empty wall space to hang a large DIY abstract painting. You can choose a colorful painting to look more cheerful. Large DIY painting from photos.hgtv.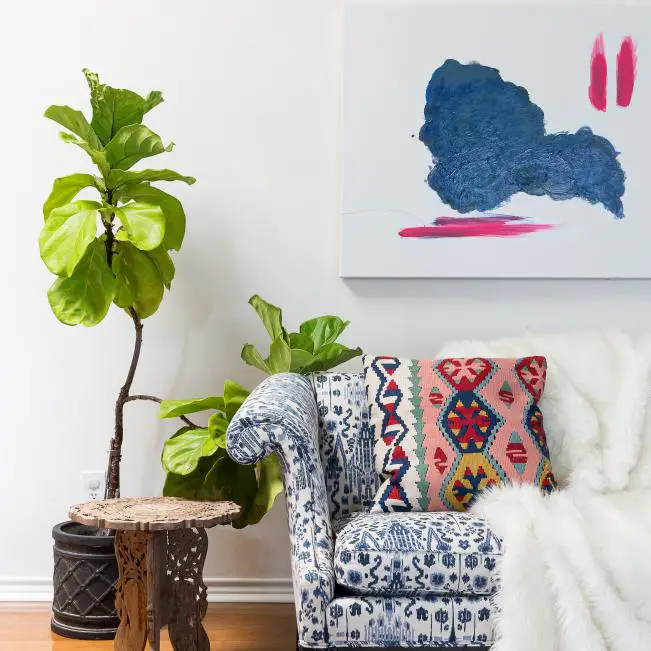 Combine the colors of your furniture and abstract paintings to get a beautiful living room design. Here, blue is the dominant color that will give a fresh impression. Blue abstract paintings from photos.hgtv.
The blue abstract painting adds an interesting impression to this living room. Combining this with colorful rugs and a contemporary coffee table adds a cheerful decor to the living room. Blue abstract painting from photos.hgtv.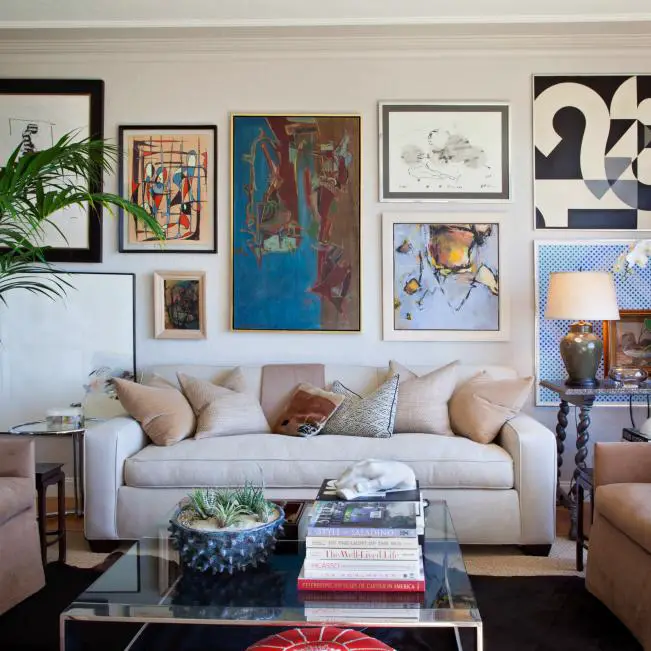 Adding a few framed abstract paintings to the living room wall gallery will create the perfect decor. Pairing furniture in neutral colors will create a warm décor. Framed abstract paintings from photos.hgtv.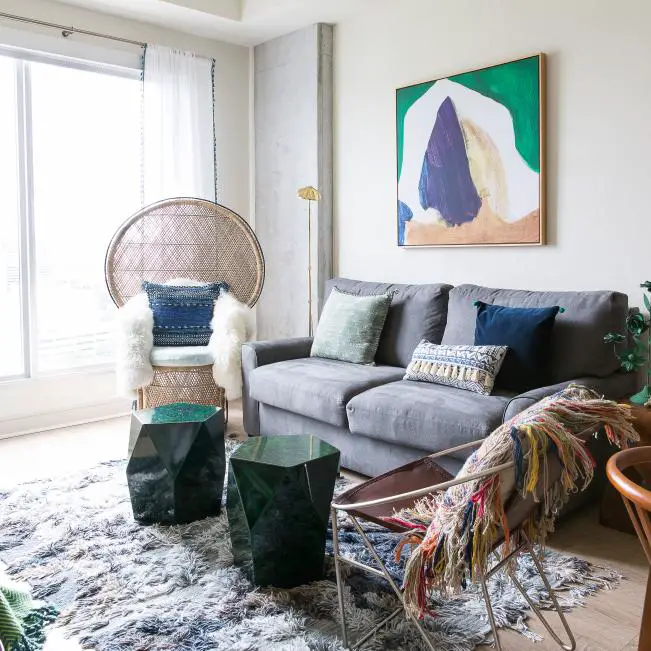 Displaying an abstract painting on the wall behind the sofa will make a different look in your living room. By adding this decoration, it can immediately boost the atmosphere of the family room as well as become a beautiful accent. Green abstract painting from photos.hgtv.
Create a Gorgeous Homemade Plant Stand
When thinking about some DIY decoration ideas for a living room, making a plant stand is so worth trying. Moreover, this decorative item can help you to make your precious houseplants to take the spotlight. Additionally, painting your DIY plant stand with a color that contrasts with your living room wall paint.
You can use natural materials to make DIY plant stands, for example, rattan or wooden materials. This plant stand gives a natural impression to your living room decoration. DIY rattan plant stands from flippedcase.
To maintain the naturalness of your living room, then let the plant stand with the original color of the wood. You simply add a pot with a neutral color like white. Wooden plant stand from apartmenttherapy.
You can use a wooden plant stand that is painted in white and used for a unique planter for your plants. Place it next to your living room sofa to add a fresh impression to the room. White wooden plant stand from nowrevolutionbook.
DIY plant stands from a wooden bench in white paint is a brilliant idea to decorate your living room. This simple idea gives a different look and becomes the focal point of the room. Wooden bench from nowrevolutionbook.
A rustic living room with the addition of a plant stand made of old wooden beams makes for an interesting décor. You can put it in the corner of the room and add a few other greenery for a natural impression. Old wooden beams from nowrevolutionbook.
Crafting a chic marble and copper stand adds to the flawless impression of a more modern and innovative home. Add greenery with terracotta pots to complete the decor. Marble and copper stand from diys.
Then, implement these DIY living room decoration ideas to give a fresh mood to your most hangout space.
(Visited 117 times, 1 visits today)
Tags:
DIY Decoration
,
living room decoration
Last modified: December 25, 2020