Napkins are quite easy to make, even with the most basic sewing techniques. DIY napkins give your dining table more personality, perfect for a party or just a casual dinner with a loved one. Make your dining table more interesting by choosing cute, cheerful designs for your napkins! Here are some ideas to think about.
1. Polka Dot Napkins
Polka dot napkins can look either cute or vintage, depending on the colors and pattern sizes you choose. A polka dot napkin with the red background looks like a vintage diner table. If you want a more "mature" look, choose smaller patterns with dark-colored background, like black or dark blue.
The blue polka dot hanging napkins are a unique decoration to complement your dining table so as to create an attractive food decoration party atmosphere. Polkadot blue hanging napkins from lushome
Polkadot green is the best color for decorating a dining table. These napkins will create a fresh look to your dining table. Polkadot green napkins from lushome
This blue polka dots napkin makes a different look on the dining table. Place it on a white plate for an interesting look. Blue polka dots napkin from baby.lovetoknow
The idea of decorating the dining table with the addition of a purple mottled napkin in the shape of a butterfly will make an interesting decoration. Place it on a plate for the perfect decoration. Purple polka dot napkin from diyncrafts
This green polka-dotted roll napkin complements your dining table decor. Add ribbons for an eye-catching impression. Green polka-dotted napkin from blissfullydomestic
Adding a purple polka dot napkin to your cutlery set will complement your dining table décor. Add other ornaments for a stunning look. Purple polka dot napkin from aspicyboycatandmyfatass
2. Frayed Linen Napkins
Create a rugged look suitable for a farmhouse table with frayed linen DIY napkins. The frayed edges give an elegant well-worn look, creating a homey vibe when you arrange the napkins on the table. The best thing about it? You can make them without a sewing machine. Just create a frayed look along the edges with craft scissors.
A rustic dining table topped with mustard linen napkins and tassel will add a punch to your look. Pair it with a burlap tablecloth for the perfect design. Rustic dining table with mustard linen napkins from hgtv
These pink and yellow linen napkins give a different look to your rustic dining table. Pair it with a blue tablecloth for an eye-catching look. Pink and yellow linen napkins from collectivegen
This simple dining table decoration with the addition of this white linen napkin sets a different look. This can provide a focal point for the dining table. White broken linen napkin from lemongrovelane
The embroidered linen napkins with flowers will complement your dining table décor. In this way, it will appear rustic on your dining table. Rustic linen napkins from cedarhillfarmhouse
Broken linen napkins in neutral colors make your dining table decor even more striking. You can make it without a sewing machine for an attractive appearance. Neutral colors linen napkins from onsuttonplace
The dining table decor with broken blue linen napkins and cutlery is the simple way to make your dining table look more rustic. Blue linen napkins from sustainmycrafthabit
3. Ombre Napkins
Ombre color is soft and delicate, and you can create DIY napkins with a simple dyeing technique. After creating a dyeing mixture (one part of dye, eight parts of water, a little salt), dip the white napkins halfway, leaving the top bare, before drying the napkins under the sun. If possible, wash with cold water to prevent the dye from disappearing.
Making ombre napkins yourself will not cost you a fortune. You can make it yourself with a white napkin and mix it with orange for maximum results. Ombre napkins from greenweddingshoes
Using a white napkin dipped in blue will create a pretty ombre brush. This way you will save money and increase your creativity. Blue ombre napkins from greenweddingshoes
The pink ombre napkin design makes a different look on your dining table so that it becomes a charming dining table decoration that you should emulate. Pink napkin ombre from greenweddingshoes
Adding a brick ombre napkin on a plate is an interesting idea for you to try. Pair it with a matching plate color for the perfect design. Brown ombre napkin from greenweddingshoes
The green color is the hallmark of this dining table design. Adding a green ombre napkin and placing it under the spoon will create an interesting look for you to try. Green ombre napkin from greenweddingshoes
4. Napkins with Initials
Have multiple people or family members at home that always need napkins? Create personalized napkins by stitching their initials on the fabric. This project is ideal for beginners, especially if you think that stitching the entire name is too much.
Putting the initials on a napkin is an interesting idea for you to try. So that you have a personal napkin by sewing initials on the fabric. White napkins with Initials from insideweddings
You can try a simple idea to complement the dining table decor by adding initial napkins, so that you will feel like you have a napkin with a touch of mint green on the writing. Napkin mint green writing from insideweddings
This black napkin with initials makes an eye-catching decoration on the dining table. You can use dark fabric and add gold letters to make it more elegant. Black napkin with initials from insideweddings
The napkin with these initials complements your table decorations. You can add gold accents to the initial for a luxurious look. White Napkins with initials from insideweddings
You can add napkins with initials on the tray to make it look attractive. You can even give your writing a golden touch. Napkins initials with golden touch from insideweddings
5. Painted Leaf Napkins
If you have old white napkins, spice them up by stamping with paint-covered leaves. After covering an entire leaf with craft paint, place the paint upside-down on the napkin and cover it with thin linen. Use a rolling pin to transfer the paint onto the fabric.
A unique decoration with a painted leaf napkin upside down will create a unique look. You can make it yourself to increase creativity. Leaf napkin painted from allthingsgd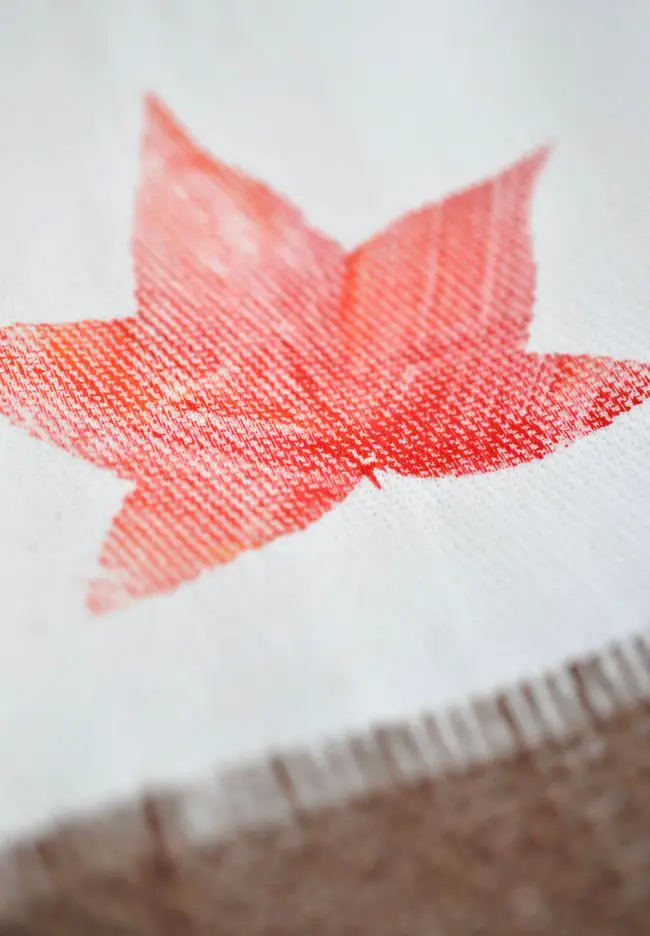 You can stick red-painted leaves on your napkin so that it will become an eye-catching napkin. This way, your dining table decoration will be even more festive. Red painted leaves from club.chicacircle
If you have white napkins, you can add a pattern to make them look more interesting. Take some leaves and add red-painted then stick them on a napkin will make it look more attractive. Leaf painted red from diynetwork
Applying the painted leaves on a white napkin will make it look even more attractive. You can make it yourself with a higher level of activity. Pink painted leaves napkin from veranda
This DIY painted leaf napkin in blue paint really grabs people's attention. You can make it yourself without having to pay a lot of money. DIY leaf napkin from artfulparent
DIY napkins are simple and fun to make, with cute designs to choose. Make your mealtime more fun with these unique ideas.
(Visited 83 times, 1 visits today)
Last modified: December 28, 2020