10 Creative Color Schemes for Apartment College
Bored of your college apartment interior and want to try something new that's easy and cheap? Boost your apartment aesthetics with the right color scheme. Affordable and perfectly doable, changing your apartment color scheme also won't take up much time and energy.
Looking for ideas? Check out these simple color schemes ideas and say goodbye to the dull interior.
A Splash of Cheerful Yellow
Bright tones can brighten your home. To create a cheerful environment in your apartment college, use yellow as the base color. Yellow comes in a wide range of shades that you can pick. The common yellows mostly used in home décor are mustard and cream. Remember that you don't have to make yellow the only color as it can be overwhelming and defeat the purpose. Instead, mix a splash of yellow with neutral colors like brown or white.
It would be even more fun if you had a cheerful apartment atmosphere. Apply this yellow and white to the ceiling. Don't forget to add yellow accents to the sheets, pillows and blankets. This pull-out wall lamp gives a different look. You can combine it with gray carpet and antique chairs to add style to your home. Yellow and white striped ceiling from housebeautiful.
Using yellow on the walls will give you a cheerful feel that you can try in your campus apartment. Combined with a splash of white it will give a bright room. Wooden floors are chosen to give a warm impression and make you feel at home. Yellow walls from lakbermagazin.hu.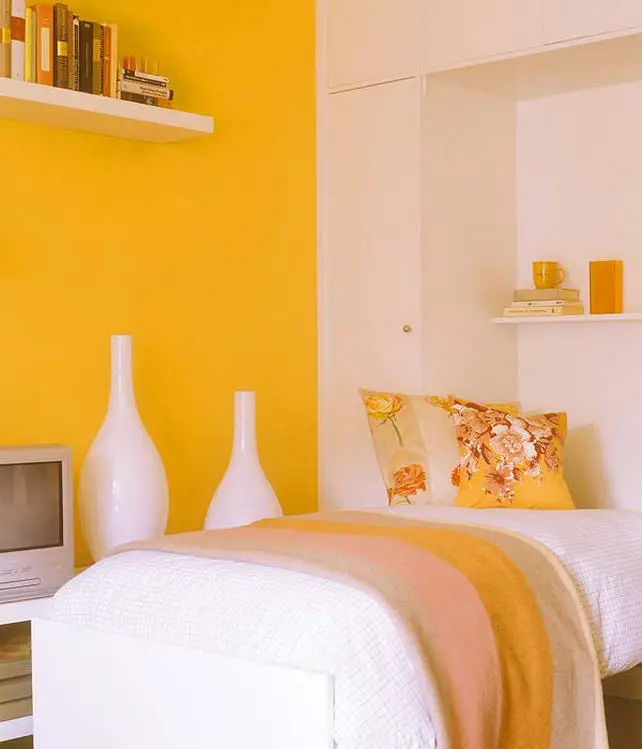 The throw of blankets and pillows in bright yellow colors makes the previously pale bedroom even more excited. The yellow wall color combined with white will make your room bright. Some ornaments in the form of ceramic jars make the appearance more attractive. Bright yellow blanket and pillows from lakbermagazin.hu.
A Touch of Rose Gold
When it comes to brighter colors that radiate softness and elegance, rose gold is a great choice. Most commonly paired with gray and white, rose gold brings a chic and striking touch to the room. For a minimal look, you can pair shiny rose gold accessories with dominant grays and whites to convey luxury and brighten up the room without overdoing it.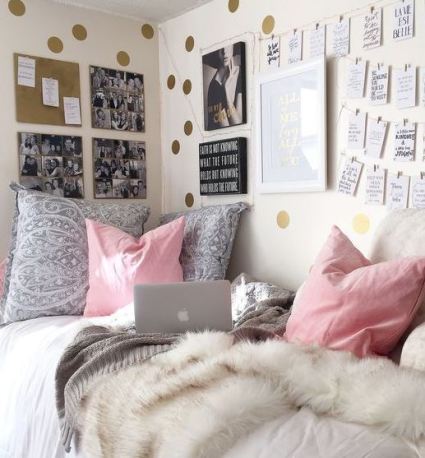 Gray and pink pillows add to the appeal of your college apartment bedroom. Applying a white wall equipped with a touch of gold wall decor adds a glamorous impression to your room. Don't forget to add posters and other ornaments to beautify the room. A blanket of faux fur is added to warm your body. Gold wall decoration from decoholic.
When you want an elegant impression in your apartment, you don't need to put in much effort. Decorate your room with rose gold. But you have to remember, don't overdo it in coloring so as not to spoil your appearance. The gold lampshade paired with the pink quilt and gray headboard gives a chic look. Gold lampshade from decoholic.
These modern campus bedroom apartments are supported by attractive décor. You can choose decorations in rose gold color for a glamorous and luxurious impression. The gold lampshade and bedside table give off a luxurious feel. Pink and gray colors in the case add style to your bedroom. Using shades of gray, woll rugs and wooden floors give your bedroom a warm impression. Modern bedrooms apartment college from decoholic.
Serene Dark Blue Tones
When used as a dominant color, dark blue tones keep your apartment college room looking minimal and masculine. Dark blue tones like navy also create a relaxing environment. Pair a navy-blue couch with some white or gray pillows to contrast with the dark tone. Have some abstract paintings to adorn your wall and give the room a modern look.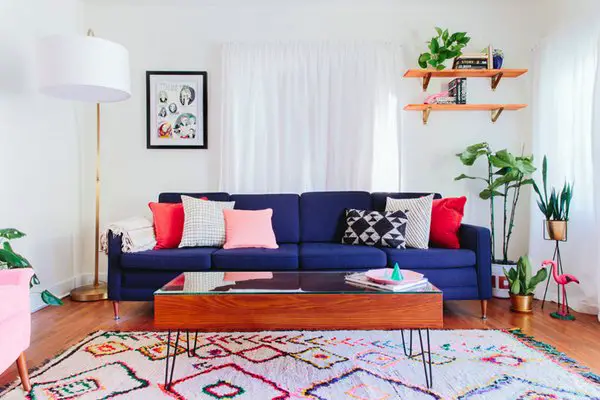 The dark blue sofa in the college apartment gives off a cozy feel and can enhance the look with its brightness. Add some colorful cushions and a wooden coffee table with hairpin legs to add style to your apartment. Pair it with white tones and wooden floors to create a warm impression in the room. Don't forget to add open shelves, floor lamps, and high sheer curtains to let the sunlight in. Dark blue sofa with colorful pillow from homedesignlover.
College apartments that use the dominant dark blue color will make your living room look minimalist and masculine. This L-shaped sofa complete with several color cushions gives it a stylish look. White nunasa on the walls, yellow table lamp shade and yellow coden will complete the look of your apartment. A large abstract painting has been added to complement the décor of this lovely apartment. Dark blue L-shaped sofa from homedesignlover.
Shades of Spring Green
Make your college apartment bright and cheerful with a touch of spring-green tones. Pair green accents with light-colored furniture and say goodbye to the gloomy day. For a more elegant color scheme, have curtains in moss green or olive shade. These tones are closer to the colors of plants, making your room feel like a tropical jungle.
A look of green spring appears on the walls of this campus apartment bedroom. White is the perfect monochrome pair for a touch of fresh green. Combined with white furniture and a rug with a polka dot motif, it adds to the stylish appearance of the room. It's proof that you can still embrace color when decorating a collage space to make it look fresh and give it a fun spring feel. Spring green Bedroom apatment college from home-designing.com.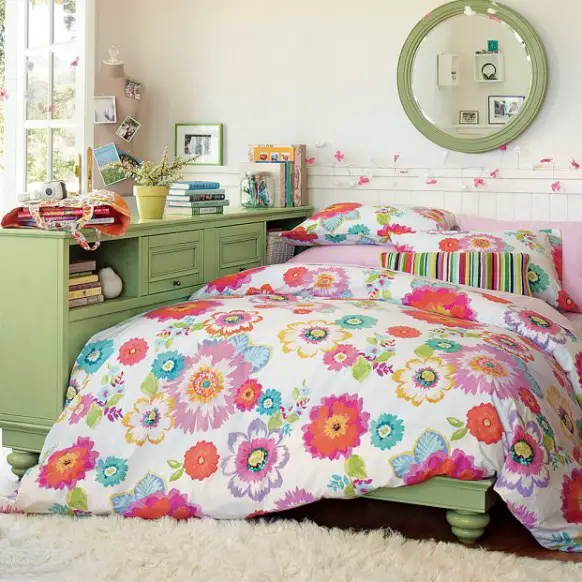 A distinctive spring green color, this apartment room offers an outdoor atmosphere. The floral motifs on the blankets provide the perfect balance and keep the atmosphere of the residence formal. The white nuance was chosen to give a clean and spacious impression to your bedroom. Don't forget to add a faux fur rug to warm your feet at night. Floral motif blanket from home-designing.com.
If you feel like being a bit more spontaneous with your apartment college decoration, mix solid colors with unique patterns and accents. Have fun with it and explore your personal aesthetic!