8 Cool Showers Ideas for Your Tiny Bathroom
As we all know, a bathroom is a private room at home that we usually use to get relaxed. Its design, arrangement, and nuance will affect our mood. The shower, then, becomes the key point of a bathroom that must be designed as well and cozy as possible. But, the problem occurs when we only have a tiny bathroom. Decorating this tiny space will be quite challenging. Moreover, if you want your shower in your tiny bathroom decoration looks cool and stylish to pamper you every time you are in the bathroom, you must be smart to see beyond the functional part of the design. Thus, the following are some ideas that you may adopt to make your bathroom becomes an incredibly tiny space.
Frameless Bathroom Shower
The first idea to make your shower more functional yet practical is making a frameless bathroom design. Applying a frameless design for your tiny bathroom will result in some advantages. One of the real advantages is that it will magically give a larger impression for your tiny space. Also, you can have some glass elements for the door and provide a mirror to help you in creating an airy impression.
The frameless shower space paired with the small corner bath creates a great place for bathing in a very stylish bathroom. Placing the shower area in the corner creates extra space resulting in a large space. Add some pine cones on top of the sink to help create a sense of space. Frameless shower space with smallconer bath from thespruce.
This frameless bathroom shower provides a functional and practical space to create a spacious space. You can combine a bathtub with a shower to minimize your space. Add a square mirror to give the illusion of a spacious room and give your bathroom an interesting décor. Frameless bathroom shower from thespruce.
Built-in Storage
The next thing to consider is storage. For a tiny bathroom, having smart storage is important. This is one of the ways to make your tiny space looks tidy and stylish. Built-in storage comes with its practical design that can be your reference. There are some designs and shapes of this built-in storage that you can adapt, vertically or horizontally, depends on your need. Then, you can store your soap, clean towels, and other stuffs in this built-in storage that eases you to get them before or after using.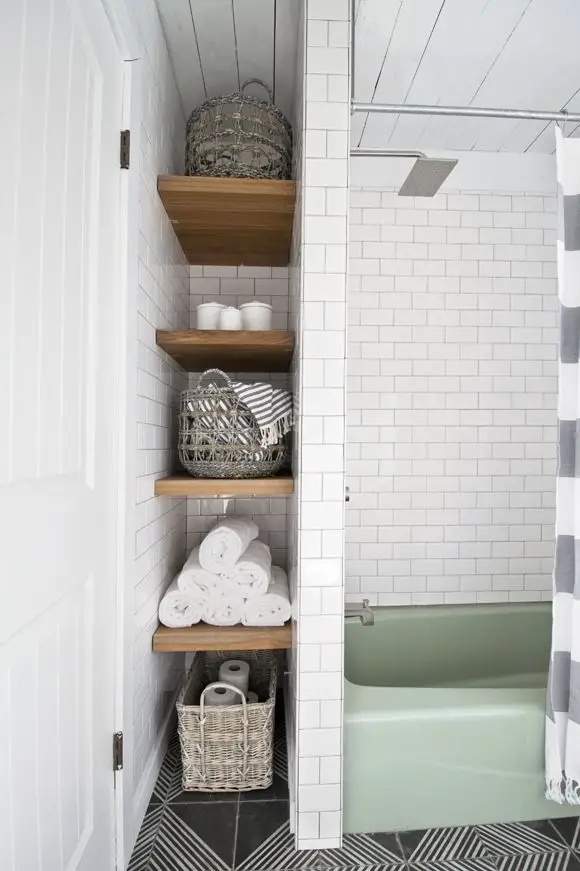 If you are renovating a bathroom, leave room for a very narrow niche. Mount the shelves, then use them to pile up extra towels and add baskets to neatly store a few towels. Mount the shelves from housebeautiful.
The built in storage in this bathroom will create a neat and tidy room decor. You can store some towels and toiletries safely. Add hooks next to the built in storage to provide extra storage. Built in stoage from bhg.
Trick the Eyes with Tiles
Designing a tiny bathroom means you have to be clever at making some decisions. One thing you must focus on is about the tiles. Tiles will help you in creating ambiance and effect for your tiny bathroom. As some designers know that white tiles always successful in creating the small space into a more open one. Additionally, large tiles can work perfectly to create a larger impression of the floor. They trick the eyes and brain that the room is bigger than the reality it is.
You can try designing a tiny bathroom with the illusion of a spacious room now. With this small white subway tile, it will trick your eyes so it will create the impression of a more open space. Paired with this patterned floor tile it will provide the perfect contrast. White subway tile from digsdigs.
Characterize with Color
If you think that only neutral colors work perfectly in a tiny bathroom, you may have to change your opinion since you can absolutely bring your favorite bright colors into your tiny bathroom. Bright colors should not have to be the dominance, they can play as a shoot to liven up the ambiance. As well as, they can affect your mood in getting relaxed in your private room.
A washbasin with a shaded floral patterned skirt and complementary painted green walls make the room fresh. Two shades of green paint show a lot of patterns on the floral skirt as well as the wallpaper. Floral skirted sink vanity from housebeautiful.
Shower with Seating Area
Adding a seating area for your tiny bathroom seems to be impossible. But, you can provide a built-in seating area to save your minimal space. On the other hand, a cozy seating area will encourage you to linger in your enjoyable moment in the bathroom. Also, the seats will give you a comfortable feeling while fixing your hair or applying your soap.
Create a spa-like atmosphere at home by complementing your walk-in shower with concrete benches and multiple showers. Here benches serve for comfortable seating and a ceiling mounted showerhead and a few others along the wall offer a completely personalized experience. All white tiles on the walls, floor and built-in shower chair make the room bright and airy. Built-in shower chair from bhg.
Wooden Shower Floor
The next thing to focus on is on the floor of your shower. Some designers may choose to have white tiles to add a larger impression for your tiny shower. In contrast, some may choose wood as another durable material. For those who adopt farmhouse bathroom style, this idea of applying the wooden floor sounds good. It will make a perfect farmhouse bathroom style. However, if you find some difficulties in finding the real wood for the floor, you can find a tile that looks like a very light wood.
Minimalist bathrooms are all upholstered with wood tiles and refreshed with white vanities and long sinks. If you are having trouble finding real wood for the floor, you can find tiles that look like very light wood. You can add a large mirror to give a spacious impression to your bathroom. Wooden flooring shower room from digsdigs.
Mounted Towel Rack
Towels are items that are always needed in the bathroom. They must be clean and kept well. By using a mounted towel rack, you can store your towel in a proper way. Then, place this rack near the bathtub so that it eases you to reach it after taking a bath. Likewise, this rack will keep your tiny bathroom tidy and clean. From the small thing, you can make your bathroom more well-organized.
Towels are an item that is always needed in the bathroom. That way you have to install an iron mounted towel holder to save space while in your small bathroom. Place it next to the shower room to complete your bathroom decor. Iron mounted towel holder from digsdigs.
Combo Shower Sink
A combo shower sink is a great idea to save every free inch in a small space. It is practical and does not sacrifice its style. Whether it is for a tiny or master bathroom, it works effectively to save minimal space. Most of them are designed in white. But, you do not need to think they are boring since they come in angled and curved options. Moreover, some of them elegantly come with a countertop and toilet combo. So, they will make your tiny bathroom more stylish.
If you don't have floor space left for all the bathroom amenities consider using this idea. DIY installing a bathroom sink in the shower is a brilliant idea for you to try that will create a spacious and airy bathroom. Combo shower sink from thespruce.
Deciding to use a shower for your tiny bathroom, might forces you to choose and apply the right and suitable shower design ideas. By following those shower ideas above, hopefully, it would be your inspiration to be applied in your tiny bathroom.