Create a Farmhouse Ambience with Rustic Home Decor
If you're a fan of the homey, grounded ambiance of a farmhouse but refuse to live in the woods, you'll find yourself easily enchanted with the charm of rustic home decor. A little bit of modern life, a little bit of the natural world, these home decor ideas will open you to the beauty nature holds.
Incorporating everything from renowned wooden furniture to lovely shabby chic patterns, find out the best of rustic home decor with these dreamy collections.
1. Wood—a Lot of Wooden Panelling
What's a rustic home decor without wood panels? Panel your ceiling, walls, floor—basically every surface that you can afford. Not only that it creates a cottage-like ambiance, but these wood panels are also a great source of warmth!
Rustic home decor will not be separated from the use of wood. Wooden paneling that is applied to the walls, ceiling and floor gives a warmer and more natural feel. Apply white to the wall decor to give it a more elegant and clean color. High windows help bring sunlight into your living room. White wooden paneling walls from countryliving.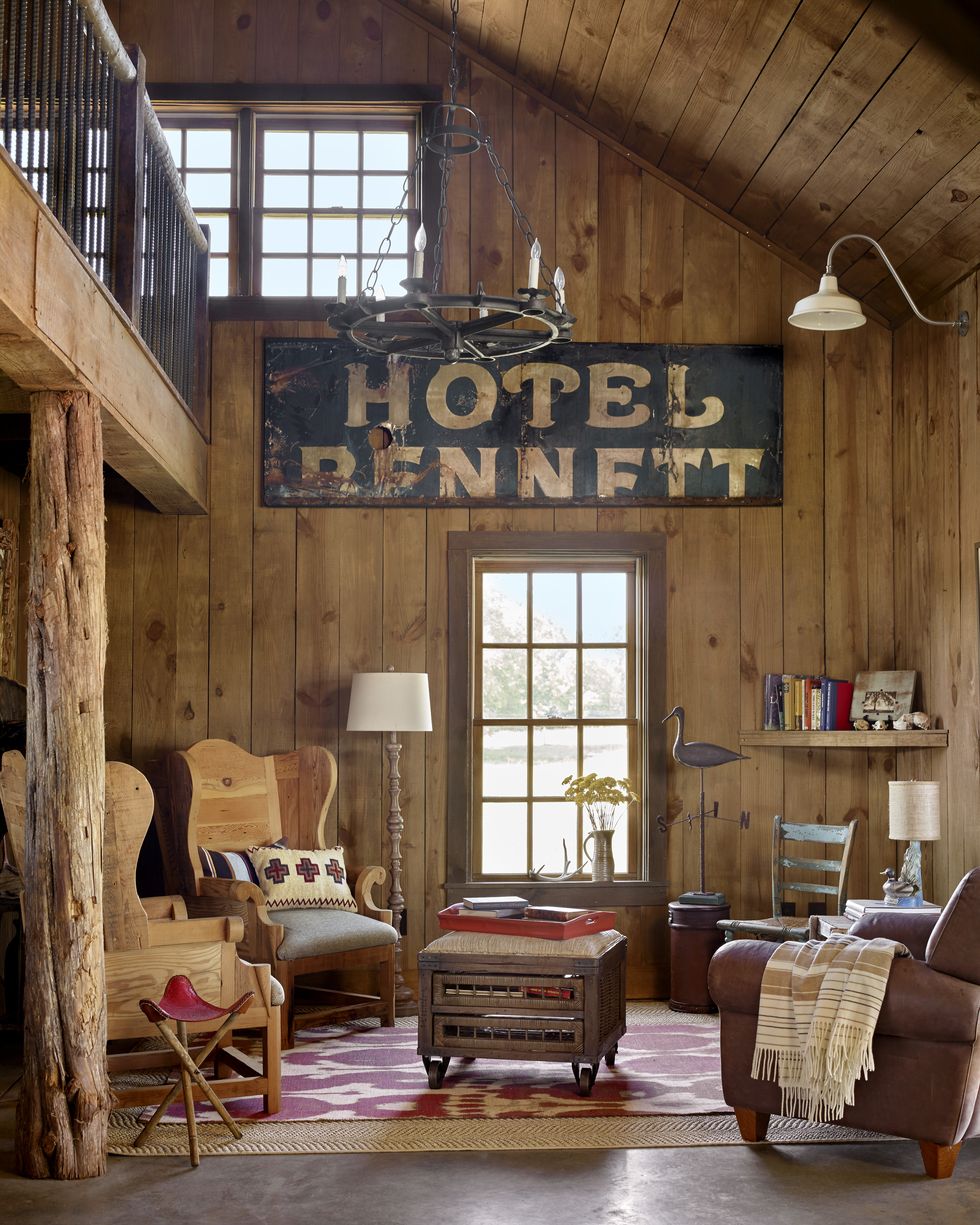 An easy way to bring a vintage rustic style to your living room decor is to use paneling wood in its original color. You don't need to paint this wood any color. Complete the rustic living room decor with a combination of wood and leather furniture. The wooden coffee table equipped with wheels makes it easy for you to move it anywhere you want, hang on classic lighting such as fragile metal chandeliers and wall scones. Rustic living room with wood paneling material from countryliving.
2. Use a Down-to-Earth Color Palette
As it's famously known, rustic home decor is identical with a nature-colored palette. Choose colors resembling the earth, such as green, brown, beige, or gray. You can also opt for a natural pattern, such as flowers, wood, or animal print.
Choose a room feel with warm and neutral colors to make it easier to match with other interiors around it. The combination of white and brown is the perfect color combination for a rustic style room. No need to enter bold colors which will make the room look boring easily, take advantage of the wall area to hang some unique and classic ornaments such as wicker rattan trays and some framed paintings. Plaid patterned chairs and pillowcases are the favorite patterns this year. Brown rustic living room with a splash of white color from countryliving.
If you use wooden walls, your room will automatically use earth tone colors that are suitable for rustic living room decorations. Classic chandeliers, standing reclaimed wood shelves and vintage sofa sets emphasize the rustic style perfectly. There's nothing wrong with adding green plants in the room to give it a fresher atmosphere, you can place it on the coffee table and on the top surface of a standing wooden rack. Do watering every day so that the plants can grow and develop properly. Earth tone color wooden walls with indoor planter decor from countryliving
3. Change it Season-to-Season
One thing people often misunderstand about home decoration is that it is very versatile. Combine with a Christmas tree? Check. Pumpkin? Check. An abundance of garlands? Check, check, check. Just mix and match the ornaments to create lively rural home decor.
Adjust your rustic home decor with the current season so that it blends well. The greenery wreath that is hung under the carved storage shelf is one of the accents that emphasizes the fall decoration. Give a welcome to the guests who come to your house with a blackboard hanging on an empty wall. The glass flower vase which is used as a centerpiece gives a different atmosphere that is fresher when you eat together with your friends or family. Greenery wreath from homebnc.
Another decoration option for a rustic living room decoration in fall is pumpkin accents on a rattan tray that looks more natural and environmentally friendly. You can perfect the appearance of this coffee table with several other ornaments such as ceramic flower vases and some of your favorite books. If you have reclaimed wood window frames that are not in use, then you can reuse them for wall decorations that save space. This tree with a long stalk is a fresh decoration for the room. Pumpkin accents on rattan wicker trays from bhg.
4. Bunkbeds? Totally in Style!
In modern architecture, bunk beds are considered as vintage and impractical. However, if you're a fan of this homey way to sleep, freely install these wooden bunk beds instead of a queen-sized one to achieve that rustic home decor look.
These rustic bunkbeds that made of large tree branches will be sturdier and look vintage. In addition, this furniture also saves space and is suitable for decorating narrow bedrooms. Add a soft mattress and pillow as a place to rest that is warm and comfortable to use throughout the day. Rustic bunkbeds that made of large tree branches from mountainliving.
The advantages that are obtained when you use teak wood bunkbeds are sturdy, not easily porous and of course do not cost a lot. Usually this furniture is owned by rustic style room decorations. Polishing the teak wood with brown color to make it look more shiny and stone. Apply bedding plaid to give color and pattern to this rustic room decor. Re-polished teak bunkbeds from mountainliving
5. Exposed Wooden Ceiling
Last but not the least, an exposed beam is something essential in every rustic home decor. For example, this kitchen incorporates modern cabinetry with the rustic feeling of an exposed ceiling. Not stopping as mere decoration, you can also hang pots and pans on the ceiling as well.
To put more light into your living room decor, you can try exposed wooden ceiling. You can repaint part of this ceiling with pure white. Match the color of the roof with the selection of furniture such as on your sofa and chairs. The wooden table and woven rug are complementary that seem natural. The combination of brown and white exposed wooden ceiling from architecturaldigest
Mix and match the exposed wooden ceiling with a white kitchen décor for a more elegant look. Don't forget to use wooden floors too in a darker color for a beautiful color contrast. You can try this rustic kitchen decor in your home. The combination of exposed wooden ceiling and kitchen with white nuances from architecturaldigest.
Creating your dream rustic home decor isn't as difficult as you thought. With a little bit of creative touch and bravery, easily achieve that cabin-in-the-wood house without having to move an inch of your house!