Proper Eco-Friendly Bathroom Design Ideas
Bringing out the eco-friendly concept for your bathroom can be really worthy for you. It is because of the peaceful atmosphere that this concept created. Moreover, you will also feel the healthy bathroom environment around your bathroom which is awesome. Anyway, if you are interested in this idea, then you can apply the natural element materials. For example, you can use wood for your bathroom furniture or interiors. Then, you can also utilize the stones to make the bath math and natural material rope for the towel holder. Here is some detailed information.
Applying Wooden Material
To give the wood touches into your bathroom, you can apply it for your cabinet or bathroom vanity. The wood frame is also the easy thing that you can do to bring the wood material. Moreover, if you want the more festive one, apply the wood material for your floor or wall. Anyway, wood material won't be durable if you have such bad humidity in your bathroom. That is why you should make sure that you can deal with the humidity if you want to have the wooden material for your bathroom.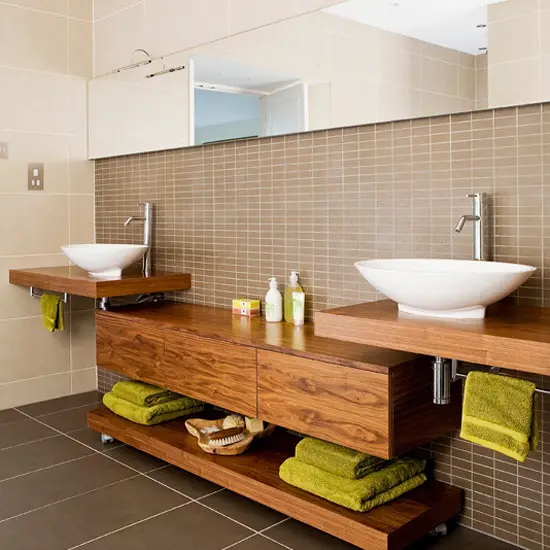 Applying wood to your bathroom decor is a very exemplary thing. Choose wood that has a natural pattern to make a beautiful bathroom. Use this wood material on the sink furniture and complete it with some towel storage to tidy up your bathroom. Combined with the brown color scheme on the tiles will give your bathroom a warm feeling. Wooden floating sink from digsdigs.
Beautifying the bathroom with wooden accents on the cabinet and wood floor already represents the beauty of this bathroom. You can use it if you need to try to bring out a new atmosphere. Added with this fireplace will warm your body while in the room. This vintage bathtub will add a classic decor to any room. Cabinet and wood floor from digsdigs.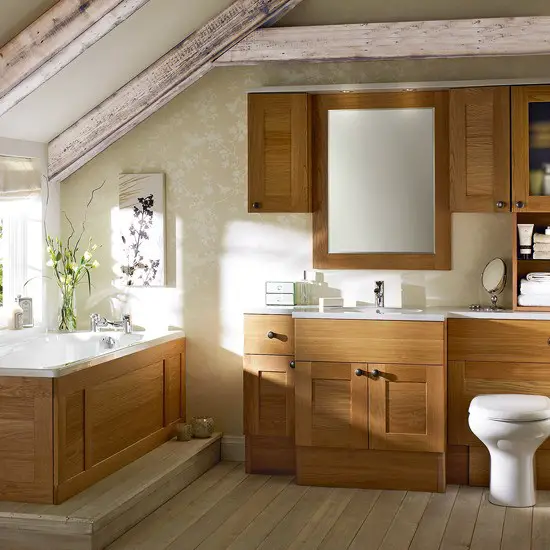 This eco-friendly feature uses wood for an elegant look in a rustic bathroom. This wooden beam ceiling and wooden floor evoke a warm spirit into the room. Wooden cabinets, wooden mirror frames and wooden bathtub frames also give the bathroom an attractive look. Paired with a classic patterned wallpaper in a beige color for the perfect contrast. Wooden bathroom decor from digsdigs.
Choosing wood material for the bathroom will give a warm impression to the room. This all-wood room will emphasize the rustic impression of the room so it will look elegant. Add a white sink and galvanized basket to a great storage idea in this rustic bath. This red runner carpet will complete the look of your room. Wood material bathroom decor from digsdigs.
Using Stone Bath Mat
The stone bath mat can be the proper one for your eco-friendly bathroom. Not only to bring out the natural element material, but you can also utilize it for your feet health. In this case, the stone texture that gives pressure to your feet can reach the nerve point which really beneficial for your health. Again, the pattern and colors of the stone can also very useful to add beauty to your bathroom for sure.
Combining dark colors on the floor by making a stone bath mat which is also colorful makes your bathroom even more stunning. This DIY mat is easy for you to try because it doesn't need to cost a lot. In this case the texture of the rock that exerts pressure on your feet can reach nerve points which are very beneficial to your health. This is one of the eco-friendly decorations. Eco-friendly bathroom from decoist.
Choose different colored stones and combine them into a handy bath mat. In addition, this stone base can be therapeutic for your feet. You can make it yourself by collecting several stones of different colors and put them together into an attractive bath mat. The hues and colors of the stones can also be useful to add to the beauty of your bathroom. Colored stones bath mat from decoist.
Using a stone bath mat is an interesting thing to make your bathroom look different. If you have a black bath cover, then the selection of black stone will be a great choice. In this case, the texture of the rock that exerts pressure on your feet can reach nerve points which are very beneficial to your health. Adding this antique countertop gives this bathroom a unique decor. Black stone bath mat from decoist.
Rope Towel Holder
Not only functional, but the rope towel holder is also able to create an eco-friendly impression. Moreover, it also has the nature element material which has a warm character if you can provide it. In case you have the rustic or farmhouse bathroom decoration concept, this rope hanger is a really good choice for you. Choose the right color for your bathroom based on the bathroom color scheme you have whether the light brown, dark brown or the ivory.
This one's a simple DIY hanger that can make your bathroom look different. By using a tied rope, you can hold your towel. Place it on the wall near the sink to give the room the perfect look. This method is easy for you to imitate only with a rope and hook to install on your bathroom wall. This decoration will make your room look attractive and avoid clutter. DIY rope towel holder from onecrazyhouse.
Attach the handle to tie the rope which is useful for making your bathroom towel hanger rope. It fits perfectly because the handle is made of wood which is one of nature's elements. This decor will give the room a rustic feel and will serve as a storage wall that will grab people's attention. This method is useful for taking advantage of your bathroom walls. Bathroom rope towel hanger from onecrazyhouse.
Adding a towel storage area with this string will add a rustic feel to this bathroom. You can hang it on the wall of the room so that it will give a space-saving decoration to your floor. Paired with a mint wood pallet wall for the perfect decoration. To complete the decor, you can use a round mirror with a rope frame so that it becomes a room decoration that attracts people's attention. Rope towel storage from onecrazyhouse.
It will be great if you can provide those three things into your bathroom to create an eco-friendly atmosphere. Imagine that it will be great if you have the wooden interior concept combined with the stone and rope where all of those things are included in the natural element materials. However, if there is a thing that makes you can't provide all of that combination, then it will be ok! Happy decorating!