Simple Outdoor Pallet Furniture for Your Garden
Designing your garden can be challenging, especially if you are in a budget. However, it is also a great area to implement your DIY skills.
You can furnish the garden with pallet furniture. Those rustic pallets can give a homey atmosphere as well as a personal touch. Wooden pallets are durable materials that you get from deliveries. So, with a little creativity, those pallets can be transformed into useful garden furniture.
1. Garden Table
No carpentry skills are needed. With little effort, you can stack pallets to be a long table. Other options include placing several pallets in the corner of the garden as a coffee table. If you want them to be movable, you can also add wheels underneath.
A table from pallets can give variation from the common pallet shape. You can cut them in the right shape and size, and attach it with its leg.
In order for your garden decoration to look more natural, then you can use some natural furniture to serve as a fresh and cool relaxing area. For example, a combination of rattan wicker chairs and reclaimed wood pallet tables, in this garden decoration you can repaint the coffee table white to make it look cleaner and less shabby. This table is also equipped with wheels making it easier for you to move it. Combination of wicker rattan chairs with palette coffee table from homebnc.
Make your pallet coffee table smaller than the usual size so that it is not too heavy when it will be moved to the desired area. With this pallet wood material, your garden decoration is more environmentally friendly, this tall palm tree is a fresh decoration. This pallet wood material is very affordable because it has a fairly cheap selling value. for other furniture ideas such as pallet benches, you can cover it with soft pillows to make it more comfortable when used for relaxing. Small wood pallet coffee table from homebnc.
Pallets are recommended materials for your garden furniture ideas because these pallet set tables are proven to be resistant to all weather conditions. Relax in the garden with outdoor furniture to unwind after work. You can paint some of the furniture pallet red to make it a focal point and bold color in your garden decoration. Wooden pallet set table with partial repainted from homedit.
This rolling pallet table is an outdoor furniture suitable to be placed in garden decorations because it has a texture that is more water and heat resistant. In addition, this pallet table is more portable because it is equipped with wheel legs that can be shifted or moved anywhere you want. Leave the color of this pallet with its original color so that it blends with nature more perfectly. Rolling pallet table from homedit.
2. Chair or Sofa
Furniture usually comes in sets. If you have a table, you also need a sofa, chair, or maybe even both. You can stack them up an make your very own pallet furniture. If there are only a few pallets, then you can make chairs. If you have a little more pallets, you have the material to make a sofa. Give a touch of color and pattern for the seating pillow for a pop of color.
This pallet bench repainted in white gives a cleaner and more minimalist appearance. Several pillows with different motifs add to the impression of a more colorful color. The combination of pink, yellow, black and white is a color combination that works well and is perfect. The stone fireplace is an accent to warm the body all day long when you are in this garden. White pallet bench with colorful cushions from homebnc.
Pallet benches are more comfortable to use when equipped with an area to relax your feet. Do not forget to cover all the materials of this pallet with soft and soft pillows, the blanket is also a warm accent when the weather starts to feel cold. You can place greenery around this pallet outdoor furniture to cool and refresh the overall garden decor. Pallet bench lined with cushions from homebnc.
There is nothing wrong with using pallet chairs in your garden decoration as a comfortable relaxing area to use all day long. Throw in a yellow pillow with a polka dot motif for a soft and comfortable seat. This pallet chair can be folded when not in use to save on decorating your garden to make it more effective and efficient. The flowers that are placed on this wooden table are a decoration and a beautiful eye view. Folding pallet seats with polka dot cushions from homebnc.
3. Planters
Spending your time in the garden can be more relaxing if the surrounding area is neat and well-taken care. Pallets come in a large size fit for holding your daisies, roses, mints, and other herbs.
Again, you may need some carpentry skills to add spare slats as a base. It can make a great planter. Install them as a window box, hanging planter, or a large pallet planter next to the table.
Use wooden pallets as a medium for a herbal garden that you can move anywhere you want. Rest these herbal pallets against the garden wall vertically to minimize falling and tipping of these pallets. This wooden pallet color doesn't need to be repainted and recolored for a rustic aesthetic. Write in chalk on the outer surface to distinguish the type of herbs you are planting. DIY wooden pallet garden herbs from onekindesign.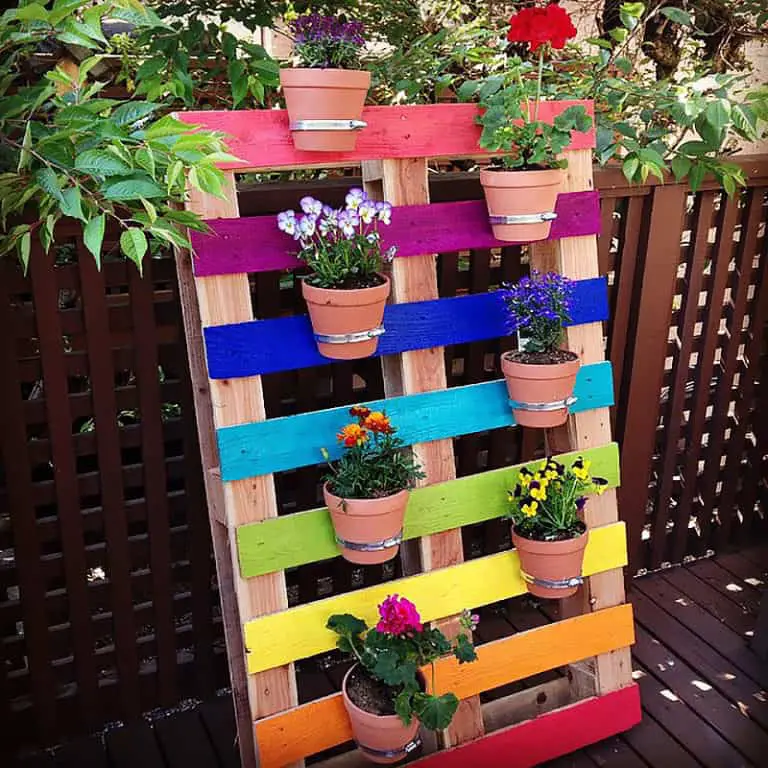 Hang a few clay pots on a standing pallet to save a small garden area. You can repaint this pallet in several different colors for a more cheerful and colorful look. Use a rope to attach the pot to your pallet, this pallet is a natural and environmentally friendly material. Colorful standing pallet for hang clay pots from onekindesign.
No need to repaint your wood pallet to make it look more natural, you can use this pallet to plant blooming flowers of different types and colors. With this blooming wood pallet, the garden decoration will be more colorful and beautiful. You can lean this flower pallet against the wall so that it doesn't fall and cause your flower plants to be damaged. Blooming wood pallet from onekindesign.
There are many ways to turn pallets into useful things around the house. They are easy and affordable. Adding pallet furniture is a fun way to make your garden unique. Make use of all those forgotten pallets as well as sharpening your creativity.