If you love to have a comforting, homey, and relaxed kitchen arrangement, look no further than having a country decor to induce the mood. The traditional kitchen is comfortable, renowned as the main working station in any house, with main components like welcoming and warming ambiance. To get you one attractive country kitchen, here are some easy ways to transform the space.
A farmhouse island table
This is where you can open the pantry and entertain guests, allowing the children to sit and have their meal in the kitchen. An open farmhouse island serves greatly as a bold centerpiece, an essential element in country kitchen decoration. You can place an expansive seating to have a gathering; prepping and plating the meal will be easier.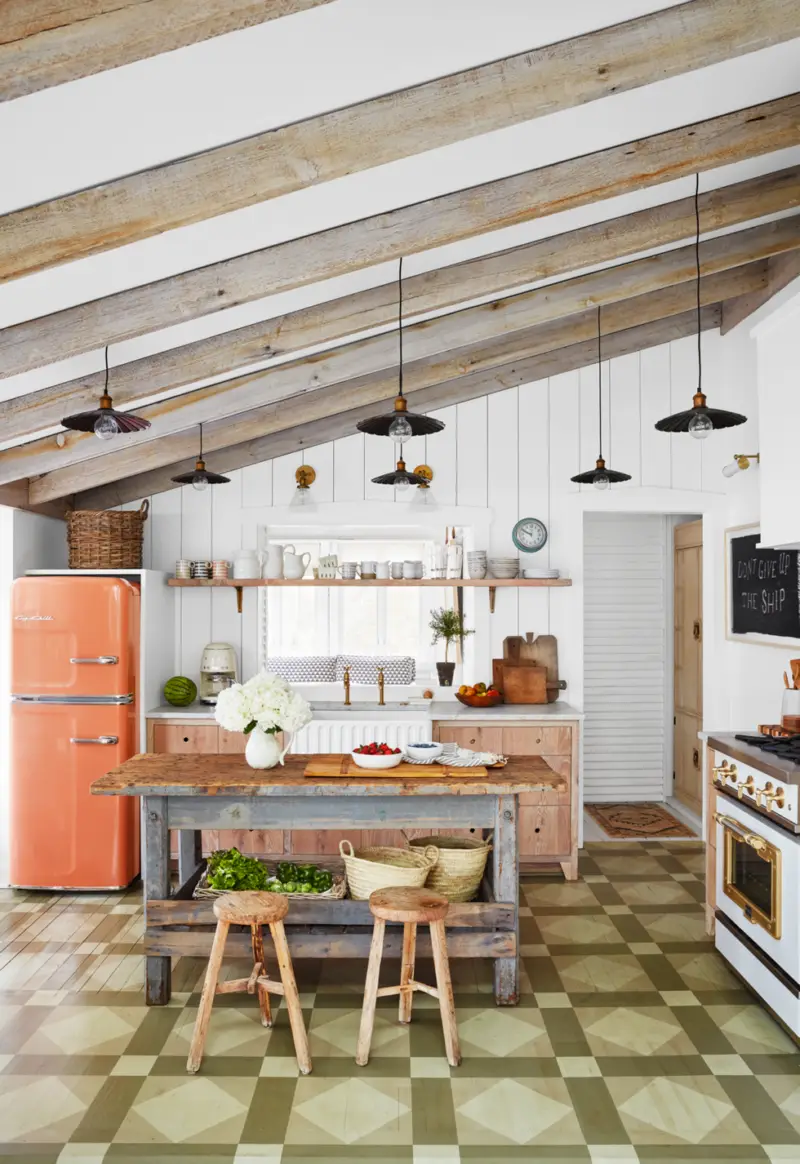 Distressed wooden covered countertops in this farmhouse kitchen island are a great decoration for a dining table. You can combine it with several chairs for a comfortable impression when you gather with your family in the kitchen. You can place enough seating for meetings so that it will be easier for you to prepare and serve food. Adding these wicker baskets under the table will create a tidy space and will help keep your room tidy. Distressed wooden island table from countryliving.
This farmhouse kitchen island table provides a more useful dining area in your country kitchen. Equipped with several antique chairs and candle holders, it will create a space that attracts the attention of many people so that it will create a comfortable and inviting space. Equipped with gold pendant lights, it adds to the dramatic impression of this farmhouse kitchen. Wooden farmhouse kitchen island table from countryliving.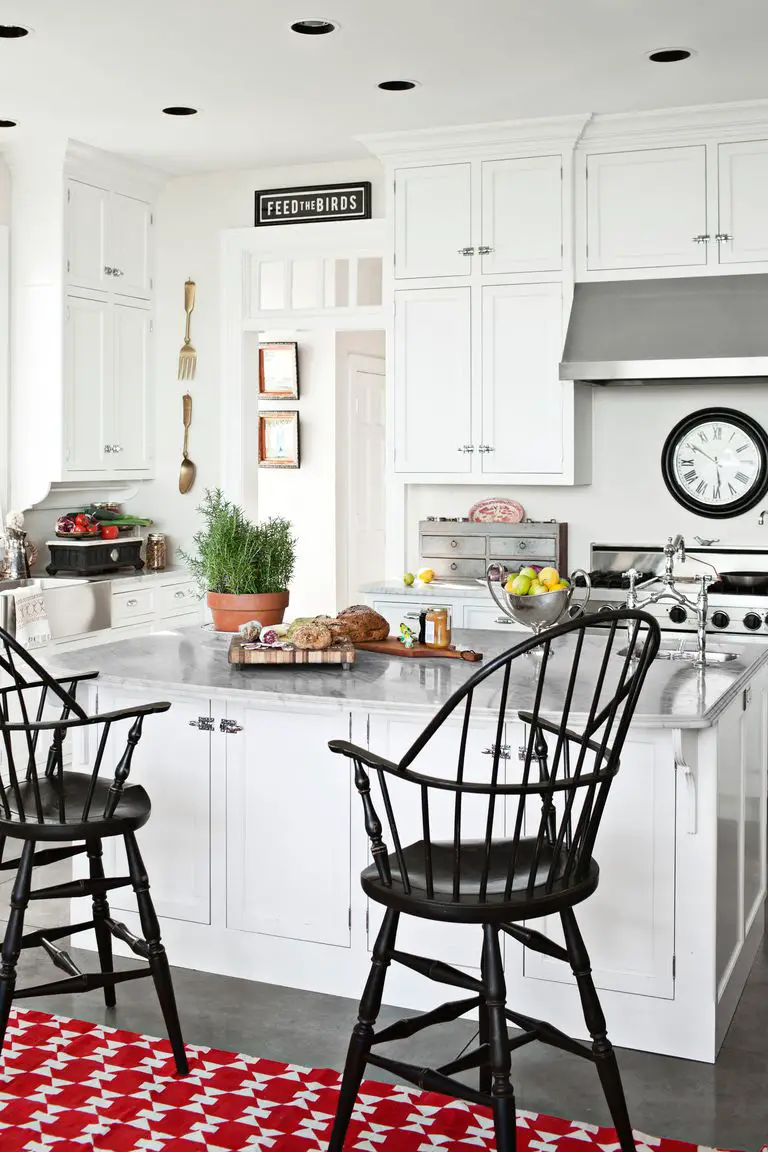 The marble countertop in this farmhouse kitchen island features a durable material for the dining table. This is the best thing for decorating your country kitchen. Completing the look with some of these antique black chairs creates a comfortable space to relax while eating a meal. With a farmhouse style this room will look more attractive. Marble countertop table island from countryliving.
A white farmhouse sink
Large, bold, and accommodating—a farmhouse sink is a major element in country decor. You can install the sink, embedded into the countertop that also serves both aesthetic factor and functionality. A farmhouse sink allows you to have bigger space to clean the dish, and it's easier to make a statement; the wide, deep sink will catch attention immediately thanks to its interesting feature.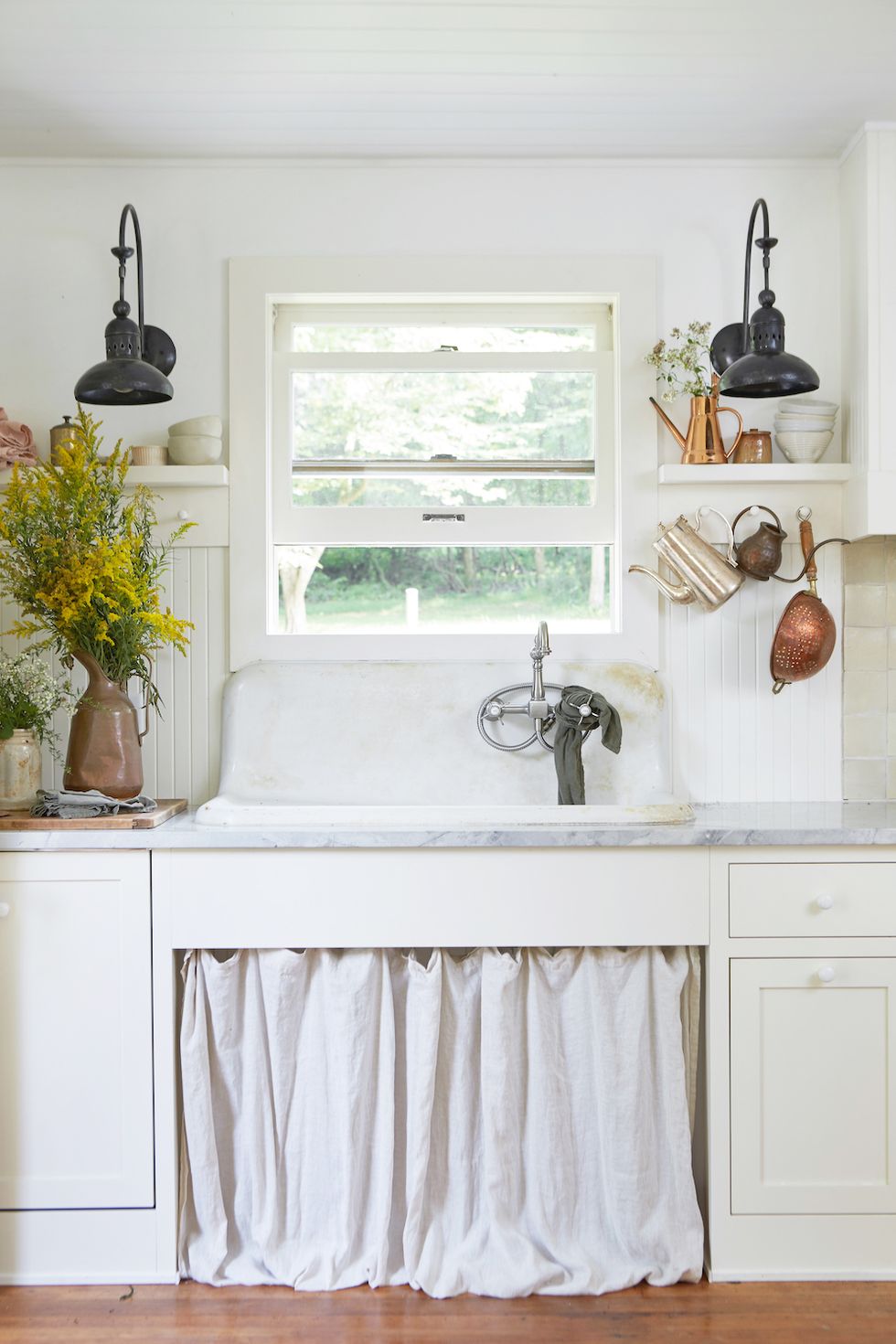 The farmhouse kitchen uses a white sink with a skirt It plays up a simple rustic decor. Using a large white sink is the hallmark of a flawless farmhouse design that creates its own charm. The farmhouse sink allows you more room to clean dishes and is the perfect focal point of the room. Covering the cabinet with a skirt also creates a stylish appearance for the room. White farmhouse sink from housebeautiful.
The white sink sits neatly over the kitchen cabinets. It sure looks great with a farmhouse kitchen decor. The farmhouse sink allows you to have more space for cleaning dishes, and will become the hallmark of a farmhouse kitchen design. the wide and deep sink will catch your eye right away thanks to its attractive features. Pairing with a metal faucet provides a contrasting look. White sink and metal faucet from homebnc.
The white holes in this kitchen give you a multi-purpose washing area. With a distinctive farmhouse style, it will provide the perfect decoration for your country kitchen. a farmhouse sink is a major element in country decor. Combined with white cabinets and granite countertops, this makes for the perfect contrast that you can try. This unique chandelier makes for a dramatic room decoration. Farmhouse sink in island corner from homebnc.
A freestanding cabinet
Back in the old years, built-in cabinets were hard to build, and people were used to adding a freestanding cabinet that offers more storage space. The cabinet makes a great centerpiece addition in your kitchen, especially when you choose the large one. It's best to choose the wooden style cabinet with a glass door to introduce a simple touch of nature in your kitchen.
Combine two models of stand-alone kitchen cabinets with wall cabinets. This method can make your room tidier and avoid clutter. Choosing a stand-alone cabinet in pink and pairing it with this all-white farmhouse kitchen provides the perfect contrast to make it the perfect focal point of the room. This freestanding cabinet will offer more storage space. Pink freestanding cabinet from idealhome.
This versatile freestanding cabinet to store everything you need will spruce up the look of your farmhouse kitchen. This design provides the perfect look so it won't take up much space. Using real wood will add a rustic impression to this room. You can combine it with white tones and wooden floors to create a contrasting look for the room. With this type of cabinet you will not be overwhelmed to put it on the side of your kitchen space. Versatile freestanding cabinet from bhg.
Open shelving
A kitchen designed in country decor with an open shelving system offers greater access and allows you to have a more roomy feeling. Eliminating blocks of cabinets above your sink or stove will give you more space and send off a feeling of the upward ceiling. It's also more comfortable to reach the cooking utensils, plate, and put your favorite pieces on display.
This open shelf farmhouse kitchen nicely showcases some of your plate collection. This method will give a neat impression to a rustic kitchen decor. Using open shelves with metal hooks will make the room sturdy and durable. The combination of these materials makes your room more stylish and creates an attractive space. Pair it with a wood hob for the perfect room. Open shelf farmhouse kitchen from hgtv.
It gives a rustic feel to the plain white walls of this kitchen with open shelving. In addition, you can arrange kitchen utensils on floating shelves for easy access. You can add these shelves in the right and left corner of the farmhouse kitchen to tidy up your kitchen and avoid clutter. You can display several collections of vintage cutlery to create a perfect room decoration. White open shelving storage from countryliving.
Other great ideas to have a kitchen with country decor inspiration is to cover the space with natural elements and neutral color palettes for a more traditional feeling.
(Visited 108 times, 1 visits today)
Tags:
country kitchen decor
,
kitchen decor
Last modified: May 16, 2022