Are you planning your home decoration? Then you must be in a thrilling mode right now. Enhancing your place is, of course, excites but scares you at the same time. While picking from color to furniture is a fun thing to do, making the wrong decision is naturally something you wish to avoid. Why not checking out these easy-chic home décor ideas we guarantee you will love.
Do You Dare for Black Paint? Who's Scare?
People normally won't choose black for their wall painting. However, painted in black won't make your room look scary. Choose one spot of the house and be experimental with soft black paint color. For example, a reading spot with matching furniture will elevate an elegant and warm feel to the scene.
There is nothing wrong with painting your bedroom walls black, because this color presents a cool masculine nuance and is suitable for decorating a boy's room. Neutralize this room with the use of white bedding and carpet. Not only here, wood accents also add a natural color that is suitable to be applied in any stylish room. Black wall paint with white interior from elledecor.
This black nuanced library decoration will appear more dramatic and different from the others. Hang a large painting with a dominant white color as a room neutralizer which is quite easy to try. This painting gives an artistic impression that never goes out of style, you can try it right now. Library decoration with black tones from elledecor.
Be Artistic with Entryway
For an instant chic vibe, have fun with your entryway. Make it the most enchanting and unique area by placing stunning accents. You can hang a classic wall mirror and marry it with metallic gold table. Or else, you can display couples of abstract painting or artistry photographs.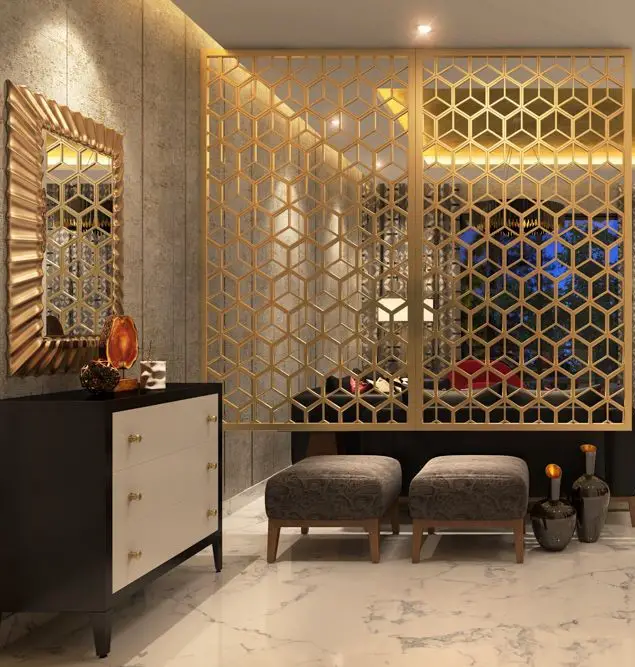 Show off your entryways decor by hanging shiny gold framed mirrors. You can also apply the gold color to the dresser knobs, with this entryways decoration will be more artistic and look luxurious, especially when you use marble tile as footwear which has a smooth surface and is certainly not rough. Use the dresser in this room as a closed storage that will hide all the clutter. Mirror frame and dresser knobs in gold color from livspace.
If you have a small entryways room decoration, you can adjust the interior or furniture ideas. This minimalist dresser with hairpin legs is made of metallic gold which gives it a classic impression, plus a hanging mirror with a unique frame that also has a luxurious color, namely shiny gold. Herringbone combined with yellow and white on this floor complements the look of this decoration. Gold hairpin legs with unique mirror frame from livspace.
Accent Wallpaper
Speaking of chic décor, wallpaper can give a drastic change to your place. But this time, do not install the paper decoration in your entire wall. Simply pick a wall and make a statement out of it. For example, if you have a grand piano, place it near your accent wallpaper. Voila! You'll just create a dazzling focal point.
Bring a tropical atmosphere to your dining room decor by using palm print wallpaper in bright yellow colors. Also display native plants that thrive, namely the combination of monstera plants and palm trees as an instant refreshing and conditioning accent in this room. These colorful tables and rugs bring out the bohemian style with ease. Palm print wallpaper from houseandhome.
Do you want a modern style in your bedroom decor? If so, then you can use a vertical striped wallpaper print with a combination of black and white. The colors and patterns in the bedding match the wallpaper you install for a more elegant room appearance. Black matte side lamps are a perfect interior that you can have right now. Modern style striped print wallpaper from houseandhome.
Statement-Making Large Art
Besides the wallpaper, hanging a large wall art will create a strong statement of a room. Choose something eclectic, color-rich, or vibrant. The enchanting artwork makes your room fancier.
Add artistic value to modern living room decor by putting up a colorful animal canvas painting. You can hang this painting right on the linen sofa as a view that is never out of date and not boring, try using furniture in neutral colors so that it is easier to mix with other interiors around it. A window that is large enough to be a source of sunlight. Colorful animal canvas paintings from home-designing.
If you have a white wall, there is nothing wrong with hanging a large abstract painting. This abstract painting transforms the decor of your modern living room into a more colorful one. Choose some minimalist interiors to complement the room and can be used as a relaxing area during the weekend. Colorful abstract paintings from home-designing.
Two Shades
Pick a room and fill it with a two-color combo. For example, your dining room. You can play blue and wood tone by placing wooden dining set and let your tablecloth, curtains, and kitchenette speak for the blue.
Two different colors on the walls of the dining room are different decoration ideas, you can try combining green with white and coupled with wood accents on the dining table. The combination of these three colors will work perfectly and never fail when decorating a room. Install some photo frames and mirrors with gold framing as accents of classic decorations that are loved by many people who attend. The combination of green and white paint on the walls from elledecor.
If you have plain deep blue painted walls, then using patterned high curtains is an idea to make this dining room more colorful. Some wood accents on the floor and dining table are additional natural colors that are environmentally friendly. The glass ball pendant lamp becomes lighting that you can install right on the dining table. The combination of deep blue walls with patterned curtains from elledecor.
Make sure you do not miss out the six designs above. Let your family and friends enjoy how chic and fancy your home could be.
(Visited 17 times, 1 visits today)
Tags:
chic home decoration
Last modified: April 19, 2021