Does your dining room feel empty and cold? Even though you can decorate it with a variety of additional furniture that can make it warm. Simple but able to juggle a room so it's warm and comfortable. Really! A warm dining room decoration is one of the keys that can make the relationship between your family members more closely.
Providing the Rug
A rug is an object that you can make for home decoration. One of the places that you can use a carpet is the dining room. Yes, it might sound a little strange, but the use of carpet in the dining room will make the room more attractive. Choosing a rug can not only be adjusted to your liking, but you need to adjust the theme of the room. Then you must choose a rug that can blend with the interior in the room. Do not choose a rug that is far different from the theme of your dining room because it will make the room look weird.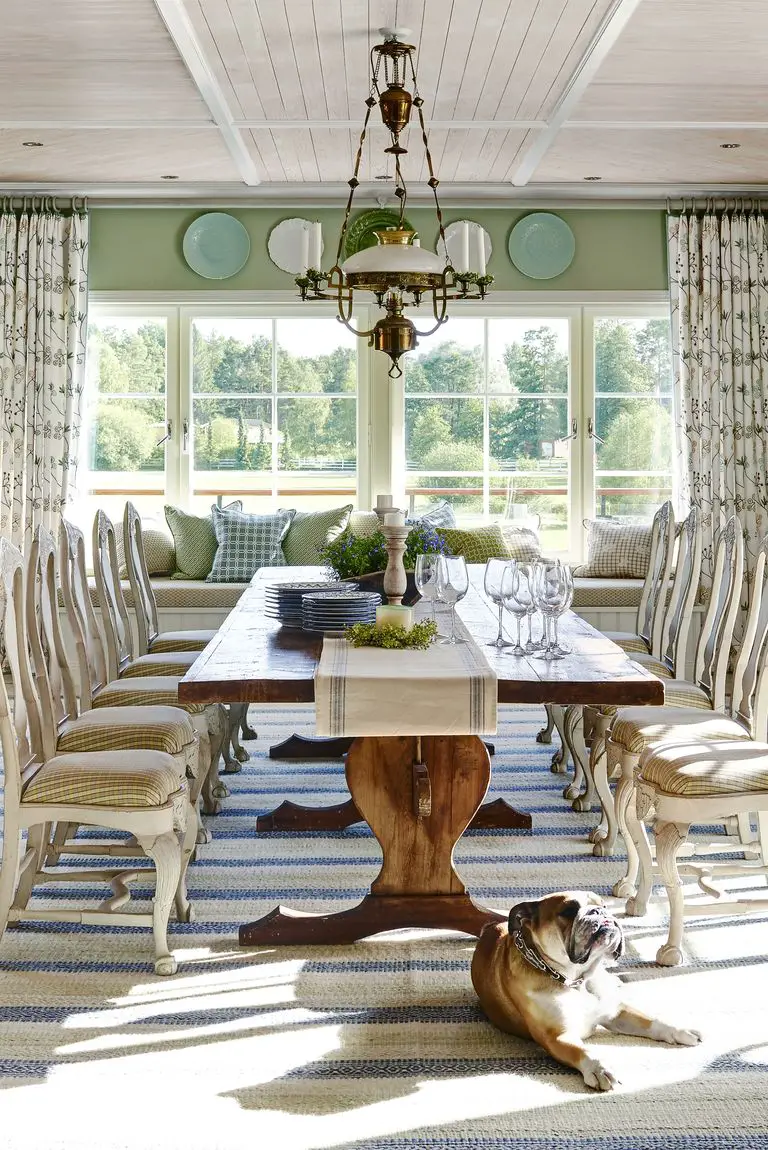 The dining room decoration will feel warmer and more elegant when the dining table legs and chairs are covered with striped rugs made of linen. You can choose a rug with a combination of bright colors such as the combination of blue and white, these two colors will work well and of course it is easier to combine them with interior materials and whatever colors are around them. The wooden interior is the right choice for a country-style dining room decoration. Striped linen rug from housebeautiful.
When the furniture in the dining room decoration has a bright color, then you can cover the wooden floor with vintage rug which has a slightly faded color. Complete the appearance of your dining room with green plants placed in the corner of the room, while a bird painting that has a larger size becomes a unique wall decoration and provides its own artistic value. Vintage rug style from housebeautiful.
The white living room nuance will look more colorful and warmer when equipped with a leather rug with an earth tone vibe. This rug will coat your white shiplap floor perfectly, you can put all the dining table legs set on top of the rug for a tidier and more elegant appearance. Choose a dining table made of teak wood to make it warmer and more natural, of course. Leather rug with earth tone color from housebeautiful.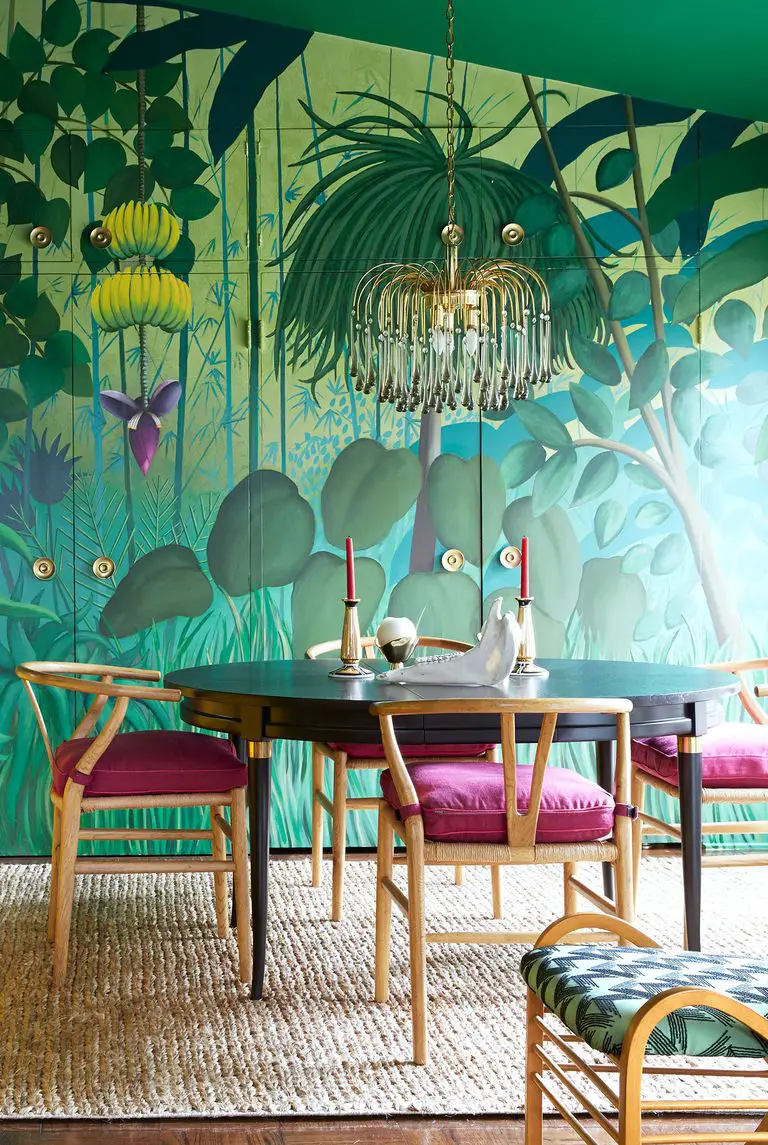 This natural nuanced dining room decoration comes through a forest mural which is dominated by green. Make this decoration more natural and natural with the use of light brown rattan rattan rugs. Wooden dining chairs will be softer and warmer when covered with pillows covered with a bold dark pink cloth, this round, re-polished dining table looks shiny and never out of date. Rattan woven rug from housebeautiful.
This farmhouse-style dining room decoration will appear cleaner when using some white interior paint, maximize the appearance of this room with wooden accents that are applied to the chairs, mirror frame and dining table. The combination of these two colors will look more perfect and will work well in one room. Neutral colored rugs are the best choice that you can try. The large transparent glass window is a source of views that you can enjoy freely. Neutral color rug from housebeautiful.
Installing the Fireplace
A beautiful fireplace is usually shaped widened and large in size. And usually located in a family room or outdoor. But nowadays many people put a fireplace in their dining room. In addition, the fireplace makes the dining room look more romantic by placing a fireplace in it. Moreover this fireplace you can put anywhere in your dining room. It can be in the middle wall of the room to focus the room, or on the left and right side of the room to beautify the room.
Do you need warmth in the dining room decoration? If so, then you can apply the fireplace that is placed right behind the dining table set. This fireplace appears openly so that it will provide maximum warmth to the entire room around it, you can combine white stone with cement as a combination of sturdy and strong fireplace materials. Open-style fireplace with the main material of white stone from architectureartdesigns.
If your dining room has a modern style, then a stainless steel fireplace in the shape of a square is the best choice you can use. Complete the appearance of this dining room with the main brown dining table set, the leather dining chairs with iron legs will be stronger when used for a long time. Hang a lamp that has a yellow light right above the dining table as the main lighting that you can try. Square stainless steel fireplace from architectureartdesigns.
Make the room divider between the living room and the dining room more useful and functional by making it a built-in fireplace that will warm the room to the maximum. Cristal chandeliers with white color and have a larger size are the main lighting that you can make good use of. The dining table which is repainted with dark colors will appear more contrasting when decorated with green plants which are used as a centerpiece. Room divider fireplace from architectureartdesigns.
If you need warmth in the dining room decor, then you can use a fireplace with a glass outer surface to be a smart idea that you can emulate. This fireplace gives a modern style vibe that never goes out of style, this dining room uses two matching colors that make it look more elegant and of course suitable when presenting your friends or relatives who come to the house. Modern fireplace with glass surface from architectureartdesigns.
If you have a wall that is large enough and unused, then you can use it as a built in fireplace that saves floor space. You can turn on this fireplace when the weather in the room starts to feel cold. The folding dining table in dark colors will appear more contrasting when decorated with green plants which are used as a centerpiece. Wall fireplace from architectureartdesigns.
One of the things that many people expect from a dining room is a sense of "warm" and friendly. To bring that atmosphere, maybe you can fill the dining room with pieces of furniture and various other accessories. So you need to create a dream dining room full of warmth for all family members. To get around the design of the dining room so that it is full of warmth for the family sees some of the inspirations that you can see above.
(Visited 47 times, 1 visits today)
Tags:
Dining room decoration
,
Warm dining room decoration
Last modified: May 20, 2021