Who said that a small bedroom only belongs to a dull, neutral palette? Although neutral color has an attractive charm of its own, bold and bright colors can give a different impression to the eyes. Creating a focal point that enchants the eyes, you'll win a cheerful and inviting room by incorporating shades of colors in your bedroom.
Wondering what kind of colors and nitpicks to install to create a colorful bedroom? Here are some of the best colorful decoration ideas for a small bedroom that will transform your bedroom beyond your imagination.
1. Lemon Yellow Stripes Wallpaper
If you're aiming for an energetic, playful ambiance for your colorful decoration ideas for a small bedroom, this combination of a lemon yellow and grey bedroom is a great addition to your space. Additionally, the stripes pattern creates an impression of a bigger and cheerful room.
Extend the ceiling height in the loft bedroom by painting vertical stripes on the ceiling. Choosing a bright yellow color will also create a bright and spacious room. Combined with gray furniture will create a calm and inviting room. Lemon yellow stripes wallpaper from housebeautiful.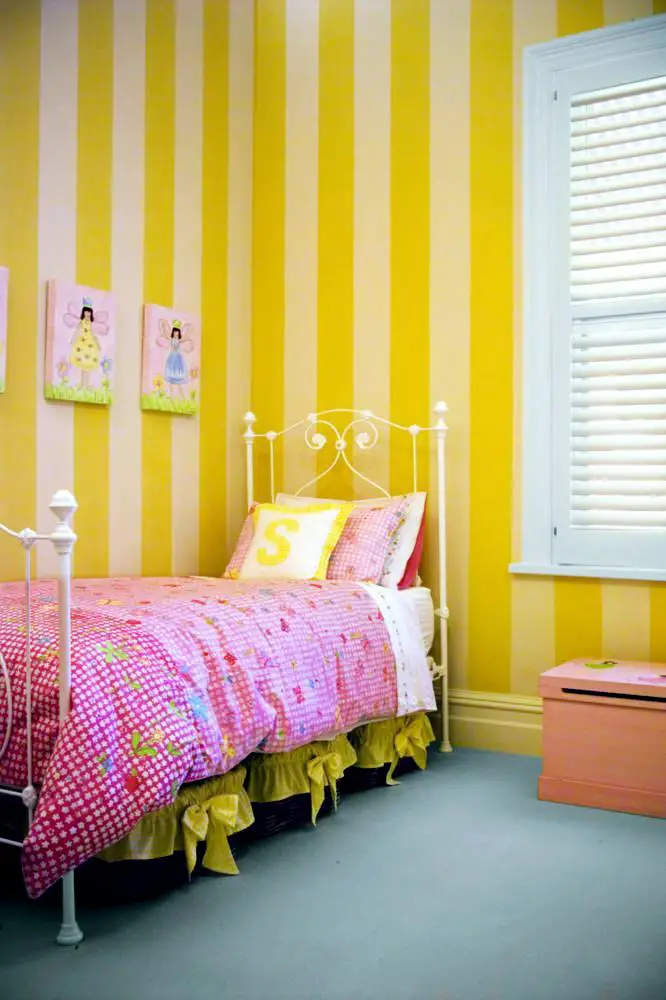 Yellow line of lemon nursery wallpaper. The basket is lined with bright yellow fabric on the back, making your room decor look brighter and more spacious. Choosing this vertical line will make your room look taller. A touch of pink on the blanket also brings a contrasting color to your bedroom design. Striped white and lemon yellow wallpaper from ofdesign.
Try yellow stripes wallpaper into your bedroom for a feeling of buoyancy and youth. Together with the bold red bed frame, it will cause instant cheer. This vintage furniture in the form of wall hangings and green bedside tables will create an attractive room and will steal the show. Yellow stripes wallpaper from whatsurhomestory.
2. Floral-Patterned Bedsheet
A beautiful combination of shabby and chic, you can also opt for a floral-patterned bedsheet as long as it harmonizes with the rest of the room. As you can see, the red, pink, and white colors in this room correlate with each other and create great colorful decoration ideas for a small bedroom.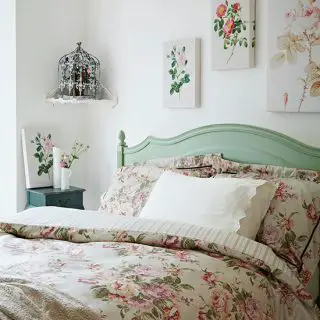 Sleep well on this bed with rose patterns on the sheets making for luxurious bedroom decor. Complete the look with a white lace-edged pillowcase and a classic print above the headboard. The white color scheme combined with this turquoise bed frame creates an attractive bedroom design that will steal the attention of many people. Rose patterned bedsheet from idealhome.
Match the background tones in your room to those on the sheets. Using this yellow and red floral patterned bed sheet will match the yellow wall wallpaper decor. This decorating idea will create a nice color in the design of the room. The white color scheme will also make your bedroom brighter and brighter. Colorful flower bedsheet from thespruce.
Add floral power to your scheme with bold floral prints. Align your décor with a selection of colorful pillows and quilts that will make your room design brighter and more stylish. This light blue color scheme creates a bright and serene room. The white bedframe also provides the perfect contrast. Floral and tribal patterned bedsheet from thespruce.
3. A Large, Colorful Painting
Not only that it creates an artistic touch to the bedroom, but there's also no way that you would miss this large decorative painting. Forget putting little decorations all over the room, with this painting, you'll easily put, move around, and remove it without the fear of losing the thing.
This abstract painting at the head of the bed is the perfect focal point of the room. Choosing a wooden frame will also give a natural impression to this room. Combined with white walls, it gives the room a clean and bright appearance. These wall decor ideas will make it easier for you to move and remove them without fear of losing things. Colorful abstract painting from idealhome.
The bold orange walls and large contemporary artwork in this bedroom give off a vibe of energy and warmth. It also provides a piece of art decor to this festive bedroom. Choosing a large painting with an abstract pattern will provide the perfect focal point of the room. In addition, the painting on the headboard also completes the look of this room. Colorful and large abstract painting from photos.hgtv.
This small bedroom combines color, pattern, and texture to create a visually appealing space. Large paintings in bold colors provide an unexpected splash into the room. Placing it on the console table in the bedroom would be the perfect focal point of the room. Combined with the smelly light gray wall color scheme, it will be an attractive room decoration. Colorful large painting from photos.hgtv.
4. Scenic Flower Mural
For colorful decoration ideas for a small bedroom, why not try something that rouses your creativity such as a mural? You can do it with your family, friend, or even lover. However, if you don't like to get your hands dirty, you might want to opt for a stick-and-peel wallpaper instead.
Add blooming personality to an ordinary small bedroom with floral mural art. With a touch of greenery, we will feel like sleeping in the middle of a flower garden. choosing this pastel color will give a soft and attractive look for you to try. Combined with wooden furniture will create a warm and inviting room. Pastel floral mural from idealhome.
Bright and bold botanical murals are the main focus of this slightly sweet bedroom. Complementing the look with eye-catching accessories will make for the perfect room decor. With a white background, this will make your room look brighter and more spacious. Paired with a black metal bed it adds a masculine touch which is the perfect balance for all floral prints. Bright and bold botanical murals from idealhome.
This monochromatic bedroom with this elegant and chic black and white floral wall mural takes over the entire small bedroom. Choosing a room design with a black background will also create a warm and calm room. This white bedsheet balances the look of your bedroom. Black and white floral wall mural from digsdigs.
5. Add Some Greeneries
A touch of green can add characters to your colorful decoration ideas for a small bedroom. You don't have to opt for something massive, little tiny bits such as succulent or mod planters will do much on changing the room atmosphere.
White is a wide and practical option for decorating a small room. To add a natural impression, place all the plants in your bedroom. It makes your bedroom fresher than ever. Choosing plants that are low maintenance will also make the room decor perfect and stylish. The wooden floor in this bedroom will give a warm room design. Tropical greneery bedroom from digsdigs.
For a limited bedroom space, in addition to using small plants for additional decoration, you can also use a white color scheme to create the illusion of a spacious and bright room. Choosing hanging and potted plants provides the perfect room decor and fresh air. Don't forget to add large windows to let sunlight into your bedroom. Hanging plants from digsdigs.
Adding some greenery and a green color scheme to this small bedroom decor will make your room fresh and natural. Opting for this low-maintenance greenery is also the perfect decoration for you to try. Combined with wooden furniture on the bed frame as well as tables and chairs, this is very helpful in changing the atmosphere of the room. Greenery and green color scheme bedroom from digsdigs.
There are a lot of options when you want to create colorful decoration ideas for a small bedroom. Pick one that suits your room best and get ready to get mesmerized!
(Visited 41 times, 1 visits today)
Tags:
Bedroom decoration
,
Small bedroom decoration
Last modified: June 13, 2022