To create something appropriate, you don't need to provide something too much especially for the bathroom decoration with the small space. You just need to find the things that you really need and provide them. Hence, don't forget to adjust the things with your bathroom condition not only with your needs. For example, if you have a small space bathroom, there are some things that you should do and don't so that you can create a spacious impression. For the things that you should consider, here are the information!
Proper Vanity with Mirror
For a bathroom, it is impossible for you not to provide the vanity and mirror. Your bathroom won't be completed without those things. In this case, you should provide the vanity with the proper cabinet. Here, the proper version will be different from one to another because the needs and stuff will be different too. You can manage to have harmonious vanity and mirror for the perfect one.
Bathroom decorations are incomplete without a vanity, therefore you can use a double vanity which is enhanced with an LED mirror that has a rectangle shape so that it can fill the vanity wall area more optimally. You can use two different styles of wood vanity, for example, the use of a floating vanity and a standing vanity with a larger size, tropical green plants placed on the vanity countertop are a room decoration idea that looks fresh. Double vanity with LED mirror from homedit.
An easy way to bring a modern style to your bathroom decor is to use a vanity made of melamine wood so that the outer surface looks more shiny when exposed to the sun's reflection from the LED mirror that is hung above it. In addition, this vanity cabinet is also equipped with a marble countertop so that it has a smoother surface and is of course easier to clean when it starts to get dirty. Melamine wood vanity from homedit.
Enough Storage
For the neat and well-arranged bathroom impression, having the enough storage is really needed. Anyway, there are some storage designs that you can have where you just need to simply choose the one based on your taste. You can have it in the form of a shelf with baskets, in open cabinet, closed cabinet, hanging storage, built-in storage, and more.
Install and use the built-in shelves in bathroom decor as a storage idea that doesn't take up any floor area at all. You can install this closed or open shelf right in the backsplash vanity area so that it can be used to store some toiletries and bathroom equipment so that they are easier to find when needed. Repaint the shelf with white so that it has a splash of color that matches the use of the vanity cabinet underneath. Built-in open and closed shelves from hgtv.
Do you need storage in your bathroom decor? If so, then you can use a standing storage cabinet that is applied in the closet so it doesn't interfere with your movement space when in the bathroom with limited space. This open cabinet has several vertical shelves that can be used to store toiletries and some clean towels that can be used after bathing. Standing open cabinet from hgtv.
Providing Hook
Even though you have provided the storage, but providing the hook is also needed. It is because some stuff will be better if it is hung and not to be laid out that way. Look at the picture above where the scrubber needs to be hung so that it could be dried well. Make sure to place the hook near your bathtub so that you can reach it easily when you want to use it.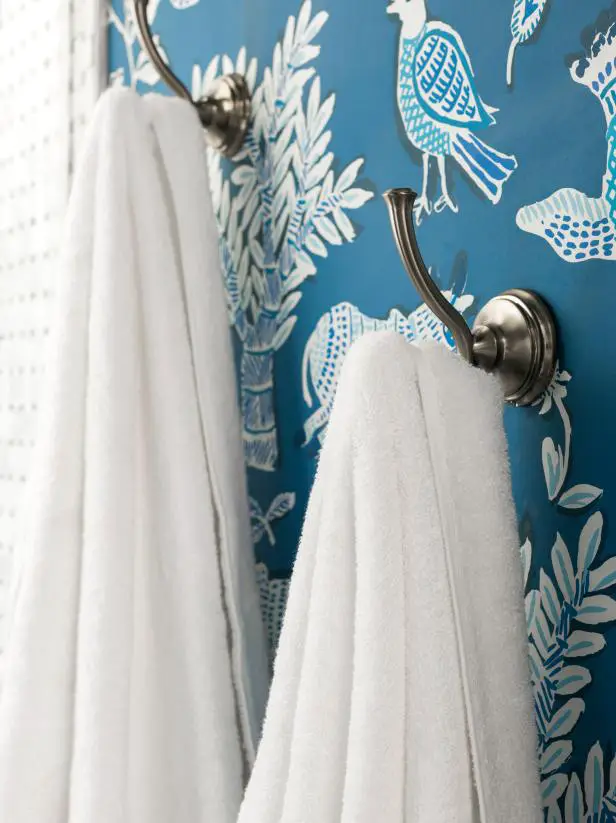 Install and use an iron hook in the bathroom wallpaper area in order to hang wet towels that have been used so they dry quickly and don't smell bad. This hook made of iron will be more sturdy when used so it is not easily porous or rusty when exposed to splashing water. The more hooks you use, the more towels you can hang to dry quickly. Iron hook that hangs on the wallpaper from hgtv.
Take advantage of a little wall area in the vanity area to install and hang a solid black hook that has a splash of color that matches your bathroom decor. This hook can be used to hang a small towel that is used to dry your hands when you finish washing your hands in the sink. Cactus plants in the mirror shelf area give the impression of a different natural color. Solid black hook from hgtv.
Good Lighting
For the good lighting, consider installing the lighting not only on the shower space or above the bathtub. You also need to install it for your vanity too. It is important since you will use the vanity for sure. Then, for more effective lighting, you can choose the lamps that have the good design so that you can utilize it as the ornament at once. Hence, don't forget to adjust the lamp design based on your bathroom design style concept.
Adjust the use of vanity lights with the style of the bathroom that is currently used so that it can blend in perfectly when combined in the same room. For example, when you use classic wooden vanity, you can pair it with pendant lights that have a warmer lighting impression. You can use this vanity cabinet as a closed storage idea that is very safe from dust and dirt. Classic wood vanity with pendant light from decoist.
The vanity area without lights will look dark at night, for that you can use wall scones lamps that are installed in several different wall areas. The more wall scones lamps that are installed, your vanity area will also feel brighter. The use of a wooden vanity with a marble countertop simultaneously brings a modern style instantly, you can try it right now. Modern wood vanity with wall scones lamp from decoist.
Sunshine Access
Having sunshine access for your bathroom is really needed. It is because you need to maintain your bathroom humidity. In case you can handle the humidity issue, then you can have a healthy bathroom for sure. You can manage to have access from the calling or by simply providing the window in the right position so that the sun can reach your bathroom well.
Take advantage of one part of the wall in your bathroom to be used as an area to install a transparent glass window that has a fairly large size. This glass window makes the wet bathroom floor healthier because it is not damp and smelly. If this glass window is lined with curtains, then you can open these curtains to maximize sunlight entering the room according to their needs. Transparent glass window from elledecor.
This modern bathroom galley decoration is equipped with a square window that is lined with a solid black frame so that it has color harmony with the use of a vanity cabinet in the same room. The use of this square window glass aims to make the room feel brighter so that it no longer needs light during the day, sunlight entering the room will minimize the occurrence of a humid and smelly room. Square glass window from elledecor.
Good Air Circulation
Besides the sunlight access, having good air circulation for your bathroom is a must too to create a healthy bathroom. Anyway, for the proper one, make sure that the air circulation can be closed. You will really need it in case the weather is cold or when the snow is falling. If your air circulation can not be closed, you will get trouble which will be really bad.
Instead of using a wall with a glass window that has a large enough size, this glass window idea is intended to make the bathroom room brighter and not humid so that it is still comfortable to use for any activity while you are in this room. Another benefit that you can get from this glass window is to get fresher air from outside that is pollution-free, open this window by pushing it outward when needed. Instead of using walls with glass windows from deavita.
The glass window installed in the bathtub area can be used as access to air circulation which is very easy to apply in bathroom decorations with limited space. You can install a window that can be opened at any time when needed so that it can be used according to the needs of this bathroom. The sunlight that enters the room is also able to minimize the occurrence of mold in the bathroom interior made of wood. Glass windows in the bathtub area from deavita.
Shower Room Screen
Although providing the shower room screen can make your bathroom looks narrower, but you really need it so that you can divide the wet and dry spot in your bathroom. Hence, to make your bathroom looks spacious, you can manage to have the shower room screen with glass material. It will be really effective since your bathroom will be seen as if it doesn't have any screen.
To distinguish wet and dry floors in your bathroom decoration, you can use a transparent glass divider shower that has a hexagon shape. Marble tiles on the wall and floor area give the impression of a more luxurious and modern room, you can try it right now. Transparent glass divider shower with hexagon shape from livingetc.
Comfortable Bathtub
Basically the version of the comfortable bathtub will be different for each person. It will be related to people's body shape and length. That is why in choosing the right bathtub, just simply adjust it with your own body. Moreover, since there are so many different artistic bathtub designs provided right now, consider having the one that has the same design concept with your bathroom.
The design of a standing bathtub that is placed in the corner of the bathroom is a very appropriate decoration idea. This standing bathtub is equipped with a green plant pot so that it can be used as a beautiful view, the comfort of the bathtub will be more felt when this room is equipped with green plants placed beside it. Shutter windows become natural lighting ideas. Standing bathtub from livingetc.
To create an appropriate bathroom decor, you need the ideas above, surely. If you can fulfill those things, you not only create a comfortable but also a healthy bathroom.
(Visited 32 times, 1 visits today)
Tags:
Bathroom Design
Last modified: October 11, 2022