The main obstacle when it comes to small bathroom decoration is indeed the size of the bathroom itself. It's better not to get reckless and decide to put things into your liking without thinking about the space! Get the much-needed decoration inspiration from our list below to help you address the concern as well as create the look you absolutely want.
1. Unique Pattern Rug
Get both of your feet dry by using a unique bathroom patterned rug instead of the typical mat! Placing it also helps to make the space much airier and colorful, too.
When you have a bathroom decoration with white shades, then you can use a bold color rug so that it can be used as the focal point of a beautiful and useful room. The bold color of this rug is perfect when combined with pots and wooden benches that have a splash of earth tone color that gives a warm impression. Bold color rug bathroom from goodhousekeeping.
If you are inspired by the bohemian style for your current bathroom decor, then you can start with the use of a boho rug runner that will make a significant difference. Another interior that reinforces the bohemian style in this room is the use of wooden floors, indoor greenery and oversized maps as wall decorations that can be used as a statement room. Bohemian runner rug style from goodhousekeeping.
Cover your bathroom floor pavers with colorful rugs to create a more pleasant room. Apply this rug just under the bathtub as a wet foot pad to keep it dry and not damp. Currently you can use a rug with a material that is thick enough to absorb water more easily. Hanging pendant lamp with a splash of gold color gives the impression of luxury that is not excessive. Colorful rug with thick material from goodhousekeeping.
An easy way to bring a vintage feel to your current bathroom decor is to use an antique rug that has a splash of earth tone color. Install and use this rug right under your bathtub as the first step for your wet feet, the wooden bench in this room serves to accommodate potted plants, candles and some other spa equipment to suit your bathroom needs. Earth tone color antique rug from goodhousekeeping.
2. Empty Counter Space
When it comes to dealing with bathroom counter space, it's highly advised to keep the surface as clear and empty as possible. Having it free from clutter won't only remove you from headaches trying to find the small stuff but also make the bathroom look much more open and clean.
There is nothing wrong with using two ceramic sinks in one vanity design with a size large enough. But it's a good idea not to use the entire countertop area as soap storage or other toiletries to display a neater and more orderly bathroom atmosphere. Decorate the surface of this vanity countertop with a flower vase on a wooden tray that looks artistic as a room decoration that gives a beautiful color. Countertop design with flower vase decoration from goodhousekeeping.
This marble countertop design with a few shiny splashes in the mosaic backsplash area is the result of a glamorous modern bathroom decoration. When you are going to use this countertop surface, it's a good idea to use several transparent glass mason jars as storage containers that can be arranged and arranged neatly, making it easier for you to find the items you need. Furthermore, a glass vase filled with blooming flowers is a sweet finishing touch. Marble countertop with mason jar organization from goodhousekeeping.
3. Mason jar Vases
Besides using mason jars in the bathroom to store toiletries and bathing products, feel free to use them as the home for your favorite greeneries or blooms. The plants will light up the room and add splashes of hues, mainly if you also decorate the jars.
If you have a mason jar that is no longer in use in the kitchen, then reuse it as a flower vase in your current vintage bathroom decoration, this is very easy to do without having to spend a lot of money. Fill this vase with clean water as a planting medium that will keep your flowers blooming all day long. DIY mason jar flower vase from goodhousekeeping.
Not only filled with flowers, but mason jar vases can also be filled with green plants that you have without having to buy them. After everything has been arranged beautifully and attractively, then the next thing you can do is place it on a countertop or rather next to the sink as a fresh and unusual sight. Perform regular maintenance to produce plants that stay fresh. Mason jar vase on countertop from goodhousekeeping.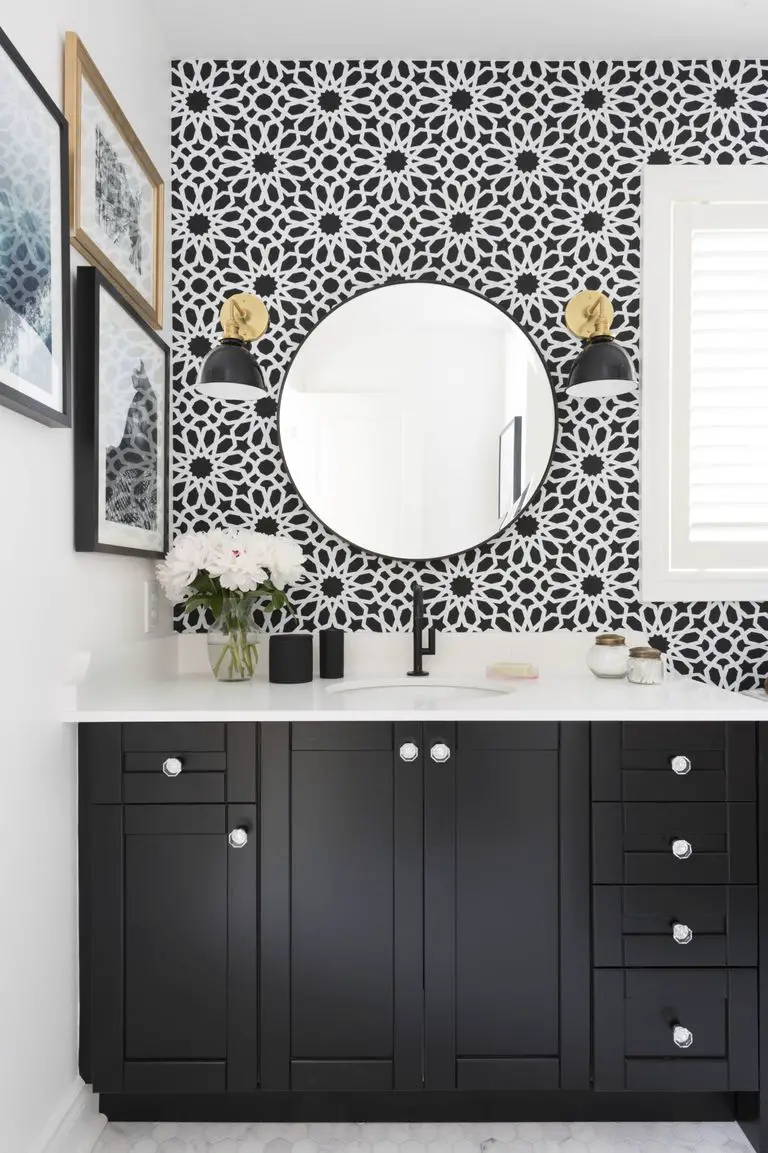 Don't let the surface of your vanity appear plain and empty, you can use a little countertop area as an area to put a flower vase that has a color that matches the color tone of this modern bathroom. White roses will give a fragrant aroma that can make you more relaxed and comfortable while in this room. The existence of this rose is complemented by a beautifully patterned backsplash tile which is dominated by black and white. Mason jar white rose vase from goodhousekeeping.
Avoid repainting the mason jar vase that is placed in this modern farmhouse bathroom decoration, this is done so that you can see the planting media used and of course have lower maintenance. The series of green plants in this mason jar vase can be placed right above the bathtub using the floating wooden table that has been provided. Combine this greenery with a flower arrangement blooming on the countertop. Mason jar vase above the bathtub from goodhousekeeping.
4. Air-Purifying Plants
Speaking of plants, there are air purifying plants that'll work magic to maintain the freshness of your bathroom as well as stay alive for quite some time. Besides air-purifying ones, the aromatic plants also do well in humidity.
The atmosphere and air in the bathroom will feel fresher and healthier when you put several different types of greenery in the bathtub area. Monstrera plant is one of the best choices that you can try, you can use various sizes of pots according to the size of the green plants to be planted. Perform routine maintenance for more satisfying plant results. Various types of greenery in the bathtub area from airtasker.
When you are going to put a large number of green plants in a small bathroom decoration, then you should be able to hang it on the ceiling, on the window sill area and slightly use the floor area to put a pot with a fairly tall plant size. All of these indoor plants will work well together to decorate this farmhouse style bathroom to look more perfect. Various types of greenery and their layout from airtasker.
To distinguish between indoor and outdoor when decorating a glass wall bathroom, you can use large green plants and place them as windowsill decorations that will never be boring. This green look can always be enjoyed whenever you want, the combination of tropical plants with snake plants is enough to provide fresher and healthier bathroom air, of course. Green plants as bathroom windowsill decorations from airtasker.
The vines look cute when applied to the ceiling shower room, you can use several series of these vines by providing a distance that is not too far away. This indoor plant idea is perfect for decorating bathrooms with limited floor space. Prune this plant when it starts to get too long so it doesn't interfere with your current bathroom activities. Hanging vines in the shower room from airtasker.
5. Tall Narrow Cabinet
Are your current cabinets already packed enough? If you're considering a new one, invest your budget in tall narrow bathroom cabinets that'll surely create some extra storage space vertically.
Make your small bathroom appear neater and more organized by using a wall mounted storage cabinet that you can use as much as possible. This cabinet consists of several open shelves and closed storage at the bottom so that it can be used according to your needs. Don't forget to repaint this bathroom cabinet using a different color such as dark blue to make it look more striking. Wall mounted cabinet bathroom from hgtv.
Take advantage of the corner area of your small bathroom as an area to put a standing tall cabinet as a storage idea that really saves your bathroom floor area. You can choose this cabinet with more natural materials, for example, made of teak wood that has been re-polished so that it looks cleaner and smoother of course. This standing cabinet is also very sturdy and not easily porous. Corner teak wood cabinet bathroom from hgtv.
One way to apply tall cabinets in decorating your small bathroom is to the wall with a layout that protrudes into the inside of the wall. This bold color bathroom cabinet has several vertical storage shelves that you can use according to your type of bathroom needs. Some of these painting frames with colorful nuances have become contemporary wall decorations and never go out of style. Vertical rack bathroom cabinet from hgtv.
Which idea of small bathroom decoration above will you try?
(Visited 92 times, 1 visits today)
Tags:
Small Bathroom Ideas
Last modified: October 17, 2022