Just because you have a small space for your kitchen, it doesn't mean that you should not prioritize its furnishings. In fact, there are numerous classic design ideas you can incorporate to enhance its minimal space. Not to mention, a small kitchen allows you to be fully creative without breaking your bank.
While endless countertops and storage are tempting, sometimes you can get better with less. From open shelves to sleek lighting, here are some of the creative classic design just perfect for small kitchens.
1. Colored Tiles Kitchen with Classic Design
Adding touches of color to the crisp white background, the green-yellow tiles and yellow carpet are a great addition for a classic design kitchen. Additionally, the mounted magnetic knife holder is efficient to save space from trays and racks of kitchenware. The small space provides you enough to make the small kitchen looks comfortable.
The classic small kitchen design that uses colorful ceramics is an attractive design choice. With ceramics like in the picture above will make your kitchen look amazing. Applying ceramic to the backsplash and this white color scheme will create the perfect contrast in the décor of the room. Colorful ceramics backsplash from livspace.
Using pop color tiles for a classic small kitchen is perfect for you to apply. Because this ceramic will make your small kitchen look attractive. Combining it with an all-white color scheme in this classic kitchen will make your room decor more stylish. Pop color tiles from apartmenttherapy.
The pop of color tiles used in classic small kitchens is a brilliant decorating choice. With decorations like the one in the picture above, your kitchen will make your small kitchen look attractive. Combine it with the white color scheme on this cabinet to make your room decor even more attractive. These wooden blinds and wooden doors bring a natural feel to the room. Pop of color tiles floor from apartmenttherapy.
2. Small Parisian Kitchen with Classic Color
Incorporating romantic and classic design, enhance your petite kitchen by applying classic color such as black or grey color. Add gold touch on the handle of cabinet or other ornament to strengthen the classic vibe. Elegant white marble countertop paired with florals, textured wallpaper, these small details give your small kitchen a unique depth and character.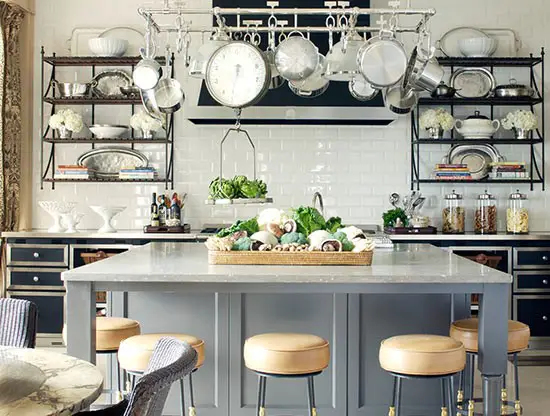 One way to make your tiny paris kitchen look romantic, you can use a color combination like in the picture above. Using a combination of black, gray and a touch of gold will make your small kitchen decor look perfect too. This hanging cooking utensil storage above the kitchen island also makes the room decor neat and steals the attention of many people. Black and gray cabinet from bhg.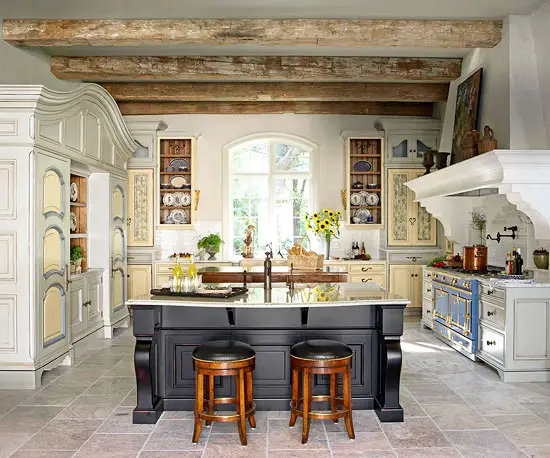 Using a black cabinet to decorate a small Parisian kitchen is the right color choice. With black color will make your small kitchen look attractive. Combine it with a white cabinet to make your room decor more stylish. This wooden beam ceiling also creates a rustic decoration into your room. Black cabinet from bhg.
A small paris kitchen that uses gray is perfect for your use. With a small gray paris kitchen you will look to have a classic atmosphere. Using this white marble table, you bring an elegant and luxurious impression to the room. This white color scheme and wooden floor make your room decor more attractive and catch the attention of many people. Gray cabinet from mydomaine.
3. Classic Kitchen with Multiple Storage
A way to maximize your small kitchen is by installing multiple storages. The exposed shelves make it easier for you to store kitchenware and goods. Additionally, consider hanging your pans and cutting boards on the wall to save spaces.
Small kitchens that use shelves to store kitchen utensils are the right choice to save space. Besides being able to save space, with this storage your kitchen will look neater and more comfortable. You can use wood to make sturdy and long-lasting dishes. Pair it with a green backsplash tile for a unique look. Shelves storahe french kitchen from goodhousekeeping.
Shelves are the most suitable storage for small classic kitchens. Because with storage like in the picture above you will find it easier to store your kitchen utensils. Choosing materials from wood and placing this shelf on either side of the cooker hood will make the kitchen look attractive and stylish. Pair it with a tile backsplash for a unique room look. Wooden shelf storage from goodhousekeeping.
Applying open shelf storage to this classic-style kitchen wall will make it easier for you to show off and store various ornaments or cutlery neatly. You can use wooden shelves for a sturdy and durable look. Placing it on the right and left of this window is an interesting room decoration for you to try. Open shelf storage from goodhousekeeping.
4. Small Kitchen with Rolling Cart
Focusing on the function than design, a way to maximize your small kitchen is by installing a rolling cart. When you're not using it, you can move it away so that you can move freely.
Using a rolling cart in a small kitchen is a great way to make the most of your kitchen. Besides being able to move everywhere, the wheelbarrow is also useful for putting your luggage so it doesn't scatter. You can apply this rolling cart to your small kitchen island so that it gives the appearance of an attractive room for you to try. Rolling cart kicthen island from decoist.
A stroller is a functional tool that you can use in your small kitchen. With a rolling kart like in the image above you will be able to easily move it and make your space a little wider. Completed with several storages and drawers, this will produce an attractive kitchen design. Rolling cart with storage from decoist.
A small kitchen that uses a stroller is one way to maximize space. With a rolling cart you can move it anywhere and is useful for putting your luggage. You can place it near the kitchen island for an interesting room decor. choosing a material from this wood will last longer and look sturdier. Wooden rolling cart from decoist.
5. Open Shelving for a Classic Kitchen Design
Another exposed shelving option, you can leave out all the cabinetry and opt for shelves instead. Stacking your kitchenware and ingredient jars neatly, this classic design is an option if you're into simplicity. As a final touch, add plants to freshen the atmosphere.
In this classic contemporary kitchen setting, exposed wood shelves in a bright natural finish contrast beautifully with the exotic pattern of the granite countertop and splash of the printed tile back. Open shelves provide a visually appealing look to your kitchen décor. This will make it easier for you to store your various decorations and other tableware. Classic contemporary kitchen from designingidea.
DIY open kitchen shelves can also be used to make a plain accent wall more attractive and functional. This kitchen uses exposed wooden shelves mounted on a subway tile accent wall. It will be the perfect focal point of the room if you use it to store various tableware and other ornaments. DIY open kitchen shelves from designingidea.
One of the best storage options for a small kitchen is open shelving. Creating open shelves in a small kitchen will make your kitchen more tidy. You can apply this shelf on your kitchen wall to show off your various ornaments and tableware. The white color scheme and navy cabinets complete with marble countertops will create an elegant and spacious look. Wooden open shelving from designingidea.
These classic design inspirations are a great idea if you want to maximize your small space. With enough creativity, transform even the narrowest space into your personal cooking haven.
(Visited 73 times, 1 visits today)
Tags:
Classic kitchen design
,
small kitchen design
Last modified: October 18, 2022