Do you love gardening? Are you keen on planting some greens? But, are you the one who does not have much time to do maintenance? Consider having succulents from now on. Try this idea to make your hobby comes true and add some decorative succulent in planters. As a low-maintenance plant, succulents offer you a beautiful yet unique shape and foliage. Moreover, some have flowers that bloom in a certain season that is also considered as shade-tolerant succulents. The thing that cannot be ignored to have succulents in their planters. Make the planters by yourself from some recycled stuff. Then, to inspire you, we give some examples below.
Plaster Mini Planters
Use your spare time to make some DIY mini planters for your succulents. Make them in various pastel colors to make them impressive. Attract everyone with these beautiful planters and succulents. Then, you can place them as fabulous centerpieces for your dining table, desk, or coffee table.
Repaint the plaster of your succulent planter in several different pastel colors. You can start with the use of light green paint, light blue and finally peach color. You can fill all of these mini pots with various types of succulents and cacti for a more festive and not boring look. Pastel paint plaster succulent planter from papernstitchblog.
If you need small decorations in the house, then mini succulent planter plaster is a smart idea that you can use easily and of course has a material that is more resistant to splashing water. Now you can repaint the outer surface of the planter with a light pink color that gives an instant feminine feel. Indoor plaster mini succulent planter from papernstitchblog.
Not only painting it with pastel colors, but you also need to give a pattern by sprinkling gold paint evenly on the outer surface of this succulent planting plaster. Adjust the size of the succulent to its pot so that it can develop better. Use succulents of various types and different colors so that they can be placed in the same area. Pastel succulent planter plaster with gold splashes from akailochiclife.
Concrete Planters
The idea of having succulents becomes popular for years. It does not only give a unique gardening idea, but it also offers a beautiful look like a decorative ornament at home in any room. The planters of succulents determine their look as well. Like these concrete planters which look great and sturdy for cute succulents.
This concrete succulent pot is very cute because it has been repainted in several different pastel colors. To match the existing decorations, you can plant succulents of different types to make it easier to place them together. Try this idea easily on a low budget. Pastel paint pot concrete succulent from diys.
The wooden stand on this concrete pot is a very beautiful center of attention even though it is quite small in size. You can fill this pot with one type of succulent which has low maintenance and is certainly the best choice because it is loved by many people. In addition, this pot is also easier to personalize the type of succulent that will be planted. Concrete succulent pot with wooden stand from diys.
This planter is very cute and is perfect for those of you who have small or limited home decor. Add three types of succulents to each of these concrete pots for a refreshing decor. The method of making this pot is quite simple, you just have to wait for it to dry and then repaint it with two different paint colors of choice. Three types of succulents in concrete pots from diys.
Some of the concrete pots that are used as windowsill decorations can be filled with several different types of succulents. This indoor plant will get enough sunlight so that it can grow well and maximally. No need to repaint this pot, let it appear plain so it has a splash of color that matches your window. Concrete succulent pots as decoration for windowsill from diys.
Balsa Wood Succulent Planters
This balsa wood planters tend to be a creative yet easy thing to make. Just buy the wood and cut it into squares. You will need five cuts, one for the bottom and the other for each side. Make sure you are gluing on the inside perfectly so that it results in sturdy planters. Now, it is time to paint as you want. The more colorful your planters, the more interesting they are.
If you want to bring succulents into the room freely, then you can use a DIY balsa wood succulent planter square that is repainted in a bright color like green. Before repainting it, you can limit it with insulation so that your paint can be neater according to the expected pattern. DIY square balsa wood succulent planter from brepurposed.porch.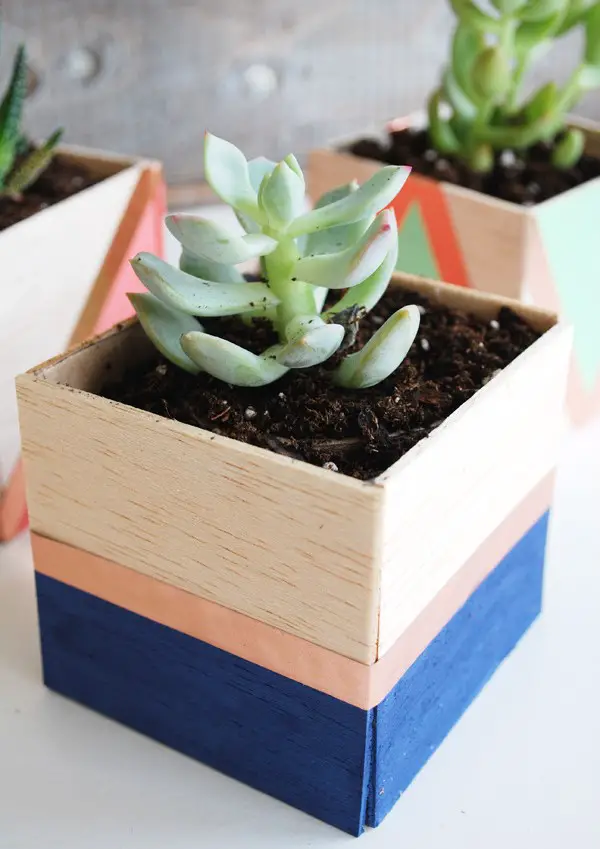 You can imitate this balsa wood into a succulent planter easily and of course it doesn't cost a lot of money. Even though it is quite small in size, this planter idea looks very attractive and never goes out of style. You can paint part of this pot dark blue. Dark blue balsa wood succulent planter from brepurposed.porch.
Indoor succulent plants of course have a small size, so you can use the right planter ideas. This balsa wood planter with a square shape is the best choice you can try. You can fill it with soil and fertilizer as a planting medium that can make succulents more fertile. Indoor succulent balsa wood planter from brepurposed.porch.
DIY Painted Air Plant Bell Cups
Succulents give a new idea of having a unique mini garden. The beautiful foliage and shape will make them impressive. Some people make them as centerpieces. To support their look, the planters must be as interesting as the succulents themselves. Like these painted air plant bell cups can be made easily. They will spruce up your decor into a stunning one.
If you want a mini garden in your home decor, then you can try mini succulents with pot bell cups that have a round shape and end with colorful paint or painting. In each of these bell cups, you can use a variety of different types of painting to make it look more varied when applied on the same surface. Mini bell cups succulent planter from livingly.
The design of this succulent bell cup planter has a cute and cute shape that makes it perfect when placed on a coffee table or on an open shelf as a low-maintenance room decoration. You only need to water it once a day with a small amount of water. Repaint the outer surface of this planter using several different color choices. Repaint bell cups succulent planter from lovelyindeed.
These five bell cup succulent planters that have splashes of different colors you can try to arrange on the table neatly and orderly using an open wooden shelf. This pot is suitable for those of you who have small home decorations because it does not take up much space at all. The material used is also quite sturdy and does not break easily. Five bell cups succulent planters from brit.
Geometric Diamond Hanging Planter
Succulents should not always in the form of standing ones. You can create DIY hanging planters for your succulents with a diamond shape. Paint them in pastel colors to make them more impressive. Also, this idea can be your smart project on a budget that you can do with your children in spare time. Hang them next to the windows or on the porch as decorative planters.
You can hang the geometric concrete pot using a leather rope which has a stronger material and is not easily damaged when used for a long time. This pot can be filled with succulents and is ready to be hung in any area of the house, both indoor and outdoor. Concrete material is very sturdy and of course has a harder surface. Hang geometric pots with leather straps from homelovr.
If you are looking for an easy and practical home decoration that you can use right now in the home decoration area, then geometric diamond succulent planters are a smart idea that you can try. You can re-polish the outside of the pot to make it look cleaner and shiny. A black and white string to hang this pot adds a neutral color to the room. Sleek geometric diamond succulent planters from bhg.
Hanging Clay Succulent Planters
Hanging planters of succulents also another way to show up that succulents present beauty for your home decoration. With its low-maintenance character, it always makes everyone fall in love with them. Plant your succulents in old clays. To make them look greater, paint them with pastel or eye-catching color. Hang them in the patio or porch to complete your vertical garden.
This hanging planter is a fun touch to traditional garden décor. You can hang this succulent clay pot on a piece of wood that is equipped with a sturdy rope that doesn't come off easily. You can hang and arrange it in any shape according to what you want. Traditional hanging clay succulent planters from homebnc.
You can use this white repainted clay pot as a succulent planter that you currently have with a variety of different types. You can hang it in the corner of the room to make the room decor fresher and different. Arrange this hanging planter vertically using an open wooden shelf tied with a rope. Vertical clay succulent planters from homebnc.
For a more natural look, there is no need to repaint your clay pot. You can hang this pot using a sturdy rope to the ceiling. Use a succulent that can grow downward to make it look more beautiful when it is hung. Do watering regularly, because this plant does not really need water. Natural clay succulent planters from fallfordiy.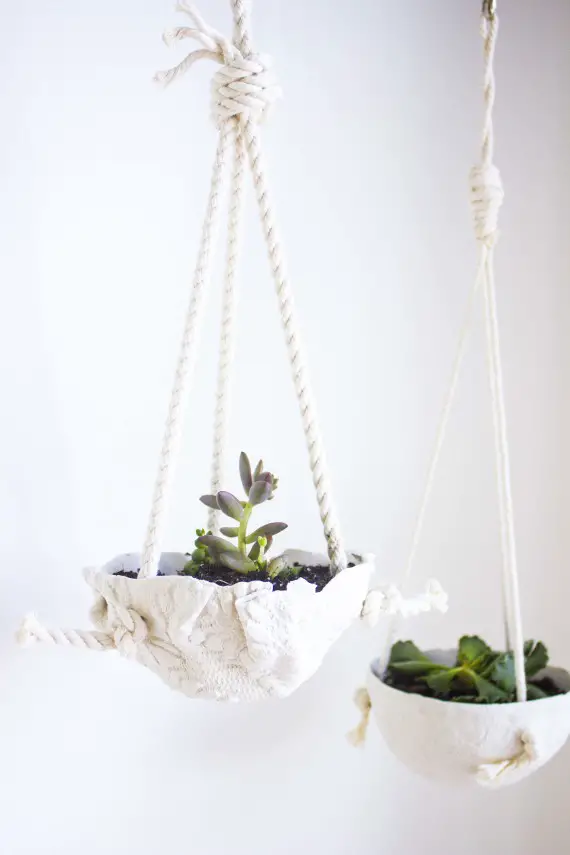 Not only using clay pots with a plain surface, now you can add patterns to a hanging pot design that can be hung in any area according to the needs of the room decoration. Match the color of your rope and succulent pots to make it look more elegant and not look tacky. White succulent planters with matching colored rope from bonniechristine.
Wooden Centerpiece Boxes
As summer has come, now you can get its vibe into your succulents by making colorful and gorgeous planters for them. These wooden centerpiece boxes are fun and versatile to make. As well as, your children will love to make them as they are easy indeed. In addition, you will not take a long time to make and paint them as you want. They fit to hold fresh flowers or succulents.
The reclaimed wooden boxes that are used as decorations for these centerpieces have a neutral color so they are easier to fill with several clay succulent pots that have color and size harmony. You can arrange this pot neatly and orderly so that it still looks elegant in your farmhouse wooden dining table bag. Add a rope at the top of the box to make it easier for you to move it to any area. Farmhouse boxes succulent centerpiece from shanty-2-chic.
Natural wood which is used as the main ingredient of this succulent centerpiece box design can be tried easily, you can combine this succulent with candle lighting that gives a warm impression to the area around it. No need to repaint these succulent boxes for a more natural look. Combination of succulents and candles in boxes centerpiece from ohsolovelyblog.
If you are looking for a succulent planter that is larger but simpler, then using wooden boxes as a centerpiece decoration idea is a smart idea to try. The material used is quite wood and you can assemble it easily without the need for several other materials besides nails. DIY wooden boxes succulent planter from balconygardenweb.
The reclaimed wood material that is reused as the idea for this centerpiece box can be filled with various types of succulents for a different look in this dining room. You can coat the bottom surface of this planter box using an iron tray that looks vintage and is perfect for use in a rustic or farmhouse-style room. Reclaimed wood boxes planters from homedit.
Faux Marble Planters
To get an expensive and luxurious look for your succulents, these faux marble planters can be your references. With their two-tone colors, they surely look stunning as the centerpiece. Also, the succulents will look nice and cute with these planters. No matter what kinds of succulent plants, faux marble planters never fail the look.
If you have several cans in your kitchen that are no longer in use, then you can reuse them as cheap and smart succulent pot ideas. You can coat the outer surface of this can with a sticker scotlet that has a marble pattern dominated by black and white. Canned succulent planters with marble sticker scotlet coating from fallfordiy.
The design of the faux marble planters used to plant these succulents gives a modern look that can be placed on the dining table or coffee table in your living room decor. These Faux marble planters have two different sizes and of course, they are complemented by a splash of white color that can be easily combined with other interiors that are around it. Modern faux marble succulent planters from thehappierhomemaker.
Not only using small faux planters, now you can use these succulent planters with a rectangle shape that allows you to plant various types of succulents with different types in one place. This succulent planter idea with a faux marble container can be done easily with your family on the weekend. Rectangle faux marble succulent planter from thesprucecraft.
Driftwood Succulent Planters
Get a natural, cheap, and easy DIY planter of succulent with this driftwood planter. It presents beauty and uniqueness through a birch tree. For example, you can plant your zebra cactus in driftwood then place it as a centerpiece on your desk at the home office or a coffee table in your living room. Additionally, you can put them in your apartment balcony to freshen up the ambiance.
Currently you can use succulent planters with containers or pots made of driftwood that seem natural. This planter will look even better when placed indoors by adding some lighting candles to make the area around it feel more dramatic. Indoor driftwood succulent planter from balconygardenweb.
This driftwood succulent planter idea looks beautiful when applied to entryways decor. This succulent planter idea is easy to assemble and very elegant. For this planter you will need several different types of succulents to be applied into the same container. DIY driftwood succulent planter in entryways decoration from balconygardenweb.
If you are looking for an easy and inexpensive DIY decoration, then a succulent planter with driftwood is an option that can be personalized with your family on the weekend. To make it really interesting, you can use several different types of succulents. Succulent planter driftwood on budget from balconygardenweb.
As a plant that is easy to care for, succulents are used by many people to decorate their homes. To add an interesting look, you should choose the right and unique planter as possible.
(Visited 100 times, 1 visits today)
Tags:
DIY succulent planter
Last modified: January 23, 2023