When the spring comes, it will be the time when you can finally enjoy your outdoor space again. From all of the decoration aspects that you can have for your backyard, you can focus on the lighting. Well, your outdoor space will be scary without any lighting during the night, right? Also, in case you can provide the proper and unique lighting design there, the lighting can be really functional to beautify your backyard decoration. There will be so many different kinds of lighting that you can have from the string light, LED, lantern, standing lamp, and more. The choice of the installation itself should be considered well so that you can get the beauty of the lighting itself. Here are the ideas on how you can provide the proper lighting to your backyard.
Do you need lighting in the backyard at night? If so, then you can use a light log that can be useful at night. During the day, this log lamp looks like a park bench that can be used to relax during the day. In addition, the existence of this log light also makes your garden path like in a cold country which has a warmer feel with radiating radiance. This tablet material is very sturdy and not easily porous when used for a longer period of time. Natural log lighting from homebnc.
The wooden staircase leading to the backyard is furnished with several Moroccan-inspired lanterns. This lamp will accompany your evening events with family and friends. In addition, the light emitted from this Moroccan lantern also makes the area around it look more exotic. Have this lantern in a variety of different sizes and colors to make it look more varied. The more lanterns you use, the brighter the area around you, you can try it now. Moroccan lantern from homebnc.
Hang some glass lanterns filled with battery-powered fairy lights. This lamp gives a magical effect to your backyard decor instantly. The installation is also very easy because it does not require cables, look at how it looks at night doesn't it look more charming and sparkly. Hang this glass lantern on the tree using a sturdy rope to prevent it from falling off which would cause it to break and create chaos. You can try it easily. Fairy lights glass lantern from homebnc.
White pots lighting are one of the most unique options you can try in your backyard décor. In addition to double function, this pot can also be used to plant beautiful flowers that are blooming. Use more than one glowing pot for a stunning effect. They you look beautiful day and night to add extra drama to your garden. The existence of this pot is also a garden path lighting that will help your night activities. White pots lighting from homebnc.
This galvanized pot planted with vines can be perfected with the application of a fairy light that can be placed on the trellis of the plant made of iron. This fairy light produces bright enough lighting for the area around it. You can put this galvanized pot in the area around the road so that it can be used more optimally. This fairy light requires no cables at all, making it easier to use in any backyard area as needed. Trellis fairy lights from homebnc.
If your backyard is used as an outdoor dining room, then you need lighting that will accompany your evening event. Currently you can use a string bulb light that can be installed right above your dining table. This bulb lighting has yellow lighting so that it makes the backyard feel warmer, dramatic and romantic when used with your partner. Tables and benches made of reclaimed wood bring a rustic theme instantly. String bulb light from homebnc.
This hanging lantern that has a splash of purple can be used as the focal point of the backyard during the day or night. Use this lantern in a variety of different heights. It doesn't end here, this lantern also has a Moroccan shape and theme that is also suitable when combined with some modern-style outdoor furniture. The striped carpet applied to this patio area adds a fun texture and color. Purple Moroccan lantern from homebnc.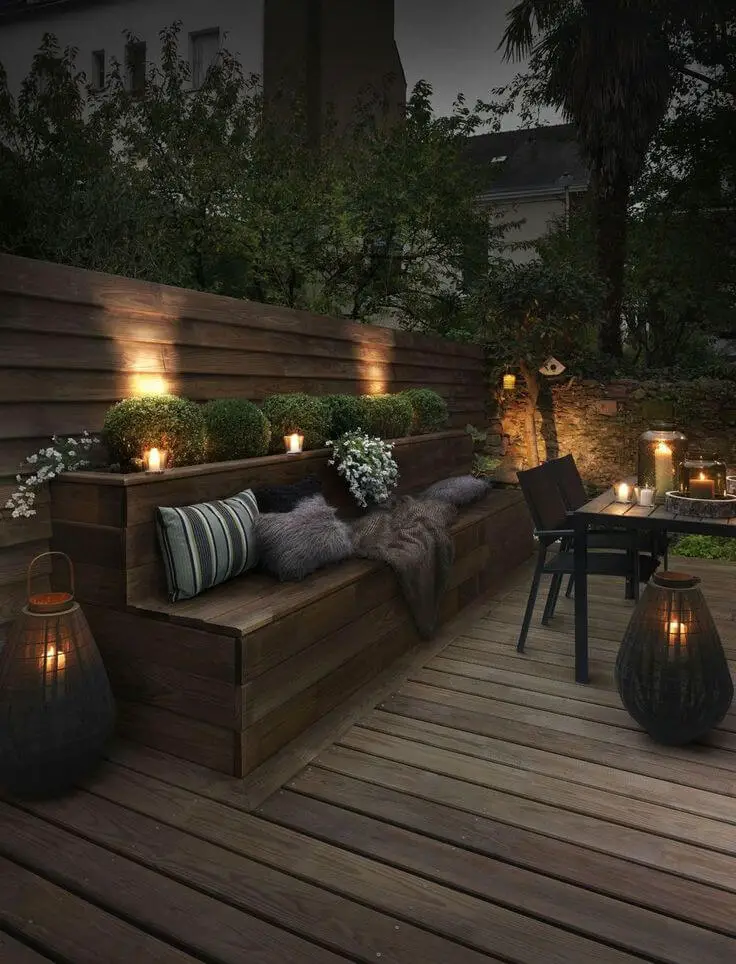 Light candles all around the backyard patio for a soft, randomly placed light. Do the right layout so as not to interfere with your space when you are in this area. For example, you can put it on the table and in the deck area. This candle produces dim lighting and is able to give a warmer impression and is able to give a dramatic impression with your family. With adjacent dining tables and chairs, you can invite a large crowd. Light candles from homebnc.
To make it easier for you on your way through the backyard at night, try to use solar garden lights on the border of the green area and path. Choose a solar light that has a sensor that automatically turns on when night falls, so you don't need to use a cable to turn it on. Use lamps with support poles to minimize damage more quickly. Don't hesitate to use some of these lights, the more lights you use, the brighter your backyard will be. Solar garden lights from homebnc.
This string light that is wrapped around the tree in the backyard can be used as the main lighting in the backyard decoration. You can use more string lights for a brighter light. Wrap it neatly and just as needed, you can apply it easily and cheaply. Place a wooden chair in the area near this lighting tree as a sitting area that can be used by anyone who wants to relax. Wrapped tree lighting from homebnc.
The presence of ornate Chinese lanterns in this backyard decoration gives it a beautiful appearance which is to light up the surrounding outdoor with a different appearance. This Chinese lantern design is also equipped with a holder that can be hung on a tree or anywhere as needed. But for now you can put it on the stairs so that the resulting lighting pattern is more detailed. With this, the lantern becomes some additional lighting that is highly recommended because it is easy to apply. Ornate Chinese lantern from homebnc.
In addition to providing lighting, paper lanterns with a variety of different colors also feature a more pleasant backyard decoration. You can arrange and combine several lanterns into one to make it easier to apply on top of the outdoor furniture that is used. If the results of the paper lantern lighting are not optimal, then you can combine them with some spotlights on bushes and green plants. You can make DIY paper lanterns yourself at a fairly low cost. DIY colorful paper lanterns from homebnc.
If you want to bring a modern feel and style to your backyard, start by using the right lighting. The right lighting or lamp for use today is a solar lamp that has a mosaic pattern. Choose and use this lamp in one size and shape to make it look more elegant and with a variety, a cube shape with a size that is high enough to be the right choice. The light produced from this lamp is yellow which gives a warm impression, especially for people who are present in your backyard. Mosaic solar lamp from homebnc.
Have you ever seen a rainbow at night? You can see it up close in your backyard. Use unused items around you to create them, for example by using several jars combined with string to hang them so that they become simple DIY chandeliers. Coat a few jars with colorful paint and then hang them using strings at staggered or unequal heights. Hang it on the garden path area to light up your evening journey to the backyard. Rainbow jar lighting from homebnc.
A classic and antique look will be obtained by using a jar chandelier combined with knick-knacks that reinforce each other's antique character. Put the string light into the jar and hang it on the existing loop hook, do the same for the other jars. Arrange randomly the jars that are already filled with string light. To fill the void between the jars, you can add gem knick-knacks that will sparkle when exposed to light when the chandelier is turned on. Vintage jar chandelier from homebnc.
Do you have a mason jar that is no longer in use? If so then you can reuse it as a backyard lighting. Now you can fill this mason jar with a fairy light so that it can be used as a simple and on budget lighting. But it's a good idea before you use this mason jar to clean it by washing it and waiting for it to dry first. Usually this mason jar fairy light is used as additional lighting that is able to illuminate the surrounding area in detail. Mason jar fairy light from homebnc.
In order to get a brighter spotlight on your backyard, try to use spotlights that are directed towards the dividing wall that surrounds the backyard. The light that is directed to the dividing wall will shine behind the green plants and furniture around it. If there is a tree in the middle of the page, there is nothing wrong if you add a string light that is attached to the branches and branches to make your backyard brighter. When all the lights are installed, this outdoor area is ready to be used for parties. Combination of spotlights with string light from homebnc.
Pour your creative ideas in decorating your backyard by using DIY hemp string light bulbs. You can make this light bulb using a hemp rope which is shaped round and reinforced using glue. Wrap the rope around the outer surface then apply glue evenly to make it more sturdy, with this you will make the hemp rope stiff. After the glue applied is dry, this light bulb is ready to be used to illuminate your backyard. Insert the string light into the ball to produce the desired light. DIY hemp string light bulb from homebnc.
Mason jar candles hanging from this tree area will light up your backyard garden. It is stunning in its simplicity, but extraordinary in its effect. You can add wire to the top of the mason jar to make it stronger when hanging it from a tree branch. For maximum lighting, you can use more than one mason jar candle. Find mason jars around your house to reuse so that they will be of better use. Mason jar candles from homebnc.
Place glass votive candles around the edges of the greenery in your backyard to add that extra glow you need after sunset. Votive in candles make your path brighter with a few jars of glass candles in use. Besides having a cute shape, this lighting also adds much-needed warmth for pleasant cold nights, making outdoor areas feel more comfortable to gather together. You can get it at a fairly cheap price. Small votive glass candle from homebnc.
Here's a great way to turn your backyard from day to night. A large rope light rope along a curved path is a smart idea that you can try, this lamp is able to illuminate the road maximally. The advantage of using rope lights is that they are versatile and suitable for any changing outdoor weather. Its simple appearance gives an extraordinary big effect, the garden path gravel is a very suitable combination so it doesn't make this lamp easy to get dirty when in use. Curved pathways light rope from homebnc.
Liven up your backyard decor with a classic chandelier that is ready to accompany your fun evening with your family or friends. The beauty of the chandelier which is repainted with black color makes a smooth texture that can be used as the main choice. This black chandelier holds five thick candles to set and light up the atmosphere of a cozy conversation room. Adjust the layout of hanging lights for maximum lighting results. Classic chandelier candle from homebnc.
So that the furniture in the backyard can still be used at night, the first thing that must be considered is the use of outdoor lights. Lighting that is cheap and easy to apply is a string light that can be applied to the wood divider. This divider is intended to make this patio area more private. String light is the best choice for those of you who want to save lower costs. Choose and use a string light with a longer size to produce maximum light. Yellow string light from countryliving.
Warmly welcome dinner with those closest to you with a romantic atmosphere using several strings of bulb lights strung across the outdoor dining table. The dimly lit atmosphere accompanied by romantic music will make your dinner have an unforgettable impression. Coupled with the warmth of the candle lantern in the middle of the dining table, it will certainly create the best moment of all time. The two will work well together for a more desirable outdoor dining room feel. String bulb lamps from countryliving.
Mason jar light and string light that are applied simultaneously to this backyard decoration make a very useful combination of light when the surroundings are getting dark. These two lightings will also accompany your dinner in the spring. Hang the mason jar light using a sturdy string of varying heights. This dining table is also equipped with several small candles that can provide warm light so that you feel more comfortable. Mason jar with string light from countryliving.
(Visited 101 times, 1 visits today)
backyard lighting
,
Garden lighting
,
lighting
,
outdoor lighting
Last modified: February 16, 2022