Having the bird feeder for your garden is really recommended. The bird feeder will be able to call out the birds to come to your garden. It will be great to see the birds fly around your garden, especially during spring. Anyway, the bird feeder designs could be varied where you can have as unique as you want. You can even apply it to a theme in a cartoon movie. The application could be varied where you can hang it or put it on the table. You can choose the materials that could fit your needs. The references that we provided here are really unique and will show you how the bird feeder could be functional to beautify your garden decoration. Here are the references that you can choose.
Do you need other decorations to give a new look to your garden area? If so, then you can DIY a bird feeder made of some materials you have at home. The materials needed include a container that is large enough and three terracotta which is painted and repainted according to your wishes. This blue container is used as a container to put the seeds, while the terracotta is an additional decorative item that can make the bird feeder design look more beautiful. Finish with a drinking container on terracotta and of course with a matching color painting. Terracota bird feeder from decoist.
This adorable bird feeder craft doesn't cost much at all, so it's highly recommended to try it. Because all you need is a small used tire that is hung using a rope that is quite sturdy. With this bird feeder tire, your garden will look more unique. Hang it on a tree branch or anywhere according to your garden decoration needs. No need to repaint, let these tires appear with their original colors. DIY bird feeder tires from decoist.
These three used cans that are turned into bird feeders are very easy to do. Do repaint with three different colors too, starting from the use of red, blue, and green. After the paint applied to the can is dry, you can use it and hang it using several colorful ribbons. Fill the inside of the can with seeds. One of the advantages of using this bird feeder is that it is easy to refill when your bird's food runs out. Colorful bird feeder cans from decoist.
Another bird feeder design that you can use is a beautiful and adorable star pattern. Use a mold to make it, then wait for a little hard so it doesn't crumble when hanging in your outdoor garden. After this bird feeder is ready to use, then you can apply it to a part of a tree branch that is often an area for birds to come. Hang it using a rope that has two different colors, a striped pattern is the best choice that can add a beautiful color. Star shaped bird feeder from decoist.
Besides being beautiful, this bird feeder is also very practical to make yourself on the weekend. This burlap bird feeder is perfect for use in vintage or shabby chic garden decor. The advantage that can be obtained from this bird feeder burlap design is that it is easier to refill bird food when the contents are running out. Versatile enough to be used as a usability decoration theme and able to make your garden decoration more attractive. Vintage burlap bird feeder from decoist.
Choose and use a bird feeder with a pumpkin shape to serve as a focal point when applied to your garden decor. You can choose a bird feeder pumpkin that is quite large. Because this faux pumpkin material is made of clay, it has a smoother surface and will certainly be more sturdy when exposed to changing outdoor weather. Finish with repainting with orange so that it has the right color. Don't forget to decorate the outer surface with fall leaves that have a variety of different colors for a more beautiful appearance. Bird feeder pumpkin from decoist.
Reuse teacups that are no longer in use as cheap and very affordable garden decorations. Turn this teacup into an unusual and unique decoration, for example, you can turn it into a bird feeder. In addition to the teacup, you can also use the placemat with the same color choice. After it has been filled with bird food, then you can hang it using a hemp rope which is quite sturdy and not easily porous when used for a long period of time. Bird feeder tea cup from countryliving.
You can use these ceramic bowls and small plates that have different patterns and colors as the main ingredients for making bird feeders in your garden. You can choose these plates and bowls freely. But it's a good idea to choose a color that is bright enough so that apart from being used as a bird feeder, it can also provide a beautiful splash of additional color. Punch a hole in the center of this small bowl and plate to connect it using a fairly small stainless steel stick. With this, the bird feeder is ready to use. Colorful ceramic bird feeder from countryliving.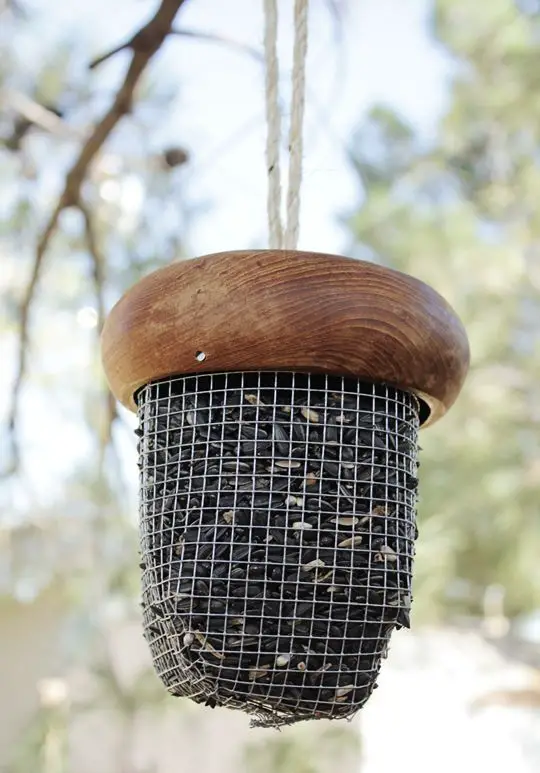 Wire and wood are the right combinations that you can use as bird feeders that can be used as additional decorative items in your garden decoration. You can make it in any shape according to what you want. In addition, these two materials are also very easy to get in your home area, so they are highly recommended. After making this bird feeder, hang it using a rope to a tree branch that is low enough so that the birds that come can be enjoyed by you. Wire and wooden bird feeder material from countryliving.
An easy way to add color to your backyard garden décor is to use a wooden bird feeder that has been repainted in several different colors. Paints that can be used starting from pink, yellow and blue. Apply and place all of these bird feeders on one wooden tray so they can be used as the focal point of your garden. The tray that has white paint splashes becomes a neutral container that can make the three wood feeders look bold. Add a rope to make it easier for you to hang it. Colorful wooden bird feeder from countryliving.
A glass wine bottle and a small wooden house make a beautiful combination of materials to make a bird feeder design. This craft will be one of your garden decorations that is easy to do. It's a good idea to wash the wine bottle that will be used first to make it cleaner. Place it in a safe area away from animal use or yourself to avoid breaking your wine glass and causing a mess. Try this idea as best as you can. Bird feeder wine bottle from countryliving.
Don't throw away your plastic bottles that are no longer in use, you can reuse them as decorations for your garden so they don't become waste or trash. Turning it into a very inexpensive DIY bird feeder is a clever idea that you can easily work on to add to your garden décor so it doesn't look too plain. All you need is wood, some tools, a bottle, to make this charming house. After that, hang it using a rope or wire to make it easier for you to apply it. DIY bird feeder plastic bottles from countryliving.
This white glass bird feeder is one of the best ideas that you can apply to a modern or contemporary style garden decoration. You can use more than one bird feeder so that more birds come. Try to hang it with a rope that is sturdy and thick enough so that it doesn't break easily when exposed to water or the sun's reflection continuously. Also, match the rope used with the glass bird feeder that is used to make it look more in tune, you can try it now. Glass bird feeder from countryliving.
Look at this bird feeder lantern, doesn't it look antique and beautiful? If you are very interested in this bird feeder then try to make it right now. Start looking for old lanterns that are no longer in use for conversion. Before bird feeder lanterns are made into your new garden decoration, then another thing you can do beforehand is painting and re-polishing for a newer and less shabby look. In addition to attracting attention, it can also be used as the focal point of the room. Bird feeder lantern from homebnc.
Instead of hanging bird feeders on tree branches in your garden area. Try another arrangement or layout for a new look that anyone can enjoy. This gold iron bird feeder which is equipped with a magnet can be easily attached to your glass window, and of course, minimizes chaos such as falling on the ground. Usually, the design of this bird feeder is used by a minimalist modern garden decoration that never goes out of style. Gold iron bird feeder from homebnc.
The red color applied to a bird feeder will be a bold sight that can be enjoyed by anyone who comes to your garden. You can make it from wood which is shaped into a bird with fairly large size. To do so, you can make it yourself without the need for a professional. Repainting with a bold red color is also highly recommended so that it has a brighter and more colorful appearance, the choice of wood material is also very appropriate because it can withstand changing outdoor temperatures. Bold color bird feeder from homebnc.
Besides having a smooth, glossy, and brightly colored surface, this stoneware bird feeder is also an additional garden decoration that looks very modern. The application of this bird feeder is also very easy because it is equipped with a hook area on the top. In addition, the material used is also very hard and avoids it from being easily porous. The thing you need to worry about is that it breaks when it falls, so to overcome this you can hang it using a sturdy rope that can be replaced every month to avoid the rope that is used being porous from being eaten by changing outdoor temperatures. Glossy stoneware bird feeder from homebnc.
To add an eclectic effect to your current garden décor, try adding a unique bird feeder design. Start by using a spoon material that is combined directly with a teacup and a matching colored ceramic coaster. You can choose a teacup with any pattern. The open design makes it easy for you to refill. In addition, this bird feeder also looks elegant and offers a creative mix of beauty and sophistication. Bird feeder tea spoon and cup from homebnc.
Don't just use expensive materials to make bird feeder designs in your garden decorations. Currently, you can use used plant pots that are cut into oval shapes so that they can be used to apply apple pieces as bird food in addition to seeds. This bird feeder design is suitable for modern, minimalist garden decorations and industrial touches. Next, the final decoration that you can do is hang it to the tree branch using a thread that looks nice and simple. Reuse used pots as DIY bird feeders from homebnc.
One creative idea that you can try to decorate your garden is to make a bird feeder made of cheap materials that you have at home. For example, you can make it from a mason jar that is no longer in use. Because this mason jar feeder is equipped with a hook, it will make it easier for you to hang it. To provide more fun, this bird feeder can be assembled according to what you want. Decorate the inside of the mason jar with three blooming sunflowers. Mason jar bird feeder from homebnc.
(Visited 63 times, 1 visits today)
bird feeder
,
garden decoration
,
Garden design
Last modified: April 4, 2022