If you want to decorate your home this summer, you don't need to be complicated because by simply adding the garland, you'll be able to create the summer touches to your home. Garlands can create beauty to a home decoration without giving too much effort because it is already festive, in a form of a long shape, and can be adjusted for the design based on the impression you want to create. Related to the summer theme, you can have a fruit theme garland, tropical theme garland, or coastal theme garland. Here we have prepared some ideas for you as you can choose the ones that could be possible for your home.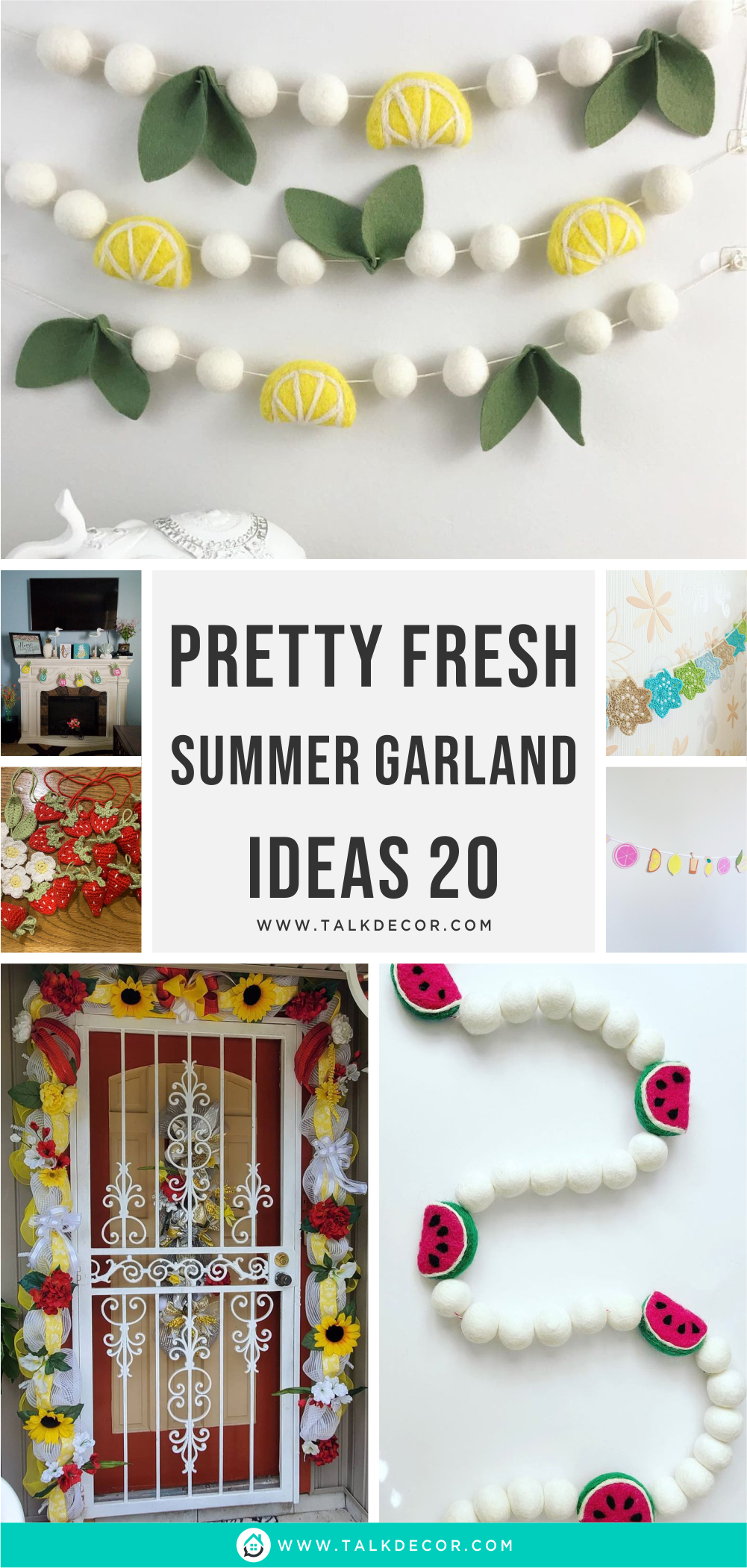 DIY Cherry Garland
Do you have knitting skills? If so, then you can make a summer garland that is the easiest and most liked. Garland with a fruit theme will never fail, you can try a summer cherry garland craft that is dominated by a combination of red and green threads. These two colors have color harmony with the original so that they really support your wall area to be more lively when you have a splash of plain white paint. Five crocheted cherries complete with leaves can be strung on a white hemp rope to make a beautiful summer garland.
Honeycomb Paper Summer Garland
If you have a party in the summer, don't forget to decorate the room as much as possible to get a different look according to the theme and style. For now, you can decorate the walls that are still plain with honeycomb paper shaped with several different types of fruit, such as apples, strawberries, pineapples and cherries. All of these fruit honeycomb papers can be assembled into a garland just by using a rope that has the same color as the wall paint used. Use honeycomb paper according to the color of the fruit craft used.
Recycle Butterfly Garland On Budget
To minimize the budget that is spent when making a handicraft, then you can use materials that are around your house. For example, you can reuse old magazines that are no longer in use to be made into a summer garland with a butterfly theme. You can make this butterfly ornament at least five so that it can be used as a beautiful but inexpensive fireplace decoration. Hang this butterfly ornament on a string using small clothespins.
Holiday Theme Garland
Look at the summer garland design with the holiday theme, isn't it very eye-catching? Yes, you can try this garland craft when you have free time. The only materials needed are flannel, thread and needle for manual sewing and dacron as the filling of the flannel that has been cut according to the current holiday theme. Holiday ornaments that can be combined from ice cream, glasses, sun, sandals and ducks, everything will work well and of course can be used as the focal point of the room.
Summer Feathers Garland
Not only fruit accents that can be used as summer garland designs, now you can try a new look with an elegant summer feathers garland. Choose and buy these feathers accents with several color combinations that you like the most. After that you can string it together using a rope made of thick enough so that it doesn't break easily when used for a long period of time. Because the feathers garland is made of wood, the surface will be more sturdy and not easily porous when used for a long period of time, you can try it now.
DIY Pineapple Garland
To welcome summer this year, you can make handicrafts to be used as one of the festive decorations that are very on budget. Garland is a craft as well as room decoration that can be done easily by yourself. You can make pineapple garland made of paper with a combination of yellow and green. For a more impressive look, the green part of the pineapple garland can be sprinkled with silver glitter so it looks more shiny.
DIY Blooms Floral Garland
Use paper materials that are in your home as the main material for a DIY summer garland. You can cut paper with floral and leaf patterns that have a mix of different colors. The combination of floral paper with red, blue, pink and yellow colors is an interesting combination that will make your white brick wall area more attractive. Use adhesive glue to attach the floral accents to the leaves on a piece of string you have. With this you do not need to buy materials, just use the existing materials.
Watermellon Summer Garland
Not only made of paper, now you can also make DIY summer garland with flannel as the main ingredient. Use three color blends of flannel to make a watermellon ornament that is perfected with white beaded and filled with dacron. The overall design of this garland has a combination of contrasting colors so that it is not easily boring when made as a wall decoration in one of the rooms of your house. This garland craft is highly recommended for those of you who want to save on expenses when making it.
Flower and Leaf Garland
Green flowers and leaves are always a combination of summer garland ideas that never fail. When you already have this garland, just place it in an area that is often visited by your guests to be used as a room decoration. It's a good idea to use faux flowers and leaves so they don't wilt easily when used for a long time. Get the garland materials you need at the nearest craft store or you can buy them online to make it more practical.
Porch Summer Garland
Think about decorating your summer porch using a series of garlands that have a similar theme. Garland that is suitable for summer is a DIY sunflower garland made of yellow and brown paper. Not only flowers, but you can also add a few layers of yellow, white and red fabric to make your front door look more lively on the porch. Green plants that are placed right next to the entrance are an additional summer decoration that are more assertive and can be used to welcome your guests who come to your home.
Farmhouse Summer Garland
For wall decoration or fireplace you don't have to worry about it. Now you can make a summer garland craft that has a touch of farmhouse style. Pair the bufallo fabric with knitted sunflower yarn which will work well together when strung together on the same string. Make a garland that is long enough so that your entire fireplace can be decorated properly. This buffalo fabric with a splash of black and white can be obtained easily in your home without having to buy it.
Felt Ice Cream Garland
Do you have enough flannel? If so, then turn it into a summer garland that can be used as a wall decoration. Use an ice cream pattern with a variety of different types of pliers, from small to large. Attach some of the surface of this flannel ice cream to a string that has a bright color such as white. This garland craft idea can be done easily, you can see the tutorial on making it in any trusted media.
Lemon DIY Garland Ideas
This DIY summer garland with a lemon theme will decorate a plain wall with color. This garland design has a combination of yellow, green and white colors that can work well together and maximize. You can apply the green color itself to the use of leaf accents that are hung together with round flannel cloth ornaments that have been filled with dacron. Give a pattern on the outer surface of this lemon using white thread so that it looks true to the original.
Slice Fruits Summer Garland
Make summer crafts to fill your weekend so that it is more useful. Folding paper with a choice of different colors is the main material needed. You can cut it according to the summer garland theme that will be made. When you like fruit patterns, then you can try it as best and as much as possible. Slices of watermelon, kiwi and lemon become a beautiful combination of colors and patterns and are ready to be used as wall decorations as well as being a focal point in a room. These crafts are very cheap and suitable for those of you who want decorations on a budget.
Handycrafts Floral Garland
To perfect the summer decorations this year, then try making the crafts you love the most. For example, if you have a talent for knitting, you can create a summer garland design with a colorful floral knitted theme. Make this flower knit starting from a combination of green, blue and brown. You can make a garland with a size long enough so that it can be used as the focal point of the room, just apply it to the empty wall. Wallpaper with a flower theme is a very appropriate interior mix.
Summer Garland for Mantel Decoration
This paper, which is printed with a yellow floral and lemon pattern, can be cut neatly to be used as a garland decoration. You print this pattern using paper with a thicker material so it doesn't tear easily when used for a long period of time. The design of this garland is ready to be used to welcome the summer of this year with gusto. This paper flower which is dominated by purple color is very suitable to be combined with lemon pieces arranged in a Mickey shape. Look, doesn't it look cute and very adorable? Yes, you can try it for decorating your wooden coat so it doesn't look too plain.
Summer Sign Garland Ideas
Besides being able to be used as a fireplace decoration, this summer garland with a pineapple theme can also be used as a room sign. Add the word Summer to the outer surface of this pineapple using a white marker. To add color to the room, you can use paper pineapple garland with several different colors. Hang it on the part of the fireplace that has been perfected with nails on both sides of the fireplace in order to hang it. The materials used are also easier to find and of course have a selling value that is not too expensive. This garland design is highly recommended to try.
Floral with Strawberry Garland Decor
Flowers with strawberries are a combination of patterns that can be arranged to make a summer garland craft. These two themes have a color combination that is quite contrasting so that it can be used as the focal point of the room. When knitting floral accents, you can use white yarn with a splash of green on the leaves. You can arrange them according to your wishes to get better and maximum results. Work on this summer garland with your family without having to buy it.
Summer Beach Garland
There is nothing wrong with combining the summer theme with the beach in a garland that you will create. Because both are very suitable and never fail when made as room decorations. Starfish ornaments, shells and colorful pom-poms are a combination of materials that you can assemble into a summer garland that has a more pleasant appearance. After everything is arranged properly and neatly, then you can apply it to the empty wall or it can also be used as a centerpiece decoration on the dining table which is lined with a striped table runner with a combination of blue and gray.
Lemondade Themed Garland
Don't let your walls look plain and boring when summer arrives. Summer garland is a highly recommended wall decoration. Besides being cheap, garland decorations are also easier to make. You can customize the garland theme with the current season, lemonade garland being a very fantastic choice. You can choose this paper lemonade pattern starting from a combination of yellow, pink and a little touch of green on the leaf accents. White rope becomes a tool for stringing this garland.
(Visited 50 times, 1 visits today)
Tags:
garland
,
ornament
,
summer decoration
Last modified: July 8, 2022