Don't let your front door looks empty this summer! Decorate your door in a simple way which is by using the wreath. There are so many ideas for the summer wreath concept where you can choose the themes that are related to summer stuff. For example, you have the coastal theme, summer fruit theme, summer-blooming theme, or simply apply the summer colors such as the light blue sea color. By simply applying the wreath to your door, you can beautify your empty door and give the summer touch there at once. For the complete design ideas, you can check the following designs that we have chosen for you. Hope you'll like them!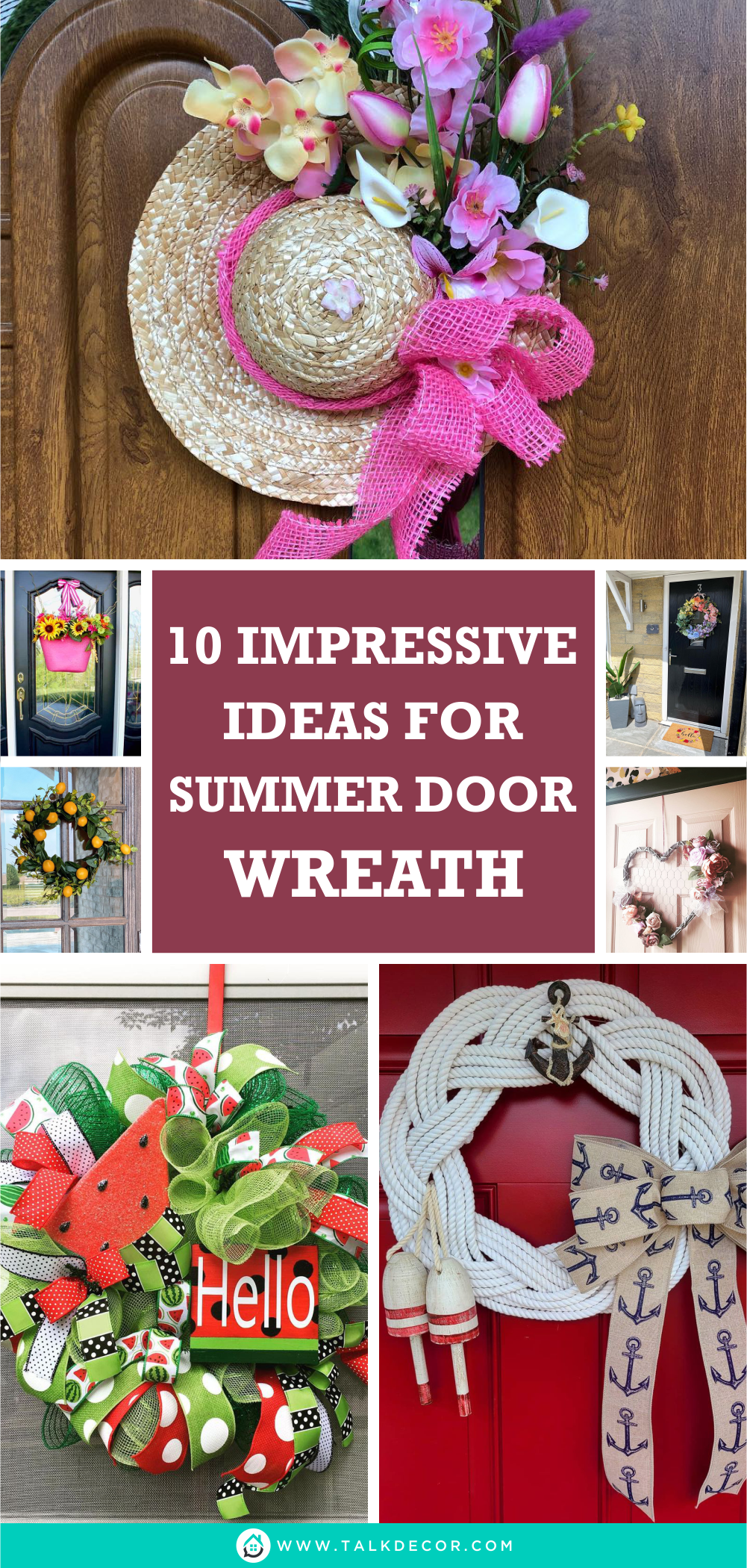 DIY Basket Summer Wreath
The easiest way you can do to decorate the front door of your house is to hang a wreath with a different shape and appearance. Now you can make a wreath with the main ingredients of blooming flowers and a wicker basket as a container for a flower arrangement that will be used as a front door decoration. Don't forget, before installing and using this basket, it's a good idea to repaint it with pink as one of the colors that mix and match the theme of this summer. End this summer wreath look with a striped ribbon that has the same color as the wreath basket used, so it will look more beautiful and ready to welcome your guests who come to the house.
Fresh Lemon Wreath
Take advantage of existing materials around the house to make a summer wreath decoration that can be hung on the front door as a refreshing decoration. Now you can combine lemon with a series of fresh green leaves. Get these fresh leaves in your backyard garden without having to buy them, clean them first or you can also spray them with cleaning liquid to make them look shinier when exposed to reflected sunlight. Arrange these two materials into a cheap round wreath and you can design your own according to your wishes. The door with transparent glass material allows you to see this wreath design from inside the room.
Reuse Fabric Scraps Wreath
Do you have enough fabric scraps? Don't throw it away, you can reuse it as one of the summer decorations this year. What you can do now is collect fabric scraps with a variety of different colors and patterns to assemble into a DIY summer wreath on a budget. Fabric scraps with polka dot, floral, geometric and plain patterns will work well together and are certainly colorful. It's not enough to stop here, but you can beautify the appearance of the fabric scraps wreath with hand-crafted rose flowers made of bold red flannel. The small hello banner that is applied simultaneously to this wreath can also be used as an initial welcome for your guests.
Watermelon Themed Wreath
Watermelon is one of the fruits that are in harmony with the summer theme, therefore you can use it as a decoration for your front door. For example, you can make a wreath with a watermelon theme that looks festive and fun. Usually, the watermelon theme is dominated by a mix of green and red colors so that it looks very contrasting and ready to be used as the focal point of the room. Just choose and buy a ribbon to enliven the appearance of this wreath, don't forget to also hang the watermelon ornament that has been made in a fairly large size. After everything is installed according to your wishes, then hang it using a red string ribbon in the front door area.
Pink Roses Wreath
Adjust your door design material with the summer wreath theme which will be used as the main decoration. When you have a front door made of teak wood, it's a good idea to make a wreath farmhouse design that is perfected with blooming roses. Just choose and buy a circle with gold color to serve as an area or framework for arranging the flowers you already have. This beautiful rose can be combined with the leaves that are still green and fresh. You can only fill this gold circle at the bottom so that the house number that is applied to the door can still be seen clearly.
Apple with Small Flowers Wreath
A fruit wreath will never fail to bring a summer theme to your home. Yes, for now, you can hang it on the front door that has been painted in plain white. This plain door combination with an apple wreath looks very elegant and beautiful. Not only apples, but you can also add some blooming flowers and fresh green leaves. Assemble all the existing materials to resemble a summer wreath which has a round shape with fairly large size. Hang this fruit summer wreath using a rope that is sturdy enough so that it doesn't come off easily when hung throughout the summer.
Mix and Match Wreath with Mat
Mix and match the wreath design that will be installed on your front door with the mat that is used. When your wreath design is dominated by colorful blooming flowers, then you can use a doormat with a floral pattern as well. Both will work well together to emphasize the summer theme in your porch décor. Choose and use flowers that are still fresh, or you can use several types of these flowers with fake flowers that can be obtained easily at the nearest craft store. Arrange this wreath yourself to produce the final design that suits you.
DIY Summer Holiday Wreath
Not only using floral materials to create a summer wreath design. Use other materials such as straw hats to get a touch of a fun summer holiday theme. Combine a straw hat with blooming flowers to make a neat wreath series that is suitable for decorating your front door. In this way, the entrance made of wood will appear more beautiful and attract attention. One type of flower that is recommended for summer is orchid which has a beautiful yellow color. The strawhat is also equipped with a beautiful ribbon that has a bright pink color.
Unique Shaped Summer Wreath
The shape of the wreath doesn't always have to be round. For now, you can try other shapes for the best and different look than before. A summer wreath with a heart shape is one of the best inspirations that you can try. The first thing you can do is make a frame with a heart shape using wood rattan which is quite elastic. The middle of this wreath can be filled with chicken wire so it doesn't look too empty. Furthermore, to emphasize the summer theme, you can add several flower arrangements of blooming roses that have a variety of different colors. Just use fake roses so they don't wilt easily when used for a long time.
Nautical Summer Wreath
Summer themes with nautical can also be combined together in one wreath design. The main material that you can use is a white rope which is perfected with marine ornaments such as anchor ornaments that can be applied to the top of the wreath. You can choose this anchor with a hard material such as iron so that it is not easily porous when used for a long period of time. The front door which is painted in red will make the wreath look bolder and of course suitable for use as the first sight of your guests. Finish off this nautical summer wreath with a fairly long, wide ribbon that has an anchor pattern as well.
(Visited 63 times, 1 visits today)
Tags:
door wreath
,
summer door
,
summer wreath
Last modified: July 20, 2022