When we were young, most of us are hoping to have our own tree house to play around with friends, or even to get a private space for yourself. There is just something special about creating our own space and embedding it into nature. Thanks to the avant-garde attitude of those building these tree houses, we have inspiration to get back out there, and create our own kind of masterpiece in the trees. Although the featured tree houses are extravagant, they may provide a vision of something you want to create.
1. Treetop Paradise
We can say that this house is seemingly encaged by the tree on which it is built. With a wide inviting staircase and bucolic plank walls, this tree house is truly dreamy and welcoming to all who might wish to experience the wonder inside.
2. Mushroom Tree House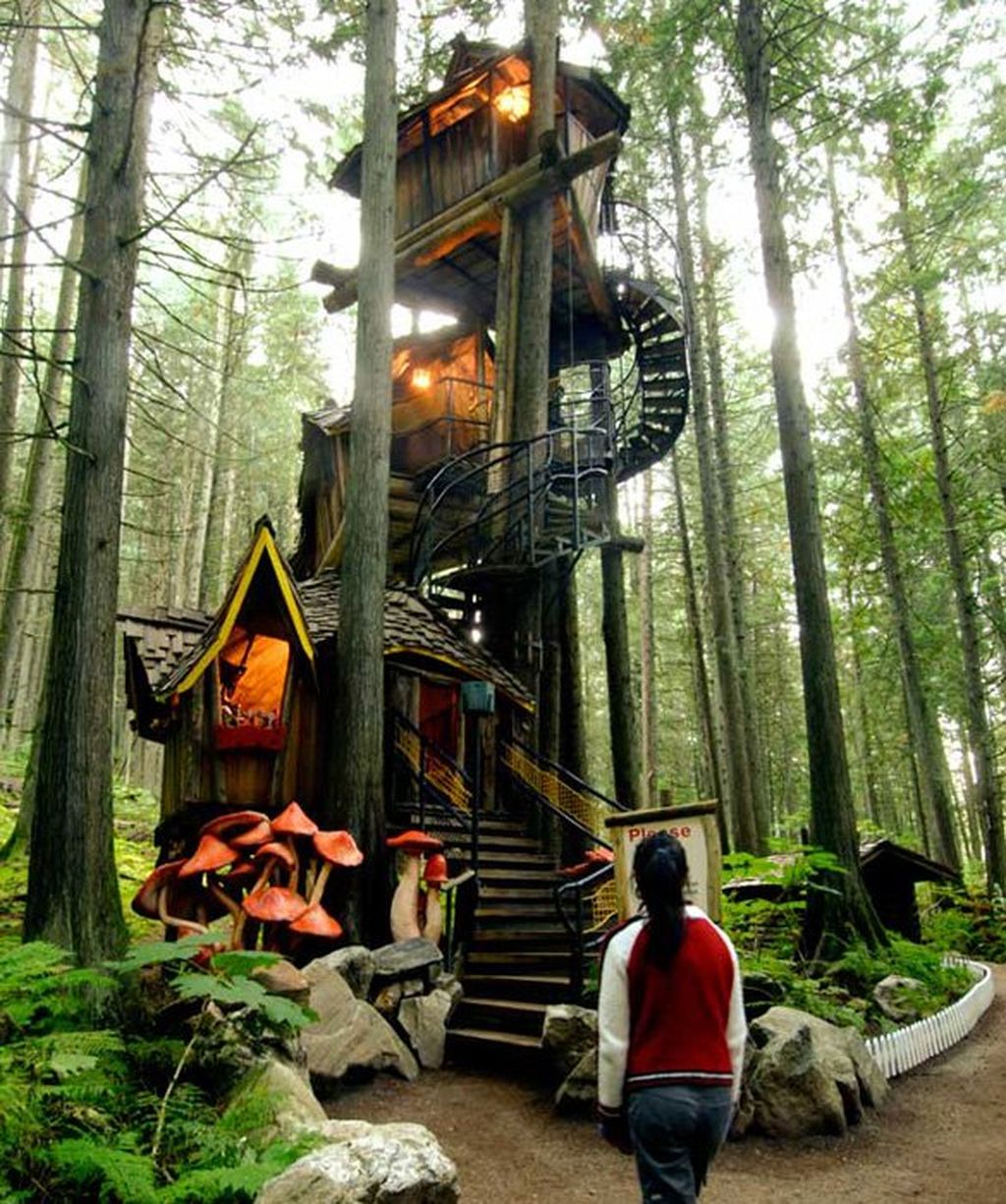 This tree house stands ominously over the average tourist with magical mushrooms and many crooked angles. This house features four different levels, each with new surprises and spooky qualities. The ridged edges and deep corners are great for those who may be looking for a dark fantasy adventure.
3. High Class Tree House
A warm and cozy feel tree house with a high ceiling and long rafters. This high-class cabin style combines impressive construction with that rural taste that we all love. Suspended high in the air, the staircase leading up to this house is not for the faint-hearted.
4. Nest Tree House
This house has a beautiful view of the surrounding waterfalls and rivers below. It's posted elegantly on a cliff-side. This structure provides a sufficient outlook for anyone willing to leave the ground.
5. Glass and Mirror Tree House
This tree house is truly a sight to take in. The glass and mirror materials used in construction create the reflective effect, making the tree house look as if it is assimilated into the landscape itself. What an innovative and visually stunning design.
6. Colonial Style Tree House
A wide deck and the thick tree-trunk beneath support this beautiful, almost colonial style house. This house would bring comfort to any tree-dwelling traveler with stately white pillars and large glossy windows.
7. Wood Grain Tree House
This tree house is differing from conventional one. This structure features a metal rooftop, protecting the walkways and deck below from falling debris in the forest. The attractive wood grain and artful concept on some of the windows make this tree house a true masterpiece.
8. Hidden Tree House
This design is fresh and familiar although somewhat hidden by the lush tree on which it was built. A simple, yet well-executed design holds the tree house on four supports, with the tree growing up through the middle. The two hammocks strung between bottom supports add an appreciated relaxing touch.
(Visited 380 times, 1 visits today)
Tags:
extravagant tree house
,
tree house
,
tree house ideas
Last modified: December 8, 2021