Nowadays, the home garage is everyone's needs. Every house needs a home garage. This place plays an important role to keep your vehicles, such as cars or motorcycle and can be used as a place to keep your items. Even the home garage can be used as a place to do your hobby. So that makes it more comfortable and organized is very important.
But before that, it is very important for you to decide the home garage design that suitable for your home style. Especially if you have a home with a minimalist style. The important key for the minimalist home design is having a garage home that not rarely complicated. The neat and cleanness are the essential things that must be considered.
In this case, to think about having a simple but functional home garage are also can improve and add value to the whole home decor. To make it happen, there are several things that you must be considered. Such as lighting, ventilation, the right tiles for good flooring, and storage idea.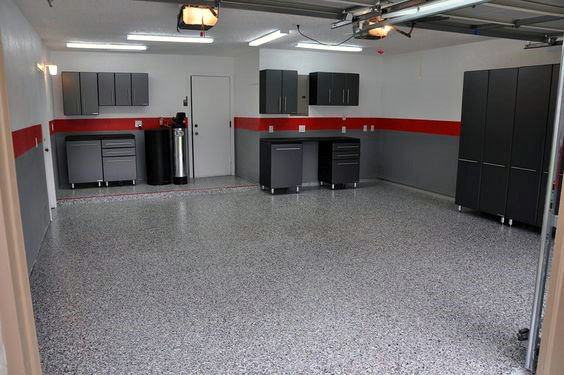 Important for you to provide a proper lighting fixture in your garage. More is better. It is very important to avoid dark spots and your eyes will thank you for it. The suggest lamps that proper to be used for the home garage are fluorescent fixtures. This lamp uses less electricity but can provide proper lighting. Besides the lighting, completing your home garage with the large windows also useful to provide natural lighting and ventilation in your garage. The good air circulation from the window will avoid the high humidity in the garage.
Before building or remodeling a home garage in your minimalist home style, pay attention to the flooring. Choose the tiles that are not slippery and durable to withstand heavy loads. To give the attractive look in the home garage for a minimalist home, you can use the patterned tiles. Such as a classic pattern or black and white checkered tiles. Choosing the right tiles, besides being able to bring good durability, it is also can enhance your home garage and home looks.
Last but not least, provide proper storage is should be done for the home garage in the minimalist home. This is very important because your home garage can be used as a place to keep your other item. And make a neat and organized home garage is a must. So, to make it happen, you can install some cabinets in your garage. You can customize the cabinets according to your need and adjust them to the size of your home garage.
Those are some ideas of home garage design for a minimalist home. The right home garage design will give effect to the goodness of your minimalist home appearance. Hopefully, what we suggest in this article will inspire you in creating or remodeling your home garage.
(Visited 803 times, 1 visits today)
Tags:
Home garage design ideas
Last modified: August 9, 2020