Make your key hanger more interesting with a wooden slab. This DIY decor is easy and perfect for a weekend project. You can buy a wooden slab from art, home and craft store, carpentry store, or any business that has leftover timber slabs.
Key Hanger Materials
Prepare a clean wooden slab for this DIY key hanger, with a slightly bigger size than a standard plate. Treat the surface with polyurethane to prevent pests and bugs from damaging your key hanger over time. You don't need to do this if the slab is pre-treated.
You also need a drill, screws, hooks, brush, oil paint, tape, and stickers. Use two or three paint colors to create a color-blocking technique. Choose large alphabet stickers that you can arrange into words, such as "KEYS HERE" or "MY KEYS," or other words you fancy.
Get creative with decorative materials. Choose stickers with a shiny surface that you can see from afar (glow-in-the-dark stickers are even better). Pick loud paint combinations, such as red and green or orange and blue.
Instructions
Here are the steps for this easy DIY decor:
Place strips of tape on the surface of the slab to create three "color zones." You can also leave one zone uncovered for a more natural look.
Paint the zones with any color combinations you like. Let dry and repeat to get solid colors.
Start drilling on each side of the slab surface to attach the screws and hooks (if you need more hooks, drill the top and bottom parts, too).
Use alphabet stickers to arrange the words in the middle part of the slab.
Attach the slab on the wall with wood glue. Alternatively, attach other hooks on the top edge of the slab, and hang it using ropes on the wall hooks.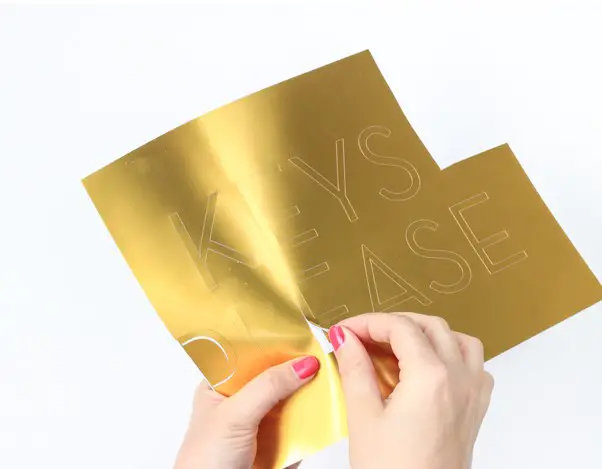 This DIY decor is perfect for an entryway or mudroom. You will never forget to grab or return keys with this eye-catching wooden slab holder.
(Visited 19 times, 1 visits today)
Tags:
Decorative Key Hanger
Last modified: February 26, 2021