There are lots of creative ideas for dining room walls, and one of them is by using an accent wall. It could help to define a space, bring attention to architectural details and focal points.
The wall serves as a focal point in your dining room. There are two ways to choose the right color for your dining room wall. First, you could use bold colors to promote social interaction and stimulate the appetite. Choose stimulating colors such as variations of red, orange, yellow, and corals.
If you want to have a relaxing dining room atmosphere, you could use calm colors, such as cream, beige, white, and light blue. Those colors are refreshing and help to promote open harmony within your dining room.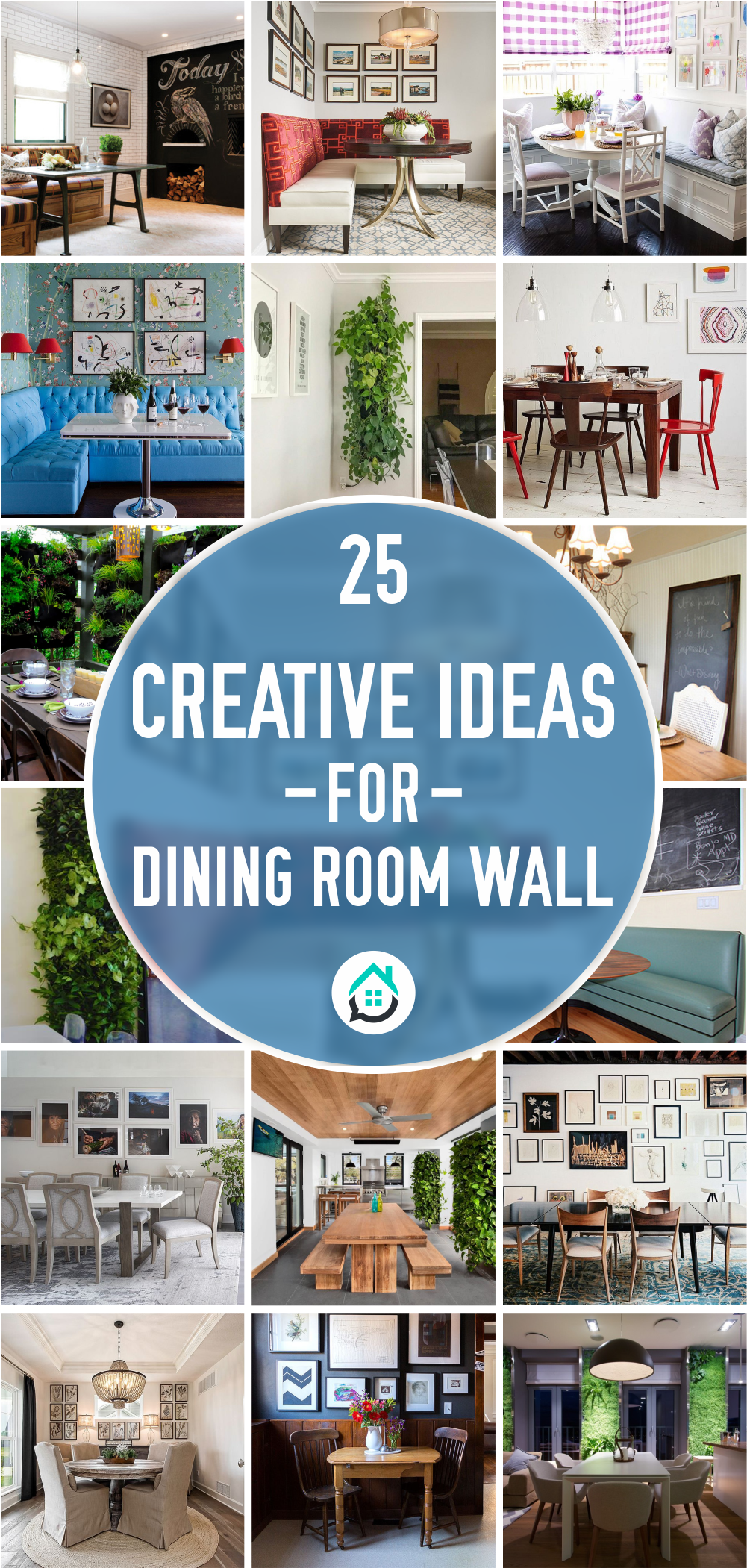 1. Gallery Wall
If you want to have an art wall in your dining room, this is a perfect solution. You can mix and match various sizes of paintings or frame colors.
This would help you to create a fun gallery wall in your dining room. However, putting all those paintings and frame colors can be tricky. Make sure you plan the whole thing before you grab the hammer.
A modern style dining room with some art galleries mounted on the wall gives a more pleasant dining room decor. The different sizes of the frames make the dining room decor looks attractive. White art gallery from decoist.
Attach a few photo frames to the wall of your dining room to give an artistic impression. In addition, wooden photo frames also add a classic vibe to this room. Wooden photo frames from decoist.
To add beauty to your dining room then pairing photo frames with colors that are in harmony with the walls becomes an elegant design idea and you should try it. This photo frame gives a calm and relaxing touch. White photo frames from decoist.
Wallpaper with shades of blue, complete with abstract paintings, provide the perfect decoration for your dining room. Pair it with a blue corner sofa to get a matching look. Abstract framed paintings from decoist.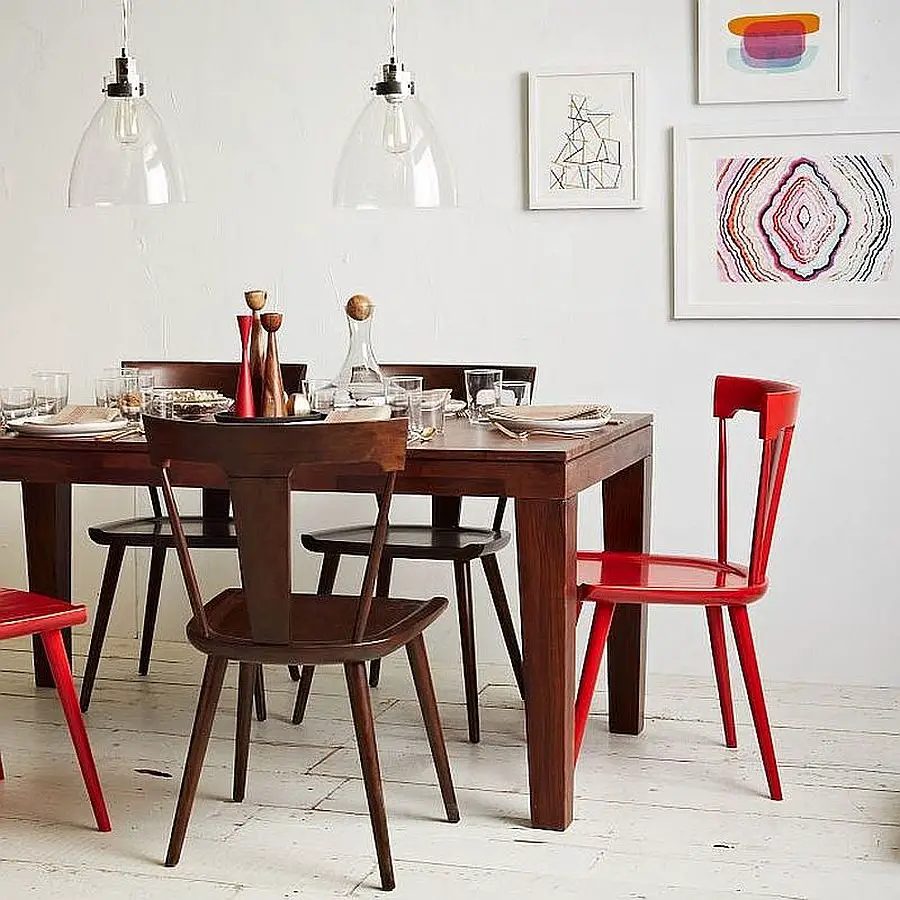 Applying abstract paintings adds a focal point to your dining area. The different sizes of the painting will make your white dining room looks stand out. Abstract painting from decoist.
A modern style dining room with a wall-mounted art gallery provides a more pleasant dining area. Attach it to the wall in various shapes for an attractive appearance. Wall-mounted art gallery from decoist.
Attach several photo frames with different sizes and colors so as to give the impression of an attractive look in this room. Combine with sleek tables and chairs to make it more harmonious and beautiful. Different sizes and colors frame from decoist.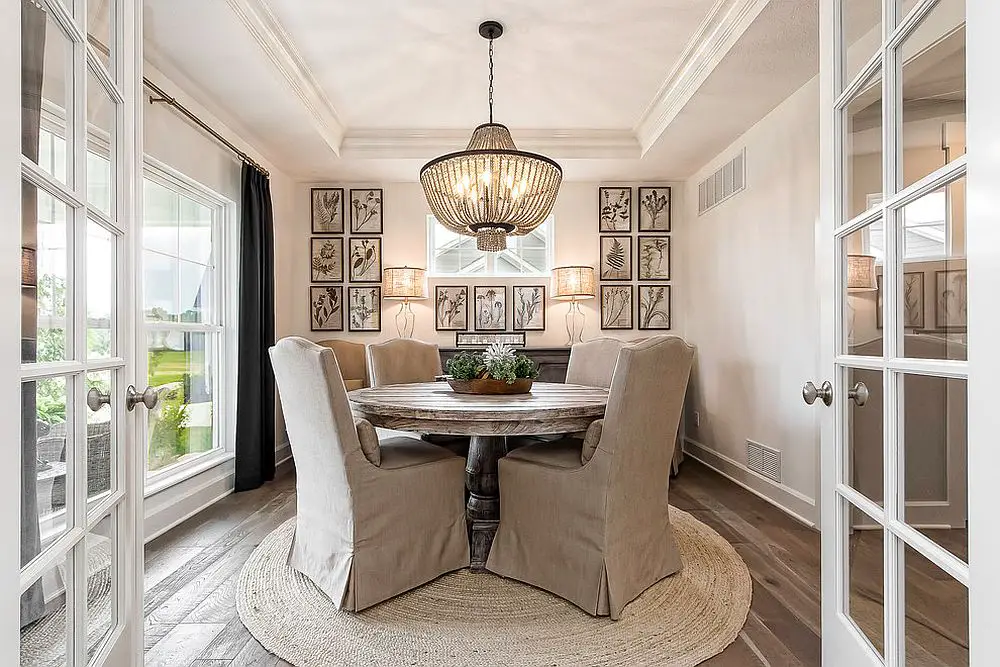 Dining room wall decoration by applying a wall gallery in the form of framed paintings will enhance the room decor. The neat arrangement of the gallery wall will make your dining room looks elegant and luxurious. Framed botanical prints from decoist.
Having wall art in your dining room is the perfect solution to enhance your dining space. Applying various frame sizes makes the focal point of the room more fun. Farmhouse dining room with gallery wall from decoist.
2. Vertical Garden Dining Room Wall
This is a unique option for making your dining room wall stand out. Create a living wall by using special planters that are designed to hold your plant and allow them to grow properly.
Apply a vertical garden for the wall decoration idea in your dining room. This decoration will be a prominent focal point. You can try it so that the room feels more alive. Vertical garden corner from diynetwork.
Vertical green plants can decorate the walls of your dining room with good growth and development. You can choose the plant that can easily grow and low maintenance. Vertical green plants from diynetwork.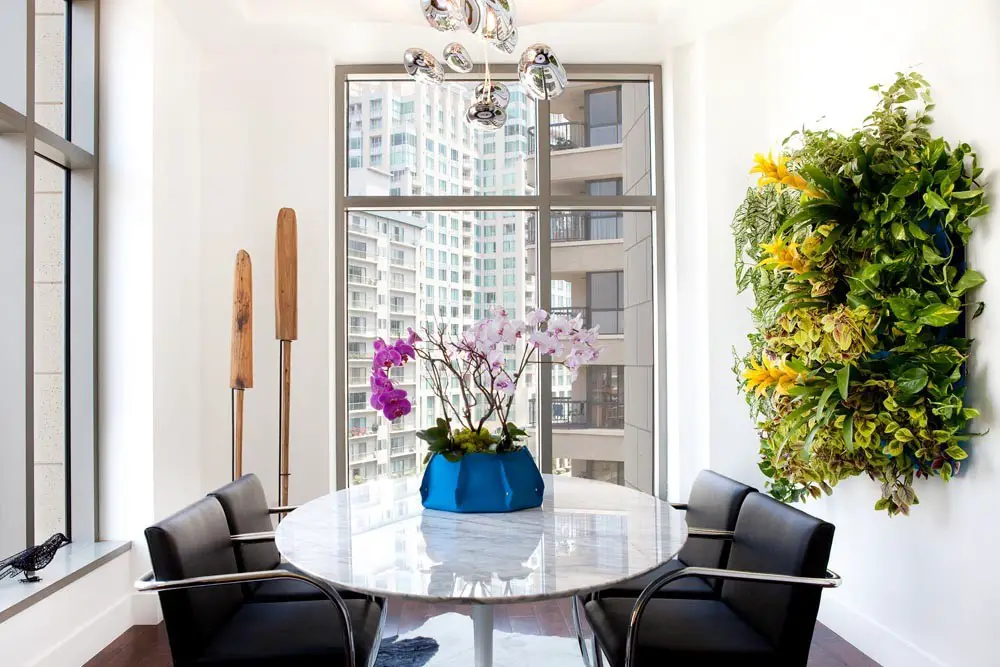 In addition to an attractive design that creates freshness, a vertical garden design that is placed on the dining room wall makes the room cooler. Small vertical garden from decoist.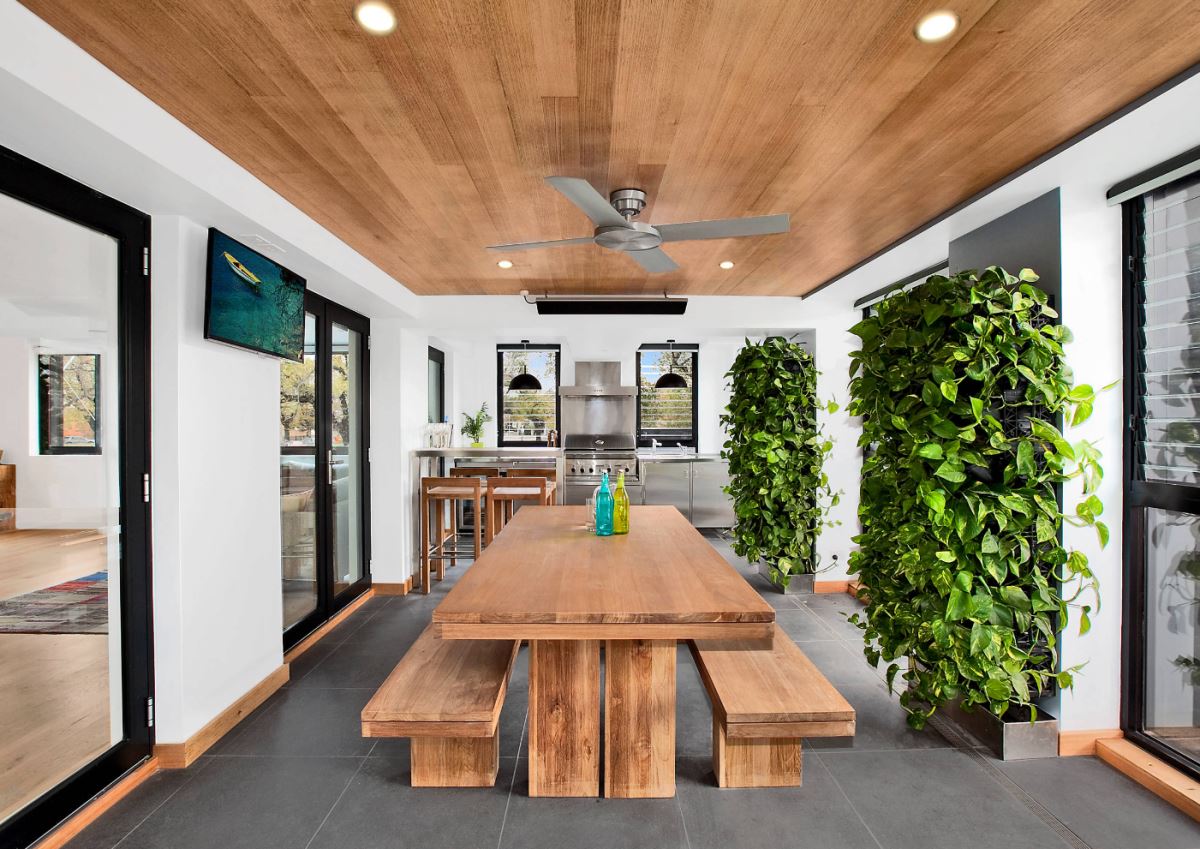 You can use the vines for your vertical garden idea in your dining room. This is a simple wall decoration idea that can freshen up your dining space. Combine with wood table and benches to make it look more natural. Indoor plants from decoist.
The dining room design with a vertical garden will add a beautiful and fresh charm. You can plant moss for easy to grow. Vertical garden with green grass from home-designing.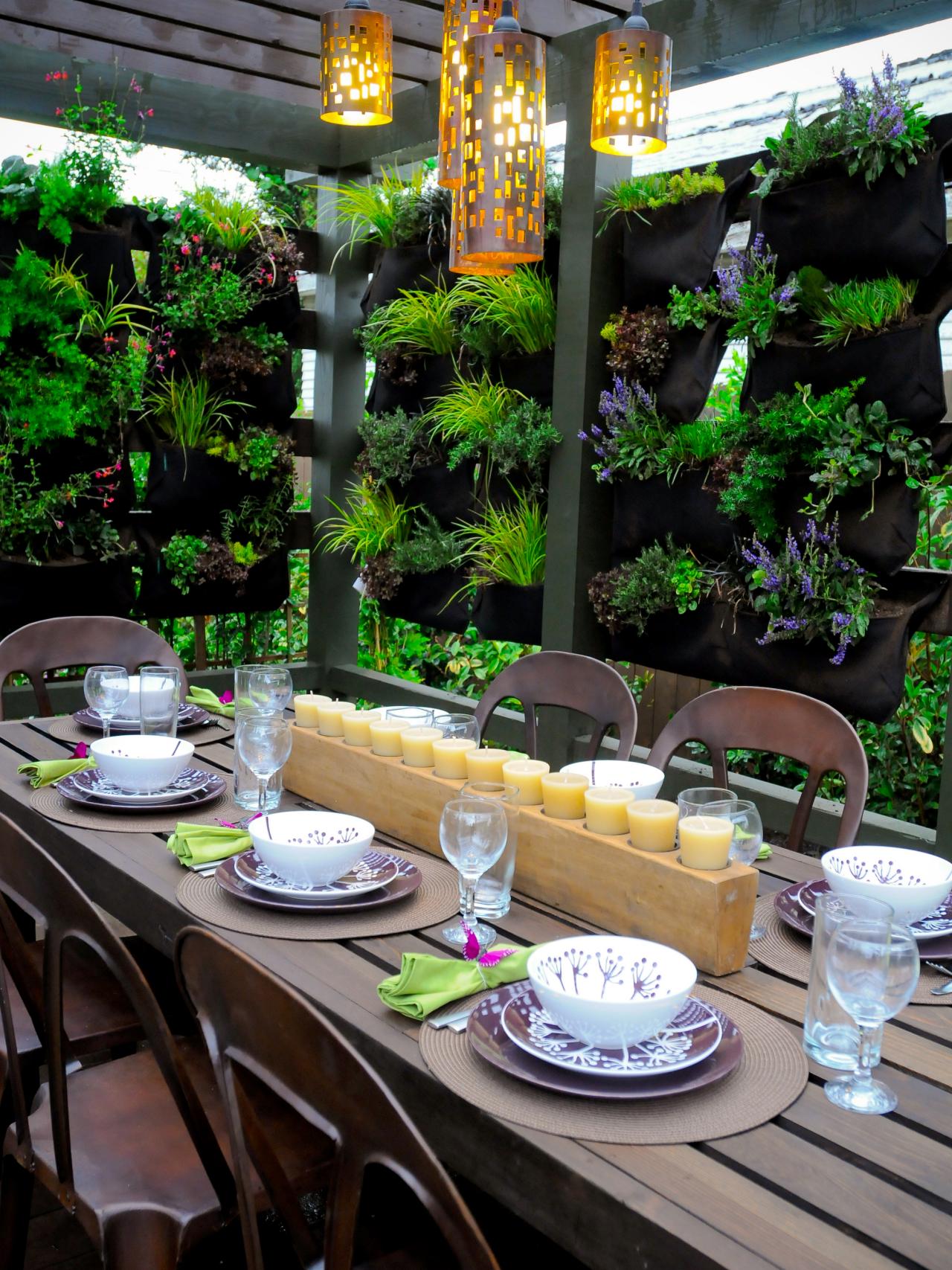 Besides creating a natural and fresh design, the vertical garden in the dining room will make the atmosphere even more beautiful and peaceful. Vertical garden in dining room from hgtv.
A simple vertical garden, besides giving a beautiful impression, also gives your dining room its own freshness. You can combine the garden with a round shape attached to the wall. Vertical garden with garden round shape from ecobnb.
In addition to making the atmosphere of your dining room more beautiful and fresh, the vertical garden design will make the appearance attractive so that it will become the focal point of the room. Dining room with vertical garden from lushome.
3. Chalkboard Dining Room Wall
Another fun option for creative ideas for dining room walls is by hanging large chalkboard. You can use it in various ways, such as sharing menus for dinner parties or a spot for kids to draw on while adults eat dinner.
You can coat the walls of the dining room with a large blackboard to ward off boredom while in this room. Write sentences or pictures of animal paintings according to the theme of your decorations. Large blackboard from homedesignlover.
The pleasant dining room comes with a whiteboard accent. You can use it to express your artistic desires. Try to make this room more interesting. Whiteboard accent from homedesignlover.
Maybe the blackboard is unthinkable for you, but this item becomes a touch of the dining room becomes more decorative and creative. You can write it in white chalk. Blackboard dining room from homedesignlover.
A dining room with chalkboard walls will enhance your decor, but it can also be a creative space for children. Pair it with white for a perfect contrast. Dining room with chalkboard and white nuance from homedesignlover.
Great for the dining room by applying a wall chalkboard to make it look cool. You can write a menu or your child can increase creativity. Just use white chalk and show the child's creations on the walls of this dining room. Chalkboard and white chalk from homedesignlover.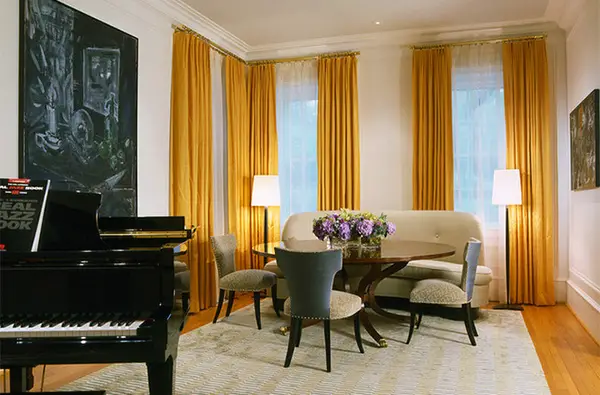 The design of the dining room by adding a blackboard on the wall will increase your child's creativity and be able to write menus. Pairing with the classic style of this dining room will look stunning. Classic dining room with chalkboard from homedesignlover.
This Parisian dining room is designed with chalkboard walls. You can provide a place for your child to be creative so that it becomes a focal point in the space. Chalkboard walls from homedesignlover.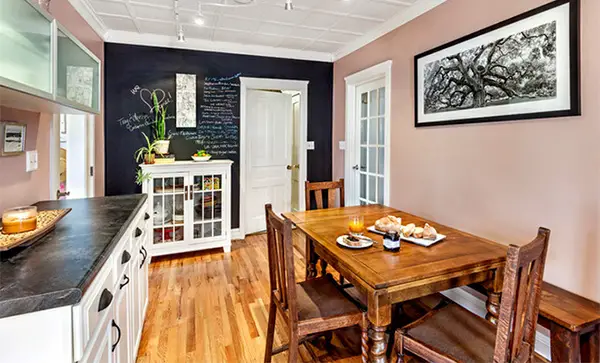 A dining room with a chalkboard wall decor allows you to write down the menu. You can write in white chalk to create an interesting focal point. Chalkboard wall decor from homedesignlover.
Those are our ideas on how to make creative ideas for dining room walls. Feel free to copy one or two of these ideas!
(Visited 156 times, 1 visits today)
Tags:
Dining room decoration
,
Dining Room Wall
Last modified: January 5, 2021