A dated decor makes your living room feel so boring and far from a cozy look? Well, that situation should become a big problem when the holiday celebration comes and then you need to welcome many guests at home. So, to help you solve that problem, we have compiled these amazing DIY glass ornament ideas to upgrade your living room decor.
DIY Photo Transfer Glass Ornament
Personalize your living room decoration by transferring your sweet photos into this kind of DIY glass ornament. To make this ornament, you will need some round glass containers, metallic ribbon, glitter, some cute beads, and photos. Next, you can make this glass ornament as a wall garland or put it on the Christmas tree.
Hang a glass ornament complete with a photo hanging on a Christmas tree. In this way, you will get a more attractive home decoration. Glass ornament complete with photo from plaidonline.
You can try decorating the living room with glass ornaments complete with photos. Add ribbons and a few beads for a fancier decoration. Glass ornaments with ribbon from plaidonline.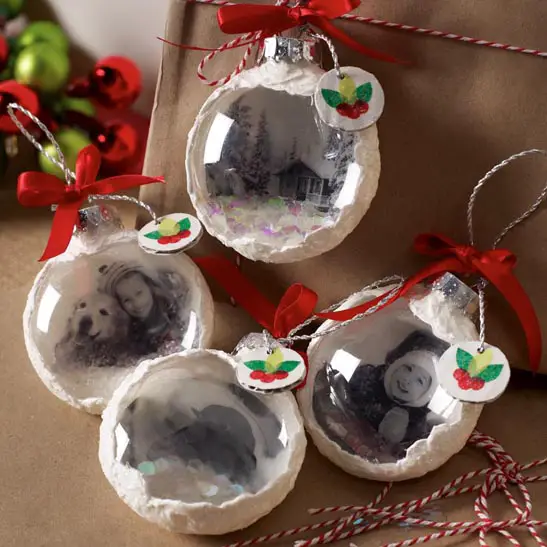 Red ribbon can beautify your DIY photo glass ornament perfectly. In addition, this ornament can also be a memory with loved ones. Red ribbon from plaidonline.
Put one of your cute photos into a DIY glass ornament as a decoration in your home. Add trinkets in a glass container for a pretty finish. You can hang it on the Christmas tree. DIY glass ornament from clutterbug.
DIY glass ornaments complete with photos can be a memorable memory of you with your loved ones. You can try it yourself with additional ribbons to hang on the Christmas tree. DIY glass ornaments with photos from clutterbug.
DIY Glass Ornament Filled with Candy
Aside from its function as a holiday decoration, this glass ornament can also be presented as an adorable keepsake for your little guests. They must be so in love with this kind of cute gift. Thus, let's prepare some coated round candies, used light bulbs/glass discs, and colorful ribbon to make this ornament.
DIY glass ornament filled with candy cane gives a sweet and distinctive impression that attracts the attention of young people when they see it. Place it on the coffee table to sweeten the room. Glass ornament with candy cane from foxhollowcottage.
One of the ornaments that many children like is DIY glass ornaments that are filled with candy, so you need to prepare them well. All you have to do is just preparing some unused light bulbs and some candies. Add a red ribbon and rope to sweeten the look. DIY glass ornaments with candy from foxhollowcottage.
You can add a glass ornament complete with colorful chocolate candies for a simple and attractive appearance of living room decor that can inspire your guest. Add a red ribbon on the top of the light bulb to beautify the decorative item. Colorful chocolate candies from 30minutecrafts.
Try adding a glass ornament filled with colorful candy complete with a ribbon at the top. Place it on a coffee table so it will be the perfect focal point. Colorful candy complete and ribbon from remodelaholic.
To present an attractive appearance, you can add a glass ornament that covered colorful fabric. Add a ribbon on top to complete the look. Colorful ribbons from remodelaholic.
DIY Pearl-Filled Glass Ornament
The next idea is to make a homemade glass ornament that contains pearl beads. It is adorable, of course, and will be a great embellishment option to enhance your living room look.
The glass ornament complete with gold pearls creates an eye-catching decoration. Add pink ribbons for attractive home decor. Gold pearls and pink ribbons from remodelaholic.
Choose a glass ornament complete with gold pearls for your home decorating idea to give it a perfect look and provide an attractive decoration. Gold pearls from theidearoom.
To create an artistic impression in your living room, you can try using pearl glass ornament. Hang it on the Christmas tree for an eye-catching display. Pearl glass ornament from sydnestyle.
Choose pearls of various colors and sizes to enliven your glass ornament. This ornament can be hung on your Christmas tree regularly. Pearls pink colors from refunkmyjunk.
The combination of large and small pearls provides a charming aesthetic beauty. The ribbon decoration at the top gives an interesting impression. Large and small pearls from ohjuliaann.
DIY Hanging Glass Terrarium
Do you intend to give a sense of green to the atmosphere of your living room? A hanging glass terrarium would be a good ornament to create, then. So, try putting some mini water plants inside the glass disc or used light bulb. Additionally, for those seeking a more low-maintenance option, simply put some evergreen branches into this mini terrarium ornament.
You can use an iron to hang a glass terrarium on your table. This terrarium is one of the most popular and popular ideas. Try it in your house to prove its beauty. Glass bubble terrarium from decoratorist.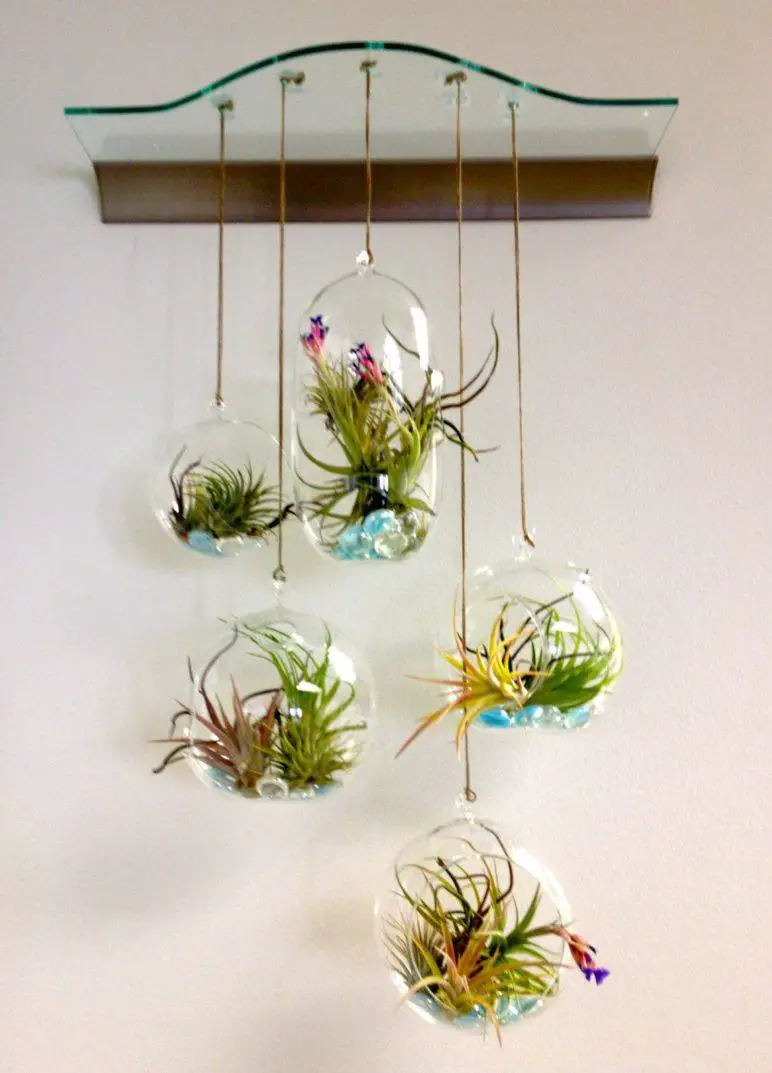 Serve some glass bubble terrarium in your home that filled with some succulent. This design will enhance the appearance of a more unique and fresh home decor. Succulent glass bubble terrarium from decoratorist.
You can utilize the wall space by creating a different atmosphere that is hanging a glass bubble terrarium that is equipped with greenery and water. Hanging terrarium from decoratorist.
Glass terrarium is a creative idea to decorate your home. All you have to do is buying a glass disc then fill it with greenery. Hang them on the wall of your living room and it can liven up your room instantly. Glass terrarium from decoratorist.
Glass terrarium design never limits your creativity, use this decorative item to make your living room looks interesting. You can fill the glass terrarium with succulent plants for easy maintenance. Hang this ornament near the window of your living room to get a fresh look. DIY glass terrarium from balconygardenweb.
DIY Hand Lettered Glass Ornament
For those loving hand lettering art, why not flaunt your skill into your glass ornament? For the success of that mission, then prepare materials such as a glass ornament globe, golden-colored permanent marker, and some cute ribbons.
Beautify your Christmas tree in your living room with hand-lettered glass ornaments in two different colors. Write a few words on the outside surface according to your current decoration. Lettered glass ornaments from oneprojectcloser.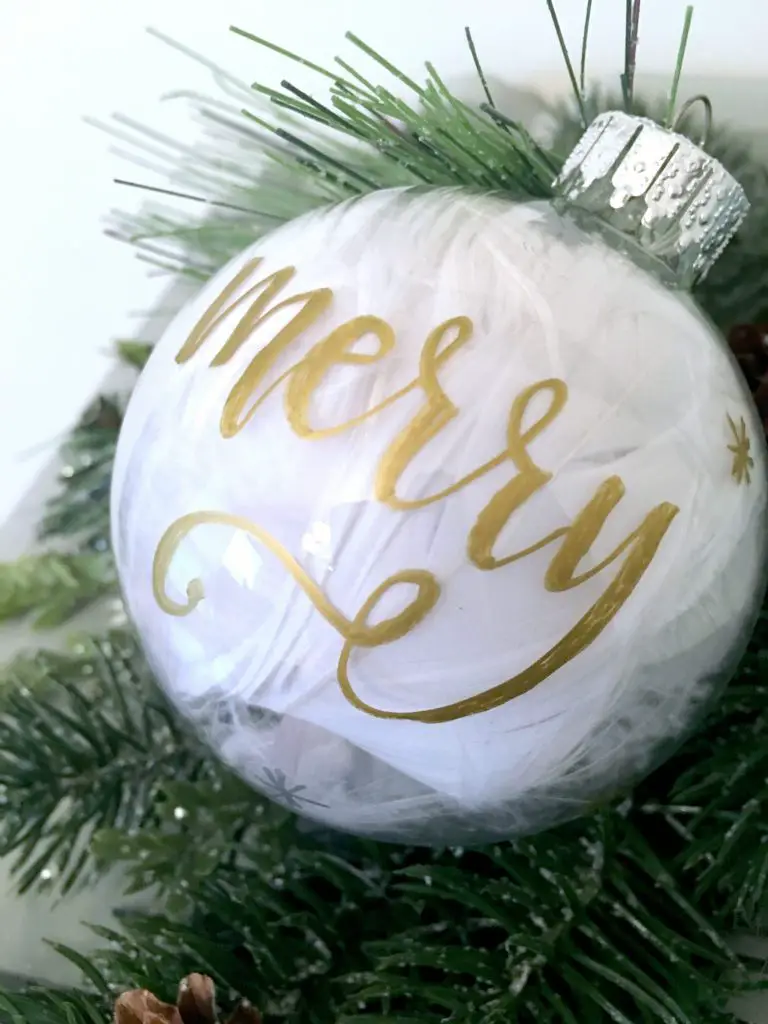 This time, the lettered glass ornament looks really simple but able to enhance your living room decor. You can use a glass disc then add hand-lettered on the surface. The hand-lettered theme can be adjusted according to your need or event that is happening. Such as, on Christmas. Use gold color for the hand-lettered to make everything looks glorious. Gold hand-lettered from amylattacreations.
The decorative glass ornament with gold lettering makes the display look elegant. You can hang it or place it on the table for the perfect decoration. Gold lettering from lemonthistle.
Some of these glass ornaments are equipped with gold hand-lettered will add a luxurious impression to your living room decor. Add gold glitter to add an elegant impression to the room. Gold hand-lettered with gold glitter from brit.
Pink glass ornaments with gold hand-lettered give an interesting impression to the room, this will complement your home decor. Pink glass ornaments from lettering.org.
Get started with these amazing do-it-yourself glass ornament ideas so that your living room look more appealing in the next holiday celebration.
(Visited 166 times, 1 visits today)
Tags:
glass ornament
,
living room decor
Last modified: January 5, 2021