Although they have less variety than teenage girls' rooms, designing a bedroom for teenage boys is not difficult when you already have a particular theme in mind. The key is knowing what the boys' hobbies and what they like to do during their spare time. To help you get started, take a look at the following selections of bedroom designs for teenage boys.
1. Graffiti Bedroom
A splash of graffiti on the wall is a perfect bedroom theme for teenage boys with artistic talents or those who have a lot of interest in arts. The graffiti will give the room a cool statement while turning it into an attractive art showcase.
Decorating a room with graffiti is the perfect way to express yourself as a teenage boy, which makes the room more attractive and cool. Graffiti boys bedroom from hardrawgathering.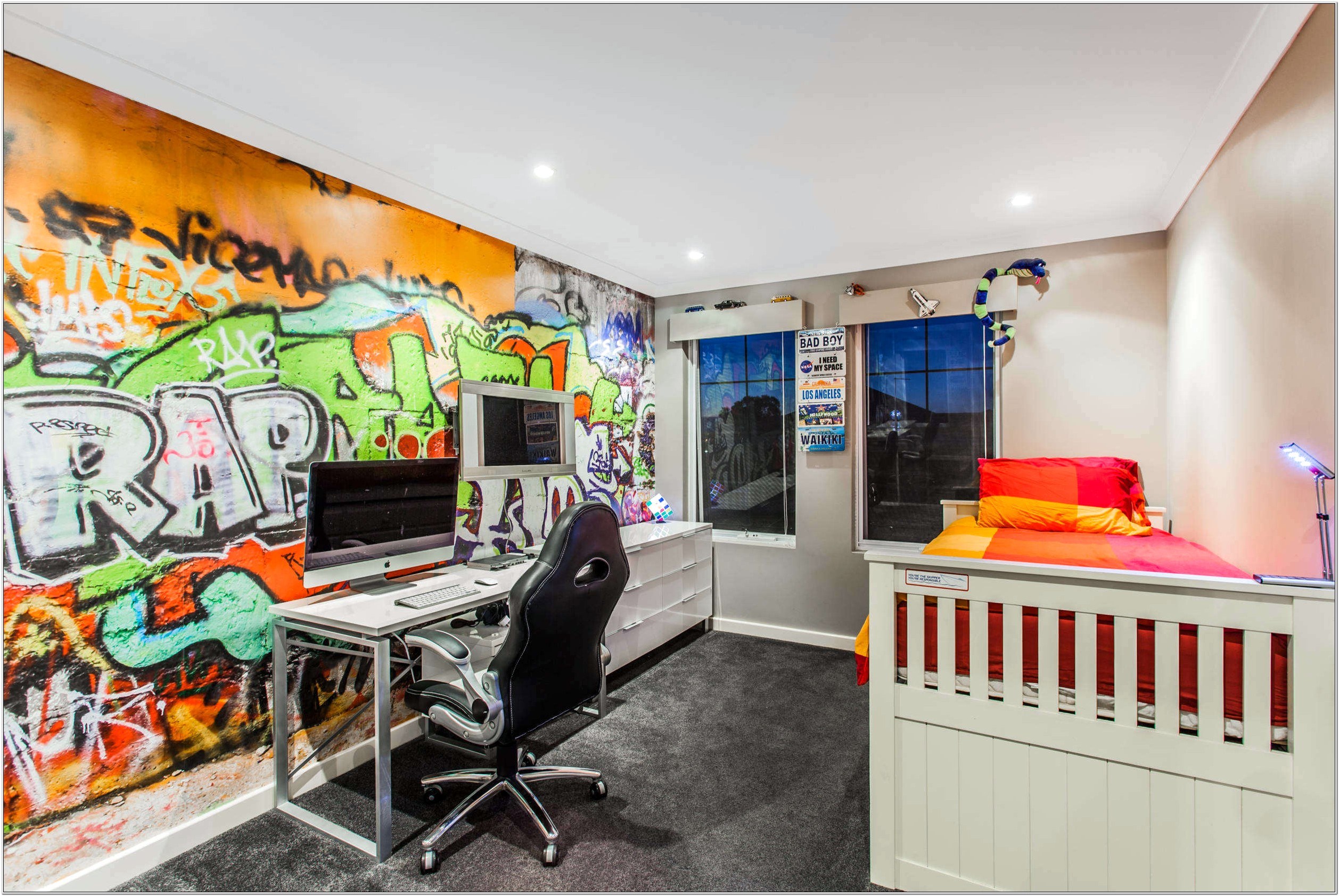 One decoration that is suitable for use in your teenager's bedroom is to decorate the walls with graffiti. With decorations like this your teen will feel happy. Wall graffitti bedroom from hardrawgathering.
This boy's room decor is complemented by graffiti wall decorations. This idea makes a cool statement to the room. Graffiti wall decorations from hardrawgathering.
With these white nuances you can add colorful scribbles to give a cool impression. Add some wooden furniture to complete the look. White nuance with Colorful graffiti from hardrawgathering.
The idea of decorating a boy's bedroom with the addition of graffiti on one of the walls is a suitable idea for you to try. This will change your child's room. Boy's bedroom with Graffiti from sebringdesignbuild.
2. Black and White Bedroom
Casual and modern, the monochromatic essence of the black and white bedroom will enhance the strong personality of a teenage boy. Plain white wall and flooring serving as the room background will look trendy when combined with black bedding and shelving.
This white wall is complemented by black furniture to decorate the boy's bedroom. Add a soft feather rug to complement the decor of the room. Monochromatic tenn boys bedroom from 7desainminimalis.
Musician's boys' bedroom should have a special corner for musical instruments. This orange guitar is able to be the highlight of the decoration that stands out in this monochrome bedroom. Wall chalkboard from romawiki.
To complement the boy's room decor, you can apply white walls and dark furniture. The addition of a black and white tribal patterned rug makes the appearance even more charming. Black and white tribal patterned rug from romawiki.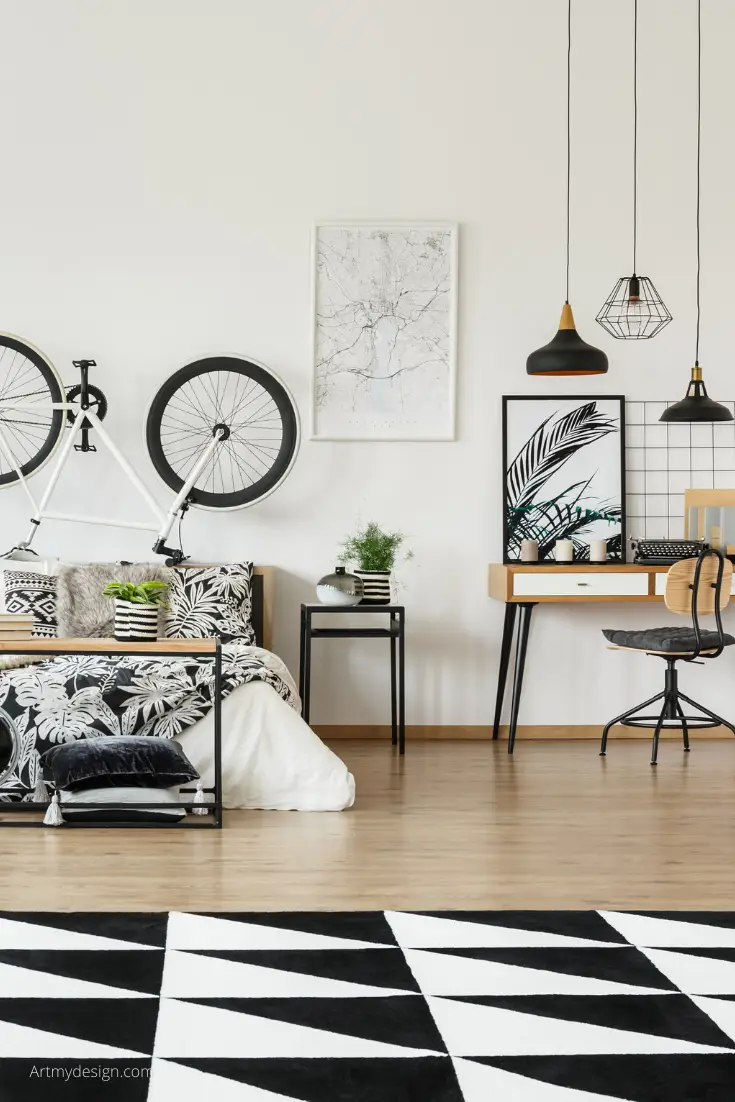 Using dark colored furniture, you can combine it with white wall patterns. This wooden table and black and white geometric patterns complete the décor. Black and white geometric patterns from romawiki.
Room decorations for boys need a lot of consideration. Monochrome wall decorations matching the black and white of the room make this bedroom more lively. Monochrome wall decorations from tlcinteriors.
3. Futuristic Bedroom
Teenage boys these days are closely linked to the digital world, and a bedroom with a futuristic theme is an excellent way to accommodate both their needs and hobby. In addition to the essential bedroom furniture, a futuristic bedroom for teenage boys can feature a digital corner filled with high-tech computers or gadgets.
This cream nuanced room has a futuristic design and sharp curves that will make your little one feel at home. Adding a bedside computer will create a modern look. Cream nuanced from sebringdesignbuild.
This futuristic themed room has natural lighting coming in from the ceiling and the decoration of the room is equipped with a computer and several other ornaments. Computer on Teen boys bedroom from homedesignlover.
The boys bedroom is equipped with a computer on a study table. Adding this wall shelf will make the room decor neat. Computer on study table from homedesignlover.
This minimalist children's bedroom is equipped with a study table to place the computer safely. Place it near the mattress for the perfect decoration. Minimalist children's bedroom from homedesignlover.
This bedroom is equipped with a computer that is placed on the study table. This natural nuance makes the atmosphere look calm and peaceful. Futuristic Bedroom from homedesignlover.
4. Sports Bedroom
Whether it is basketball, football, or baseball, a sport-themed bedroom never goes wrong with teenage boys. Let them decorate the space by adding posters of their favorite teams, customized wall décor, or various sports memorabilia on the shelf.
Creating a monochromatic bedroom you can add a basketball hoop for you to try out if your child likes to use basketball. This idea is worth trying and trying so it makes for an eye-catching look. Monochromatic bedroom from homemydesign.
You can choose sheets and blankets with striped motifs. Favorite jersey can also be an inspiration for wall decor. Jersy wall decor from homemydesign.
If your child likes baseball, you can apply a wallpaper on one of the walls with a picture of a ball. This will be the focal point in your boy's bedroom. Wallpaper baseball from homemydesign.
This basketball-themed room decoration adds an interesting impression for you to try. Adding a basketball hoop over the head of the bed provides the perfect decoration. Basketball hoop from homemydesign.
This colorful skateboard is an interesting wall decoration. Wall graffiti can be added to make your bedroom attractive. Skateboard themed bedroom from homemydesign.
5. Colorful Bedroom
Pack some matching colors in the room and let a teenage boy sparks his creativity in a colorful bedroom. Striped bedding and comforter in three different colors are definitely a great starter. You can also complement the theme by having a DIY shelf painted in bright colors, such as light green or orange.
This DIY colorful hexagonal shelf makes your bedroom decor more colorful. You can use colorful blankets to complete the décor. DIY colorful hexagonal shelf from raisingteenstoday.
Using a colorful blanket in a boy's bedroom will create a cheerful decor. You can apply it for a stunning look. Boy's bedroom with colorful blanket from beneathmyheart.
To create a cheerful children's bedroom, you can add a colorful blanket. Matching the wall color to match will create an eye-catching look. Blue and Green blanket from deavita.
To make a dazzling teen bedroom you can use a colorful blanket like the one in the picture above. This method will add color to the room. Colorful blanket from houszed.
This youth bedroom with colorful walls looks very charming. To make this room look colorful, you can use a jute carpet with colorful colors. Colorful walls from houszed.
Take those themes and ideas into consideration when you are planning to design a bedroom for teenage boys. Once you've found the inspiration you are looking for, it's time to get ready for a bedroom makeover!
(Visited 291 times, 1 visits today)
Tags:
Bedroom decoration
Last modified: January 19, 2021