Beautify your home decoration won't be easy, especially when you don't know how to make the right plan to do it. In this case, the first that you should do is making the category for each thing that may possible to bring out the beauty. After that, you can start to consider the possibility of the application to your home for each room. Don't forget to adjust it based on your budget too. Here are the categories that you can have to beautify your home decoration.
Wall Ornament
The scope of the ornament will be really wide. It could be the artwork, the painting gallery, the family picture, or even the fabric ornament. You can adjust it based on your taste or the existence of the things in your home. For example, if you have the collection of hats or plates, then you can hang it on the wall to form a certain arrangement to create an artsy look. Here are the other examples of the proper wall ornament you can have.
Decorating a bedroom doesn't have to be luxurious this time around we only use a tapestry with mountain paintings to make your bedroom walls look attractive. Tapestry with mountain paintings from housebeautiful.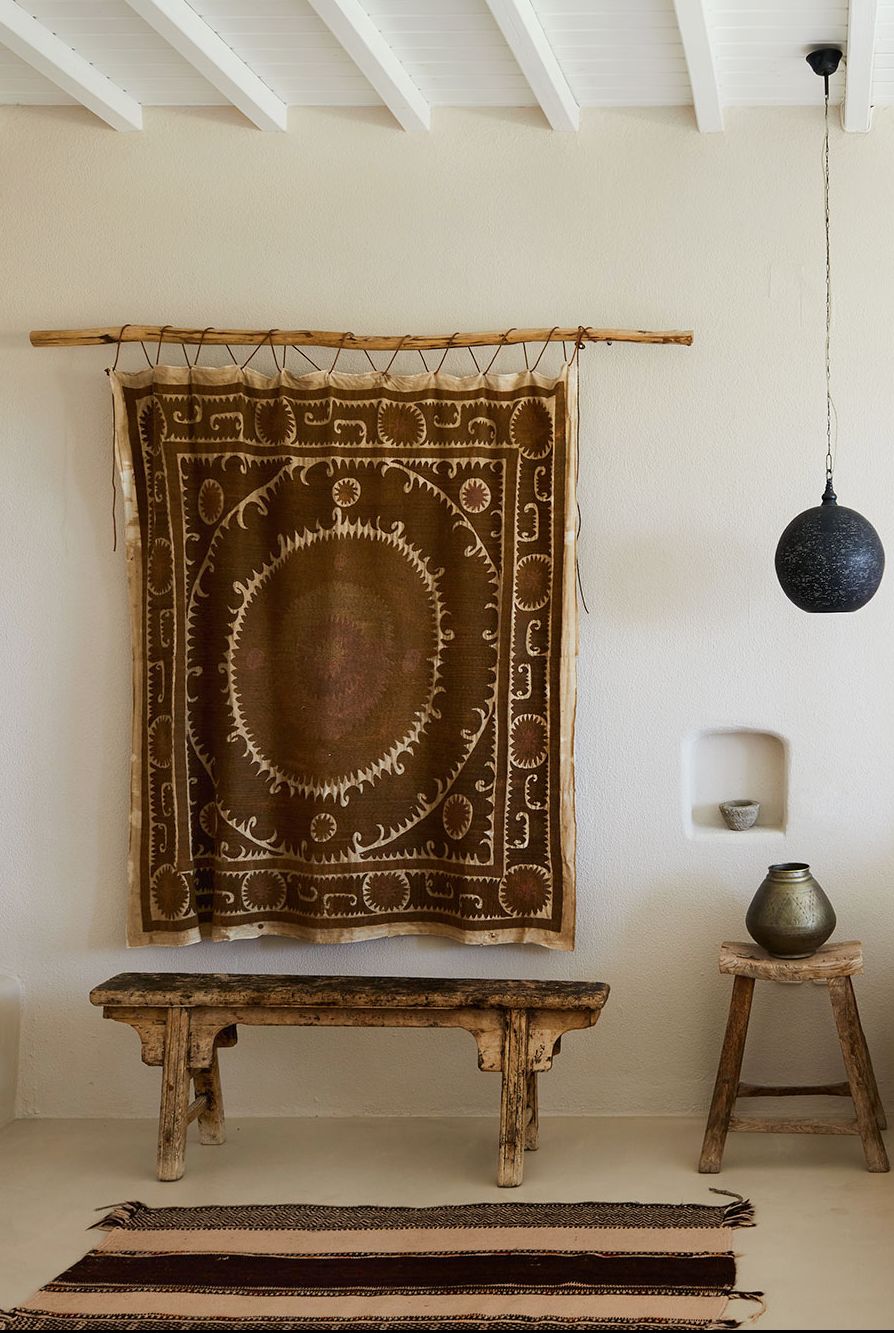 If you have a carpet or blanket that has never been used, reuse and hang it on the wall which can be an easy choice to get a beautiful look on the walls of your home. Hanging blanket wall decor from housebeautiful.
Decorating the walls with vintage touches from plates of various sizes creates an artsy look. Pair it with some other vintage ornaments to complete the decor. Vintage plates from housebeautiful.
If your child likes to paint, make a frame so you can display the walls of your room. Place it on a wall that is easily seen to make your kids proud. Framed child painting from housebeautiful.
Make your own wall hangings with beads and branches. It looks very simple but this decoration can make the room of your house looks different. Beads and branches from housebeautiful.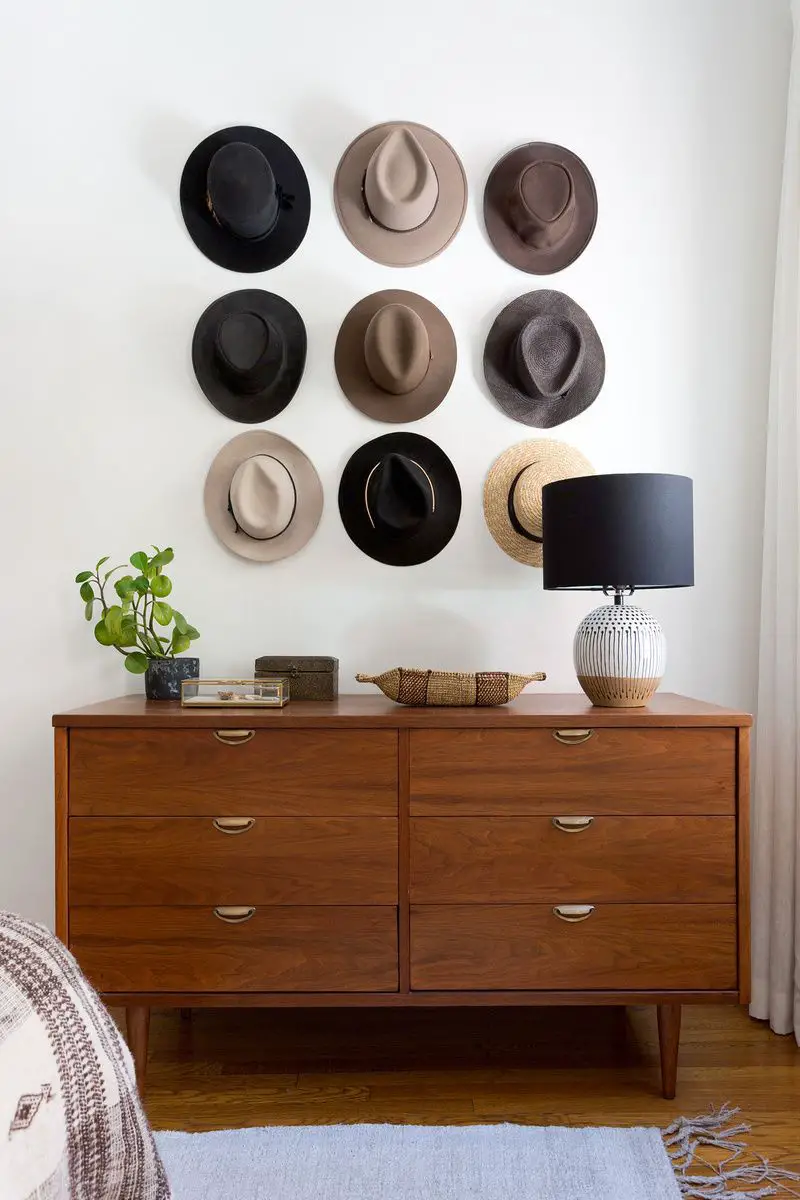 The hat on the entryway wall will attract attention. Adding a console table will complete the look of the room. Hat wall decor from housebeautiful.
Making the walls look beautiful with mirrors of various sizes can make your room look charming. Arrange it in such a way as to get a pretty look. Wall decoration with mirrors from housebeautiful.
Wallpaper
By using the wallpaper, you can create a pretty wall in an easy way. You just need to find the right design that you want, then apply it to the wall. Moreover, it is also really cheap compared with the mural of painting the wall in a certain pattern that fits with your taste. Anyway, there are also so many different wallpaper designs that you can have. You have it in a plain color, the one with an artsy pattern, or even the wallpaper that has a realist pattern with a real thing shape.
This floral wallpaper with a white base lines the walls of this elegant bedroom. adding velvet curtains to make a different look. Floral wallpaper from architecturaldigest.
This bedroom has a pattern on the wall, besides the geometric patterns are always beautiful to look at. Moreover, this room has a contemporary design that will make the appearance even more perfect. Blue wallpaper from architecturaldigest.
This bedroom full of motifs combines attractive floral wallpapers. Combining gray and white makes for the perfect blend. Gray and white floral wallpapers from architecturaldigest.
This bathroom uses beautifully patterned wallpaper. Moreover, having light-colored walls combined with dark-colored patterns make for an appropriate look. Bathroom trellis patterned wallpaper from architecturaldigest.
This dining room has a cherry blossom pattern, a soft red covering the brown walls. Apart from that this wooden furniture creates a natural warmth. Cherry blossom pattern wallpaper from architecturaldigest.
This bedroom uses green leaf wallpaper combined with brown. In this way it will create an attractive room decoration. Green leaf wallpaper from architecturaldigest.
This blue wall features a white wallpaper with a tree design. Apart from making an amazing display this wallpaper also gives a new feel to your bathroom. Blue Wall with Floral wallpaper from architecturaldigest.
Table Ornament
The table is the furniture that you should consider to be decorated well. It is because of its existence that will be there almost in any room in your home. For example for your coffee table in the living room, you should give a pretty touch into it whether by using the greenery, decorative candle, or other artwork. For the dining table, of course, you can play with the centerpiece to create beauty. Look at the following table ornament references.
Beautifying the table is not difficult, preparing plants and flowers in a vase is enough to make your coffee table look elegant. Flowers vase on coffee table from homebnc.
This brass candle holder can make your table look less empty. Also added are some of these pink books to make the appearance perfect. Brass candle holder from homebnc.
Coffee table with white wooden tray for placing flowers in vases and other ornaments. This method might give an elegant impression in your living room. White wooden tray from homebnc.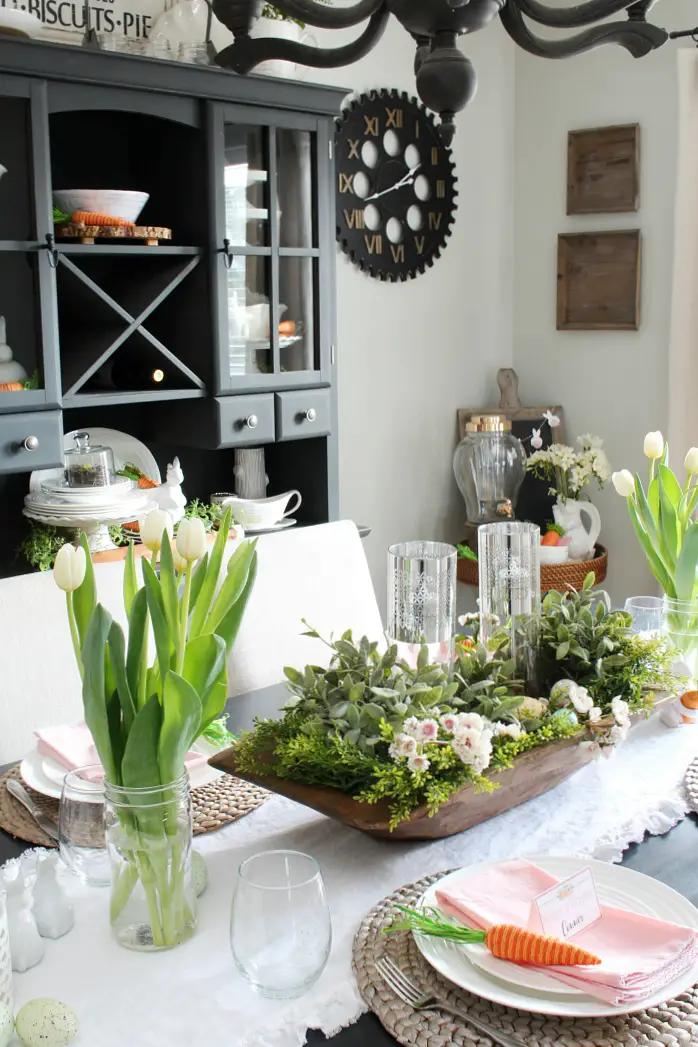 This flower vase contains white tulips and vintage decorations that are enough to make your dining table look attractive. You can try it now. White tulips and vintage decorations from cleanandscentsible.
This sleek dining table is decorated with greenery in a vase to create a stunning display. This way it will add a fresh impression to the space. Dining table with greenery from thespruce.
Greenery
You might know the greenery as the additional things to make your home atmosphere looks fresh and feels peaceful. However, since the plants have several different shapes and colors for the leaves, then it is really worthy to be used as the additional ornament for your home. Then, to make it looks more pretty and proper to be the ornament, you can pair your greenery with the planter that has the artsy or impressive designs.
If you want a bedroom that is as natural as possible, you can try it with vines. Place it on the headboard of your bed. Vines on headboard from homeartmania.
This time adding green plants to the bedroom will look more natural. Place it in the corner of the room to make it look attractive. Large plants from homeartmania.
The living room is filled with house plants, making decorations like this does have its advantages. In addition, not only to make the living room fresh, but it can also make your living room looks natural. Living roomwith greenery from homeartmania.
Decorative plants for the home is indeed something you should apply. This time, using the vines hung in the corner, it will give a fresh feel to your kitchen. Corner viner hanging from homeartmania.
Decorating a living room with plants is not wrong, especially if you decorate it well. Using a dark pot makes the appearance elegant. Living room with plants from homeartmania.
Those are the things that you can apply to your home in order to beautify it. For the wall you might, can't apply all of the ideas because that will make your home looks crowded and that won't be good at all. Then, for the rest which are the greenery and table, you can apply both altogether. Go preparing your ideas to beautify your home and get the awesome home atmosphere.
(Visited 56 times, 1 visits today)
Tags:
Home Decoration Ideas
Last modified: February 2, 2021