If you have more than one level of the home then you need a staircase as your essential part of a home. Though, you must have an extremely important consideration to choose what types of staircases to be applied at your home. The consideration must consider how you and your family members use the stairs. Here is the information on superlative staircases ideas to try on your lovely home for great visual appeal.
Floating Staircase
This is the floating staircases or people also call it a suspended stairway or cantilever staircase. A floating staircase consists of treads with no risers. Moreover, this staircase is so passionate to show invisible support by attaching the steps to the wall. On the picture, the floating staircase is really presenting the floating appearance. Besides, you can add the safety elements as foregoes handrails made by wood or glass.
Make the guests or your family who come to the house amazed by the floating wooden staircase that you have. These steps are very tricky to the eye as they appear to be floating without support. You can add a wooden safety element as a handrail when you are going up or down stairs. These steps are usually placed in modern home decorations. Floating wooden staircase from shelterness.
For a different appearance of home decor, you can use floating wooden steps with glass handrails which have a thicker texture so they don't break easily. This ladder has a straight upward shape so it looks more luxurious and long. You can nail the side of the ladder to the stone wall to make it stronger. Floating wooden staircase with glass handrails from shelterness.
You can complete the appearance of a more modern and dramatic staircase with a white LED light that is applied under each of these floating steps. You can turn on this LED light at night to help your footsteps when going up or down stairs. Paint your walls white for a more elegant look. Floating stairs with LED lights from homedit.
Split Staircase
It is definitely the grandee dame of all staircases. It is called a split staircase. It is a large and expensive staircase designed to create a big impression. This type of staircase typically used in the entryway of a spacious home. It usually starts with a wider flight at the bottom. A gorgeous presentation is shown by the two narrower flights on either side of the bottom section, one to the left and one to the right.
This modern-style split staircase is decorated with two branches to different rooms. Usually, this ladder is used in home decorations that have more and more space. Don't forget to add handrails on the right and left sides as protection to prevent you from falling. Use teak wood to make it sturdier and not easily porous for a long time. Modern style split staircase from homedit.
Curved Stairs
For those of you who like a simple look but still attractive and modern, the curved stairs is highly recommended. This type of staircase is suitable for the narrow space. Build on the corner or in the middle of your limited space of your room.
You can choose the shape and decoration of the stairs according to your wishes and favorites, for example a curved staircase that is equipped with a dominant dark carpet. Splash the white on this navy blue carpet for a more colorful feel. The combination of these two colors gives a more contrasting impression and style. You can try this rug in a wooden stair decoration. Curved wooden starcase with carpet from decorpad.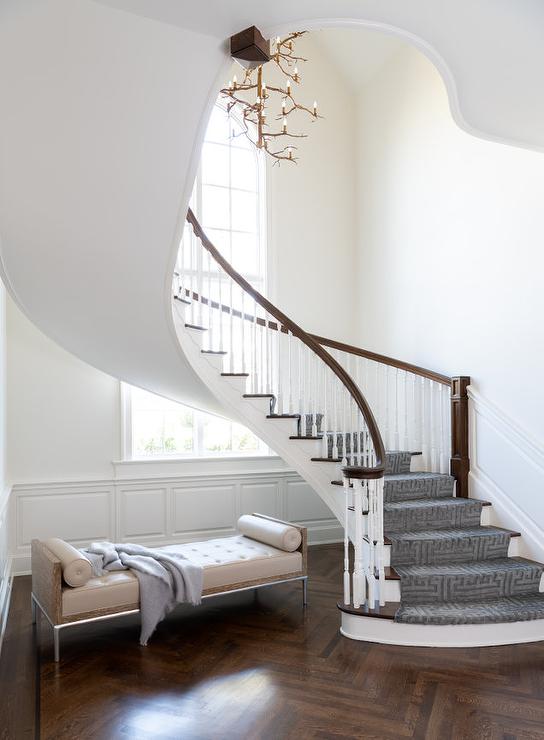 A curved staircase will save you more space. To display a more elegant and classic stair decoration, you can line each of these steps with a beautiful patterned long rug. If your stairs have a predominantly white color, then the selection of the rug can be with a darker color as a beautiful color contrast. A white staircase covered with patterned rugs from decorpad.
Circular Stairs
Make your home look like a traditional home design with this circular stairs. This type of stairs is one of the classic and traditional stair designs. But nowadays the circular stair can be applied for the modern home design. The combination of modern and traditional design will make your home looks more stunning.
This circular staircase with glass handrails makes it look more contemporary. This circular staircase has graceful curves that create an architectural focal point. Usually this staircase decoration idea is used in modern-style homes, do maintenance with a sweeping mop to avoid the slippery surface of this staircase that causes accidents, you can do it every day, except for mopping just once a week. Architectural circular staircase from homedit.
Even though it has a tapered step, this circular staircase still has a relaxed arch so that it is still comfortable when used every day. This circular staircase can be found in a medieval castle. Wood has always been a favorite material that is often used for the dominant material of stairs, choose wood with a brighter color to give the room a brighter and brighter effect too. Medieval circular wood from homedit.
Spiral Stairs
Known for their luxurious and has an artsy look, the spiral stairs are commonly found in the churches, castles, mansions, and more. And now, you can have one in your modern home designs. With simple and elegant designs, this stair can make your home looks more awesome.
If you have a small home decor, then you can use a spiral staircase with a bright blue color finish. This staircase has a design shape that winds up through the space on the floor above. Use iron to avoid stairs that are easily porous. Blue spiral staircase from homedit.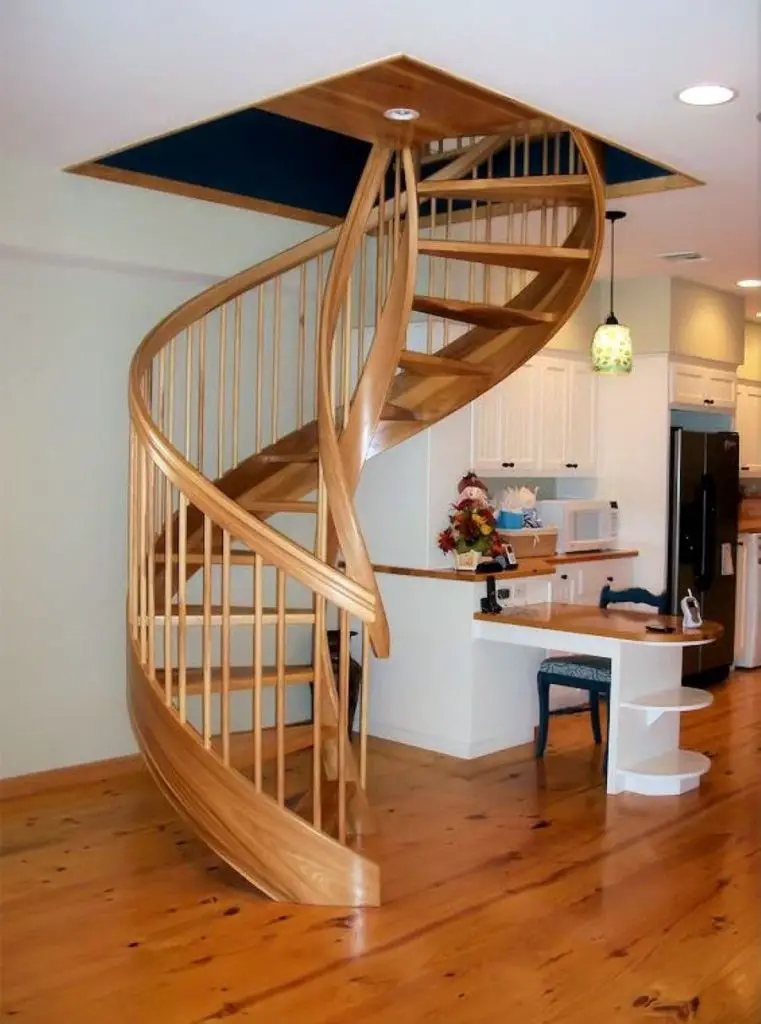 The spiral staircase design is suitable for modern or contemporary home decorations that have limited and narrow space. These stairs save a lot of space underneath so you can get more free space. This staircase forms a circle that is easy to traverse and is sure to have soft curves and is an elegant choice for any home style. This type of ladder is easier to build so it is a cheap one. Circle spiral staircase from homedit.
Choosing the right staircase for your home decor is very important. By those inspiration of staircases above, choose the proper one and fit with your home decor style.
(Visited 356 times, 1 visits today)
Tags:
Staircases Ideas
Last modified: March 23, 2023