If you love simplicity in everything, you can also have your private bedroom area bedecked in a minimalist style. It means that you need to control or even lessen the function served by the space, lighting, or furnishings into their restrained essentials that surprisingly generate a boldly supreme effect in return.
Here are some minimalist touches for the bedroom that can you apply to your personal sleeping room.
1. Basic Bed Frame
Being minimalist also refers to clean, delimited lines, and flat surface, especially for the furniture. And your bed is the central point thus the right bed frame affects the overall decor. Platform bed, box spring, metal bed framing or even frame-less one are some choices for minimalist touch.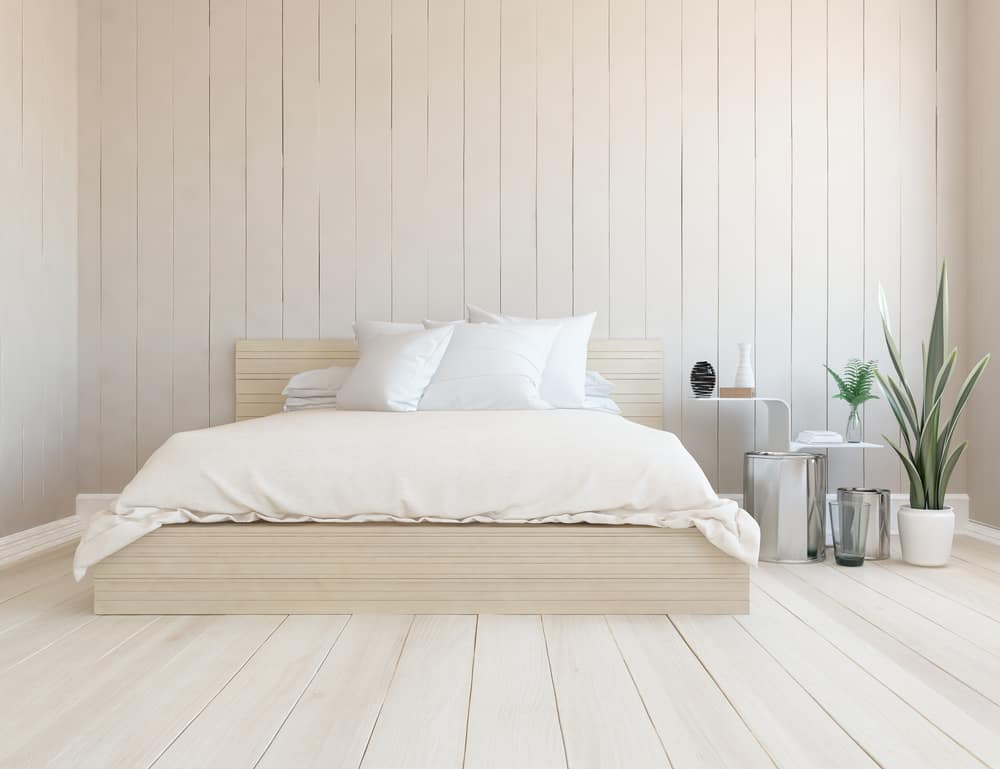 The minimalist bedroom décor features a wooden platform bed combined with a white bedset and oak floors. This makes the bedroom decoration comfortable and charming for you. This wooden wall accent also provides an attractive appearance for you to try. Adding some greenery in a vase will also bring fresh air into your minimalist bedroom. Wooden platform bed from homestratosphere.
The charm given to the bedroom provides a warm atmosphere. By using a soft mattress and box springs, it presents a stylish bedroom design and catches the attention of many people. Its minimalistic design makes a statement for a clean and tidy room. This white color scheme and hardwood floors create an airy and warm room design. Box springs minimalist bedroom from homestratosphere.
This is a close-up of the master bedroom which has a built-in platform bed with textured beige stone walls. Combined with this gray bedding set, it makes the bedroom beautiful and special. The idea of a clean bedroom using this wall color will give a comfortable feel. This heringbone wood flooring offers a warm feeling at night. Built-in platform bed from homestratosphere.
2. Clutter-Free
Yes, you have to declutter your scattered, less important junks in your sleeping space. Clear away, for example, random belongings, photographs, wall accents or collections. Getting rid them provide more space for the more crucial furnishings for minimalist style to your bedroom.
A clean white bedroom design with wooden beds and wooden wardrobes makes your bedroom look less cluttered. This decoration is also supported by the placement of ornaments that will present a simple design and still look minimalist. You only need to add some furniture for an attractive appearance. Clean white minimalist bedroom from apartmenttherapy.
This clean and elegant bedroom that doesn't use a lot of furniture is a good choice to avoid a messy situation. Just use a samoing wood bed table and combined with a white bedroom color scheme, your bedroom looks clean and comfortable. This wooden floor and some greenery will present a bright design of the room and keep it warm even at night. Clean minimalist bedroom from apartmenttherapy.
This is a simple bedroom decoration idea but can give a good impression to your bedroom. Using just simple furniture, these decorating ideas can create a clean and clutter-free look in your room. Choosing a headboard and console table from this wood gives a natural touch to your minimalist bedroom. Adding some wall ornaments in the form of statues and hanging round mirrors makes this a stylish room design. Minimalist bedroom decor from apartmenttherapy.
3. Go for Neutral Tones
A true minimalist look goes well with the neutral color scheme: shades of white, subtle beige, chromatic cream, light gray, khaki hues, and more. Neutral palettes are applicable for the wall, furniture pieces, bedding, and other accessories. This also applies to your furniture piece and storage ideas.
This is a simple way to make your small bedroom look minimalist. Apply light gray for your walls and white for the ceiling. By combining these two colors, your bedroom will definitely look minimalist. Just adding some furniture will give a minimalist touch to your bedroom. A large window on one of the walls also lets in sunlight and makes it look bright. Light gray color scheme from mydomaine.
Applying neutral colors to create a minimalist decor is a brilliant idea. You can use gray for the main color and add a touch of brown for the floor. By applying this color you will get a truly minimalist decoration. This white ceiling combined with large windows will bring a spacious and bright touch to this minimalist bedroom. Gray color scheme bedroom from mydomaine.
Using a soft white wall color in a small bedroom is a good idea to create a minimalist impression. Adding wood accents can give a contrasting look and make your bedroom calmer and warmer. So that your bedroom will be more comfortable. Wooden floors and wooden bedside tables will give a stunning look. Soft white wall color from mydomaine.
4. Simple Object
Going minimalist means you are editing and simplifying everything inside your bedroom. Purely simple furniture that will minimize clutters, one piece of statement-making artwork piece or a splash of green in a potted plant are some examples that can inspire you. Choose the one that you cherish the most.
Just put a simple piece of art in your small bedroom to get a minimalist impression in your private room. You can add a framed abstract painting above the head of your bed so that it will become the perfect focal point of the room. By using this idea you will minimize the clutter in your bedroom. Combined with the white color scheme, large windows and wooden bed frames make this bedroom look perfect and bright. Framed abstract painting from mydomaine.
You can place two house plants in your bedroom to minimize the clutter situation in your room. Combined with the bohemian design, this bedroom will look stylish and steal everyone's attention. Don't forget to add pompom decorations above the headboard for an eye-catching look. Add a wicker basket to store your small items. So that your bedroom will look neat and clean. Greenery on minimlaist bedroom from mydomaine.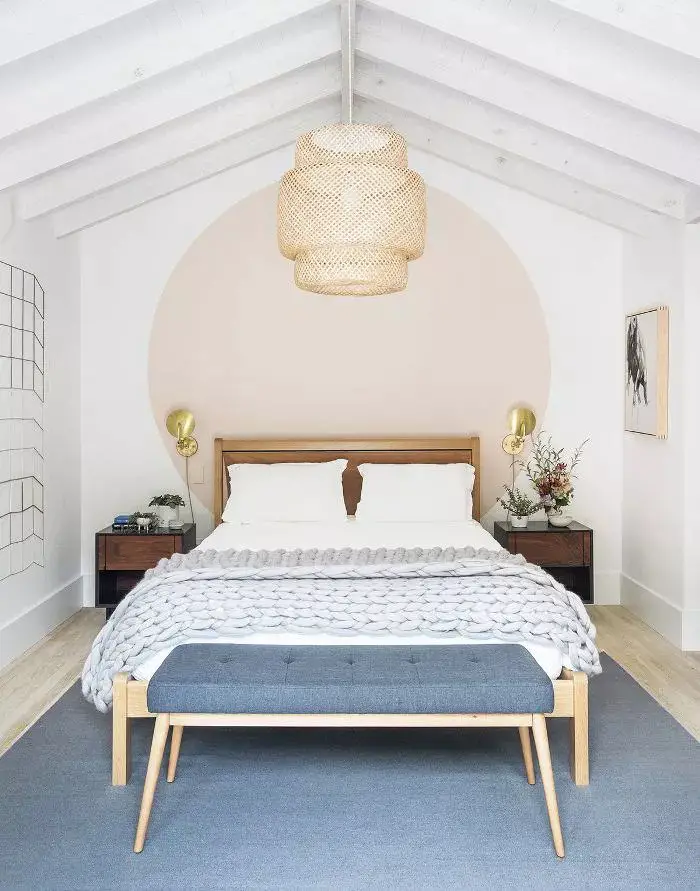 The appearance of this neat and comfortable bedroom brings a minimalist impression to your room. Choosing simple objects like simple artwork and flowers in a vase is perfect for your small bedroom. The white color scheme with gold accents on this scone lamp will give a spacious room design and look more elegant. Artwork and flowers minimalist bedroom from mydomaine.
5. Natural Lighting
Let the sunlight come in through your bare window, or at least the window embellished with the thinnest window treatments such as sheer curtains or blinds. The impact is nicely spacious, airy, and more modern bedroom space, especially complemented with the least amount of furniture piece.
Spacious minimalist bedroom with wooden bed and white walls. Plus large windows can create a bedroom design with natural lighting. You can complement this window with blinds that will give a stylish room design and steal the attention of many people. Decorations like this give the appearance of a dream minimalist bedroom for you. Blinds curtain from home-designing.
A special decoration is presented from the bedroom with wide windows. Natural light can naturally enter your room. So that your room will look bright and fresh. You can also add gray curtains to provide privacy and the perfect contrast with this minimalist bedroom design. The white color scheme combines with the wood accents on the floor and platform bed for a sophisticated look. Gray curtains and large window from home-designing.
Beautiful bedroom design by installing large windows can provide natural light that enters your room naturally. Spacious beds and fresh greenery can give your bedroom a fresh feel. This large window is equipped with thin white curtains to give you privacy while in the bedroom. So that it can make your bedroom look spacious and bright. Large window and sheer curtain from home-designing.
Still, confused with what or where to start first? Hope those minimalist style ideas can be helpful for you in sprucing your bedroom interior, even some of them only charge you a small budget.
(Visited 137 times, 1 visits today)
Tags:
Bedroom decoration
,
Minimalist bedroom decor
Last modified: June 9, 2022