Although the dining room is just a place that you will utilize in such a short time, you need to decorate it well too. Beautify your dining room just like you beautify your living room or bedroom. You can even apply the same concept and stuff for your other rooms into your dining room decoration. Basically, in beautifying the room won't only about the ornament but also the furniture and other interior aspects. Here are things that you can provide to beautify your dining room.
Applying Pretty Draperies
Sometimes people underestimate the existence of the draperies. But, trust me that if you can provide the good one with the proper design, you can make use of your draperies not only to cover your window but also to beautify your room.
Use patterned curtains to add a touch of greenery and avoid the garden outside. A friendly touch of nature is ideal in this dining room as it will create a relaxing environment to spend some quality relaxing time. The white color scheme and this Scandinavian dining table set make the room design perfect. Patterned curtains dining room from idealhome.
Botanical prints are a great way to connect your dining room with the outdoors. This is a very smart choice because the color is dark but slightly sheer, so light can still penetrate the space. Thanks to these curtains you can make your bohemian dining room design look more natural and inviting. Botanical prints curtain from idealhome.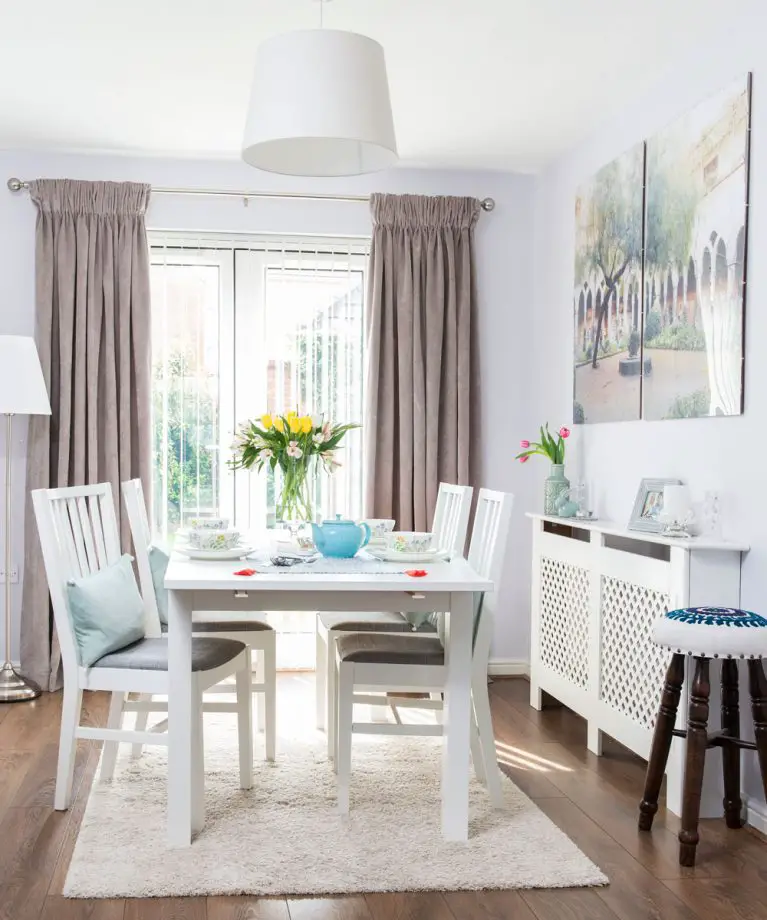 Using linen curtains in this dining room will give it an attractive look. You can hang glazed curtains on hidden open glass doors. This is the ideal solution, to cool a room with French doors and keep the heat from escaping for months. Combined with this white color scheme will produce a bright and spacious room. Linen curtain from idealhome.
Using Warm Reclaimed Wood Touches
'Old' might becomes the first impression of the reclaimed wood. However, if you are brave enough to use it as your furniture, then it will be really artsy. Even sometimes, the unfinished touch into the furniture can add beauty to your room. Moreover, it is not doubted that the wood is the material that effectively brings out the warm and inviting ambiance.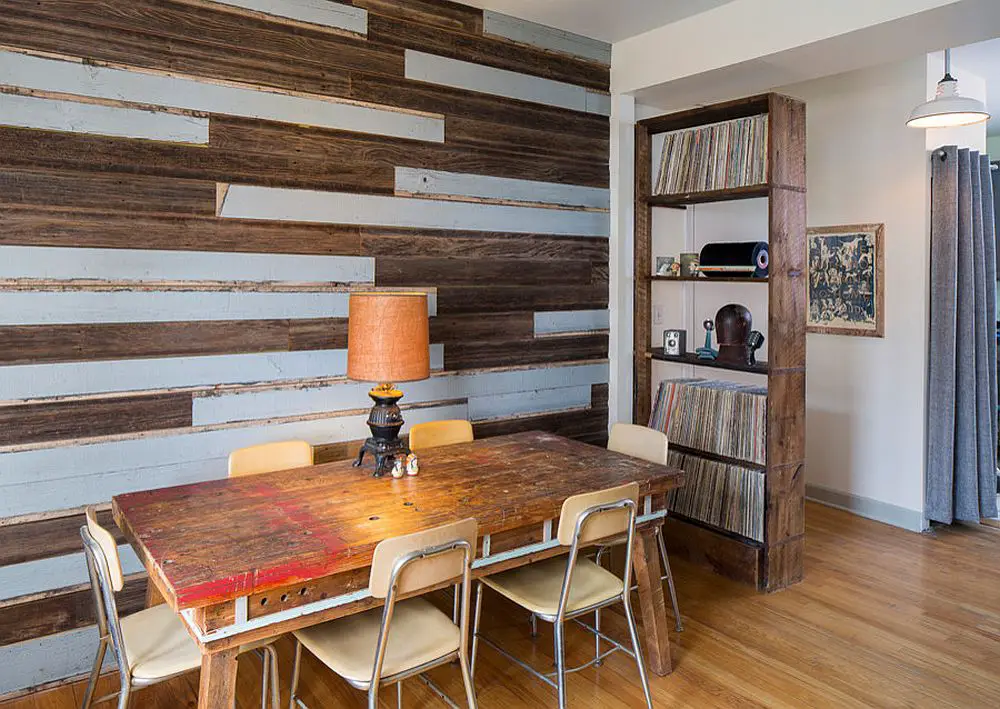 A reclaimed wood accent wall in a distressed finish is a cool way to give the dining room a shabby chic vibe to your living room decor. Complete the look of your living room with a reclaimed wood dining table set that will add a rustic impression to your living room. Reclaimed wood wall and dining table from decoist
This reclaimed wood and brick walls combine in a modern dining area. This wooden floor will give a warm impression to your feet when winter arrives. This Scandinavian and industrial dining table set gives the room a cozy and inviting feel. This antique wall decor adds a vintage feel to your room. Reclaimed wood and brick walls from decoist.
This contemporary dining room with reclaimed wood accent wall and acrylic dining table creates the perfect display and steals the attention of many. This reclaimed wood wall is complemented by a large painting that will be the perfect focal point of the room. A wooden floor equipped with a large black and white striped carpet will create a warm and comfortable room. Reclaimed wood accent wall from decoist.
Installing Unique Lighting
Besides its function to brighten up the room, lighting could also be used to beautify the room. It is known that nowadays there are so many different kinds of lamps with pretty designs provided at the stores. You can simply choose the one that has the proper design based on the dining room style concept you have. That will be really harmonious if you can combine the dining room lighting design with your room decoration style.
Tie up a rope in this mid-century-style living room will provide perfect lighting and steal the attention of many people. Having a design that matches the style concept of your beautiful dining room will present a charming room design. The bottom of this medieval dining table set features a striped rug for a charming look. Lighting mid century from housebeautiful.
If you're obsessed with something mid-century modern, you can add this unique lighting. Choosing this mid-centuy white chandelier will make your room decor more dramatic. It will be very harmonious if you can combine the design of the dining room lighting with the style of your room decor. Mid-century lighting from housebeautiful.
These two English street lanterns create unique lighting for your rustic dining room decor. They add a more relaxed feel to the dining room in light yellow. This vintage design brings a vintage feel to your room. Placing this on the dining table will make your room decor more stylish and will become the perfect focal point of the room. Two English lanterns from housebeautiful.
Providing Patterned Rug
The rug is something that you will utilize to give comfort while having a meal. Anyway, there is a fact that you can also use the rug to beautify the room. The idea is on how you can provide the one that has the beauty look. It could be from the pattern, colors, or texture. Then, don't forget to also make a good combination between the dining room rug design and the dining room decoration style. It is because of the harmonious aspect that will effectively create beauty.
Adding a rug under the dining table with this blue oriental motif gives a warm impression to the room. It will immediately catch your eye as its unique design makes for the perfect room decor for you to try. Using this dark wood dining table set will create a rustic look to your dining room. Rug under dining table from decoist.
The dining room is equipped with a rug under the leaf patterned table, providing an attractive appearance for you to try. You can also play with whites and darker woods for a clean and tidy room. This beaver brown color is a great choice, especially if the rug is decorated with some pretty patterns. Leaf patternd rug from decoist.
A large oriental rug that can easily accommodate an entire dining area will bring fresh energy into the rustic dining area. This red carpet color will create a charming room decor and will steal the attention of every guest who comes. Pairing it with hardwood floors and this beige color scheme brings a warm vibe to your entire space. Large oriental rug from decoist.
Creating Good Centerpiece Arrangement
The centerpiece is one pretty thing of the dining room that should be provided for sure. You will face it right in front of you while you are dining so that it is really worthy. Anyway, in creating the centerpiece, you should adjust it based on your table shape and size. Make sure that you don't make your centerpiece to be too much as it makes your dining table looks crowded and doesn't have enough space to put your food and drink.
These fabulous pink and white themed greenery will make for charming dining table centrepieces and grab the attention of many. Choosing this blooming flower will make your dining table look more attractive. White blooms in this vase and cutlery set complete the look of your dining room. Garland flower centrepieces from homebnc.
Utilizing rose and plum tones for a floral arrangement in the center will give your dining room a very cozy feeling. Adding some flowers in this ceramic vase gives a perfect room design and steals the attention of many people. In addition to flower vases, you can add fake pumpkin ornaments in pastel colors for a beautiful room design. Flower vases from homebnc.
These farmhouse-style dining table centerpieces use lanterns, and these green plants in small pots are the center of attention of every guest who comes. Using a white cloth tablecloth will give an attractive appearance. This is one of the best dining table decoration ideas if you are looking for something fun yet simple to make. Farmhouse dining table centerpieces from homebnc.
Adding Colors to the Wall
It will be the easiest way yet confusing if you can't decide the right color to be applied. The easy way comes because you just need to paint it. Then, the difficult thing is how you can give such a good combination between the wall paint color and the decoration around. Anyway, if you want to have the festive one, then don't be afraid to apply the bright color. The last thing that you should do is by adjusting the furniture and ornament to calm down the wall color.
Bright yellow walls, geometric chandeliers and abstract art turn this formal dining room into an eclectic space and make for a truly beautiful display. This dining room wall design gives a bright and fresh impression to the room. This unique wooden dining table and chairs set will complete your dining room decor. Yellow wall dining room from housebeautiful.
This dining room chose gray for the wall color scheme. Adding a large gallery wall in this matching color will create the focal point of the room and give your dining room the perfect look. Using a reclaimed wood dining table complete with unique white chairs, it brings a modern rustic look to the room. Gray wall dining table from housebeautiful.
This soft pink wall decor complete with some framed paintings will create an attractive modern dining room. This wall decor will be the perfect focal point of the room and grab the attention of many people. This black and white dining table set is equipped with a sun brust lamp just above the dining table providing dramatic lighting into the room. Pink wall dining room from housebeautiful.
Providing Wall Ornament
Since the dining room commonly has a small space, then providing the wall ornament could be the best choice that you can do. It is because of the space that the wall ornament need won't reduce the spot to put your furniture. In addition, the blank spot in your wall is too valuable if not be used effectively. For the wall ornament itself, the easiest way will be the painting. But, you can also have the family picture wall gallery, wall greenery, or other artworks.
Having a formal dining room, you can add a charming traditional oil painting. Hanging on the dining room wall and equipped with an antique-style gold frame, this will make your dining room decor livelier. Combined with this mid-century-style dining table set, it will make the room look more comfortable and inviting. Large oil painting from hgtv.
Adding wall hangings by making this art gallery will make your room decor look more stylish and will be the center of attention of many people when visiting your dining room. This gallery wall features a candy color palette that will bring color to your dining room against a white backdrop. Gallery wall dining room from hgtv.
Large prints of family portraits are perfect for your own custom wall art. You can place this wall decoration in your dining room so that it will produce a charming room appearance and steal everyone's attention. Using a black wooden frame complete with a blue wall background, this will create an attractive room look for you to try. Largee prints family portraits from hgtv.
Pretty Touch for the Ceiling
Look at how you can make the ceiling looks pretty by applying the wallpaper. This idea might sounds unfamiliar for you, but you can really adapt if for sure. It is really easy and affordable since you just need to apply the wallpaper. Hence, add your ceiling beauty by installing the pretty lighting. Of course, you should adjust the lamp with the ceiling wallpaper that you choose to make everything looks harmonious.
This bright dining room features a dark blue wallpapered ceiling, bright walls and an eye-catching chandelier. This decoration will create the perfect look of the room and will steal the attention of every guest who comes. Choose a dining table set complete with blue cushions on the chairs and this blue tablecloth is a great contrast to your dining room ceiling wallpaper. Dark blue wallpapered ceiling from elledecor.
This sunny breakfast spot features a blue and white floral wallpapered ceiling. With an all-white color scheme, this dining room gives the impression of a sleek room. This chandelier just above the dining table brings a dramatic glow to the entire room. Blue and white floral wallpapered ceiling from elledecor.
The gold patterned wallpaper on the ceiling adds to the elegance of this dining room. Paired with this large gold lantern, it brings dramatic yellow lighting to the entire room. This traditional classic living room style creates a charming room. The off-white color scheme and hardwood floors give this room an interesting design. Gold patterned ceilling wallpaper from elledecor.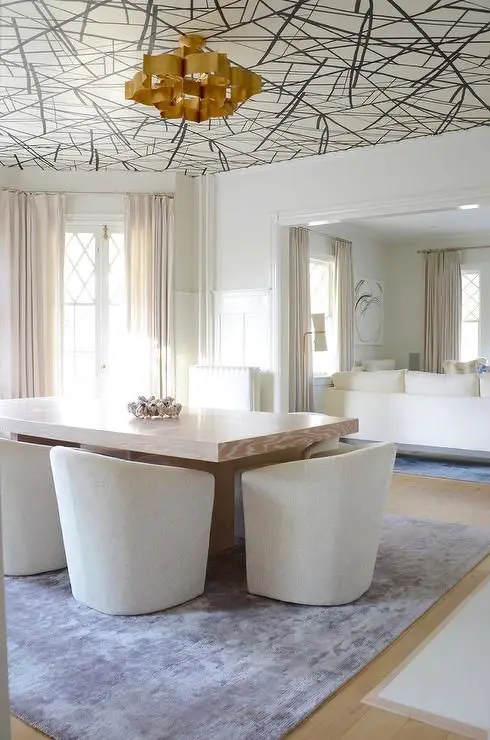 The luxurious dining room is made bolder and edgy with graphic wallpaper on the ceiling. You can add a modern style gold chandelier to produce an interesting room decoration for you to try. This modern dining table set also brings a stunning and perfect look to the room. Graphic ceilling wallpaper from digsdigs.
Make your dining room as interesting as possible will boost your mood to eat. By following the ideas above, hope you can create your beautiful dining space.
(Visited 76 times, 1 visits today)
Tags:
Dining room design
Last modified: January 9, 2023