This winter we need to renovate the house so that it can make us warm. Every place in our home should be able to make us relax. Therefore we must make the backyard as comfortable as possible. One of the things we can do is apply a fire pit on the back of the house. The fire pit can also add to the beauty of the house.
Fire pit area or campfire area can be a great place to gather with family. The idea of the campfire area comes from simple metal styles, brick or stone. These materials can easily be found at stores that sell home and garden equipment. Here are some fire pit ideas to enjoy the winter in your backyard.
Brick Fire pit
If you want to enjoy a cozy fire in the winter months, you can consider adding a brick fire pit to your backyard. While bricks are not the cheapest option, they are easy to find and can be an affordable way to add a nice focal point to your outdoor space.
The fireplace design, which was built with red bricks, has a sweet round shape and is perfect when combined with wooden chairs that have been repainted in white. This fireplace pit is perfect for use in backyard decorations during winter, use a fireplace according to your warmth needs. Round red brick fireplace from homedit.
You can build your own brick fire pit to save on expenses when decorating your winter backyard. This fireplace is very suitable when combined with wooden chairs that are placed around it, you can try it right now. Greenery and towering trees make this backyard area even more shady. Brick fireplace with wooden chairs from homedit.
This backyard fireplace and deck design has a harmonious color and material, namely red brick, this material is more sturdy so it is suitable for outdoor applications. You can sit and relax in this area comfortably and warmly, try adding some rocking chairs that are repainted in white to make it look more elegant because they have the same color as the glass window frames. Fireplaces and decks with matching materials and colors from homedit.
Bring a modern style and feel to your backyard decor by adding a fireplace square brick combined with concrete as a table area. With this, your outdoor fireplace will function more and is perfect for those of you who want to display a minimalist backyard decor. The greenery around him became a fresh sight. Brick table fireplace from homedit.
The combination of red bricks, pebbles and slabs is the perfect combination to make as a series of DIY backyard fireplace designs that can warm your body in winter, besides that this fireplace also has a sturdy material and is not easily porous. No need to spend a lot of money to make this fireplace design. Natural material backyard fireplace from homedit.
For a contemporary feel, this brick fireplace equipped with a concrete countertop is an elegant alternative to try. This fireplace can provide warmth, utility and make your backyard decoration more dramatic. This fireplace can be equipped with a comfortable soft chair. Contemporary brick fireplace with concrete countertop from homedit.
Many important things can be designed outside your backyard, for example, you can add an accent brick fire pit surrounded by lounge chairs that can be used simultaneously with your family or friends. In addition to the fire pit, you can also use this backyard as an outdoor dining area for a different atmosphere. Fire pit surrounded by lounge chairs from homedit.
Stone Fire pit
You can add a stone fire pit to your outdoor space for a cozy, elegant touch. The beauty of this fireplace will not only warm you up, but it's also beautiful. Select a natural stone fireplace. This is the most cost-effective option for creating a stunning outdoor fireplace. Natural stone fire pit kits are easily affixed to the existing stone patio. Using decorative outdoor lights around the stone fire pit will make your backyard a winter wonderland, and children and adults will love it.
Choose and use a stone fire pit design for a winter backyard decor. This fire pit design is surrounded by wooden chairs that have a bold color so that the area around it feels more colorful and fun. You can use a fire pit design with a round shape that doesn't take up much space. Round stone fire pit from hgtv.
If you have a backyard decoration with a limited size, then you can use a cobblestone fire pit design, the materials used are cheap and of course easy to find in building stores around your home. You can use this fire pit when it starts to get colder outside. Stone fire pit on budget from hgtv.
This rustic-style backyard decoration can be perfected by using stacked stone fire pits that can be used as outdoor heating accents at night. This fire pit design is equipped with several reclaimed wooden chairs without re-polishing so that it presents a vintage feel that never goes out of fashion. Stacked stone fire pit from hgtv.
Besides being able to be used as an outdoor heater, the accent stone fire pit is also a source of light that can be used at night. You can arrange these stones neatly so that they can form into a cheap fire pit design that is very much needed in winter. Fire pit stone as outdoor lighting from hgtv.
Choose and use fire pit materials that are strong and sturdy with changing outdoor weather temperatures. Stone is the best choice of material that you can use, besides having cheaper materials, this stone fire pit is also a favorite among the public because it has a price that is not too expensive. Neutral color stone fire pit from hgtv.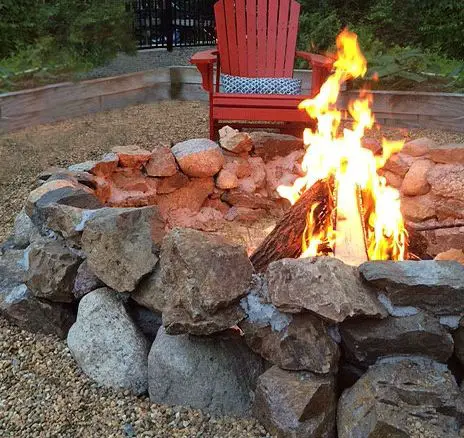 Collect natural stones in sufficient quantities to make a rustic fire pit DIY that doesn't cost a lot of money. This fire pit can also be used as a bonfire that will accompany your evening with your family in a relaxed manner during winter. You can try this fire pit idea easily and cheaply. DIY rustic fire pit from countryliving.
Metal Fire pit
Metal fire pits are a great way to extend your outdoor season by adding warmth and social fun to your outdoor setting. They can be incorporated into any outdoor setting and can be simple to set up. It can create a modern look. There are many benefits to using metal for your fire pit, including its ease of use and ease of maintenance.
One of the best options for decorating your winter backyard is to add a chimenea metal fire pit that is quite large. You can also enjoy the warmth of this fire by placing several outdoor sitting areas close enough, besides that you can also install a grate just above this fireplace to turn it into a functional grill. Chimenea metal fire pit from homebnc.
To bring an old-fashioned feel to your backyard decor, you can add a metal fire pit that has a fairly large size. This fireplace design is cheaper because it has recycled main materials, don't forget to add some sitting areas around this fireplace for a warm relaxing area. Ancient metal fire pit from homebnc.
In addition to providing warmth, the metal fire pit design can also be used as a soothing light source at night with a more dramatic effect and atmosphere. You can place this metal fire pit on a wooden deck to make it more secure, now you can re-sand this fire pit to encourage natural rust. Metal fire pit on wooden deck from homebnc.
The perfect way to make a warm statement in your winter backyard decor is to add a metal fireball pit. The fire pit material used has a black oxide layer that is able to withstand high temperatures, besides that the metal material will also last all winter with a new look. Metal fireball pit from homebnc.
Repaint your metal fire pit with black to make it look more shiny when exposed to sunlight. You can design a single letter on the surface of this fire pit as an eye-catching custom aspect. This fire pit can also adjust the outdoor temperature according to your needs. Custom black metal fire pit from homebnc.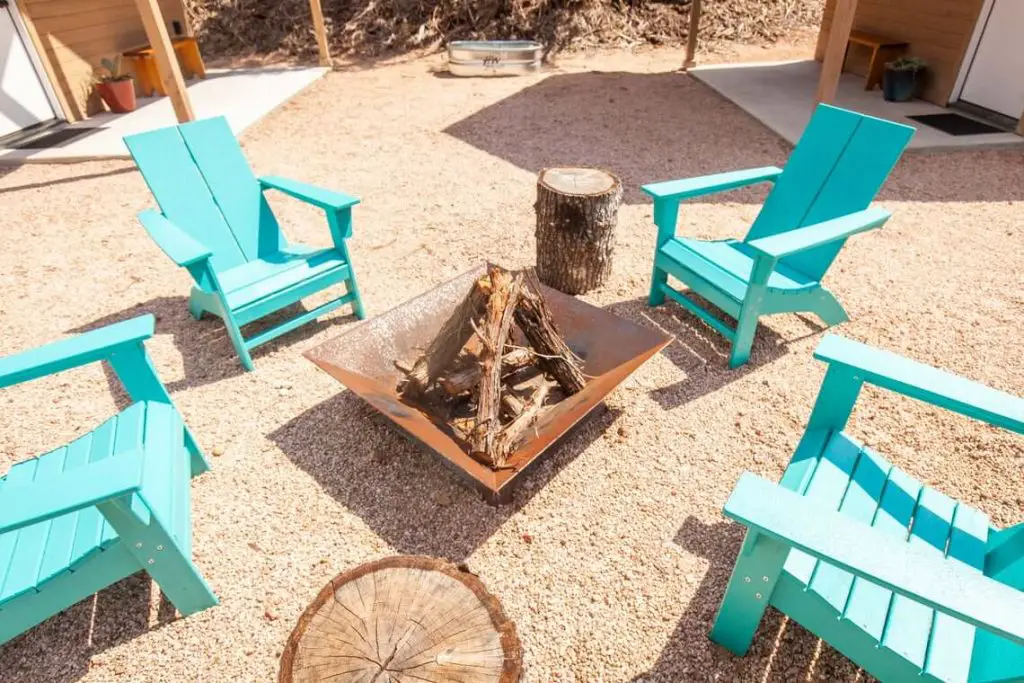 This open metal fire pit design can also be used as a bonfire that can warmly welcome your guests or family while in the backyard. This fire pit is surrounded by wooden chairs that have been repainted in pastel colors, making the backyard decoration more colorful and fun. Metal fire pit design used as a bonfire from homebnc.
This rusty metal fire pit has a perforated pattern which has a quite beautiful appearance. The materials used are also freer and last longer with different outdoor temperatures. In addition, this fire pit design also looks very sleek and artistic. Artistic metal fire pit from homebnc.
Concrete Fire pit
A concrete fire pit is the perfect addition to your winter backyard decor. These stylish and functional fire features can make your outdoor space cozy and inviting all year round. Whether you're entertaining guests or need a place to warm up in the winter, this fire pit can provide both practical warmth and a wintry atmosphere. It is a durable fire pitthat suitable to be placed for outdoor.
Adjust the use of a fireplace with the style of your backyard decor, when you have a modern-style backyard then you can use a concrete fireplace combined with a glass container that will protect your fire to be safer. This fireplace provides warm and dramatic lighting. Combination of concrete with fire pit glass from onekindesign.
If you have a backyard decoration that is large enough then you can use some outdoor furniture such as a fireplace, outdoor dining room and kitchen. This fireplace has a neutral color, namely light gray so that it is easier to combine with other outdoor furniture around it. Combination of concrete fire pit with outdoor kitchen from sebringdesignbuild.
Sleek and super sturdy, this modern fire pit also looks shiny as it has been repainted in jet black. Some of these fire pits can also be used as coffee tables that can be used to put drinks and snacks that will accompany your comfort while in the backyard. Repaint black concrete fire pit from sebringdesignbuild.
This rectangular fireplace design made of concrete material has a smoother and stronger surface so it is very suitable when placed in your backyard. You can add a wooden bench that is equipped with a few throw pillows as a softer and warmer sitting area of course. Rectangle concrete fire pit from sebringdesignbuild.
U shape bench which is equipped with a fire pit concrete table is a combination of outdoor furniture that can be placed in your backyard patio decoration. This fireplace has a rectangular shape that is able to put more food or drinks provided. Next, use some pillows for additional heating accents. U shape bench with fire pit concrete table from sebringdesignbuild.
Wooden benches and chairs that are placed around this concrete fireplace are the right choice because they have a warmer surface when used. In addition, you can also choose a slimmer shape such as a square shape that does not take up much room in this backyard. Several types of green plants are perfect for your eyes. Square shape concrete surrounded by wooden seating area from onekindesign.
This round concrete fire pit design surrounded by colorful wooden chairs is an outdoor furniture idea that is suitable for use in your backyard with a fairly small size. This fireplace can be used when the outdoor temperature starts to feel cold, the high fence makes this backyard decoration more private. Round concrete fire pit from onekindesign.
When you use the backyard as a relaxing area as well as an outdoor dining room in winter, the fireplace accent is a complement and a must-have warmer. In addition to having a smoother surface, this fireplace also has a material that is stronger and not easily broken so it is highly recommended to try it. Outdoor dining room with concrete fire pit accents from onekindesign.
Enjoying the winter outdoor vibe around the fire pit can bring a warm nuance. The fire pit can liven up your backyard. The fire pit is a way for modern people to feel the classic atmosphere like ancient people did.
(Visited 140 times, 1 visits today)
Tags:
Backyard fire pit ideas
,
Winter fire pit designs
Last modified: January 24, 2022