9 Open Shelving Kitchen Ideas for Smart Storage
Instead of using cabinet that need big space, open shelving storage looks better. Don't worry for dust, because some people put utensils that are daily used. It will make your kitchen brighter and more open. Furthermore, it shows the beauty of your dishware. Even, this open shelving storage ease you to organize kitchen utensils and stuffs.
Rustic Open Shelving
Wood shelves look simple for minimalist kitchen style. Though using old wooden palette, this shelves can be insanely chic. However, Make sure to dry the utensils first before save them into this rustic open shelf to keep durable.
Working Kitchen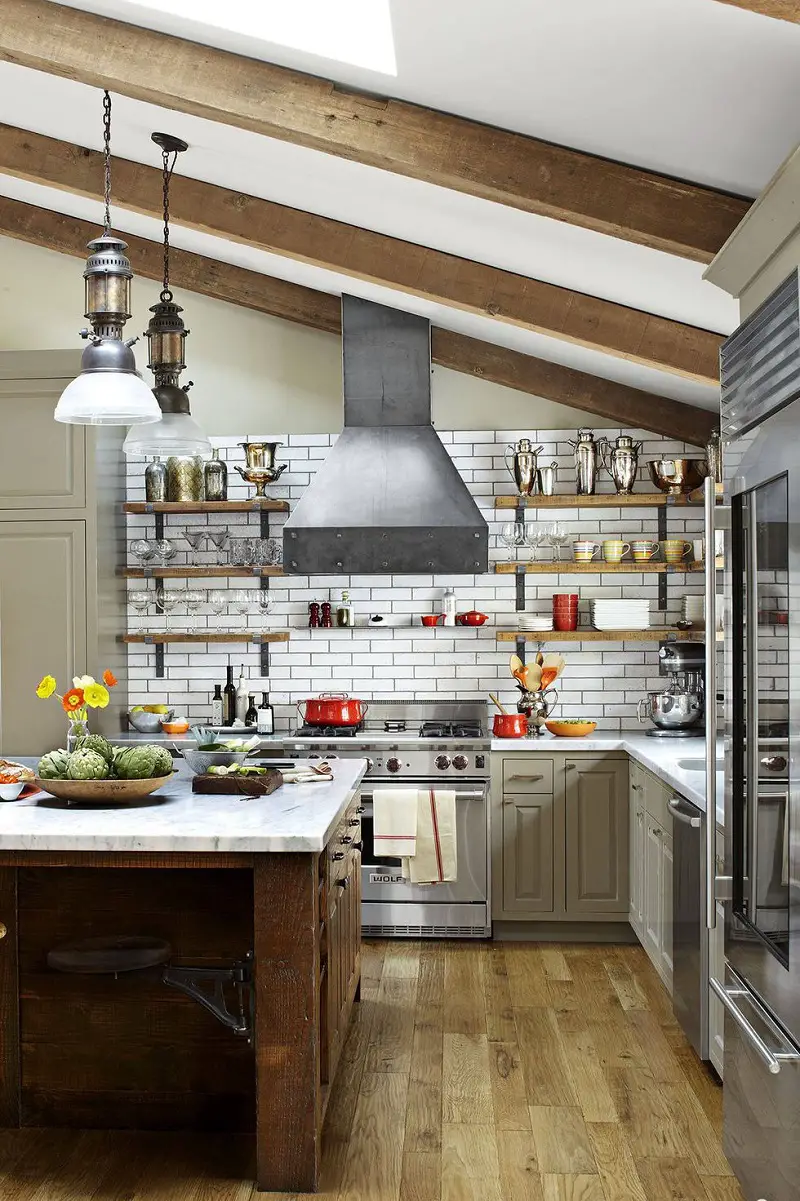 Brick walls against the open shelving looks great for this kitchen design. This is inspired by industrial home style. You can see this kitchen character from its industrial lamps, rustic table, and wooden floor which look catchy.
Tabletop Trivet Cole
Try to adopt this minimalist kitchen design soon. Let see how plates, bowls, and other utensils arranged beautifully at tabletop trivet like this. Moreover, it improves the kitchen decoration by open shelving which looks unique.
Studio Muir Haight Kitchen
Create open shelves over the sink. So, you can save utensils directly after washing them. Put kitchen essentials, oil, salt, sugar, or even jar at the open shelves. Furthermore, other kitchen utensils in big size can be put on the cabinet.
Half Open Shelving
Save the space and let the wall show up its beauty by using a half open shelving and cabinet for the rest. So, keep some utensils just like frying pan, griddle, and other stuffs at cabinet. Meanwhile plates, bowls, glass, and other eating tools at open shelves.
Blue Kitchen with Open Shelving Storage
The idea of kitchen with open shelving helps you to organize utensils with free style. In addition, you are please to ease yourself in arranging any tools as you need. For example, putting some tools which is often used near you.
Gallery Orange Yellow
With pretty open shelving design, this kitchen looks cute. Orange wallpaper with yellow walls for the rest makes this room more cheerful. Have fun to cook any meals or serve your family favorite drinks everyday easily.
Stylish Open Shelving
Show up your stylish dishware at open shelving it good idea. Give them bright lighting and let the utensils be the focal point of this kitchen design. Furthermore, this rustic open shelving look best for any room decoration.
Gallery Bright Open
Show up your utensils brilliantly with this open shelving kitchen style. With simple lighting, this room looks brighter. No need more lamps. Just be careful to organize your tools here for eluding clutter.