This a Valentine's day, this is the celebration of love. Why not bring this vibe to your home? Instead celebrating in the restaurant and spending much money, better for you to decorate your home as romantic as you can. Sometimes it is more important to spend some romantic time together with your beloved one and cherish it for a lifetime. To start, you can decorate your bedroom to celebrate this moment with your beloved one. Make your bedroom like in the hotel and as romantic as you can and bring coziness while spending and sharing full of love moments. All you have to do is decorating your bedroom with Valentine's day ornaments. Such as, heart ornaments, love signs, flowers, balloons and use pink or red colors to strengthen the romantic and festive vibe. You can also decorate your bedroom with love words to make your couple more amazed.
Nothing more romantic than perfect lighting. Valentine's day is the right time to switch your regular lamps to dim, romantic light. Set the romantic light or moody light in your bedroom to get the most out of the vibe it exudes by playing with shadows. You can also place some candles around your bed to strengthen the romantic and warm nuance. And then the soothing ambiance will make this day more special and romantic.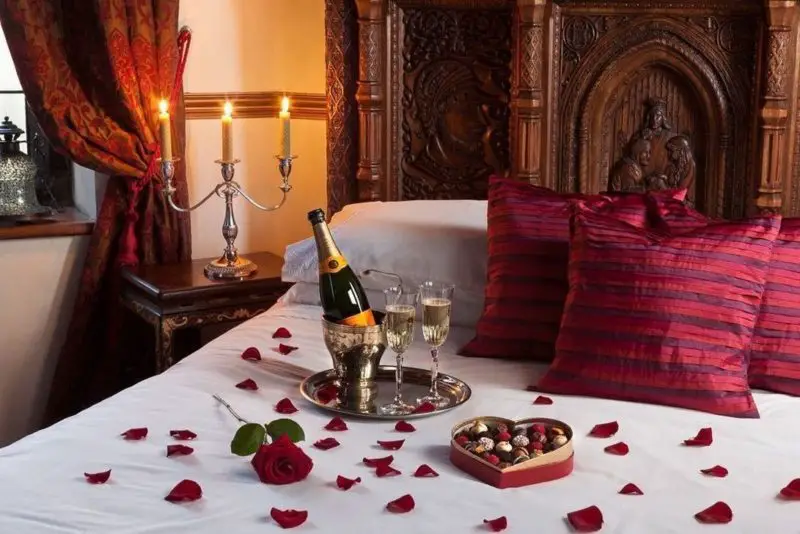 Make your Valentine's day more memorable with flowers and balloons. The whole bedroom filled with balloons and lots of flower petals is such a great decoration for Valentine's day. Spread the rose petals on the bed and if you want to spend with a wine you can place it on the bed. You can talk together while drinking wine and it can increase the quality of your love.
Giving a gold and red with a slight wooden touch is a perfect royal decor. Decorate the bedroom with this golden and red royal combination with red bedding, dramatic curtains, and golden light can create a fancy look and romantic at the same time. This decor is enough to set the mood but a thoughtful addition of a love basket with red wine and chocolates will surely help you get good love on this day. By following those ideas above of comfortable Valentine's bedroom decor ideas it can help you to get a memorable moment on Valentine's day.
(Visited 303 times, 1 visits today)
Tags:
Valentine bedroom decor ideas
Last modified: August 14, 2020