How To Install Wood and Glass Staircase For Appealing Home Design
Wood and glass contemporary staircase looks common and simple but will give modern touch for your home design. They are the best material to make your home look sleek. Simple design also can create huge effect towards home design. So, make sure you choose your staircase looks appealing and chic with your house theme decor. See further inspirations below;
Give Much Emphasis
White room will always sleek and elegant. With wood and staircase, the room appears modern. Overall, this area looked larger and bright.
Beautiful Staircase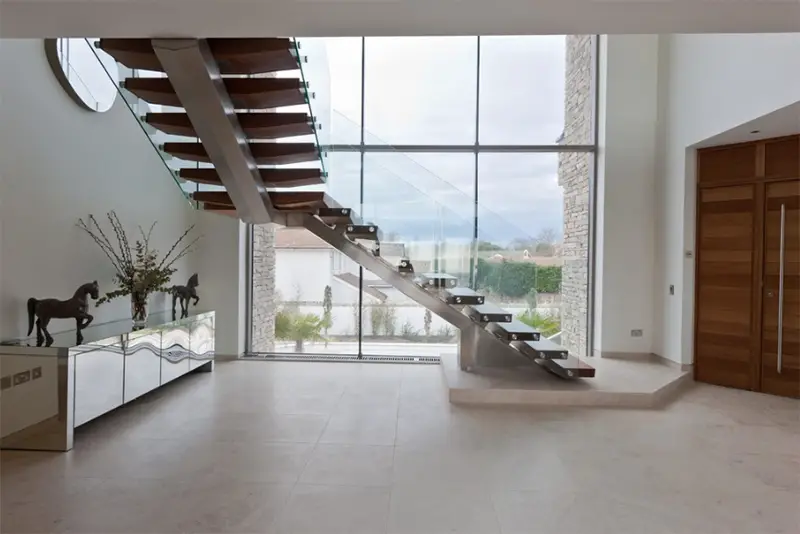 Look at the spine and treads of the staircase that makes this area look stunning. This is a sculptural, simple, but attractive design for your house design. Works well for a big house with large area like the picture.
Custom Stairs
Simple stair design works well with the colorful wall art hanged on the wall. The area around the staircase shows a lovely place. Blue, white, and natural color brings this room into sophisticated look.
Tall Wall On One Side Glass
You may use one side only for glass installation. However, it should be tall to keep you save while going up. Add some lights to ease you see each steps. Then, the light makes the stair look brighter and modern.
Asian Staircase Inspired
The owner of this house adds lights on the steps to ease people going up. White before glass makes this stairs look different. With wooden floor, the room looks Asian but also rustic. This area will be adorable for spending winter time.
Elegant Staircase
For easier grasp, the designer adds wood also at railing part. So, whether adult or children will be safer to go up. Eventually, this is an elegant stair that works well for modern house design.
Beaches House Staircase
A house near beach always appears relaxing and comfy. The uses of simple wood and glass for staircase add a touch of modern style. However, it will not change the house theme as beachy look.
Dark Wood Statement
Dare to use darker wood material? It is not black just dark brown but look elegant for this staircase design with white wall. The staircase even play role as the focal interest at this area. What a neat staircase and sleek, right?
Nice Simple Approach
The wood is not only used for the steps but also on the top of glass railings. This staircase design allows you to use its underneath as storage or other function like putting some green plants.