8 Remarkable French Country Bedroom Styles That Never Go Out Of Fashion
French country style bedroom shows more about colors, patterns, and material that blend in cohesive combination without look too busy or outdated. It may appear feminine, colorful, welcoming, and or casual with old-word style but nit goes out of fashion. Furthermore, you can combine it with traditional or modern decoration as well. See these French country bedroom decor that may inspire you;
Fabric Combination On The Bed
By applying several fabric types, this bedroom looked inviting, little bit eclectic, and cozy. White sheets and floral pillows are in great combination to pursue French country bedroom style. Love this bedroom style? Just copy then.
Old-World Elegance Look
With combination from southern French and rustic French country design, this bedroom looks warmer. Decorative motifs and antique furniture brings this bedroom to old-world elegant look. Take this style to have a welcoming and cozy bedroom decoration.
With Plenty Of Traditional Touches
Look at this bedroom with layered fabrics and rustic wood that shows vintage style decoration. Furthermore, the wrought iron chandelier and the leather bench are there to bring French classic look. Without makes the room outdated and or fussy, the pattern and motifs works together beautifully.
French Style With More Patterns
More patterns namely stripes, chinoiserie, gingham, and checks, and floral tell you further about French bedroom style. At this bedroom you will find toile and floral that work very well to create comfy bedroom look.
Gorgeous Pale Blue Bedroom
Though French style usually plays at creamy white, neutral brown, or warm gold color, but add pale blue is not a mistake. This bedroom even looks more charming with blue shade mix with brown and warm gold.
Eclectic Flair Of French Country Style
Bedroom with personal touch such as a hand-written poem on the wall looks dramatically awesome. Romantic headboard tells more about French country style. Moreover, unique decor with a standing ladder as storage keeps it heart-touching.
French Country Bedroom With Luxurious Touch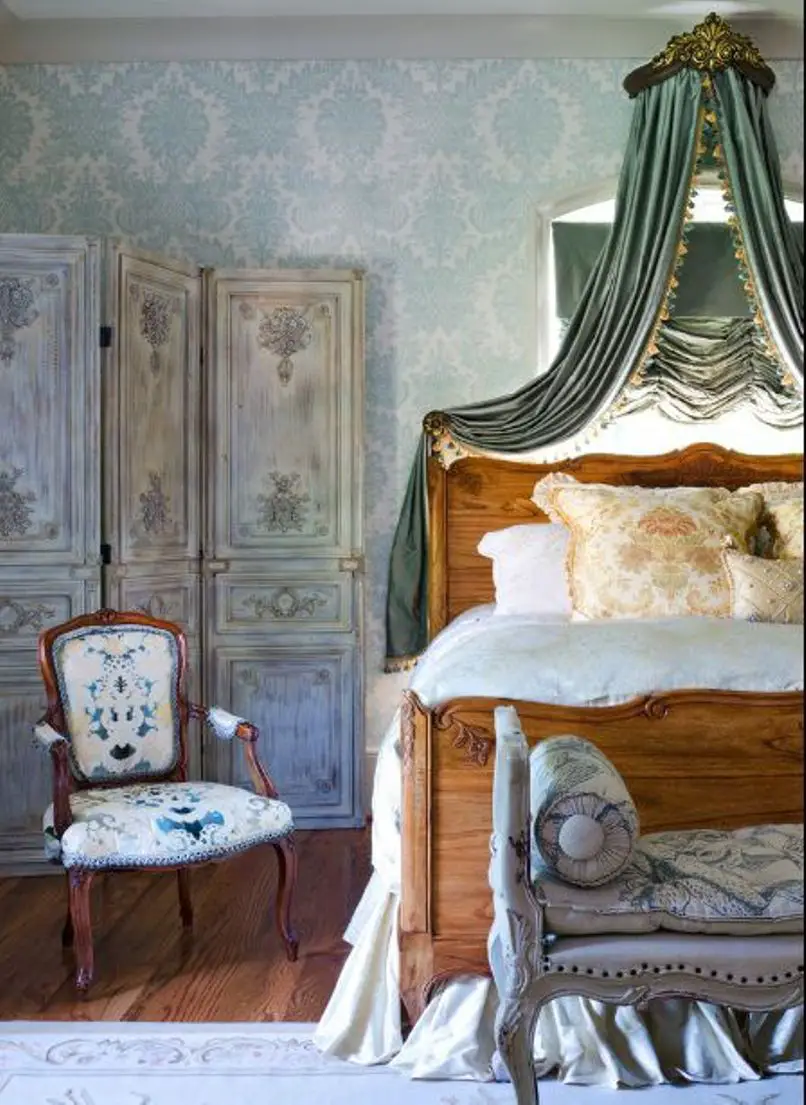 French country bedroom with distressed screen works well with wooden floor. So, what makes it looks luxurious? See the canopy bed that look like a crown. Further, an antique chair is installed to pursue a glam bedroom decor.
With Texture and Layered Fabrics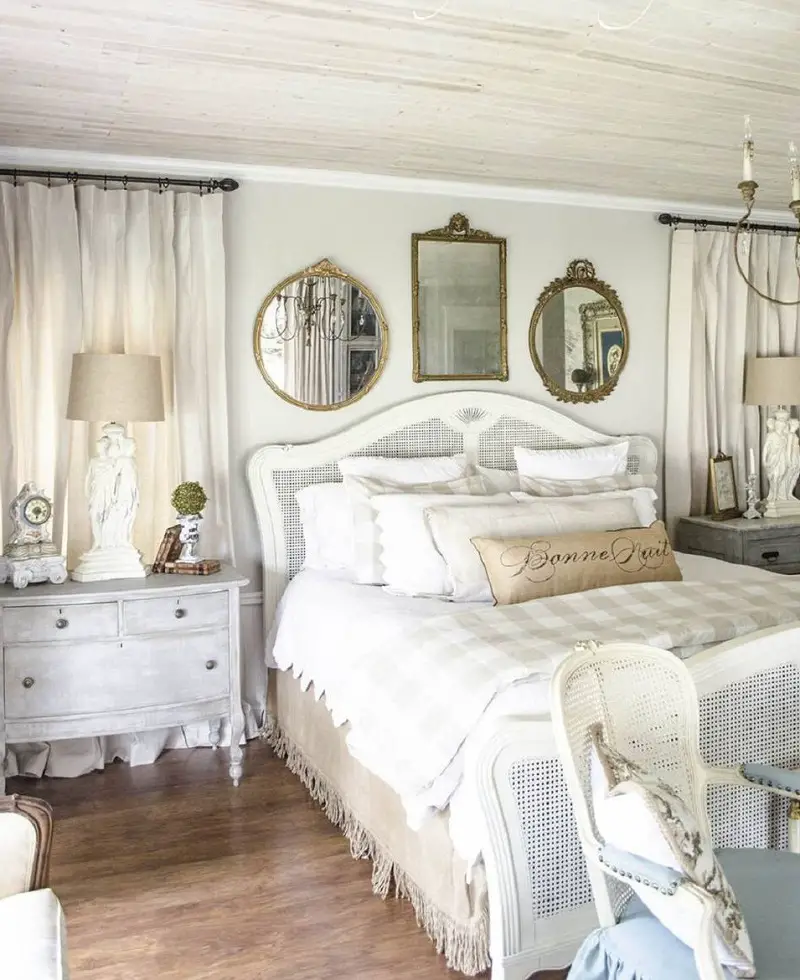 Even without contrast color, French bedroom style will not look boring. Due to it comes with variety of texture and layered fabrics. Those combination brings bedroom into more relaxing atmosphere that will make us feel cozy and calm.