8 Highly Evolved Bedroom Designs With Fireplace To Stay All Day And Night
We want to spend more time at home in winter. However, we need a place that warm and relaxing. When most people take more at living room, consider to stay at your bedroom to get more privacy time. Having a bedroom with fireplace inside may give you better feeling. See these following contemporary bedroom designs with fireplace below;
Bedroom With Stone Wall And Fireplace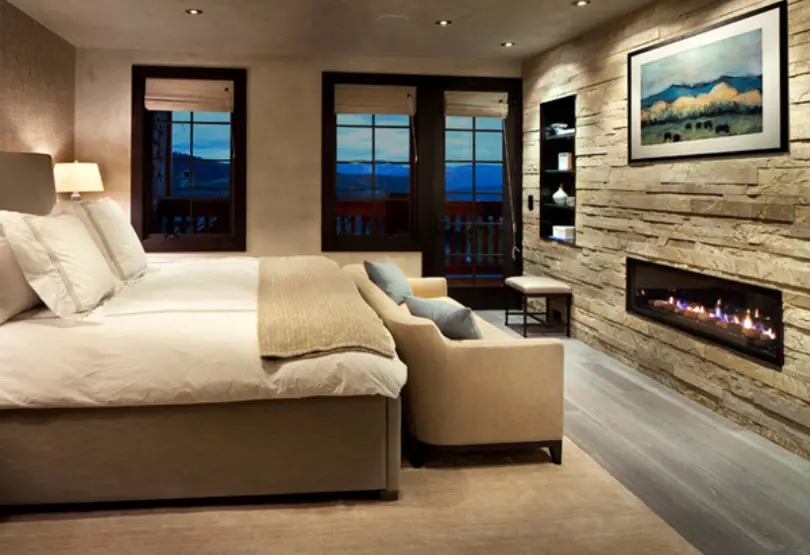 Everything inside this room is designed for an exquisite bedroom appearance. Look at the fireplace with rectangular shape that plays role as this room focal interest. Then, a beautiful frame over it completes this stunning fireplace design.
Fireplace At The Center
This modern bedroom designed well with amazing baseboards and stunning walls. Furthermore, the fireplace that located at the center of this room perfectly idyllic. This is an extra cozy room that will make you feel calm and relax.
Shades Of Grey Bedroom
A bedroom with floor-to-ceiling headboard looks spacious with mirrors on either side. With neutral combination of grey, black, white, and brown, this bedroom appears modern and stunning. The fireplace stands alone and adds more statement.
Fireplace With The Marble Tiles And Stone
A romantic bedroom with fireplace inside is a perfect place for your honey moon. Even, both of you can enjoy the view outside through the glass window. What a stunning bedroom design!
Stunning Bedroom With Fireplace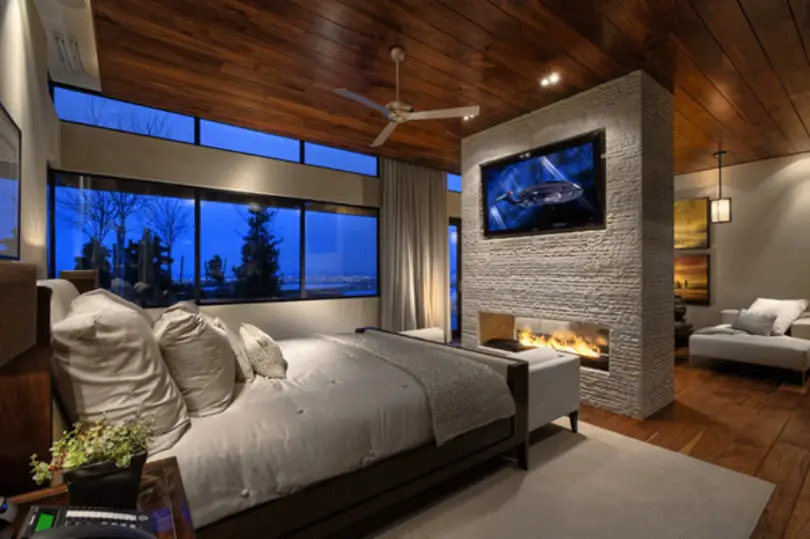 The perfect combination of stunning view of the surroundings, cool furniture, and mind-blowing furniture will dramatically boost our mood. No more accents needed to install at this adorable bedroom.
A Calm Space Bedroom
The designer creates this room as relaxing place to rest. The neutral palette combined with subtle patterns and textures brings this bedroom as a calm space to get rest better. The owner adds African arts for a stunning view.
Bedroom With Ledge-To-Ceiling Branches
What about this minimalist bedroom? Adorable fireplace nest to the branches looks awesome. Then, a colorful artwork hung on the wall dramatically attractive. This bedroom is great place to rest and or have warm conversation with your spouse.
Handsome Bedroom With Fireplace
With white and dark khaki, this bedroom appears as like as a gentlemen room. Get a relaxing room with soft and subtle color is actually warm and cozy. Just spend your winter time at this place while watching TV or anything.