Storage spaces are important for all bathrooms, regardless of sizes. Placing a bathroom shelf can be challenging in a small space, but there are many good alternatives. You can buy a special shelf for a small bathroom or get creative with repurposed objects. Here are five cheap but practical ideas for small bathroom shelves.
Storage Baskets and Ropes
Buy several storage baskets or wooden board and tie them to the wall with ropes. Attach several small hooks before tying the ropes on them. These baskets are great to store shampoo, soap, shower gel, and other bathroom products. Attach them in a vertical formation for a chic look.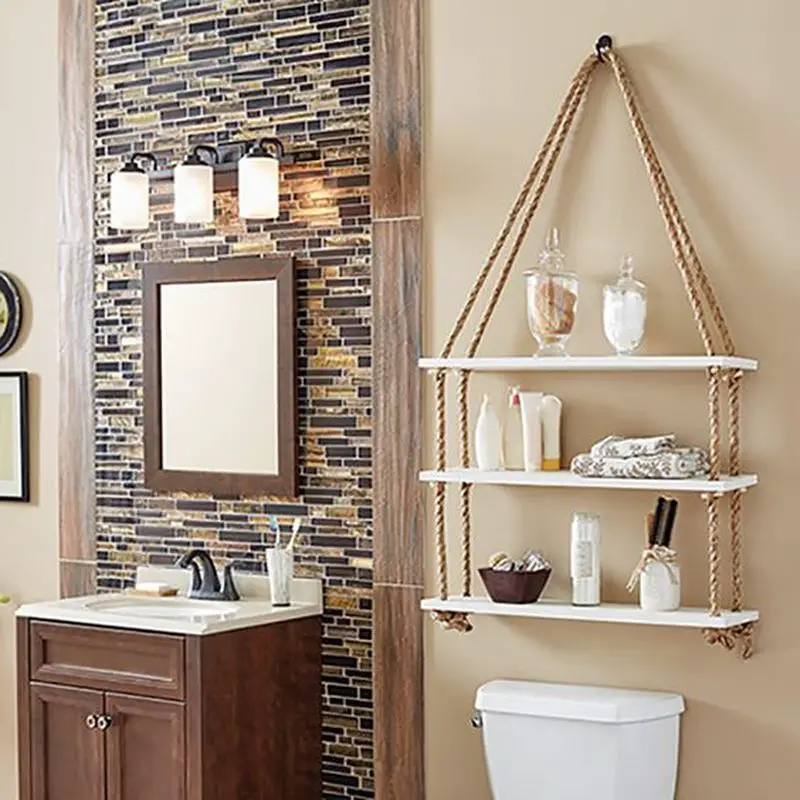 2. Old Ladder and Wire Baskets
If you have an old ladder, turn it into a small bathroom décor. Sand the surface and repaint it before placing it against the bathroom wall. Tie several wire baskets on the vertical steps to store bathroom supplies.

3. Simple Floating Shelves
Several planks and brackets are enough to create additional shelves. Floating shelves are ideal for small bathrooms, and you can store a lot of things easier. Paint the planks with your favorite colors to add personalities to the bathroom.

4. Door Panel Rack
The door panel rack is a perfect bathroom shelf design for a minuscule space. You can nail or hook it on the door. The rack is ideal for organizing bathroom supplies and home spa products. You can easily grab any bathroom product you need from standing position.

5. Laundry Basket Arrangement
Laundry baskets are ideal as storage shelves for a dry bathroom. You can stack them just like that or arrange them on an open shelf. The baskets have interesting natural textures to match all types of bathroom interior. To create easier access, stack the baskets according to sizes, with the larger one at the bottom.

Adding a bathroom shelf is a perfect storage solution for a small space. Choose one of these easy shelving solutions to create storage spaces in the bathroom.

(Visited 355 times, 1 visits today)
Tags:
Cheap Shelving Ideas for Small Bathrooms
Last modified: November 18, 2021