Are you having a small bathroom and not enough place to store all the stuff? Not a problem. Various bathroom shelves and storage hacks give you an easy solution even without a large closet or cabinet. Here are some ideas you can consider for smart storage solutions.
Rack Above the Door
The space above your bathroom door is a great place for supplies, such as fresh linens and bathroom products. A simple overhead metal rack can do a decent job as an extra storage space. Just make sure to provide a step to reach those supplies when you need them.
Ladder Storage
An old ladder can be a great storage space for mini bathroom. It is thin enough to stand in the bathroom, but with extra spaces to hand your towel supplies. You can also hand wire baskets on the ladder to place bathroom supplies, like shampoo bottles, toothbrushes, and home spa products.
Wicker Baskets
Wicker baskets are popular solutions for bathroom shelf and storage hacks. You can place them under the sink or just outside the door, with their textures adding a unique visual touch. Wicker baskets are great for storing fresh linens and towels. Meanwhile, smaller baskets can be great places for bathroom supplies.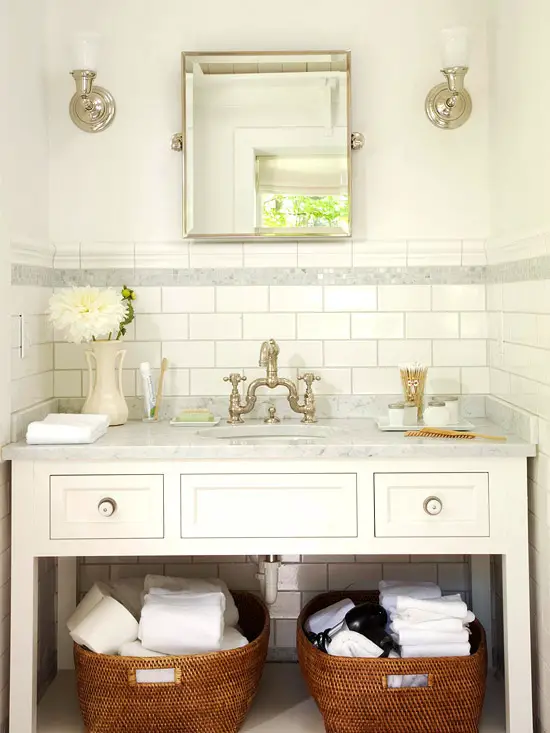 Storage Above the Toilet
Your toilet tank has potential storage space for small supplies. Place wicker or wooden tray on the tank, and you can easily store bathroom supplies. The ability to place extra shampoo bottles, soap bars, and toilet paper make this spot a perfect, often-overlooked storage space.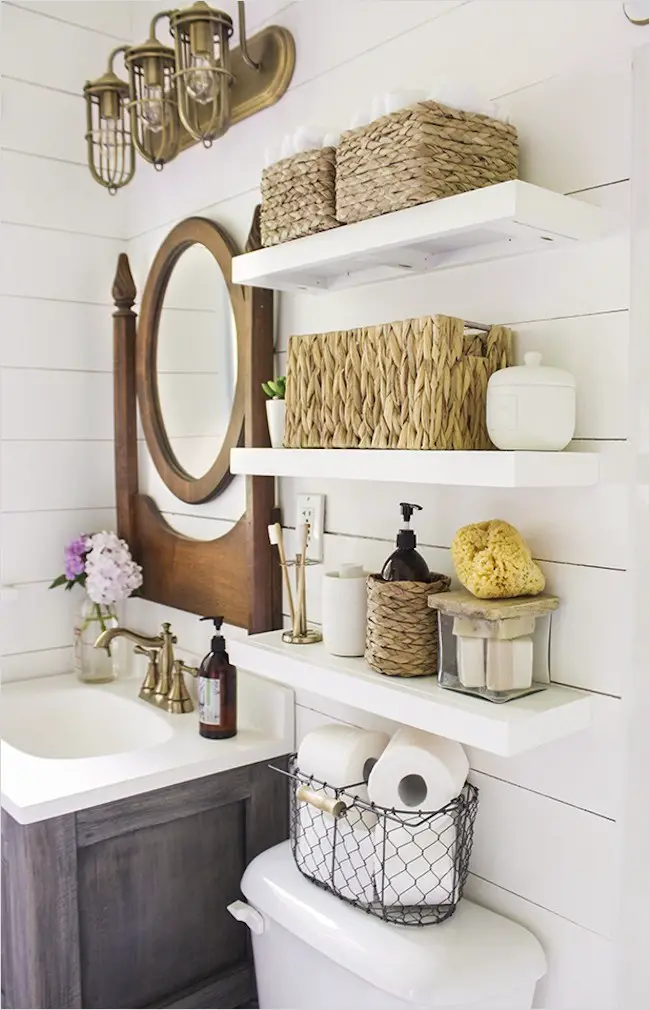 Inverted Bracket Shelves
Instead of regular boards for floating shelves, try the ones with inverted brackets. Choose brackets that have panel-like models, preferably the decorative ones. They not only make your bathroom more interesting but also prevent small, loose items from falling over easily.
Bathroom shelf and storage hacks may sound simple, but they are beneficial in a small home. Follow these tips to create smart storage spaces you don't expect in a tiny bathroom.
(Visited 98 times, 1 visits today)
Tags:
Bathroom shelf ideas
,
bathroom storage ideas
Last modified: September 23, 2022