Your bathroom can be the most beautiful room at home. How could it be? There are some ways to make it true. One of them is by having some ornaments which will enhance your bathroom design. Don't think that it will cost more. Surely, there are a hundred ornaments having low cost yet incredible to have. Simply add frames, chandeliers, lighting, rug, mirror, wallpaper, or any other ornaments so that you can dress up the wall, floor, and vanity.
But, where should you begin? Let's start from the floor first. After applying bathroom floor ideas, whether it is tiles, stone, or wood, consider having a rug. It will enhance your floor look. Also, it adds warmth and decorative elements. Then, continue to the bathroom wall. Just don't let it plain. Take some frames to be an incredible wall gallery. Moreover, you can have artworks to put an aesthetic impression, like a painting. The floral theme sounds great. If you want to make a statement, apply a wallpaper. Then, you can have patterned curtains for window treatment.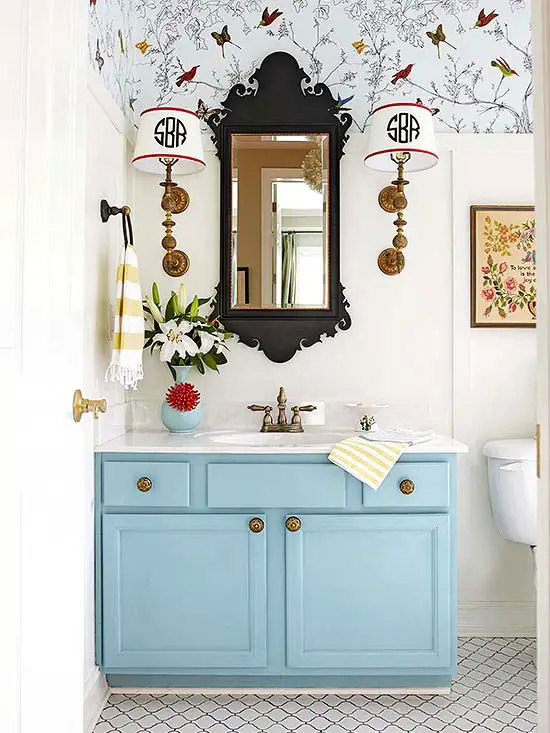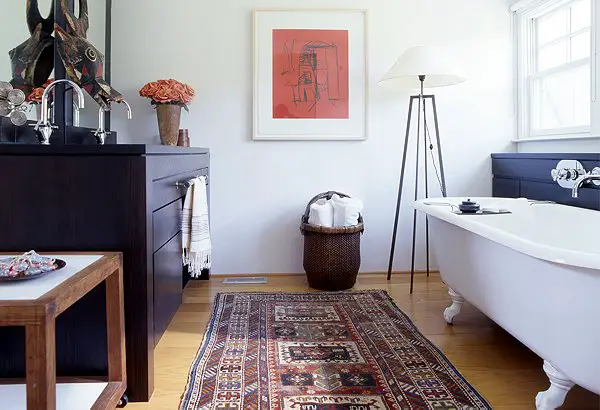 Furthermore, your vanity and sink are the next spots to consider. Mirrors are the must-have elements for your vanity. They complete your bathroom interior decor. As well as, for those whose bathroom space is small, applying a larger mirror helps to create a spacious illusion. For example, a wooden mirror will enhance a rustic bathroom style. Combined with an aged vanity cabinet and wooden countertop, it creates a stunning rustic vibe.
On the other hand, greenery can be your simple bathroom ornaments. Bring a vase of houseplant to your bathroom will freshen up the ambiance. In addition, pick some flowers and put them in a glass vase to make vanity natural ornaments. The next thing that you can't forget is about lighting. Main or decorative lighting plays an important role. Like in your vanity, you have to choose the right lighting fixture, sconces or pendants can be the alternative. To make a glamour impression, a crystal lamp or chandelier can be the main lighting fixture to opt for.
(Visited 85 times, 1 visits today)
Tags:
bathroom ornament
Last modified: September 23, 2022