Arranging stuff you usually use on a daily basis is important to keep your house organized and clean. Make sure you do it properly not only to make it neat but also effective and eye-catching.
Moreover, the kitchen is a place where you always go to because it stores your daily necessities. That is why having well-organized kitchen appliances is a must. These tips below will help you enjoy your activity in the kitchen, such as cooking or social gathering more.
1. Classifying the Equipment According to Its Kind
It is better for you to organize plates, glasses, and other dining ware in one area. Place it in an easy-to-access area so you will pick it up efficiently when you need to eat.
Same goes with kettle, pan, knife, or cutting board. Arrange them near the stove, so it is easier for you when you need them for cooking.
Adding hooks for storing cooking utensils next to the stove will make it easier for you to pick them up. You can retrieve them efficiently when you want to use. Cooking utensils from familyhandyman
To make it easier for you to find cutlery, you can store it in one area. Store it on an open shelf so that it will remain visible. Open shelf storage from familyhandyman
Storage of dishes and books on a kitchen island with open shelves will create a neat look. You can combine it with other ornaments for an attractive appearance. Kitchen island with open shelves from digsdigs
Applying a classic kitchen island with many storage spaces underneath will make the kitchen tidy. You can use the storage to store your kitchen utensils according to the type. Classic kitchen island from digsdigs
A rustic island with plate storage space makes it easy for you to take it back when you want to eat. You can arrange them neatly for the perfect decoration. Rustic island with plate storage space from digsdigs
The open kitchen island with storage of cutlery will make it easy for you to pick it up. Add a wicker tray and metal basket to complete the look. Open kitchen island with storage from digsdigs
Kitchen island with open food storage is the right choice to decorate your kitchen. Add open storage shelves to organize dishes and other cutlery. Kitchen island with open food storage from digsdigs
Modern kitchen design with a fully equipped kitchen island with open shelves to make the idea of storing your plates and glasses easier to find. Modern kitchen design from digsdigs
2. Uses A Lot of Pull-out Drawers
Drawers help you store all the kitchen equipment effectively. They allow you to reduce the clutter as much as possible and make the kitchen feels way more spacious.
Having the pull-out design provides a better look for your kitchen. It covers all the equipment and brings up the neat, elegant and sophisticated touch to the interior.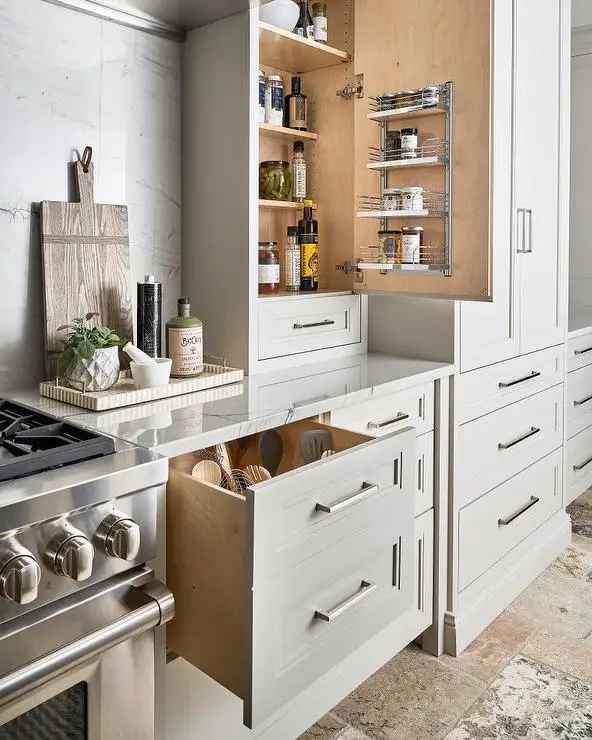 Having a drawer in your kitchen will give you a better view. A pull-out drawer will work well for storing your kitchen utensils and still look neat. Pull-out drawer from decorpad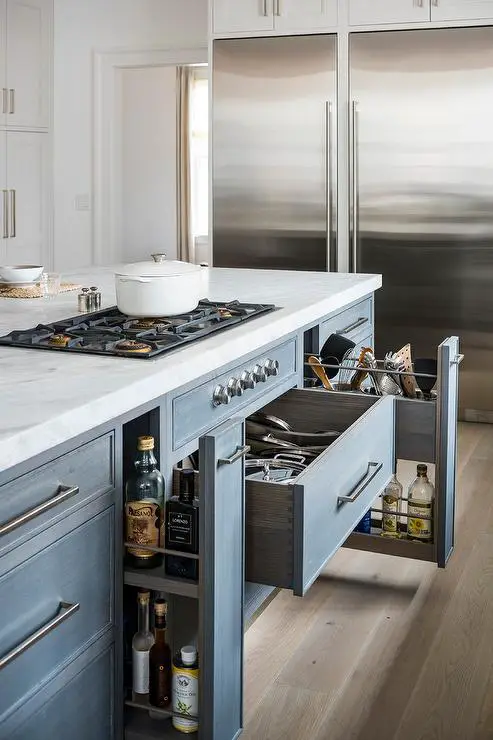 Storing cooking utensils in the kitchen with a pull-out drawer will present an elegant and sophisticated look in your kitchen so that it can attract everyone's attention. Cooking utensils
Having a pull-out drawer design will save space in your kitchen. The pull-out drawer will give some benefits for you. You can easily save your herbs and get a neat kitchen decor. Pull-out drawer design from housebeautiful
Storing cutlery in a pull-out drawer is the perfect idea for your minimalist kitchen. The monochrome kitchen design adds to the attractive impression with the sleek drawers. Minimalist kitchen from housebeautiful
Has a pull-out drawer design that gives a tidy kitchen design. You can put trash in the drawers for a clean kitchen design. Wooden pull-out drawer from drivenbydecor
Storing a variety of cutlery and knives in a drawer with wooden dividers creates a neat look. You should try this idea. Cutlery and knives drawer from drivenbydecor
This pantry with a pull-out drawer provides an attractive design for you to try in your minimalist kitchen. There is much storage inside that can be used to store your kitchen supplies, herbs, or anything you want. So that a spacious kitchen will be created. Pantry with a pull-out drawer from drivenbydecor
This unique corner pull-out drawer makes it easy for you to store some of your cooking utensils. Use a transparent divider for a neat look. Corner pull-out drawer from drivenbydecor
Using transparent dividers to neatly store the cookie cutter will provide the perfect organization idea inside the drawer. So that your drawers don't get cluttered. Transparent borders pull-out drawer from drivenbydecor
These wooden drawers give your kitchen a minimalist look. This method makes it easy for you to store various cutlery easily and neatly. Wooden drawers from drivenbydecor
3. Think of Which Ones You Will Use the Most
You need to be sure which kitchen appliances you will use the most and the ones you will use occasionally. It gives you a consideration about which one to put in where.
For example, if you use your blender every day, then place it on the countertops or near the sink. But if you use it occasionally, it better for you to store it inside the drawer or cabinet.
Option for arranged the kitchen appliance that you used often to put in the open place in the kitchen cabinet. Such as glass, plate, and bowl. It giving you a perfectly easy way to make everything neat Kitchen cabinet from thespruce
Think to use the space corner in the kitchen countertop to put a toaster, electric kettle, and some knives. It gives you more efficient and easier to reach and reuse in the daily routine. Electric kettle from thespruce
If you use a coffee machine, place it on your kitchen countertop. You can also place a toaster and blender if you use it frequently. Coffee machine kitchen table from bhg
To make it easier for you to find a blender, just put it on your countertop. Then place other items in your kitchen cabinet so that it will look more organized. Wooden countertops from bhg
Placing the oven and other electronic devices in the cabinet will make your kitchen look neat and clean, so it will create an attractive decoration. Oven and other electronic devices cabinet from bhg
4. Use Glass Jars to Put All Seasoning and Herbs
When buying herbs or seasonings, they usually come in their own plastics, wraps, packs. Not pouring them in jars will make the kitchen look messy and dirty.
Glass jars help you organize all of that neatly and prettily. After pouring it, you can name the jar based on its filling.
Arranging the mason jar in the kitchen cupboard will make the kitchen tidy. Add stickers to make it easier for you to choose the herbs you want to take. Mason jar in the kitchen cupboard from mountainroseherbs
The idea of storing herbs and spices in a jar will make your kitchen decor avoid clutter. Arrange the mason jars on an open shelf so you can create the perfect kitchen decor. Storage herbs and spices from ellaclaireinspired
Try using a glass jar to store herbs and spices in your kitchen. Then place it on the shelf to make it look more organized. Glass jar storage from thekitchn
To keep the kitchen clean, storing herbs and herbs in a glass jar is a great idea. Place it on an open shelf for a neat kitchen. Kitchen clean from makespace
Choosing a glass jar for the idea of storing herbs and herbs in your kitchen will give benefit for you. So it's easier to find and still looks neat. Glass jar from my100yearoldhome
Create the neatest and cleanest kitchen by following those tips on how to organize your kitchen appliances.
(Visited 177 times, 1 visits today)
Tags:
Kitchen appliances organization ideas
,
Kitchen organization ideas
Last modified: March 1, 2023