Nothing beats the happiness of walking into a newly refurbished house, especially when it's decorated with an array of classic country decor. Despite its seemingly lavish-looking interior, you can recreate a chic country house without breaking your bank.
Wondering how to recreate this rustic beauty? Here are some of the best country decor that you can make at home.
Rustic Mason Jar Wall Decor
Storing a lot of unused mason jar? Don't throw it out immediately. Transform the old glass into a rustic decoration by filling with lamps or flower branches and then display it on a blank wall. Easy and affordable to make it, this rustic decoration will be a great way for the beauty of your home.
Try adding a mason jar complete with flowers and fairy lights to your country house for an eye-catching look. Hang it from reclaimed wood on the wall so it becomes the perfect focal point. Reclaimed wood from homebnc
You can add a mason jar complete with fairy lights and decorative flowers on the walls of your country house for a simple and eye-catching look that can inspire. Masson jar complete with fairy lights from home-designing
Hang a mason jar complete with flowers on the wall of your home. So that a more attractive rustic impression will be created. Hang a mason jar from homebnc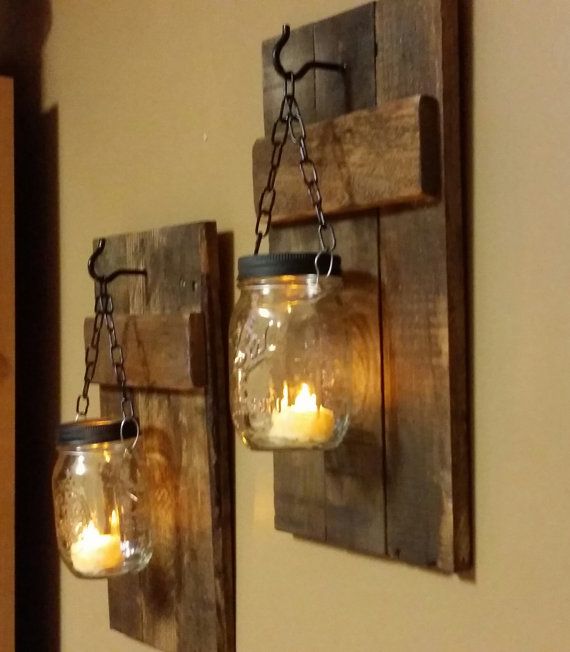 Don't throw away your unused jars, you can use it to decorate your wall. Fill it with candles and hang them on the wooden board that attached to the wall. It surely can bring a rustic vibe to your home. Jars with candle from emdecors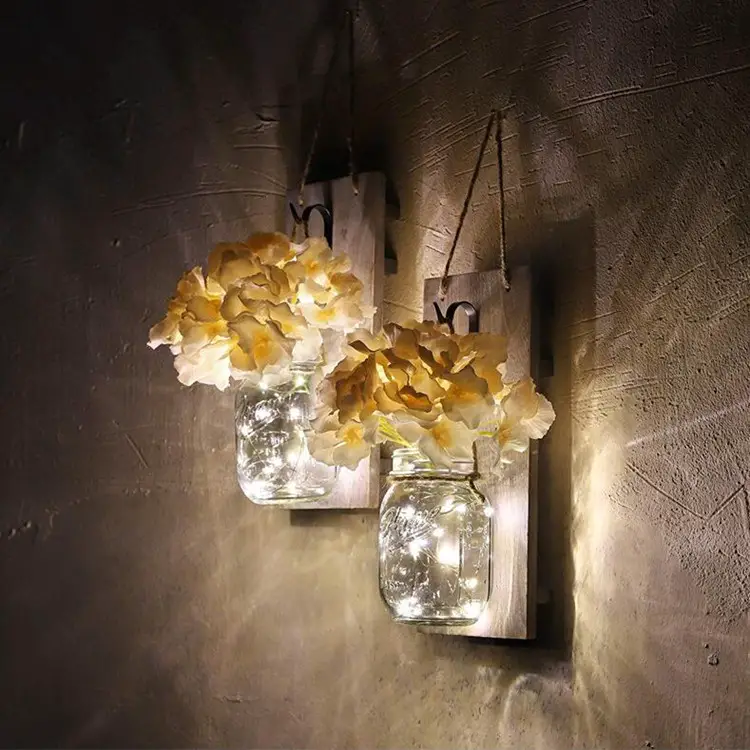 This is a decorating idea that provides a more charming spark. Through an elegant lighting accent with a used jar decorated with flowers on it, this also enhances the perfection of the country home decoration. Jar with lighting and flower from lightboxchina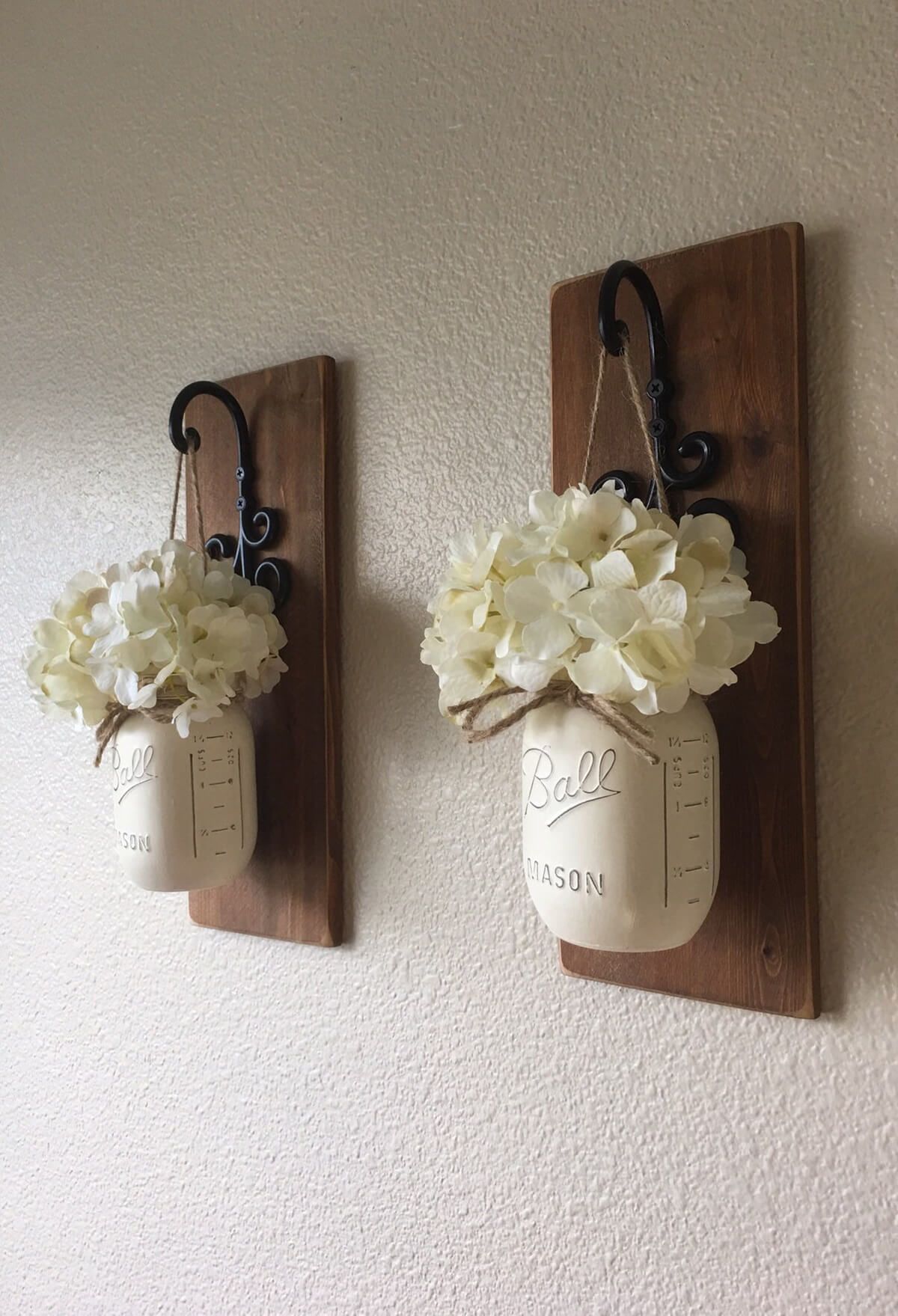 A country touch comes to the jar complete with blooming flowers. Install it on the wall of your home so that it will create an attractive decoration. Blooming flowers from espacomoda
DIY Flower Vase from Stump
Forget purchasing a new vase for your flowers. This wood stump is a unique and environmentally-friendly alternative to store your plants creatively. Bringing a natural and idyllic feeling to your decor, easily make it by cutting a plank of wood into two, and start carving.
For a rustic and attractive appearance, you can use a stump vase. Adding some flowers and placing them on the table will complete the decor. Rustic stump vase from corediy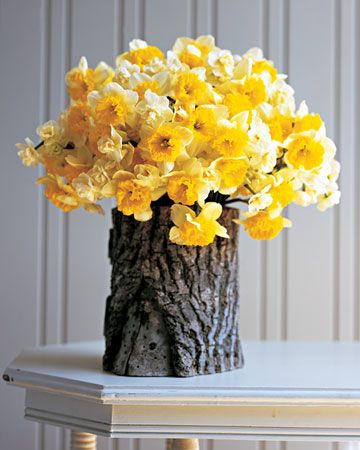 Utilizing a piece of wood and using it as a flower vase is an enchanting decoration design. Fill the stump vase with yellow flowers to look bright and contrast. An antique touch with a vase attached. Give the impression more graceful and beautiful. Yellow flowers from corediy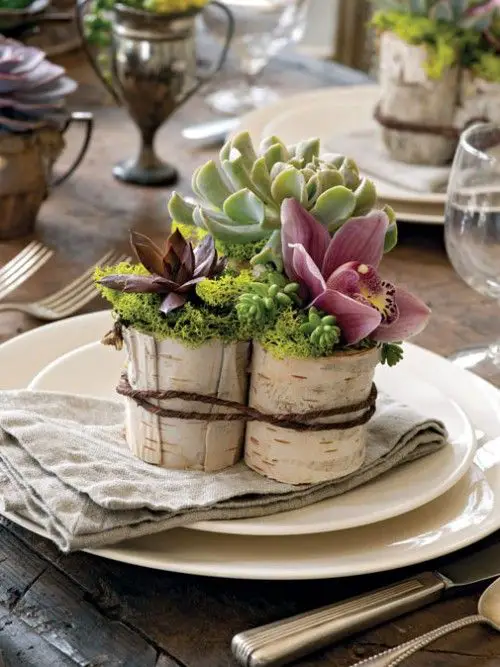 Creating a country impression in your dining room by using a flower vase from a stump will support a stunning decoration of the room so that your home looks attractive. Flower vase from corediy
Choose a flower vase from a tree stump for a rustic feel to your country home decor so it will give the perfect decor and present a decorative look. Vase stump from corediy
It's very simple to complete the country decor in your home. Just utilize the item around your home and you can make it an incredible item. In this case, you can use a piece of wood then crave it into a vase for your flower arrangement holder. You can place it on the table then enhance your home decor. Tree stump vase from shelterness
Did you need an extraordinary decorative item to complete your country decor? The stump vase can be a choice. This vase is able to bring a strong country vibe. The distressed look from the wood plank will give an aesthetic look. All you have to do is just put some flowers there and see how the simple thing will bring a different look to your home. Distressed tree stump vase from shelterness
Vintage Wreath with Greeneries
A country decor won't be complete without a dash of greeneries in it. Being a staple in country decor, create this vintage wreath by simply arranging branches and draping leaves on it. You can easily make it at home and hang it on your front door as a warm welcome.
This is a very appropriate decoration for the country decor style. With a wreath accent attached to the front door displays an interesting and more natural touch. Front door displays from wreath from hgtv
Pairing wreath as a home country decor is one of the interesting ideas. The touch of wreath accents with wooden branches and ribbons displays beautiful decoration. Wretah wooden branches and ribbons from farmhousemagz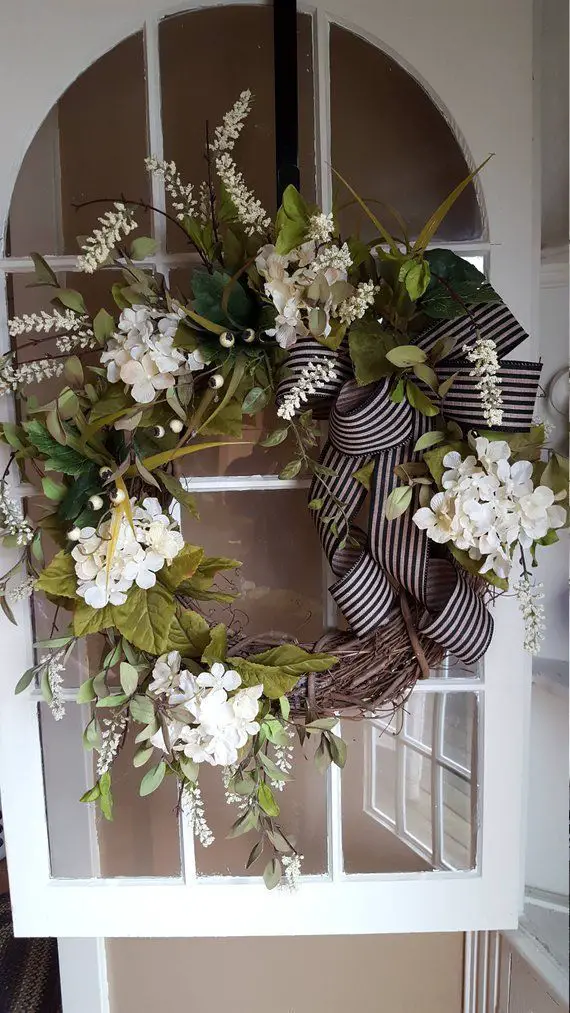 Use striped ribbons, greenery, blooming flowers, and tree branches to make a natural floral wreath. Hang this wreath on your window for beautiful look. Branches wreath from farmhousemagz
With twigs and greenery, you can change the decor of your door. Adding burlap ribbon and greenery will make your entrance door interesting. Burlap ribbon from farmhousemagz
This is a beautiful wreath from tree branches with ribbons. You can combine it with greenery and some flowers to make the door cooler. Tree branches with ribbons from farmhousemagz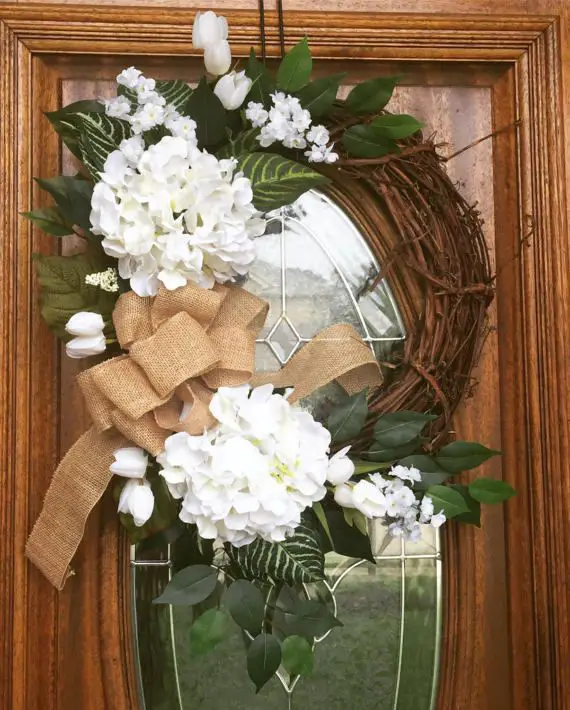 The flower wreath is made of tree branches and you can mix them with green leaves and beautiful burlap as a complement to the decor. Tree branches from farmhousemagz
Rustic Ladder Shelf
Wondering what to do with your old ladder? Transform it into a chic, rustic shelf where you can display your books, vases, stationeries, and so on. Simply cut the wood into pieces, paint it with any color that you like, and assemble it in your desired shape.
You can try placing an old ladder in a country living room for a vintage feel. Add some ornaments for the perfect look. old ladder with ornament from homebnc
Using an old ladder for patio decoration is an interesting idea for you to try. Add a few flower pots to add to the perfect look. Old ladder for patio from homebnc
Utilizing an old ladder and being used for shelves is a very interesting idea. Hang it on the wall and you use it to display your photo gallery. This shelf touch is very authentic and gives high artistic value. old ladder photo gallery from homebnc
Complete your country bathroom decor with an old ladder for a vintage look. Place it at the corner of the room and add a metal basket for extra storage. Corner old ladder from homebnc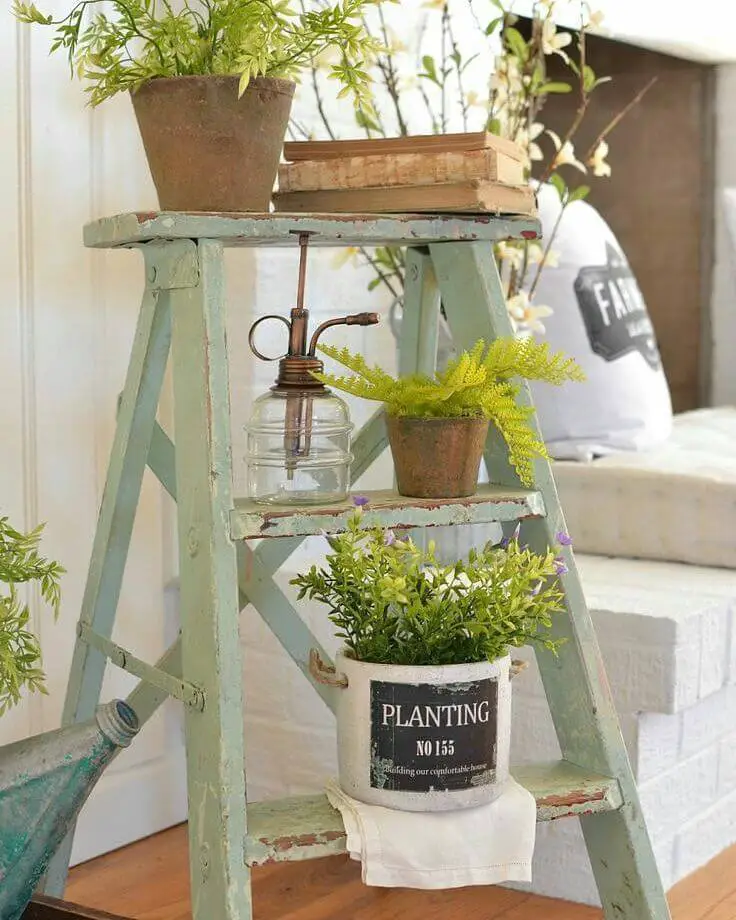 Using the old ladder and turning it into a shelf is a unique concept. An old staircase accent that is attached to a flower vase gives a charming spark. Also combined with a flower vase that adds a more elegant and attractive impression. Ladder flower vase from homebnc
A simple storage idea for the bathroom is placing an old staircase. This ladder is very useful for keeping your bathroom clean. To make it look attractive, add a metal basket to place some towels. old ladder with metal basket from homebnc
Renowned Barn Wood Bench
Country houses are known for their mudroom, and this DIY wooden bench is a perfect country decor to decorate its interior. Aside from being low-cost, the materials are easily found, and you can create them without breaking a sweat.
This is a wooden bench decoration with a rough texture. Which makes giving country charm in the dining room. Wooden bench dining room from diynetwork
The addition of a barn wooden bench to the vintage-style dining room decor with a comfortable texture. This bench makes a different appearance in your dining room. Barn wooden bench from bhg
To make a country-themed bedroom, you can make it with a renewed country wooden bench. Use hairpin legs for maximum appearance. Hairpin legs from bhg
Adding a new wood bench with additional soft pillows will create a cozy and natural impression of the space. This method is easy for you to try by making your own with a low budget. Wood bench with soft pillows from bhg
Take advantage of the barn wood bench shed to complement your dining room decor. Let this bench in its original color for a natural and simple impression. Dining room decor from bobvila
With the look of the bench with a wooden accent deliberately not finishing in order to create the impression of a country in the dining room more perfect. Wooden accent from bobvila
Country decor is full of refurbished elements, meaning that you can recreate it by yourself without having to spend a lot of money. Make sure to pick the ones you like and start crafting!
(Visited 231 times, 1 visits today)
Tags:
Country Decor Ideas
Last modified: March 1, 2023