Are you having a small bathroom and not enough place to store all the stuff? Not a problem. Various bathroom shelf and storage hacks give you an easy solution even without a large closet or cabinet. Here are some ideas you can consider for smart storage solutions.
1. Rack Above the Door
The space above your bathroom door is a great place for supplies, such as fresh linens and bathroom products. A simple overhead metal rack can do a decent job as an extra storage space. Just make sure to provide a step to reach those supplies when you need them.
Placing a metal shelf over the door will create an attractive appearance. You can keep a few towels there to make your bathroom more organized. Metal shelf from goodhousekeeping.
A simple idea for bathroom storage is to install a metal rack for storing a few towels. In this way, your bathroom decor is more organized. Bathroom storage from decoraid.
The metal shelf above the door makes your bathroom look tidy. You can arrange your bathroom fixtures according to the type, making it easier for you to find them. Bathroom storage above door from harptimes
2. Ladder Storage
An old ladder can be a great storage space for mini bathroom. It is thin enough to stand in the bathroom, but with extra spaces to hand your towel supplies. You can also hand wire baskets on the ladder to place bathroom supplies, like shampoo bottles, toothbrushes, and home spa products.
If you have a small bathroom, using vertical storage is a perfect idea. You can use ladder racks with wicker baskets for storage ideas in your small bathroom so that it looks more practical. Ladder racks with wicker baskets from countryliving
Ladder racks are a great choice for storage ideas in your small bathroom so they save more space. You can use it to store towels and toiletries so they are easier to access. Ladder racks from epdesignlab
Old ladders are a space-saving storage option. You can add a wire rack for extra storage in the bathroom. Old ladder with wire rack from cleanandscentsible
Decorating a farmhouse bathroom with a white ladder storage idea looks perfect. You can add a wicker basket to place your things so they don't fall off easily. Old ladder with wicker basket from morningchores
Vertical storage is a great choice for your small bathroom. Choosing to use a staircase rack with wire baskets for storage ideas in your bathroom will give you the perfect farmhouse look. Vertical storage from morningchores
If you're decorating your bathroom in a farmhouse style, try using a yellow ladder for storage ideas. You can add wicker baskets to each step to make it look more perfect. Yellow ladder storage from shelterness
The orange ladder is one storage item that you can use in your bathroom. You can store a few towels there and add a wicker basket for extra storage. Old orange ladder from shelterness
An old ladder is a storage idea in a rustic bathroom to make it look simple and attractive. You can use it to lay down towels and toiletries for easier access. Towel storage from granddesignsmagazine
An old ladder makes for a brilliant storage idea in this classic bathroom. Adding wire baskets for storing towels and a few other toiletries will make your bedroom tidier and cleaner. Classic storage ladder from designideasguide
3. Wicker Baskets
Wicker baskets are popular solutions for bathroom shelf and storage hacks. You can place them under the sink or just outside the door, with their textures adding a unique visual touch. Wicker baskets are great for storing fresh linens and towels. Meanwhile, smaller baskets can be great places for bathroom supplies.
Placing wicker baskets under the sink will provide a practical storage area that doesn't take up much space. You can use it to place towels and tissue so it looks neater. Wicker basket under the sink from decorpad
Try using the space under the sink for storage ideas in your small bathroom. You can place the wicker basket there and use it as a storage area for towels so that it looks perfect. Under the sink storage from carlaaston
Wicker baskets under the sink will give your bathroom an attractive appearance, making it easier for you to store items. Wicker basket from homedoo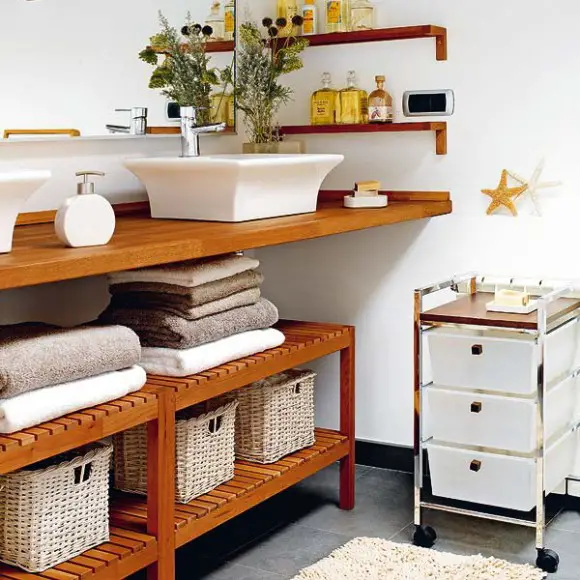 Choosing a storage area under the sink will set your bathroom apart from the rest. Using wicker baskets as storage is a brilliant idea to maximize your bathroom space. Storage under sink from homedoo
Using a wicker basket under the sink will make your tiny bathroom look more organized. So that it will enhance your farmhouse bathroom decoration to make it look perfect and neat. Tiny bathroom from homedit
The wicker baskets under the sink will give your bathroom the perfect farmhouse feel that will grab everyone's attention. Besides that, the baskets are able to bring a neat look to your bathroom. Wicker basket from bhg
4. Storage Above the Toilet
Your toilet tank has potential storage space for small supplies. Place wicker or wooden tray on the tank, and you can easily store bathroom supplies. The ability to place extra shampoo bottles, soap bars, and toilet paper make this spot a perfect, often-overlooked storage space.
You can place the wicker basket on top of the tank and use it as a tissue storage area so that it will make more storage in your bathroom. Wicker basket from thefrugalhomemaker
The wire basket on top of your toilet tank will function as a tissue holder that is simple and easy to access so you can try it now. Wire basket from gongetech
Don't hesitate to maximize the space in your bathroom even it's on your toilet tank. This space is very functional to place a rattan basket that can be used to store towels. You will easy to reach and surely more organized. Rattan basket from homebnc.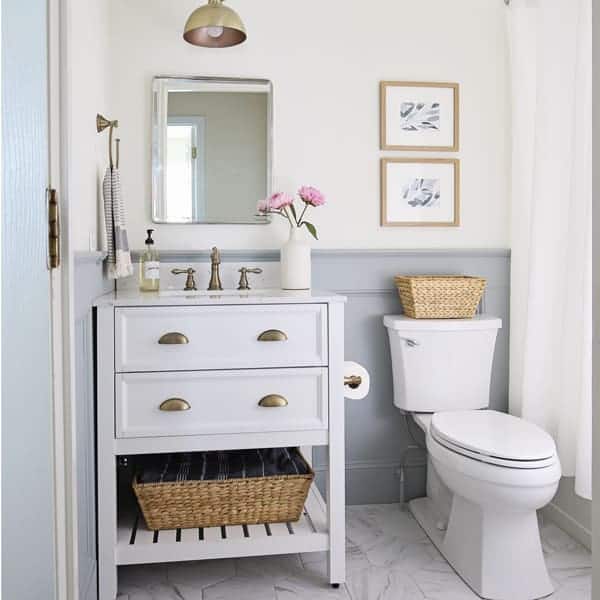 Completing your bathroom storage with some wicker basket is a good idea. If you don't have idea to place your basket, utilize the surface of the tank to place it. Brown wicker basket from harbourbreezehome.
Even though it's just tank, but the surface is very useful to place your bamboo wicker basket. The basket is very useful to store your towels or tissue paper. Bamboo wicker basket from homebnc.
One of the best storage for a small bathroom is the storage above the toilet. With this storage, you can store your toiletries or belongings without disturbing your space in the bathroom. And the surface of the tank can be used to place your greenery planter and freshen up your bathroom. Small bathroom from dailydreamdecor
5. Inverted Bracket Shelves
Instead of regular boards for floating shelves, try the ones with inverted brackets. Choose brackets that have panel-like models, preferably the decorative ones. They not only make your bathroom more interesting but also prevent small, loose items from falling over easily.
Choosing to use bracket shelves is the perfect idea for storage in your bathroom. You can place it over the toilet so that it becomes the perfect focal point. Bracket shelves from curatedinterior
Using bracket shelves for storage ideas will maximize the space in your bathroom. It will also present an attractive decorative appearance in your bathroom. Bracket shelves for storage from allisajacobs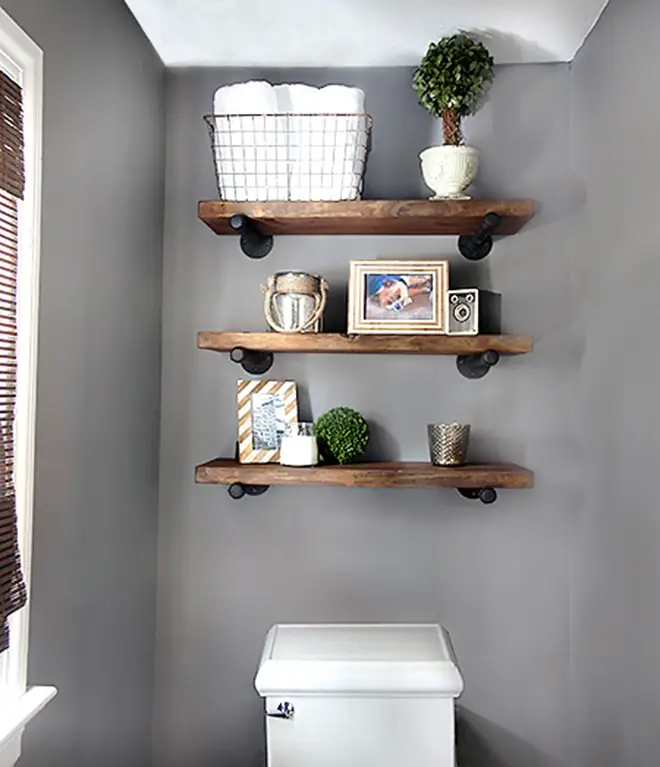 Another storage idea for a small bathroom is using inverted shelf brackets. These storage is very effective for storing your toiletries easily without taking up a lot of space. Small bathroom with shelf bracket from nordarchitecture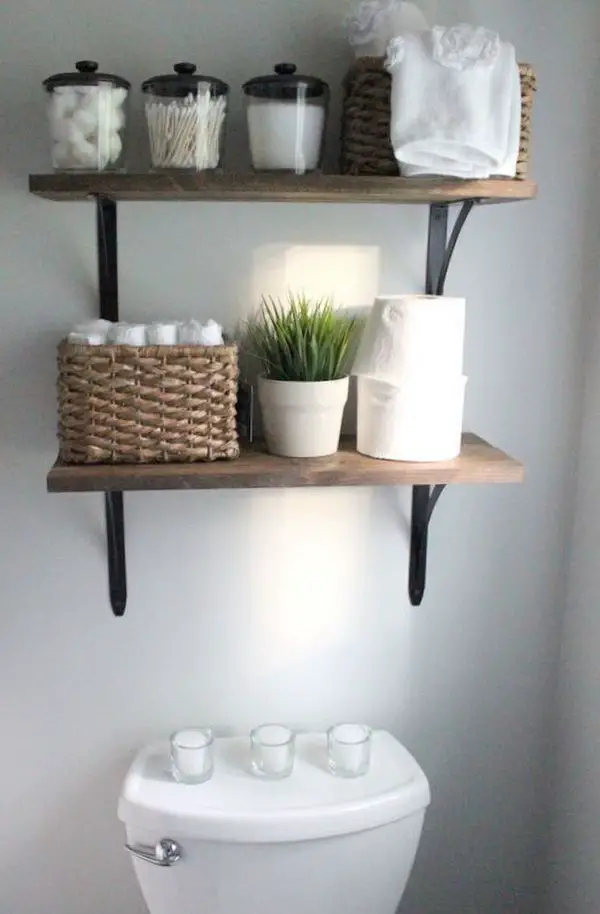 Storage is suitable for use in a small bathroom with bracket shelves above the toilet. With this storage, your tiny bathroom will look simple and have little room to move. Bracket shelves above the toilet from nordarchitecture
This might be a simple but very useful storage idea for making your small bathroom look neat. You can add bracket shelves to place some of your toiletries. Place it near the sink so that it is easily accessible. Black bracket shelves from nordarchitecture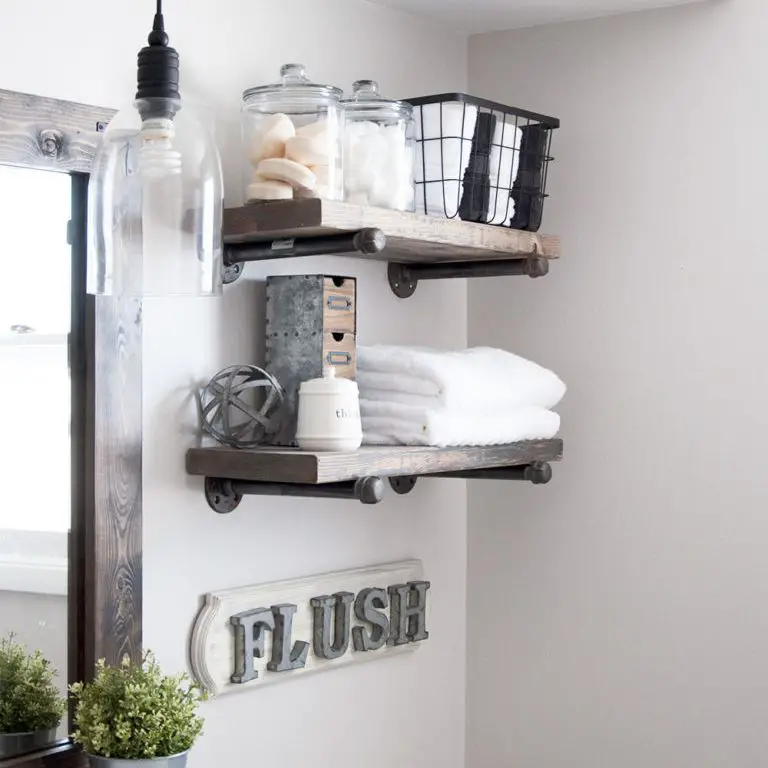 Inverted bracket shelves used in the bathroom are perfect for your application. In this way, your bathroom decoration is tidier and cleaner. Wooden bracket shelves from thespruce
Bathroom shelf and storage hacks may sound simple, but they are beneficial in a small home. Follow these tips to create smart storage spaces you don't expect in a tiny bathroom.
(Visited 251 times, 1 visits today)
Tags:
bathroom storage ideas
Last modified: December 25, 2020