Having a large backyard is a commodity that not everyone can have. Many times, people have to make do with a modest-sized backyard and conserve enough space to build a garden in it. However, a mini landscape garden can still be as exciting as a larger garden, with the right mini landscape garden ideas of course. If you need inspiration, check out these 25 simple ideas!
1. Old-school Mini Landscape Garden
You can never go wrong with following classic mini landscape garden ideas like this one. Utilizing a raised garden bed and natural stone paving, this design will make the garden feel larger than it is. Plus, the classic design is lovable for everyone.
This one is the simple one as it only uses the wood pallet. However, it is worthy since it can bring out the old school impression really well. Use it to grow several different kinds of plants. Wooden pallet from homestratosphere.
In case you want to have the more valuable one, this thick wood is the right choice. Not only for that purpose, but it can also even be more durable than the common wood pallet. Make sure that you grow good plants to balance them with the garden bed. Wooden garden bed from homestratosphere.
Decorating a landscaped garden with a raised garden bed will make your garden more organized. Use raised wood for an eye-catching look. Raised garden bed from homestratosphere.
The garden design looks spacious by applying natural stone paving which is a brilliant idea for you to try. Complete the decor with green grass and some other wooden furniture. Natural stone paving with green grass from countryliving.
Natural paving stones are installed in the backyard garden will make the garden feel wider than it really is. Pair it with some greenery to complete the decor. Natural paving stones from countryliving.
2. No-Lawn Corner Mini Landscape Garden
Who says a patio can't be built in a mini landscape garden? You can still build a mini patio in the garden by placing the chairs strategically. For example, if your garden's only vacant space is in the corner, then build a mini patio in that same corner. Then, decorate it with a mini garden for the finishing touch.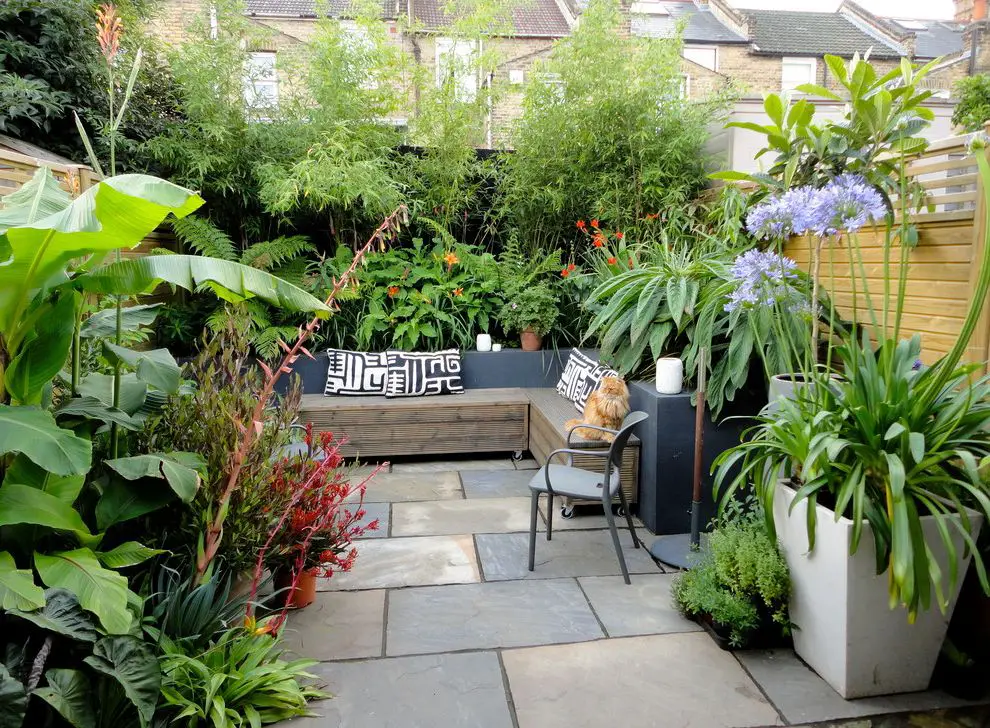 Adding a wooden bench in the corner of the landscape garden can make a comfortable impression in your garden. Complete with some greenery for a natural feel to the garden. Wooden bench corner garden from finefurnished.
Several wooden chairs are added to the corner of your landscape garden for a cozy feel. Pair it with greenery for a stunning design. Wooden chairs from decorhomeideas.
The strategic placement of chairs adds a comfortable impression to your garden decoration. Place it in a corner of the garden combined with greenery for a lovely decoration. Corner chairs from decorhomeideas.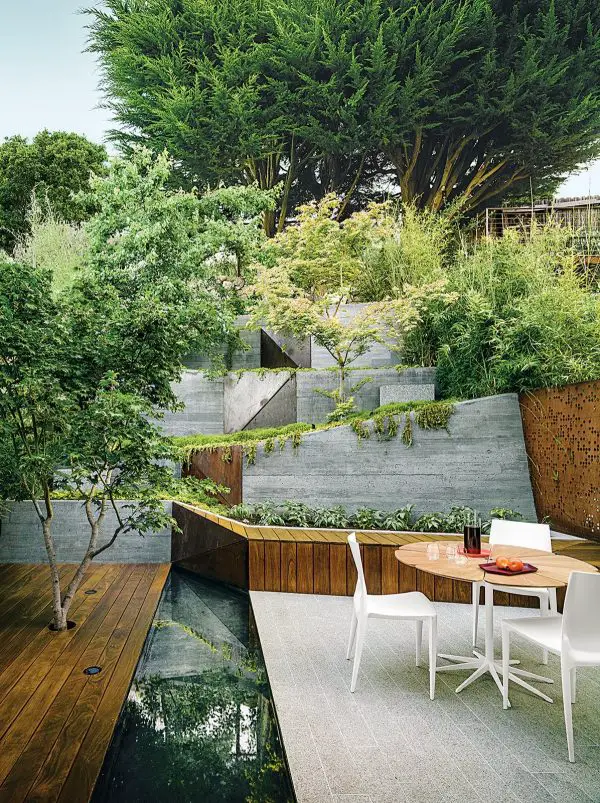 The seating area in the corner of the garden will create an interesting decoration for you to try so that it creates a comfortable impression. Don't forget the green plants that provide a fresh and peaceful atmosphere. Seating area corner garden from home-designing.
Unique chairs are added to the corner of your garden so that it creates a comfortable impression. Pair it with white sandy floors and greenery for a fresh look. White sandy floors from home-designing.
3. Minimalist, Low-Maintenance Mini Landscape Garden
Even the idea of a mini landscape garden requires you to be productive with garden maintenance, and it will remain boring. If so, try this low-maintenance mini landscape garden with a minimalist design.
By simply putting two big pots and some small plants under them, you will get such proper greenery from this simple small garden design. The tiles applied used to give a clean and sleek look. Two big pots from 7desainminimalis.
You can add plants in pots for attractive garden decoration. So that it will present a cool and fresh garden feeling. Choosing just place a simple plant will make it easy to maintain. Potted plants from 7desainminimalis.
A cozy, minimalist landscape garden combined with shrubs is a great idea. Lighting accents give a more attractive appearance. Landscape garden with shrubs from 7desainminimalis.
In a gray color scheme, this garden has the best of minimalism. The types of green plants that are planted are also simple with all green colors. Gray color scheme garden from dexorate.
A beautiful and minimalist garden with wooden garden beds and greenery, bringing a cozy and cool touch to your landscaped garden. Wooden garden beds and greenery from dexorate
4. Cosy, Contemporary Mini Landscape Garden
Because the space for gardening is limited, you'd have to be wise with the plant placement. One good trick is to arrange the plants right behind the patio, preferably with a bench instead of individual chairs. That way, not only do you save space, but you also add charms to the patio with the plants.
Garden decoration with the addition of wooden benches will make your garden more comfortable. Adding some greenery to your fence and garden beds will create a neat garden look. Wooden benches with greenery from homeworlddesign.
The arched wooden fence in this contemporary garden adds to the modern look. Complete the appearance with curved benches and greenery to add to the beautiful impression of your garden. Arched wooden fence from homeworlddesign.
This one could be your choice if your room is very small. Grow all the plants on the walls then add wooden elements like this deck to add a natural atmosphere. Wooden deck from lushome.
Planting some greenery in a contemporary landscape garden makes for an interesting decoration for you to try. The addition of wooden benches and wooden tables will add a comfortable impression. Contemporary landscape garden from lushome.
There are two types of benches installed here. From floating wood with real brown color and white chairs. Then, the greenery was amazing behind the bench which was also planted in the wall fence. Floating wood bench from balconygardenweb.
5. The Small Chic Mini Garden Idea with Faux-Grass Rug
Grass on the ground can give the impression of a large garden area, even if the actual garden size is small. While natural grass is limited to the garden only, you can expand the grass atmosphere to the patio with a faux-grass rug.
See how beautiful the artificial grass is with a beautiful garden atmosphere. The application to the floor combined with the seating area creates a comfortable impression. Artificial grass from ofdesign.net.
Adding artificial grass to a mini landscape garden will give a broad impression. You can place it under the sofa for an attractive appearance. Artificial grass mini landscape garden from ofdesign.net.
Decorating a landscape garden with a touch of fake grass will make a different look. You can place it under the sofa so that it will give a comfortable impression on your feet. Fake grass from ofdesign.net.
The application of artificial grass here looks very natural because it doesn't look fake at all. Here, white furniture and interior colors are highly recommended to bring simplicity to small spaces. Artificial grass with white furniture from ofdesign.net.
Applying fake grass to a golf field is a great idea for you to try out in a mini landscape garden. This method gives a broad impression of your mini garden. Fake grass to golf from ofdesign.net.
(Visited 284 times, 1 visits today)
Tags:
Mini landscape garden ideas
Last modified: January 3, 2021