When it comes to your house, it's not only the interior part that matters. If you're considering a new landscape design but don't know yet what to do, then we got you with the much-needed inspiration below!
It's time to start accentuating your outdoor part with natural elements that come beautifully from the flora life and Mother Nature's gifts. If you think this won't promise anything than you probably need more convincing on how they make for an all-of-a-sudden warm and inviting space effortlessly. But, don't take our words just yet—check out for yourself these landscape design ideas for its fresher look!
1. Patio Roses
The world's most romantic flowers can be the main features in your patio. Patio roses can also trade a simple, basic look to a much more English country home vibe, regardless of where you live. You can start by neatly position each rose along the door frame or pillar.
Arranging the roses neatly and some greenery will give you a beautiful view and bring a romantic feel to your patio. Roses plant with white ceramic pot from balconygardenweb.
This English garden is completed with roses that vine above your door. This terrace rose can transform any decor into a more attractive look. Terrace rose from gardenista.
This red rose looks stunning for your patio decoration. Wrap it around a pergola pillar for charming garden decoration. Red rose from gardenista.
Planting climbing roses on a pergola will make your landscape garden decoration more attractive. Use different colors for an interesting look. Climbing roses from lonny.
Patio decorations with roses will bring a romantic feel and natural beauty that can attract the attention of everyone who sees it. Roses with teraccota pot from fafard.
2. Flower-Lined Staircase
Patio staircase may not look that important, because people use it to climb up or down casually. But when you decide to turn it into a flower-lined patio staircase, the story goes quickly into a setting in some wine-country façade, providing you with the warmest welcome.
You can place several blooming flowers on each step to enhance your patio decor so that it will make it look very beautiful. Blooming flowers from theartinlife.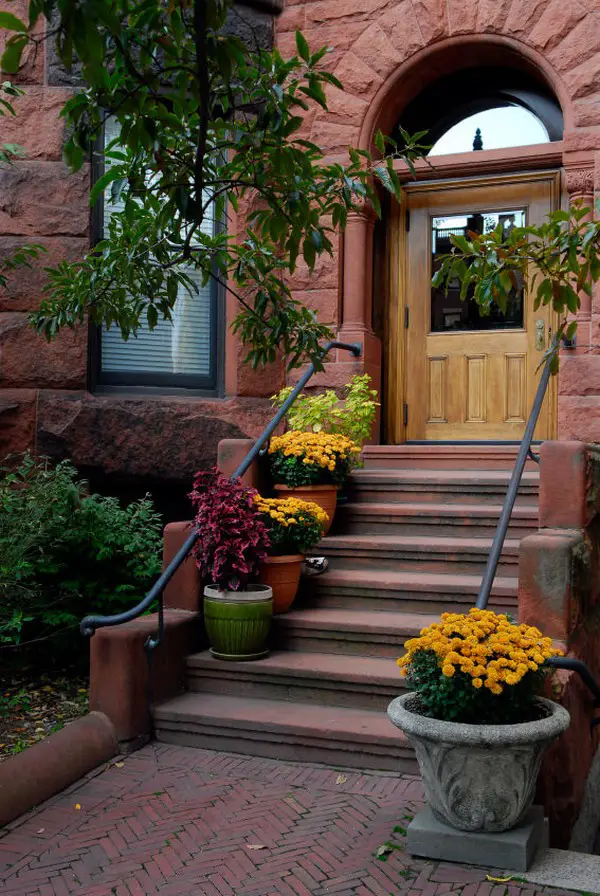 Placing a few potted flowers on the stairs will enhance the decoration of your patio so it looks beautiful and stunning. Potted flowers from theartinlife.
Adding blooming flowers to the stairs is not a bad idea for you to try. Put them in the colorful pots for added appeal. Blooming flowers with colorful pot from theartinlife.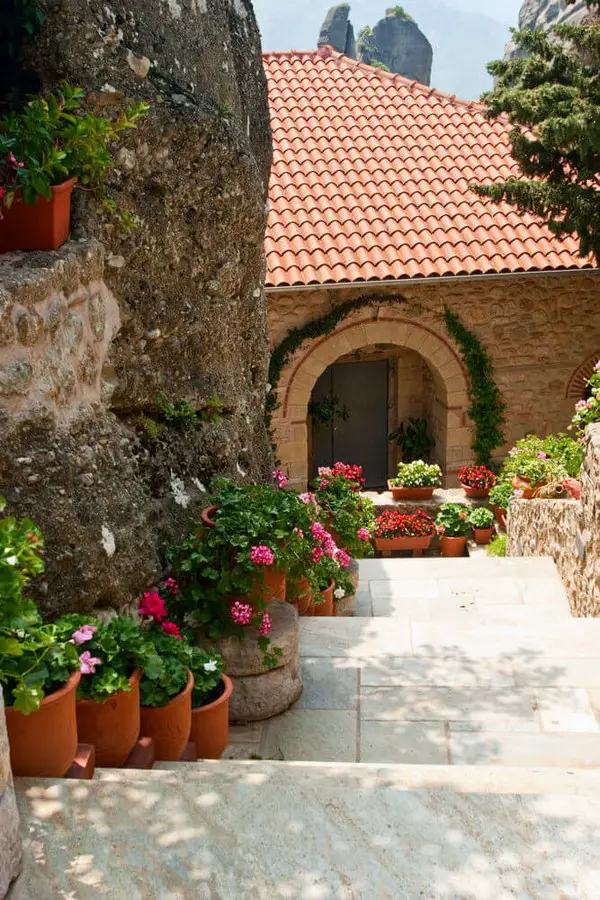 The placement of several blooming flowers in terracotta pots along the steps is worth a try. So that it will create an attractive terrace decoration. Blooming flowers in terracotta pots from theartinlife.
Arrangement of flowers in pots along the right and left steps will make the appearance fresher. You can also hang some flowers to complete the decor. Hang flowers from theartinlife.
3. Floral Border
Garden borders exist on your garden to differentiate each section and for a neater arrangement. Try to use a bed of blooms for this purpose by dividing the passageway from the flowers or grass. In a way, it makes for a subtle decoration addition, too, with its eye-catching contrast.

Using a floral border to separate the green grass area from the patio is an interesting idea. So that it will bring beauty that refreshes the eyes. Floral border from gardengatemagazine
Adding a floral border to your patio can add a neat impression to your garden. Top it off with a few blooming flowers and other greenery for a natural feel. Blooming floral border from blog.gardenloversclub.
Neat garden decoration with a floral border will differentiate between green grass. Using colorful flowers makes for a lovely look. Bright Landscaping from blog.gardenloversclub.
A beautiful and spacious terrace with a touch of floral borders will create a neat and beautiful impression. Add natural stone dividers to make your patio even more beautiful. Colorful floral borders with blog.gardenloversclub.
Creating a garden border is the perfect idea to make your landscaping look neater. You can choose a floral border so it will look beautiful. Small pink front porch from blog.gardenloversclub.
4. Barn-Inspired Studio
You don't need to buy cows or goats first to implement this idea—turn your usual home into a barn-inspired house with some quick setup. Try rustic beams, redwoods, classic barn door, and open-floor foyer plan.
Building a house in your garden is an interesting idea. You can use wooden boards and barn doors to bring out the rustic feel there and can be used for gardening equipment storage. Repurposed wood from overholtstoragebuildings.
Turn your garden house that serves as your plant storage area into a barn-inspired home with classic barn doors. Garden house from overholtstoragebuildings.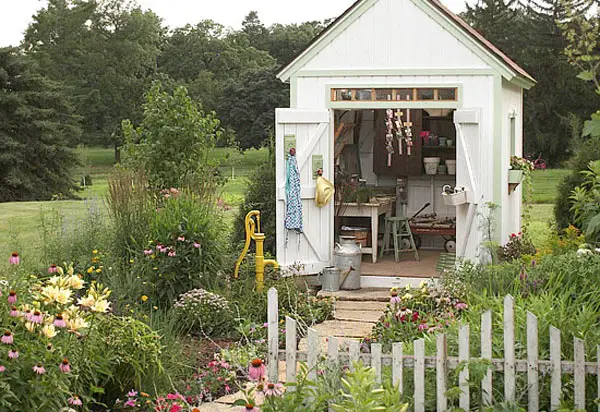 Garden storage ideas by building a studio shed is a brilliant idea. Color it white and use the barn door to try a nice design. White barn door from overholtstoragebuildings.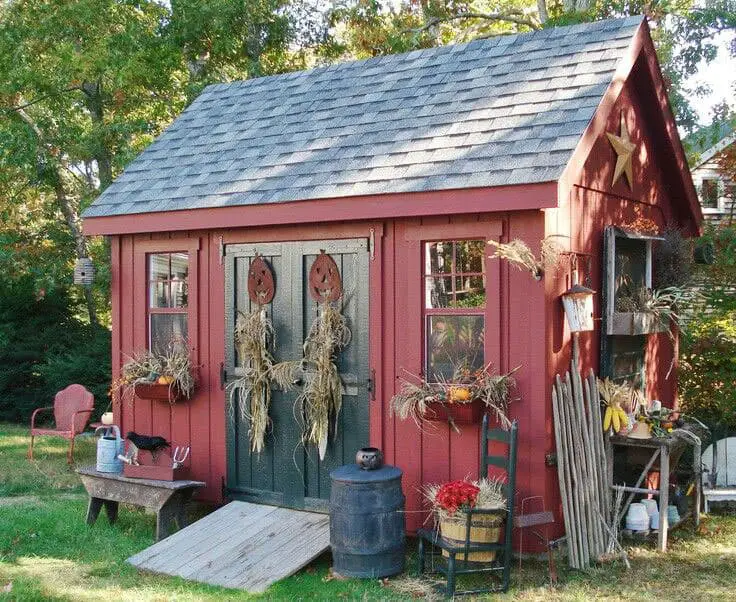 The studio warehouse is inspired by a barn with red wood. Add a black barn door and some fall ornaments for a stunning design. Barn with red wood from overholtstoragebuildings.
An eye-catching décor with the addition of a warehouse-inspired studio shed. Use wooden doors and colorful barn doors to give your patio a different look. Wooden doors and colorful barn doors from overholtstoragebuildings.

5. Repurposed Garden Bike
Your bike isn't working anymore, and you don't want to throw or sell it away. Hence, try to repurpose its purpose: give them a new life by placing them decoratively as garden planters. Repurposed garden bikes are as straightforward as that!
You can use used bikes for gardening ideas in your garden. Add potted plants on the back and front basket of the bike so that it will look attractive. Turquois used bikes from upcycled-wonders.
Repurposed garden bikes will add traction to your landscape so they can be inspiring. You can put baskets on the back seat and side of your bike to place flower pots to make it look beautiful. Repurposed garden bikes from upcycled-wonders.
This reusable yellow bike hanging adds a special appeal to your patio. Adding potted plants to the basket bike makes the outdoor space decor even more perfect. Repurposed yellow bike hanging from upcycled-wonders.
Use a reusable used bicycle as a unique planter in your garden. Add a few pots to place the blooms in, so they will become a focal point in the garden. Repurposed garden bike from upcycled-wonders.
The placement of the pots on this used bicycle adds a special attraction to your garden. Place it on the terrace of the house and mix it with a few other plants for an attractive design. Used bicycle with terracotta pot from upcycled-wonders.
Which one of these landscape design ideas will you go for next?
(Visited 182 times, 1 visits today)
Tags:
Fresh landscape design ideas
,
Landscape Design
Last modified: January 12, 2021