Having a proper garden decoration is really worthy, right? You can really utilize it to be the spot to chill and enjoy the scenery while cooling down your tired mind with the greenery. Anyway, in decorating your garden, there will be some consideration that you should follow so that you can get the best version of it. To help you deal with this, here we give you some must-provide things to be applied to your garden.
Patio
Completing your garden with a patio will be a pleasant thing. You can place a seating area that can be used to relax, cheating with your family, and enjoy a cup of coffee or tea. Isn't that an interesting thing, right?
Feel comfortable on this terrace. The table and chairs set will spoil everyone, besides the green grass brings a fresh and beautiful appearance. Table and chairs set from thespruce.
This little terrace has a great charm. The design of the dining table set complete with plants in the green in the corner of the terrace is a natural element that makes it attractive. Dining table set from thespruce.
Lush greenery with dramatic lighting helps create an interesting feel on your patio. A few chairs and complete with a coffee table and a vase of flowers will create a fresh atmosphere. Seating area from thespruce.
Planter
The garden decor can't be separated from plants. And to make your garden looks more interesting, you can use unique planter ideas. Or if you want to save your budget, you can use repurposed item for the planter idea. Such as use your unused hats, household items, unused drawers, and so on.
Use an old hat as a hanging plant. Add some colorful flowers and hang them on your garden fence for an eye-catching design. Old hat planter from hgtv.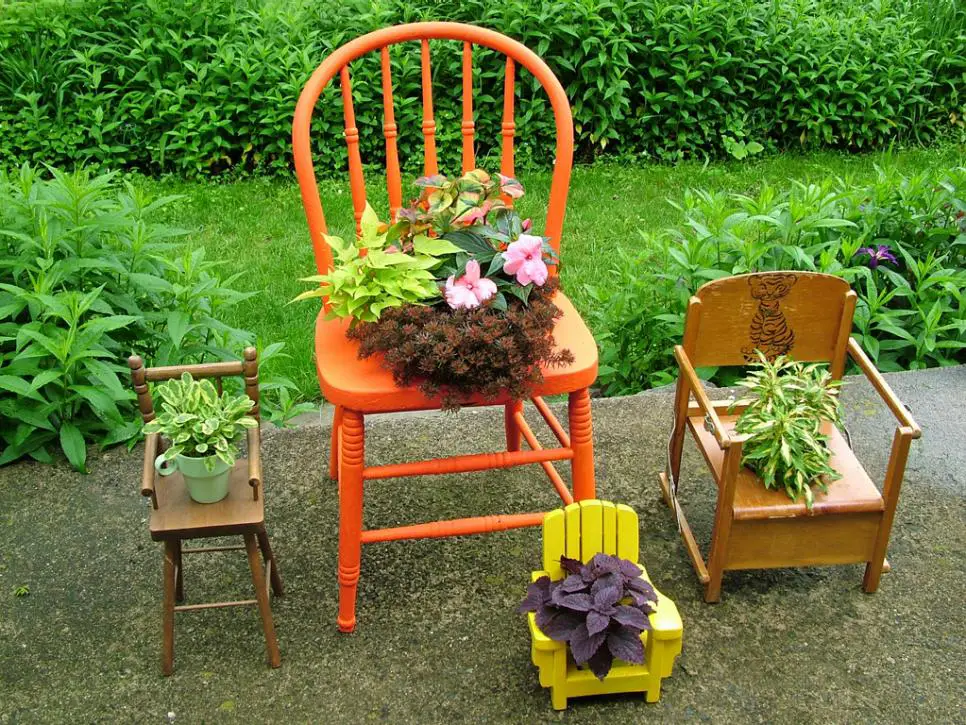 Turn a wooden chair into an unusual container by drilling a hole in the chair and inserting a flower pot. Use colorful chairs for added appeal. Colorful chairs from hgtv.
Turn an old desk into a charming container by tucking small bushy and trailing plants into the partly opened drawers. Complete the effect by popping plants into desk accessories, such as a pencil holder, an old telephone or a small desk lamp. Old desk planter from hgtv.
Pond
If your garden is large and possible to build something that can freshen up the nuance, you can build a pond. No need to be expensive and use professional services, just dig your land and make a hole then surrounding the around with stones. Fill the pond with waters and you will get a fresh look.
Fill your rock pile with full water, then add some types of water plants to make it look busier but attractive to beautify your backyard. Pond garden from blog.gardenloversclub.
It doesn't matter if you have a large backyard, you want to have a large pond. All you have to do is pool a pile of rocks and fill it with water and some kind of plant. Let them grow and you will see how it can beautify your backyard. Large pond from blog.gardenloversclub.
This garden pond is made of piles of several stones. Then you can place it in the middle of your backyard for added beauty. Garden pond from blog.gardenloversclub.
Water Fountain
If you like the sound of water, complete your garden with a water fountain is a good idea. You can make it a small one to look simple. Place it in the middle of your garden to blend well with your plants and flowers.
The perfect idea for your water garden design is to use a wine barrel for a mini fountain equipped with an old faucet. Equipped with various types of aquatic plants to give a natural finish. Wine barrel from countryliving.
This water fountain with ceramic tiny eggs has a very natural and brilliant concept. Here you can simply fill it with water and place in your garden for a lovely finishing touch. Ceramic tiny eggs from countryliving.
Bird Bath Fountain is transformed into a mini water park that will make your garden feel peaceful and fresh. You can place it in the middle of the garden to become a focal point. Bird Bath Fountain from countryliving.
Walk Path
To look attractive and more beautiful, complete your garden with a walk path. The walk path will make your garden looks beautiful and neat. There are several walk path ideas that you can adapt. You can build it from concrete, natural stones, or wood. Plant some flowers or plants on each side along the walk path to get a fresh look.
To keep your garden plants thriving, you need to build a path so that you can walk around your garden without damaging the plants because you step on them. Use the boardwalk path for a stunning view. Boardwalk path from blog.gardenloversclub.
Here, paths can be made using several different materials. The choice of material from this gravel makes your garden look more attractive. Gravel walk path from blog.gardenloversclub.
This attractive garden path uses a log section as a stepping stone. The logs are surrounded by small white stones which give the garden a pleasant walking path. Log Path from blog.gardenloversclub.
Lighting
Nothing more beautiful, romantic, and dramatic than decorating the garden with some lightings. The lighting can make your garden looks beautiful at night. You can place the lighting in the middle of the garden, along the walk path, on the patio. or on the stairs.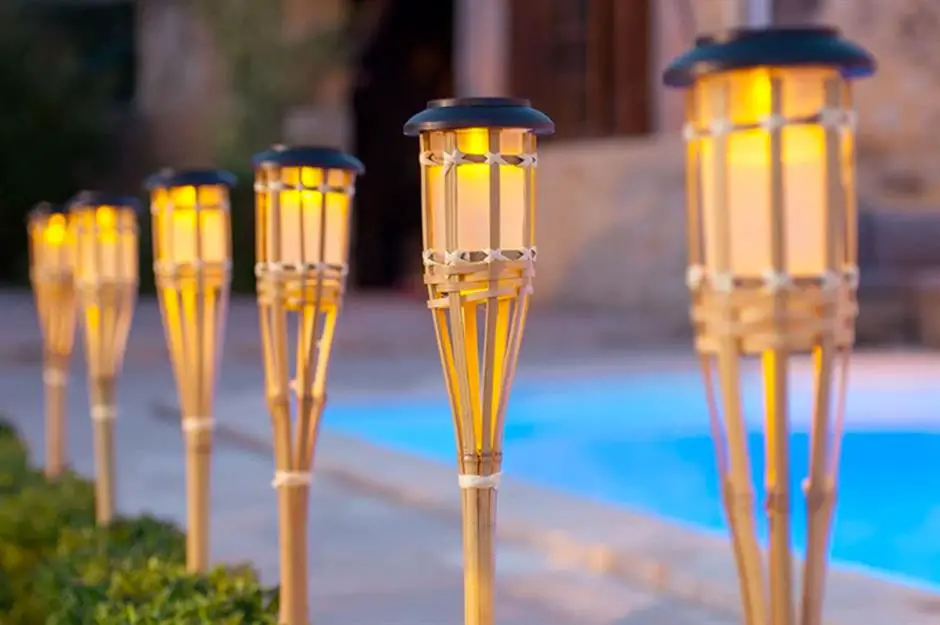 Lighting is one of the things that influences your decor. You can use bamboo pole lights for lighting ideas in your garden so that it will bring out lighting that looks beautiful. Bamboo pole lights from loveproperty.
This patio design looks stunning with a pedant lamp as the lighting idea, giving it an eye-catching classic look. Pedant lamp from loveproperty.
You can use paper lantern bags for lighting ideas in your garden. Placing it along the steps will give it a warm classic feel. Paper lantern bag from loveproperty.
Swing
There is nothing more comfortable than spending your time to lay down in the swing, right? Install a swing on your porch and enjoy the scenery. You can choose the swing from rattan or wooden materials.
Adding a white rattan swing to the terrace of the house will provide an attractive decoration. Here makes it easy for you to enjoy the view of your garden comfortably. Rattan swing from homestratosphere.
This swing is a simple rustic log design for you to try. Place it in your outdoor garden and add a blanket to give it a warm feeling while in the garden. Rustic log swing from homestratosphere.
Adding a rattan swing to the garden will have an appeal. It will be great fun spending your time swinging there while enjoying the beauty of your garden. White rattan swing from homestratosphere.
Garden Bench
If you like a simple look for your garden decoration, you can place a bench in your garden. It comes in any shape, size, and material. If you want to save your budget, you can make a DIY garden bench.
The idea of decorating the garden by adding wooden benches will make a different look in your garden. Place it in a corner of the patio to provide a comfortable sitting fig. Wooden benches from countryliving.
Adding a farmhouse bench with storage in the backyard garden is a brilliant idea for you to try. Add a striped pillow to complete the look. Farmhouse Bench with Storage from countryliving.
Decorating a landscaped garden with the addition of wooden and brick benches will provide a comfortable sitting space. Adding flowers next to the bench will give it some fresh air. Brick and Plank Garden Bench from countryliving.
(Visited 208 times, 1 visits today)
Tags:
Garden design
Last modified: January 25, 2021