In giving the beauty touch into your small house, the best thing that you can do is utilizing the wall. It could be really effective since it doesn't take space on the floor that will make the house looks crowded. Hence, you don't need to be worried because wall decoration could also varied. You will be able to make it looks pretty and not boring at all. Here are some kinds of wall decorations that you can apply to your house.
Applying Wallpaper
The wallpaper will be the easiest way to give your wall pretty decoration. Choose the wallpaper that has a unique, artsy, and impressive pattern so that it could be used as the ornament at once. It is included in the easy one because you don't need any certain ability to design the installation since you just need to simply stick it on the wall. For the application itself, you can have it in any room that you need. Check out the following wallpaper references.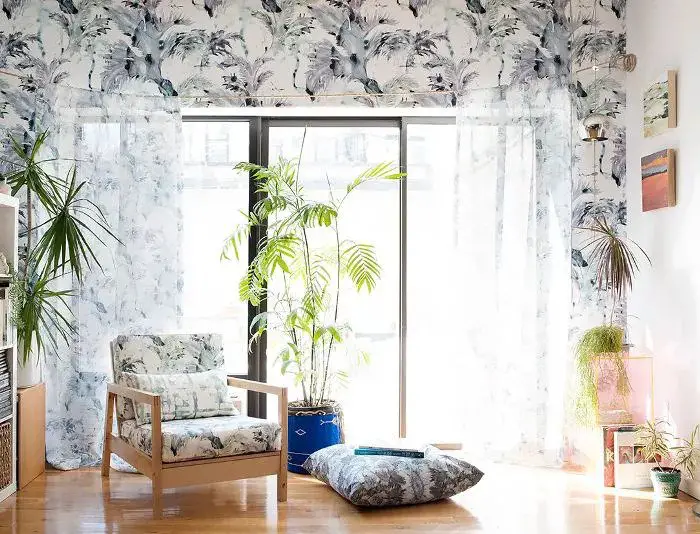 For a pleasant look and return to nature, try using wallpapers with leaf accents, pleasant prints to give the room a relaxed atmosphere. Wallpaper with leaf accents from mydomaine.
Wallpaper can be a good choice for getting more colors in a room to create a different atmosphere that can change your whole mood. Black and white wallpaper from mydomaine.
To create an attractive appearance in the living room decoration, you can add wallpaper that has a blue color on its pattern. You can combine this motif with white nuances so that it will create a calm atmosphere in the living room. Blue wallpaper from mydomaine.
The small house decor uses beautiful wallpapers with beautiful floral motifs and black background color combinations to create a warm feel. You can add a trellis in front of the wallpaper to display your multiple photos. Wallpaper with floral motifs from mydomaine.
To decorate your small house you can use wallpaper to enhance home decor. This pastel wallpaper gives a charming impression and of course more comfortable when you are in the room. Pastel wallpaper from mydomaine.
Beautiful wallpapers that complement the interior design of your bedroom with a geometric pattern in blue colors will create perfect symmetry and harmony. Blue geometric wallpaper from homeinawe.
Family Picture Wall Gallery
If you are a kind of family person, installing the family picture wall gallery could be the best choice for you. Not only pretty, but it also allows you to get a warm and welcoming atmosphere with the lovely moments shown on the pictures. For this, you can beautify it by using the frame. Choose the one based on your surround decoration concept or the theme you want to bring into the gallery. Then, you can move to the arrangement of the pictures.
Placing a wall gallery is the best way to show off your memories while making your walls stand out and look like works of art. In this case, you can display your family picture on the wall of your living room to enhance the decoration. Memories wall gallery from shelterness.
Give changes to your walls using black wooden frames of different sizes. They make your family photos look more attractive and unique. Black wooden frames from shelterness.
Stylish family photo gallery walls are a minimalist focal point at home. Using a warm wooden frame and beige walls is an effective way to visually unify a photo wall. Family photo gallery walls from shelterness.
Placing a family photo on one of the walls of a small apartment would be a perfect space point. You can use the iron hook to organize your photos. Family photo on dining room from shelterness.
Decorating the walls of a small apartment with the addition of photo galleries of various sizes will be a stunning display. Pair it with white walls for an interesting room decor. Photo galleries of various sizes from shelterness.
This family photo with a vintage frame makes your small home decoration even more attractive. Hang it on the wall of the room to make it the perfect focal point. Family photo vintage frame from shelterness.
DIY Framed Plant Leaves
For the fresh look, providing the framed plant leaves is such a good idea. You can get the fresh greenery ornament in a unique way. Even more, the existence of the varied frame that you can use will also add the beauty for your framed plant leaves. Get the frame that adjusted with your wall color or the decoration style concept that you apply to your house. There are several plant leaves that you can use for this, look at the pictures below!
Try filling the frame by using leaves that have been dried. This decoration is very attractive and fantastic for your wall. To freshen up the look you can combine it with a flower vase and hanging plant. Framed Plant Leaves from homedit.
This green tropical leaf displayed in the frame is as attractive as possible in order to get the beauty and freshness of your room. Green tropical leaf frame from alanajonesmann.
You can try decorating your walls with the addition of framed plant leaves. You can make your own using a wooden frame for a pretty decoration. Wooden framed plant leaves from wildinteriors.
Decorate the walls of your home on a cheap budget but still look beautiful by using a framed plant leave. You can make framed plant leaves yourself. Use palm leaf then frame it on the black frames for interesting decorations. Palm leaf and black frames from cupcakesandcashmere.
This DIY framed plant leaf really grabs people's attention. You can make your own to decorate the wall on a low budget. DIY framed plant leaf from hunker.
Wall Planter
It might be familiar for you, where commonly, people have this for their indoor greenery. Talking about the wall planter, you will deal with the planter. Then, not only for the beauty of the plants but you can also get the beauty from the planter. Basically, you decorate the planter by your self and create it based on your own taste and imagination. Get the material from the wooden, glass, terracotta, and more.
Using this white pegboard is a good idea to hang some potted plants. You can arrange the pots vertically so that it will make your room look attractive. White pegboard planter from ohmeohmyblog
This wall planter idea by utilizing pipes will attract people's attention when visiting your home. So it will be the perfect focal point. Pipes wall planting from ohmeohmyblog.
Enjoy the unique look of your small home with a wall planter idea. It's simple to do. Use wood as a place to hang pots with geometric shapes, so that it will attract the awe of your guests. Hang pots with geometric wooden from ohmeohmyblog.
The potted plants that mounted on the wall trellis are designed to be a trendy style for your small home. This is one of the ways to bring a freshness in your small house. this shows the meanric decoration. Wall trellis from ohmeohmyblog.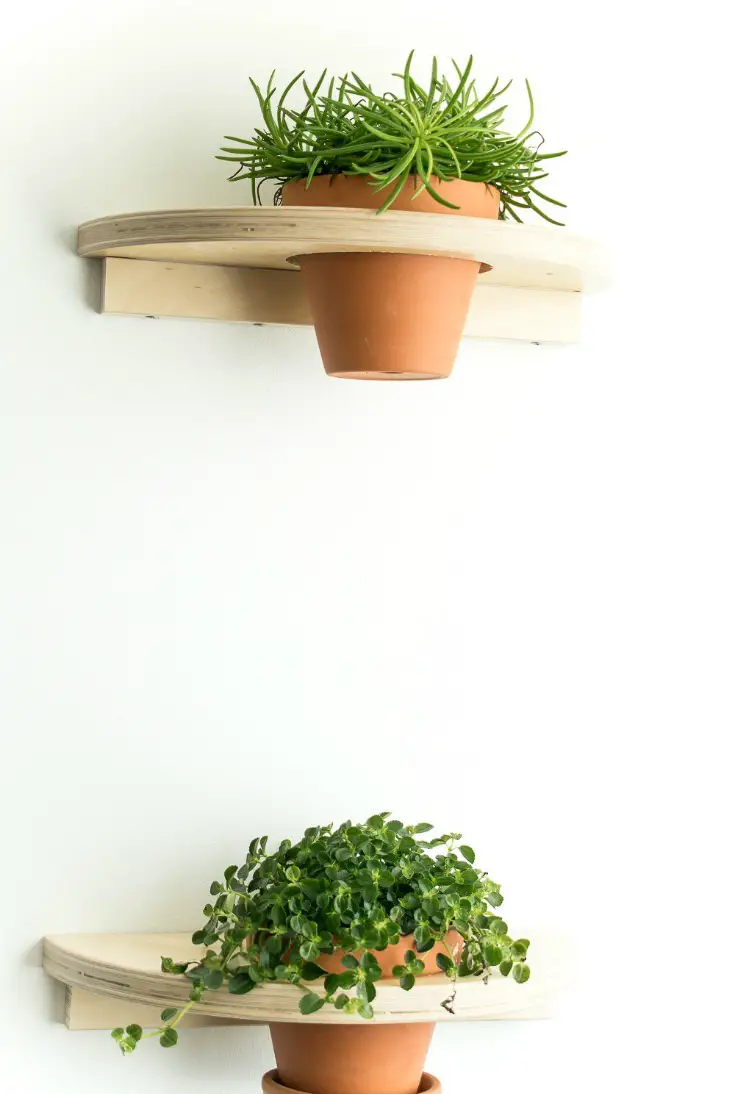 Terracotta pots with wooden holders that be used to hang on the walls of this small home really grab the attention of many people. This a creative idea to make your small home looks beautiful. Terracotta pots from ohmeohmyblog.
Choose the proper wall decoration way based on your capability and budget. Or, you can do the project periodically. The point is that, don't force anything if that is not matched with you because the result won't be good. However, it will be good if you can bring the greenery into your house. That is why, no matter which style that you choose is, make sure that you provide the greenery although that only in one single pot or frame.
(Visited 102 times, 1 visits today)
Tags:
small house decor
,
wall decoration
Last modified: January 28, 2021