There are many things to consider when designing a living room. It is a place to watch TV, to read, or even to host a party.  That means different lighting for various needs. In general, the living room requires a bright lamp, a dim lamp and a task lamp for the special area where you need to see better. Don't forget, it also needs to blend well with the overall interior. So, finding the perfect living room lamps that will add trendy lighting according to various purposes can be difficult. Check out these stylish living room lighting ideas to get the job done. 
1. Metal wire Industrial lamps
Remain classic but trendy by incorporating industrial-inspired lamps for your living room. The exposed wire or pendant lights instantly bring that modern vibe. The simple feature makes it a timeless option that never goes out of trend. They usually come in 3 or 5 lamps which is great for adjusting several types of lighting.
A modern touch is given to the living room through an industrial style. Namely with metal pendant industrial lights and color combinations of exposed brick walls and plants. Plus accented glass panels that provide natural lighting during the day. This living room provides an elegant concept. In addition, this fireplace will give a warm impression to the room. Metal pendant industrial light and exposed brick walls from digsdigs.
A living room with natural walls that uses industrial metal pendant lights and combined with natural accent walls and exposed brick walls can create a dreamy and special living room design. To complete the look, you can add some modern furniture and use wooden floors to give your living room a warm and cozy impression. Some industrial metal pendant lights from homestratosphere.
This is one of the great ideas in the living room. With the concept of a natural living room with natural walls, it is also combined with metal lighting industry accents. This makes the living room feel more modern. Combined with concrete and wood floors, it will add a neat appearance to your living room. Some furniture is added to complete your look. Metal pendant lighting industry from homestratosphere.
The concept of a living room with magnificent brick and concrete walls creates an industrial living room feel. Plus, adding a metal wire accent to an industrial lamp that hangs over the coffee table can amplify the industrial vibe. Combining it with simple furniture can make your living room look simple but still warm. Pendant industrial lamp from homestratosphere.
2. Lantern Lamps
You can combine lanterns from different sizes and materials to give unique lighting to the living room. There is a wide variety of lanterns from the warm LED light, candles, Chinese lantern or the black street lantern. All you need to do is install the perfect living room lamps that will add trendy lighting that suits the living room interior.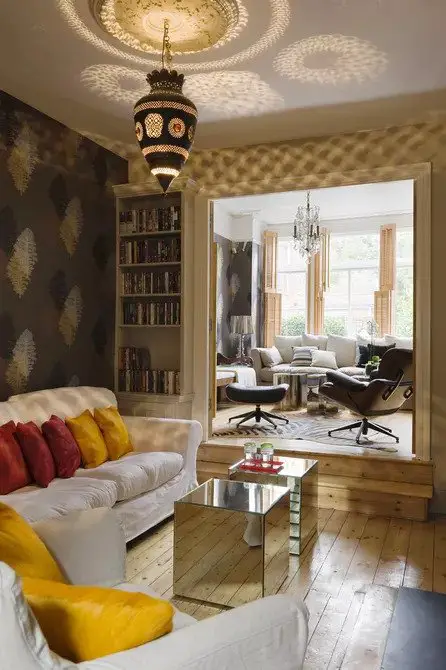 This is a charming living room design. The wall design with natural colors and the wide glass windows, apart from using Moroccan-style lanterns, will give a warm and classic touch. With this concept, the living room provides elegant lighting that gives a comfortable and neat impression. Combined with wooden floors and wallpaper accents on the walls will create an attractive appearance. Moroccan-style lanterns from thespruce.
Living room with natural lighting and charming by adding a candle to the lantern on the stainless tray on the wood coffee table. Add a natural touch to create a fresh living room. And paired with a soft black sofa and fluffy pillows. This makes a living room design that gives a charming concept. Lantren on coffe table from architecturendesign.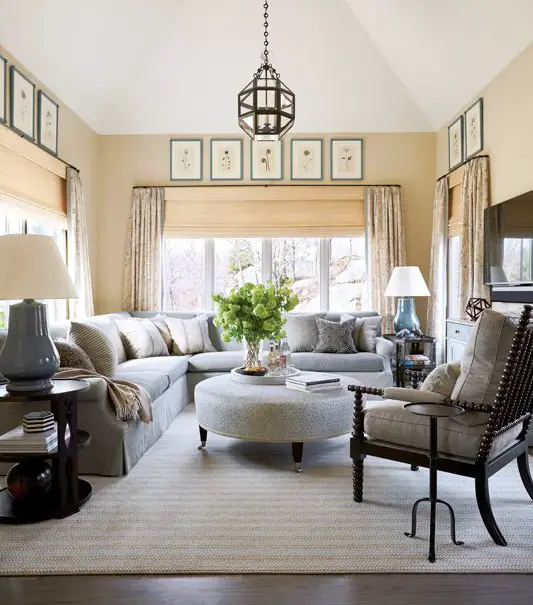 The concept of a bright and attractive living room with a living room using hanging lantern accents in addition to a soft gray sofa and soft wide window curtains. The warm nuance combined with classic furniture will give the impression of a living room that gives a traditional touch. Hanging lantern from copycatchic.
3. Ceiling Accent
The lighting trend these days uses the ceiling as a media to hide the light bulb. The lamps are installed in the ceiling below the platform. Other options for ceiling accents are many light bulbs in several places. This kind of lighting involves many light bulbs, but you can choose to have ambient, dim or softer lighting. This type of lamp is more suitable for a large home.
Design your living room with captivating lighting using some recessed lights and LED lights hidden in the ceiling. You can also add a classic crystal chandelier for dramatic lighting. In addition to sofas and a few chairs and rugs with animal motifs, it will give a warm and comfortable impression. This potted greenery creates a charming fresh living room design. Hidden lights and LED lights from mydecorative.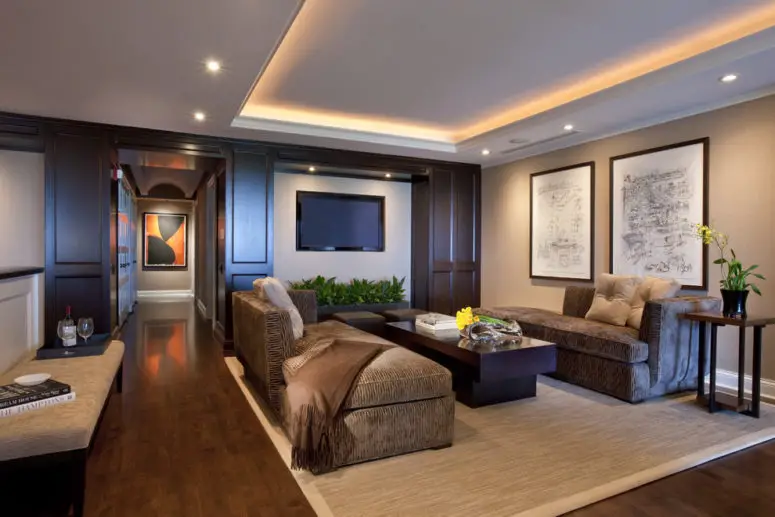 This is a dream living room decoration. With a luxurious and elegant design using several hidden lamps and beautiful LED lights that are hidden through the ceiling. Combined with a soft brown sofa with cream tones and hardwood floors, you will get the look of a warm living room. Some greenery was added to give the room a natural feel and fresh air. These decorations give the living room a charming atmosphere. Hidden light on the celling from digsdigs.
Amazing concept through living room with elegant lighting. This elegant lighting uses several recessed ceiling lights. With charming lighting, it gives an attractive impression to the living room. In a rustic style, this living room is furnished with soft, creamy tones on the walls and hardwood floors to give the room a warm feel. Combining the dining room and living room creates a spacious and airy room. Ceiling lights on living oom decor from impressiveinteriordesign.
A living room with layers of lighting makes a great multifunction area of the house. Some lighting gives more brightness, others only highlight a certain part of the house. Choose the perfect living room lamps that will add trendy lighting and comfort to your home.
(Visited 77 times, 1 visits today)
Tags:
living room decor
,
Living Room Lamps Ideas
Last modified: March 8, 2021